The Geneva motor show marks the first public appearance of the new Toyota Mirai fuel cell saloon in Europe. The car went on sale in Japan last December and will be launched in Europe by the end of this summer.
Mirai signals the start of a new age of vehicles. Using hydrogen – an important future energy source – as fuel to generate electricity, it achieves superior environmental performance while providing the convenience and driving pleasure expected of any car.
Mirai uses the Toyota Fuel Cell System (TFCS), which features both fuel cell and hybrid technologies and which makes use of Toyota's new proprietary fuel cell stack and high-pressure hydrogen tanks.
The TFCS is more energy efficient than internal combustion engines and emits no CO2 or pollutants when driven. Drivers can expect the same levels of convenience as offered by petrol engine vehicles, with a generous cruising range and a hydrogen refuelling time of about three minutes.
Mirai delivers everything expected of a next-generation car: an immediately recognisable design; superior handling stability thanks to a low centre of gravity; and quiet but powerful acceleration from an electric motor.
Hydrogen can be generated from a wide range of natural resources and man-made by-products, such as sewage sludge.
It can also be created from water using natural, renewable energy sources such as solar and wind power. When compressed, it has a higher energy density than batteries and it is relatively easy to store and transport. Thus it carries expectations for potential future use in power generation and a wide range of other applications.
Fuel cell vehicles – FCVs – are able to generate their own electricity from hydrogen, making them a key factor in creating a future hydrogen-based society and contributing to the acceleration of energy diversification.
TFCS environmental performance and convenience
The Toyota Fuel Cell System used in Mirai fuses fuel cell and hybrid technologies.
The system is more energy-efficient than internal combustion engines, delivers superior environmental performance, with no CO2 or pollutant emissions when driving, and gives the same level of convenience as a petrol-powered vehicle. Filling up with hydrogen fuel takes about three minutes.
The system uses a number of components developed by Toyota, including the Toyota FC Stack, FC boost converter and high-pressure hydrogen tanks.
Toyota Fuel Cell Stack
The new Toyota FC Stack has a maximum power output of 153bhp/114kW. Its electricity generation efficiency has been enhanced by using 3D fine-mesh flow channels – a world first – which ensure uniform generation on the cell surfaces.
This provides compact size, a high performance level and a world-leading power output density of 3.1kW/l. That is 2.2 times greater than the level achieved by the Toyota FCHV-adv, the SUV-based fuel cell vehicle which preceded Mirai.
The amount of water on the fuel cell electrolyte membranes has a substantial influence on the efficiency of electricity generation. In the Toyota FC Stack this controlled by an internal system which circulates the water created in the electricity generation process.
Toyota's technical leadership has eliminated the need for a humidifier – a feature of the fuel cell systems used in its previous FCVs.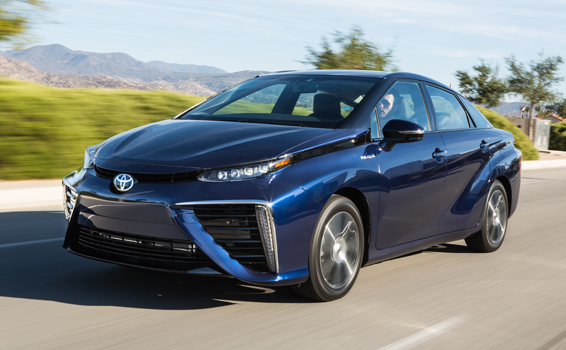 FC boost converter
A new, compact, highly efficient high-capacity booster converter has been developed to raise the power generated in the Toyota FC Stack to 650 volts. Increasing the voltage has made it possible to reduce the size of the electric motor and the number of fuel cells in the stack, leading to an overall smaller, higher-performance system and reducing costs.
High-pressure hydrogen tanks
Mirai's hydrogen fuel is contained tanks that have a three-layer carbon fibre-reinforced plastic structure, at very high pressure – 70mpa, approximately 700bar. Compared with the tanks used in the previous Toyota FCV-adv, storage capacity has increased by about 20 per cent while both weight and size have been reduced to a world-leading 5.7wt%.
Mirai design and safety
Safety was the top priority in Mirai's design, with a fundamental approach to prevent any leak of hydrogen and, in the unlikely event a leak does occur, to ensure immediate detection, stoppage of the flow and prevention of hydrogen accumulating inside the car body.
The key measures taken are: –
• High-pressure hydrogen tanks with excellent permeation prevention performance, strength and durability
• Hydrogen sensors that provide warnings and can shut off the tanks' main stop valves
• Location of tanks and other hydrogen-related parts outside the cabin, ensuring that if hydrogen does leak, it will dissipate easily
Mirai has a structure designed to efficiently disperse and absorb impact energy across multiple parts. This high level safety performance protects the Toyota FC Stack and the high-pressure hydrogen tanks in front, side or rear impacts
The Toyota FC Stack's frame is made from a new thermoplastic carbon fibre-reinforced plastic that is light, strong and easy to mass-produce. It protects the stack by absorbing impact shocks from bumps and other road interference.
Where driving safety is concerned, Mirai comes with a full range of advanced safety equipment, appropriate to its status as a next-generation vehicle. Features include: –
• A Pre-Collision system (with millimetre-wave radar) which detects the risk of a collision, triggering alerts and brake assistance to help avoid an impact, or mitigate the consequences if a collision is inevitable
• A Lane Departure Alert system uses a camera to detect lane markings and warn the driver when the vehicle is about to deviate from its lane without signalling
• Drive-start Control limits sudden starts or sudden acceleration during gear shifts
• A blind spot monitor uses radar to detect vehicles in adjacent lanes, helping the driver confirm it is safe to make a lane-change manoeuvre
Design
Toyota used a new technique in the Mirai's frontal design to add emphasis to the left and right-hand grilles that draw in air for the car's oxygen supply and for cooling the fuel cell system, producing a novel look that adds to the vehicle's individuality.
The elegant side profile evokes the flowing shape of a water droplet to express the way in which the car draws in air and emits water. The roof side rails and the bonnet appear to pop out of the body, creating a futuristic look and the impression of a low-to-the-ground stance.
The rear end is defined by a trapezoid shape that extends from the licence plate surround to the bottom corners of the bumper and out towards the wheels. The top of the bumper emphasises the car's width and stable look, while at the same time broadcasting the sense of clean and agile air flow.
The headlights project a high-tech, luxurious look with a new design that uses an ultra-thin profile and an in-line arrangement of four LEDs with visible heat sinks and other optical equipment. The front turn indicators and clearance lights sit apart from the headlights, merging with the side grilles and helping maintain the thin headlight profile. The result is a clean design with aerodynamics that improves the flow of air over the car.
Mirai rides on 17-inch aluminium wheels, made with a weight-saving engraving process. At launch, six body colours are available.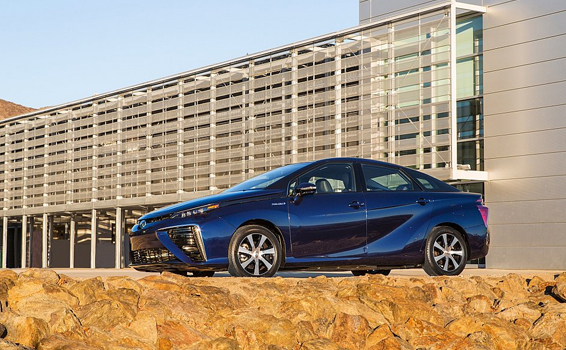 Futuristic interior
Mirai has a sophisticated cabin in which front and rear sections are seamlessly connected. Door trims and other surfaces feature soft padding and a high-luminance silver finish is used throughout.
The front seats are made using Toyota's integrated foaming production technique to provide excellent body fit and hold. Both driver and front passenger seats come as standard with eight-way power adjustment and motorised lumbar support.
The central meter cluster on the top level of the instrument panel includes speedometer and a 4.2-inch high-definition TFT multi-information display. Display content can be adjusted by the driver using controls on the steering wheel.
The flat air conditioning control panel features electrostatic switches that only need a light touch to activate and adjust seat heaters and other ventilation functions.
Mirai comes as standard with a steering wheel heater and two-setting seat heaters that provide instant warmth with greatly reduced power consumption. The dual-zone climate control allows different temperature settings for the left and right side of the cabin and comes with an eco-mode and Nanoe9 air purification technology. Three interior colour-ways are available.
Handling stability, quietness and driving pleasure
Mirai's high-output Toyota FC Stack and optimal battery power control drive the electric motor and ensure powerful response at all vehicle speeds. The driver experiences an immediate increase in torque at the first press of the throttle pedal and smooth acceleration thereafter.
Handling stability and ride comfort are secured by the location of major parts, such as the Toyota FC stack and high-pressure hydrogen fuel tanks centrally beneath the floor. This creates a low centre of gravity and superior front/rear weight distribution. Mirai also has a high-rigidity body, with particular attention to rigidity around the rear suspension.
A full under-floor cover and aerodynamically designed clearance lights reduce wind resistance and contribute to overall fuel efficiency and handling stability. Aero fins designed into the side of the rear combination lamps also play a part in improving straight-line stability.
Mirai is exceptionally quiet at all speeds, thanks to the electric motor, low wind noise, the full sealing of all body parts and the strategic use of sound-absorbing and sound-blocking materials around the cabin, including noise-reducing glass in the windscreen and door windows.
The driver can make use of Bs (brake support) mode, which makes efficient use of regenerative braking and improves braking performance when a significant reduction in vehicle speed is required, for example when driving on a long downhill section of road.
Toyota Mirai principal dimensions
Length (mm) 4,890
Width (mm) 1,815
Height (mm) 1,535
Wheelbase 2,780
Track – front (mm) 1,535
Track – rear (mm) 1,545
Minimum ground clearance (mm) 130
Interior length (mm) 2,040
Interior width (mm) 1,465
Interior height (mm) 1,185
Kerb weight (kg) 1,850
Seating 4 people

See also
Toyota makes 5,600 fuel cell and related patents available