We're already aware that the Toyota Prius has been the centre of some rather unusual activities but this creation is perhaps the most radical yet. Dreamed up by the organisers of the pioneering D1 Grand Prix professional drift series, it is the world's first all-electric and drift-prepared Toyota Prius.
Primarily designed to showcase the harmony that can exist between motorsport and environmentalism, the Prius made its sideways debut at the 2015 Tokyo Auto Salon last weekend where it played an important part in celebrations surrounding the launch of the D1GP championship's 15th season.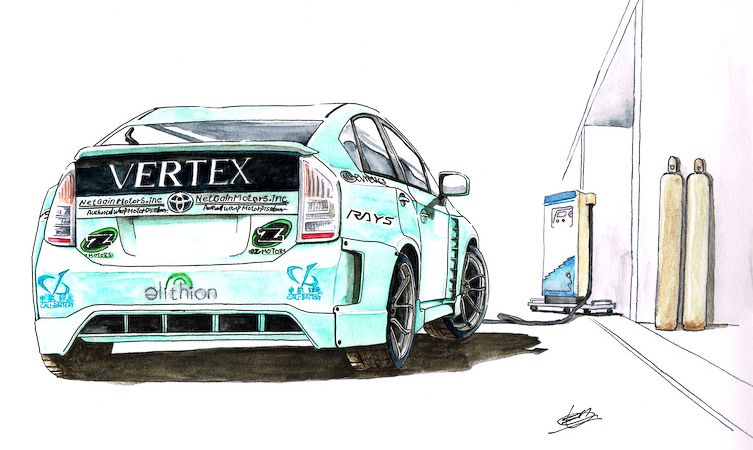 Turning such an environmentally-focussed vehicle as the Prius into a powerful, tyre-smoking drift machine meant a transformation akin to that of Jekyll and Hyde. The project was undertaken by a company specialising in electric vehicle conversions and necessitated the resignation of the entire Hybrid Synergy Drive powerplant.
The 1.8-litre petrol motor has not been replaced but the original 1.3kW battery has been exchanged for a new olivine-type lithium-ion iron phosphate battery producing a massive 46kW. This power source is connected to twin electric motors and a six-speed sequential gearbox that delivers the equivalent of 400PS and 590lb/ft torque through the rear wheels. Yes, as part of the complicated conversion process the Prius was also switched from front- to rear-wheel drive.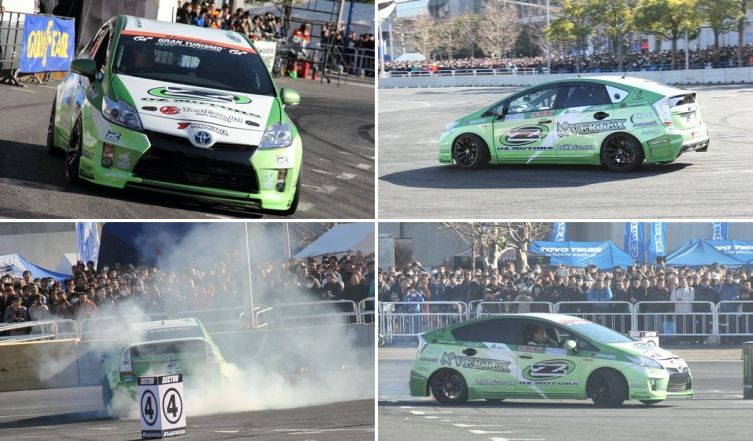 Photos: ResponseJP
Completing the look of this radical Prius is a bold, wide-body aero conversion and look-at-me graphics printed in appropriate shades of green.
The D1 Corporation hopes that this innovative project will launch a new trend in ecological, all-electric drift cars. What do you think about this idea? We would love to hear from you using the comments box below.