This being the official Toyota GB blog, we seldom report on news of new American market models, but for the all-new 2016 Toyota Tacoma pick-up – revealed at the Detroit Auto Show this week – we've made an exception.
The Tacoma is a household name across the pond. The model turned 50 last year, and more than seven million trucks wearing the Tacoma badge have found homes in the time since. The model's popularity shows no sign of letting up as it has remained America's best-selling mid-size pickup for the past ten years.
With that in mind, you can see why we've made an exception to our UK-centric rule for the Tacoma, to bring you a round-up of the big, bold, brash, brazen and brilliant new model's coolest features.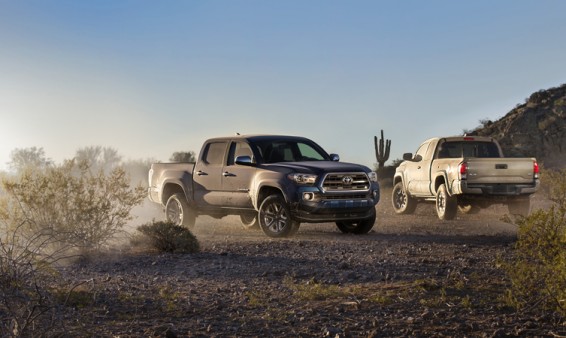 1. Crawl Control
Need to tackle a rocky road or slippery slope? The Tacoma has it covered with a Crawl Control system. Press a button on the console and the system allows the driver to select a speed of 1-5 mph and takes over the acceleration and braking, so that the driver can focus solely on steering.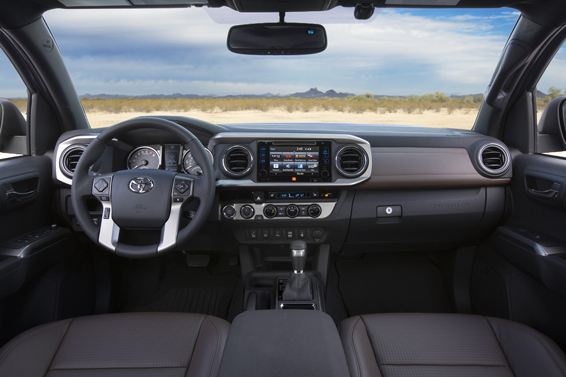 2. GoPro® mount
Adventurers, this one's for you. The new Tacoma is equipped as standard with a GoPro® mount beside the rear-view mirror so that you can record your heroic exploits on and off-road. All kinds of epic.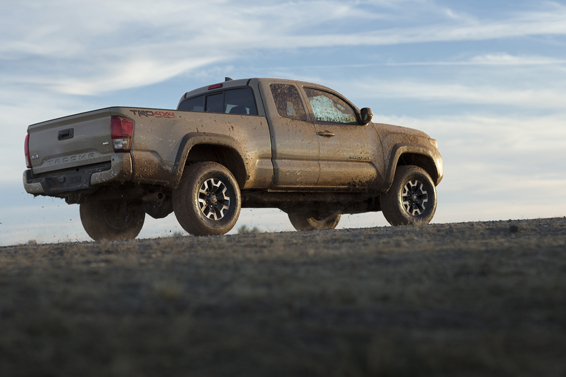 3. Multi-Terrain Select
Heading into the wilderness? Be sure to engage the Multi-Terrain Select system. Doing so appropriates the truck's handling for different surfaces, regulating wheel spin and adjusting throttle and brake pressure to provide maximum traction. Rocks, mud, sand – whatever the terrain, Tacoma's got it covered.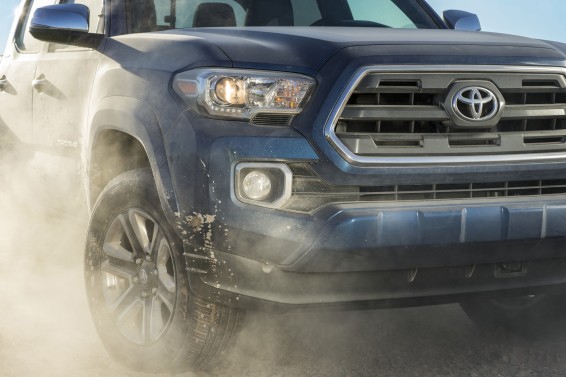 4. Styling inspired by desert racing
The 2016 Tacoma was designed by Toyota's Californian design studio CALTY. Its lines take inspiration from the Dakar rally Hilux and are said to be penned around the premise of 'Recreational action and athletic agility.'
This ethos is manifest in the new Tacoma's massive wheel flares – the truck equivalent of bulging biceps – and a subtle integrated spoiler.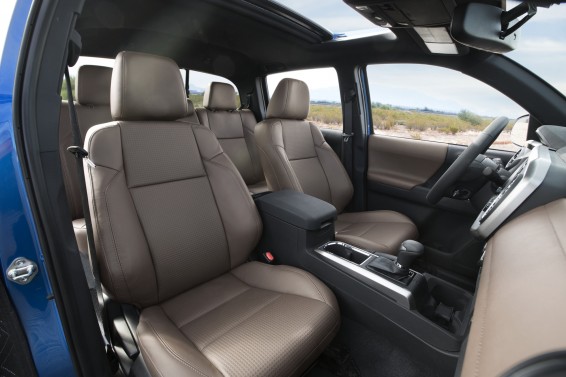 5. Advanced sound-proofing
Commercial vehicles, which the Tacoma would be classed as were it on sale in the UK, aren't traditionally renowned for their refinement, but the Tacoma aims to break the mould.
Toyota engineers have installed a multi-layer acoustic windshield and sound-absorbing headliner, alongside a floor silencer pad.