Toyota is famed the world over for creating vehicles that embody incredible reliability, exceptional long-lasting quality and amazing durability. That's why, following requests from Toyota owners in the UK, we created the High Mile Club. It's a way for people to show off how proud they are of their vehicle.
The Toyota High Mile Club celebrates the Toyota models out there that have covered truly epic distances. We've produced a limited number of exclusive interior window stickers so owners can celebrate their car's stunning mileage, and Toyota reliability.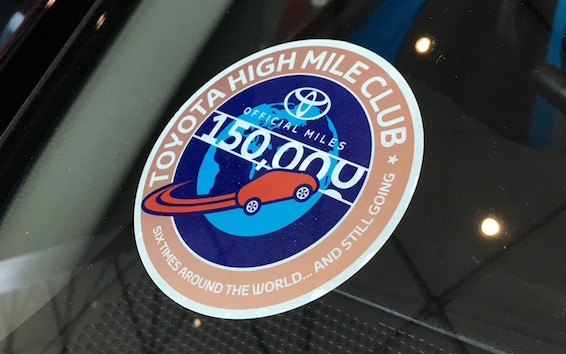 If you have a Toyota of any age that has covered more than 150,000 miles, let us know by posting a picture of your car's odometer with the hashtag #HighMileClub on our Facebook page or when mentioning @ToyotaUK on Twitter, and we'll get in contact to post a sticker out to you.
Alternatively, you can respond in the comments at the bottom of this article and we will get in touch.
Read more Peter Simpson's Prius joins the High Mile Club
Four High Mile Club sticker designs are available – bronze-tinted for 150,000 miles, silver-tinted for 200,000 miles, a gold-tinted sticker for 300,000 miles and a green-tinted sticker for if your car has reached 500,000 miles.
Don't forget, if we send you a sticker, we'd love to see you spread the word and share pictures of it on your pride and joy on your social networks.
So, do you want to join our club?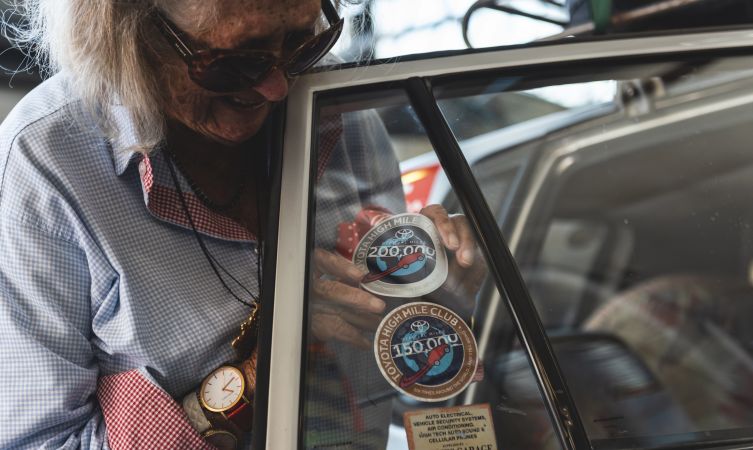 How do I join the Toyota High Mile Club and claim my sticker?
All you have to do is post a picture of your car's odometer showing a mileage of more than 150,000 miles to the Toyota UK Facebook page, on Twitter mentioning @ToyotaGB, or on Instagram mentioning @ToyotaUK, using the hashtag #HighMileClub.
We'll get back to you in a private message / direct message to request your address details in order to send you a sticker. They're nine centimetres in diameter – about the size of the old UK tax disc – and are removable.
Toyota High Mile Club stickers will be allocated on a first come, first served basis.
Please be aware that sticker numbers are limited and are available in the UK only, so we may not be able to fulfil every request, although we will do our best to do so.