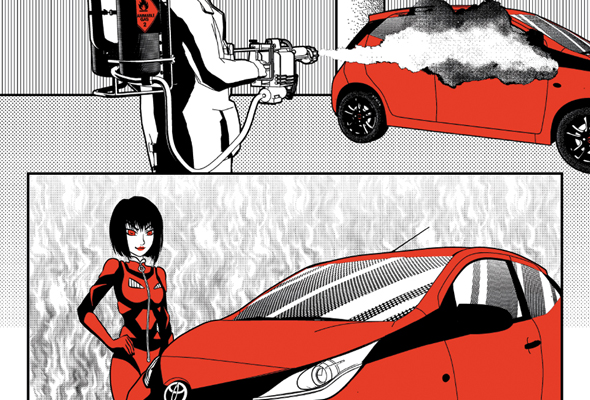 There's a monster tearing up the metropolis and the authorities are desperate for someone to save the day. Enter The Heroine and her mighty Aygo, the central characters in a brand new Manga cartoon launched this weekend at MCM Comic Con in London.
The first adventure is now available for free download here.
Toyota commissioned UK-based Manga artist Sonia Leong to produce the work and the result is a classic piece of animated story-telling, inspired by Aygo's design and city-friendly character.
In true superhero style, the feisty female is an ordinary office worker until she's called into action to fight off a monster that's on a downtown rampage. Zipped into an X-graphic skinsuit and wielding a pair of fearsome blades, she hits town at the wheel of an Aygo specially prepped to deal with the foe. There's even a monster icon on the satnav screen to help her track down the destructive dinosaur, plus the bonus of a pair of fire-breathing high-heel boots.
Check the story frames carefully and you may pick up some clever visual references to some classic Toyotas of the past, and the monster's location close to Toyota's British base.
See also:
Toyota Aygo goes manga for London Comic Con
Toyota Aygo manga star ready to save London
Aygo Manga artist exclusive Q&A
These are the coolest photos of the Toyota Aygo you've seen so far