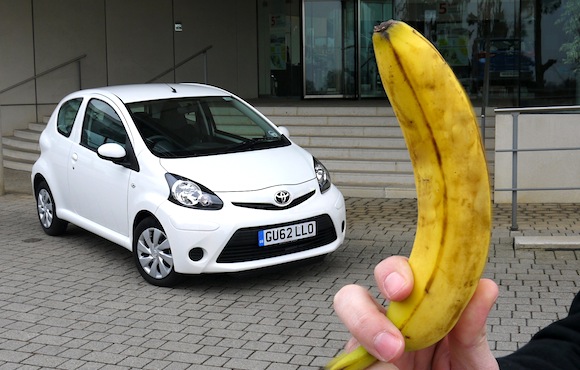 How many bananas is it possible to fit into a Toyota Aygo?
Strange question, we know – but following an interesting conversation on Twitter, we've decided to find out. Here's the story:
Back on March 5th, our @ToyotaGB Twitter account was mentioned by Aygo fan David McNally, who was talking with his friend David Beese about the car… and bananas.
Thinking it was all just a bit of fun, we asked them: 'How many bananas do you think fit in an Aygo?'
However, the stakes were quickly raised… by some maths.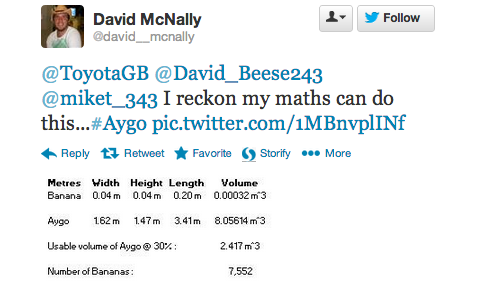 David's sum suggested that 7,552 bananas could fit into an Aygo. To be honest, we're unsure about the accuracy of his maths, and although the Aygo is surprisingly spacious, we doubt whether anything like that number of bananas could fit into the car.
But we do want to find out.
That's why tonight, we will be taking a Toyota Aygo to New Covent Garden Market in London to see exactly how many bananas we can fit inside (don't worry, we've got plans for the bananas to ensure none are wasted).
Keep your eyes peeled for the #AygoBananas hashtag on Twitter to see how we get on.
Most importantly, what's your guess? Leave a comment, and let us know!