Toyota Racing Development, or TRD, is Toyota's in-house motorsport preparation and road car tuning department. It was officially established in 1976 but its roots can be traced back another 19 years to Toyota's landmark entry into the world of competitive motorsport. This in-depth review helps to tell its story.
TRD: motorsport in its infancy
Toyota was the first Japanese car manufacturer to compete in motorsport, campaigning the grueling Round Australia Rally in 1957. Its entry into the race came at a time when Japan was in the middle of a remarkable economic recovery after World War II.
Even so, the car industry across the country was in its infancy. Vehicle export numbers could be measured in a few hundreds, while demand in the home market was for small, three-wheeled vehicles, trucks and buses. Tiny numbers of road cars were being made because few people could afford to buy them. Finally, manufacturing quality was lagging behind that of imported cars. Because of these factors, interest in motorsport within Japan was limited to a privileged few.
Nevertheless, when the Japanese consulate in Australia made a request through the foreign ministry for Japanese auto manufacturers to compete in the country's famous rally, Toyota responded. Shotaro Kamiya, president of the Toyota Motor Sales Company, encouraged the effort, observing "there will be no progress if you fear failure."
Under the umbrella of Toyota Technocraft, the manufacturer's recently established bodywork department, a new motorsport branch called Toyota Sports Corner (or Tosco, see the logo above) was established. Its first task was to prepare a production Toyopet Crown Deluxe model for the 19-day endurance contest in Australia.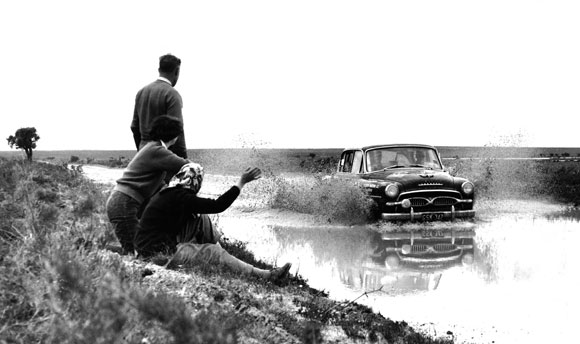 Laden down with spare parts and extra fuel, the four-door saloon tipped the scales at 1700kg and produced a scant 48bhp with which to tackle the 17,000km course. Aside from slight damage to an engine intake valve, the Tosco-prepared Crown completed the epic journey without any major mechanical problems. Drivers Kunio Kaminomura and Koujiro Kondo crossed the finish line in 47th position (86 started and 34 failed to finish), securing third place among the foreign entries.
Buoyed by this success, Toyota entered another Toyopet Crown in the Yomiuri Round Japan Rally the following year (1958). Driven by Yukiyasu Togo and his wife Misako, the pair won the event outright.
TRD: building momentum
The next target for the Tosco team was to prepare cars for the inaugural Japanese Grand Prix in 1963. In a display of how quickly enthusiasm for motorsport had increased within the domestic market, 150,000 people gathered over the course of the two-day event. Eleven races took place that weekend, consisting of touring cars and GT cars divided into categories according to engine size. Toyota's entrants — a 2.0-litre Crown, 1.6-litre Corona, and 700cc Publica — were victorious in each of their respective classes.
The following year, every domestic car manufacturer was represented in the Japanese Grand Prix in the form of works teams and private entries.
After its debut at the Tokyo Motor Show in 1965, Tosco oversaw the construction of the legendary Toyota 2000GT by its Yamaha Motor Corporation subsidiary. It then prepared an example for the model's motorsport entry at the 1966 Japanese Grand Prix, hosted at the newly completed Fuji Speedway track. The car came third overall.
Another two 2000GTs were developed into bespoke convertible models for the James Bond film You Only Live Twice, while further examples were prepared for endurance races throughout 1966 and 1967. Famously, one Tosco-tuned 2000GT set three new world speed records and 13 international class records in October 1966, running for 78 consecutive hours around the Yatabe Test Course. It averaged over 206km/h and clocked up an incredible 15,000km during this period.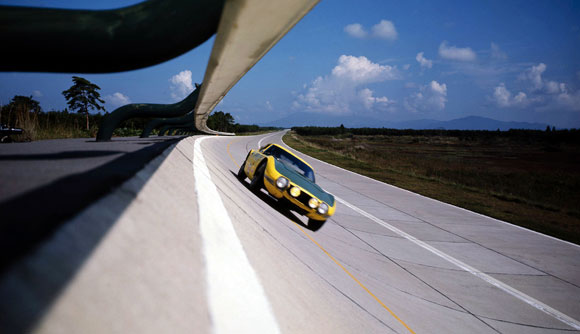 Using experience and technology derived from the 2000GT endurance racers, Tosco once again joined forces with Yamaha and built Toyota's first purpose-built race car, the Toyota 7. Featuring a new 3.0-litre V8 twin-cam 32-valve engine, the 7 debuted in the 1968 Japanese Grand Prix and came eighth overall. Though impressively powerful for the time, its 300PS output was simply not enough to compete with the dominant Porsche- and Chevrolet-powered cars.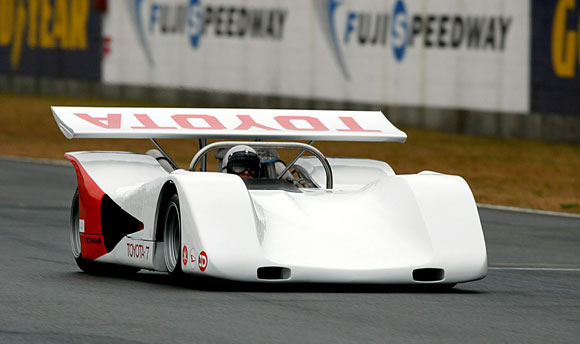 The following year the engine was replaced with a 600PS 5.0-litre V8, which blasted the 7 to third overall in the 1969 Grand Prix, while for 1970 Tosco had further evolved the V8 into a revolutionary twin-turbo and 800PS powerhouse. With this installed, the car was renamed the Toyota 7 Turbo and secured its place in history as the world's first turbo-engine racing car.
Unfortunately, however, forthcoming emissions policies and changing specifications for grand prix racing meant that the latest and greatest 7 never raced competitively.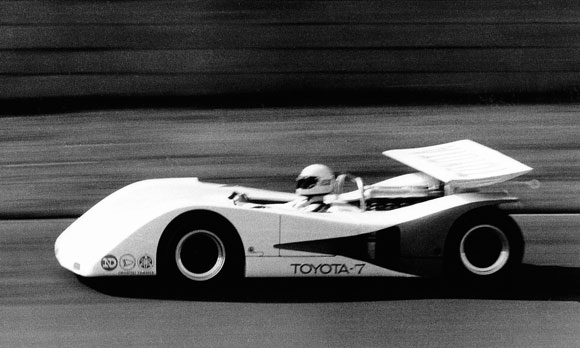 TRD: from world crisis to world stage
The international oil crisis in the autumn of 1973 prompted many manufacturers to suspend all motorsport activities. Toyota, however, continued to promote its motorsport development within the touring car field, a temporary refocusing that brought success in the Fuji 1000km race that year with the Celica Turbo. This very crisis was instrumental in the decision to produce official performance components for the road-car market.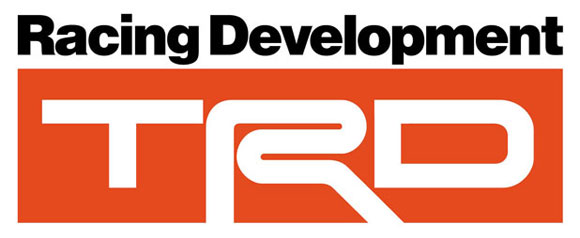 The opening of this new sales avenue, combined with Toyota's desire to appeal to a wider marketplace, led to Tosco being renamed as Toyota Racing Development in 1976. The intention of TRD remained the same – to expand Toyota's motorsport activities worldwide and to develop and sell motorsport-derived performance accessories.
A key strategy in that respect was the establishment of a second base in North America, from which it would be more efficient to make an assault on the world stage. TRD USA was inaugurated in 1979 and was setup as a division that could operate almost autonomously with full engine design, development and assembly facilities.
TRD: the great Eighties
The early part of the Eighties saw TRD consolidate its support of domestic private teams and club racers. Soon afterwards, world championships for Group A touring cars, Group B rally cars, and Group C sports cars saw Toyota vehicles compete in all disciplines, sometimes in partnership with affiliated teams such as TOM'S and DOME with their endurance racers.
The Supra Turbo was particularly successful in Group A, while the durability and pace of the smaller Corolla and Celica coupes saw Toyota become an increasingly dominant force in the World Rally Championship. This overseas rally campaign, however, was handled by Toyota Team Europe (TTE), a similar but entirely separate entity to TRD.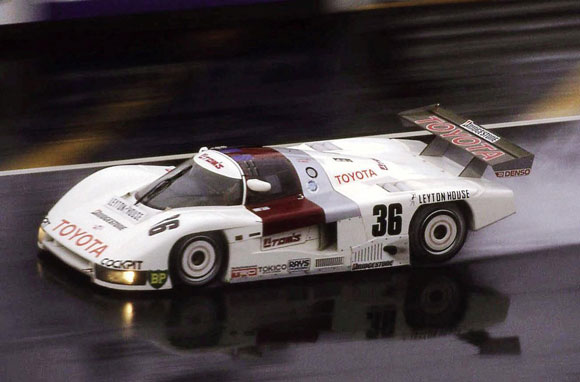 Meanwhile in North America, TRD USA was making great strides within the International Motorsport Association (IMSA) GT Series with its own Celica Turbo spaceframe racer. Though it had been competing in the series since 1982, continual refinements led to a triumphant win in 1987 after a close battle with Chevrolet. It marked the first time that a Japanese manufacturer had won a championship in the GTO class.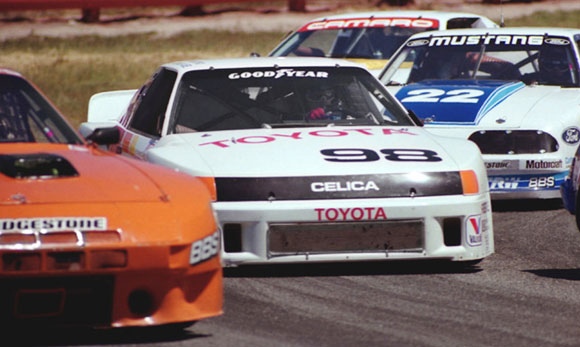 TRD: a golden age
The early Nineties marked a golden age for Toyota in the World Rally Championship under the directorship of TTE. For TRD Japan, the early Nineties was famous for the launch of the factory supported Toyota Team TOM'S entry into Group C1 endurance racing. Designed, developed and produced by TRD, the Toyota 90C-V was a carbon fibre monocoque racer powered by a turbocharged 3.2-litre V8 engine, the latest in a long line of Group C racers from Toyota.
Hardworked 90C-V models took part in the All Japan Sports Prototype Championship, the World Sportscar Championship, and at the Le Mans 24-Hour — all in the same 1990 season. Looking at their series successes respectively, the 90C-V won its AJSPC debut at the Fuji 500km race, came fourth in the WSC season opener at the 480km of Suzuka, and one of three entrants in the Le Mans campaign finished a creditable sixth place.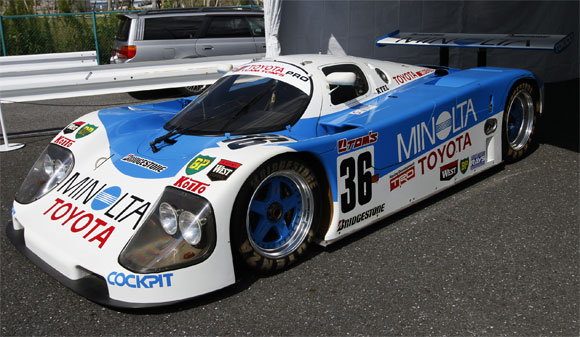 A more attainable form of TRD-developed circuit racing arrived in 1990 with Toyota's sponsorship of the Atlantic Championship, a North American formula race car series in the open-wheeled category. TRD supplied high-performance 1.6-litre four-cylinder kit engines and modified 16-valve cylinder heads for the series that together delivered a phenomenal 240bhp at 8700rpm and could rev up to 12,000rpm.
Toyota's sponsorship deal lasted all the way through to 2005 and the 4A-GE engines it supplied are now highly sought after.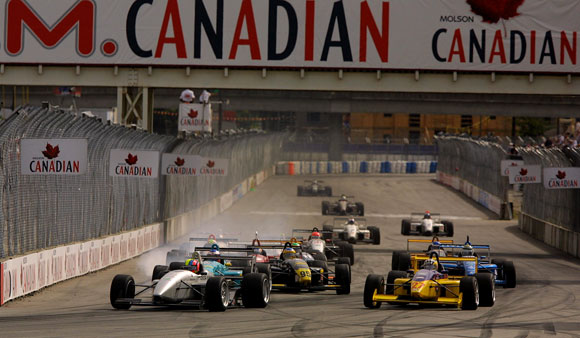 The result for Toyota Team TOM'S at Le Mans improved considerably with a second-place finish in 1992 in the new TS010 racer. The TS010 was mounted on a new TRD chassis design and standardised 3.5-litre V10 engine specification that complied with new Group C sports prototype regulations. This position was consolidated two years later when the 94CLM also secured second place in the 1994 Le Mans race.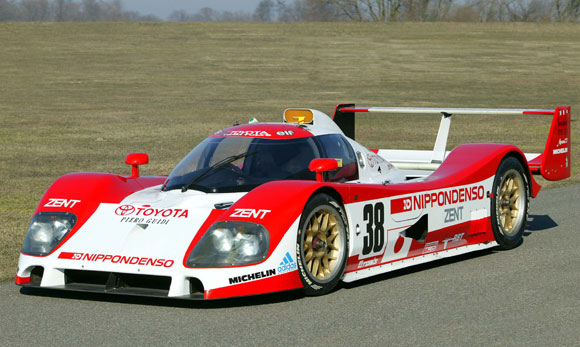 During this period, the IMSA series in the USA was dominated by Dan Gurney's Eagle Toyota Mark III, while in Japan the end of Group A touring car racing opened the way for the new All Japan Touring Car Championship (JTCC). TRD's involvement in developing the production 2.0-litre Corona and Chaser saloons led to wins in 1994 and 1998 respectively.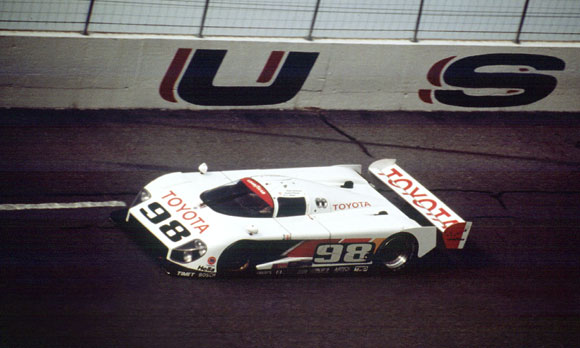 TRD: race-to-road formula
Further track excitement was delivered when the All Japan Grand Touring Car Championship, or JGTC, was authorised to simultaneously replace both the Group A and Group C series in Japan, thereby adopting a two-tier 'GT300' and 'GT500' supertouring formula.
Toyota debuted its Supra-based works competitor in the fourth round of the opening season (1994) but had previously displayed a sensational road-going TRD 3000GT concept at the Tokyo Auto Salon aftermarket show earlier that year. Wearing the same widened and wind-tunnel-honed bodywork as the GT500 Supra, the components soon became available as dealer-fit options.
Supra models with the full TRD 3000GT package are extremely rare today, spawning numerous replicas from body kit manufacturers within the aftermarket.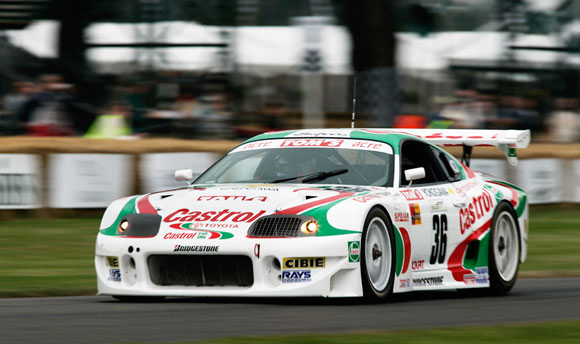 This race-to-road formula was repeated again in 1998 with the release of the TRD 2000GT, a wide-bodied second-generation MR2 that replicated the shape of Toyota's GT300 competitor. Only 35 cars were produced by Toyota Technocraft, all of which wore a specially numbered TRD VIN plate, and all of which are extremely rare and sought after today. Once again, many unofficial body conversions have been produced to replicate the car's broad-shouldered stance.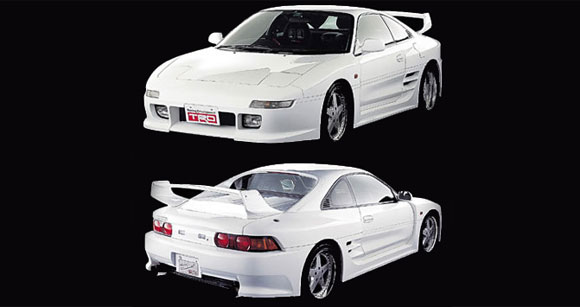 TRD's efforts in domestic motorsport were rewarded many times over in the late Nineties, winning the GT500 class of the 1996 JGTC in the Toyota Team TOM'S Supra, and achieving three consecutive Driver and Team championships in the JTCC. This latter feat was celebrated with the launch of a special edition Toyota Chaser TRD Sports model, which once again echoed the appearance of the touring car. In just under three years, this model recorded phenomenal sales of 3000 units.
At a more grassroots level, TRD's sponsorship of the Netz Cup, a one-make race series using the first-generation Toyota Vitz (Yaris), offered an opportunity for the public to buy race-prepared and road-legal Vitz TRD-MSB (Motor Sport Basic) models. These models were extracted from the official production line and delivered to TRD headquarters to receive a seven-point roll-cage, limited-slip differential, 11,000rpm rev counter, shift light, recorder box and uprated suspension bushes. Very few examples of these vehicles have been seen outside of the domestic market.
TRD: the Noughties and beyond
While TRD Japan had been kept busy developing competitors for a handful of domestic race series and the production of race-derived, special edition road cars, TRD USA had been experiencing a slower upward trajectory, balancing its support of both on-track and off-road series.
Growth came in the early Noughties, however, with TRD USA engineers designing and building the V8 Tundra and V8 Camry engines for their respective NASCAR series. TRD's first Indy car win occurred in June 2000, while in 2003 a TRD-powered Indy car won the most famous of all American races, the Indianapolis 500.
The North American branch then continued its incredible repertoire of victories, including within the NHRA's Funny Car series, Daytona Prototype championship, and USAC sprint cars. Such high-profile involvement in motorsport led to the release of a number of enhanced, TRD-badged versions of US market production vehicles.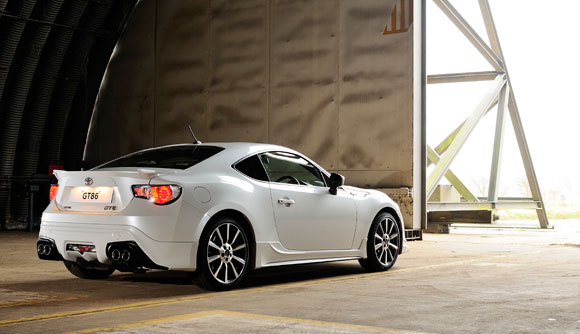 Over the course of its existence, Toyota has put increasing emphasis on sharing the expertise of its racing division with customers. Within the UK, that push was initially exemplified with the launch of the GT86 TRD, the first model in this country for which official TRD parts have been used to create a specific production model grade. Time will only tell whether further TRD projects, such as the incredible GT86 Griffon concept displayed at the 2013 Tokyo Auto Salon, will also come to fruition.