Forty years after the launch of the first-generation Corolla, Toyota introduced a new name for its small family car in Europe. Based on the Latin word for gold, the invented word Auris was designed to resonate with other Toyota models and be easy to pronounce in all European languages.
But the name wasn't strictly a new creation. At least as far back as the 17th Century, Auris had been the name of a small community in the Isère region of the French Alps.
In more recent years, however, the eleven hamlets that comprise Auris-en-Oisans have become popular resorts for winter and summer sports, thanks in part to their direct links to the sizeable Alpe d'Huez ski domain.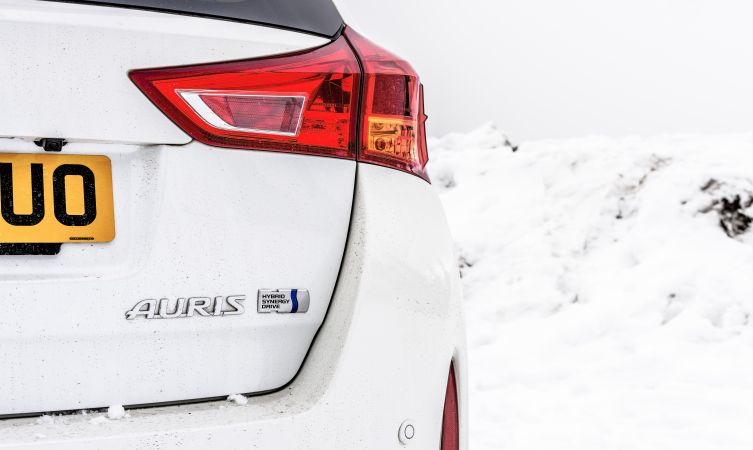 The connection between car and resort as well as the importance of environmentally-conscious motoring to safeguard areas of outstanding natural beauty were not lost on us.
So to string these qualities together we embarked on a 1,500-mile round trip that would enable a Toyota Auris Hybrid Touring Sports to become familiar with its namesake in the mountains… and for us to enjoy some activities in one of the most family-friendly resorts in the Alps.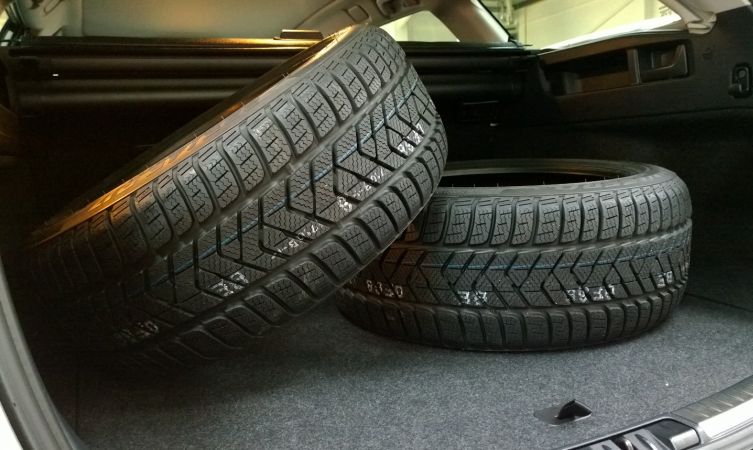 Preparations for the trip were few but important nonetheless. Temperatures were expected to hover between zero and minus five degrees, and weather forecasters had predicted up to nine centimetres of snow during our stay, so a full set of winter tyres would be essential for maintaining grip in hazardous conditions.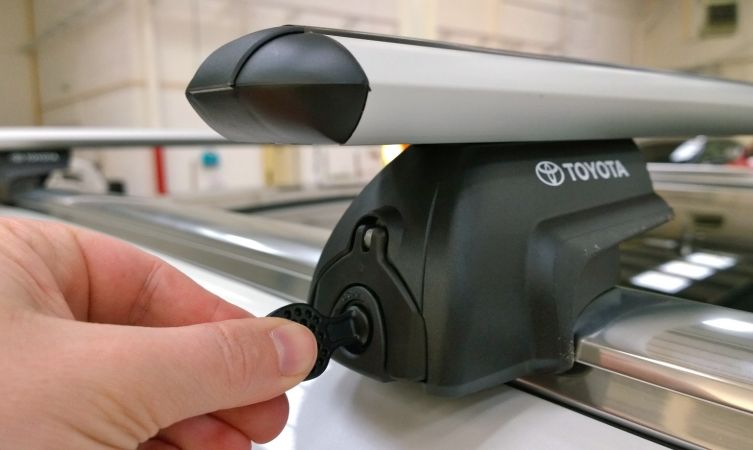 We also needed cross bars and ski/snowboard holders from Toyota's extensive accessories range to carry our equipment and release interior space for luggage and passengers.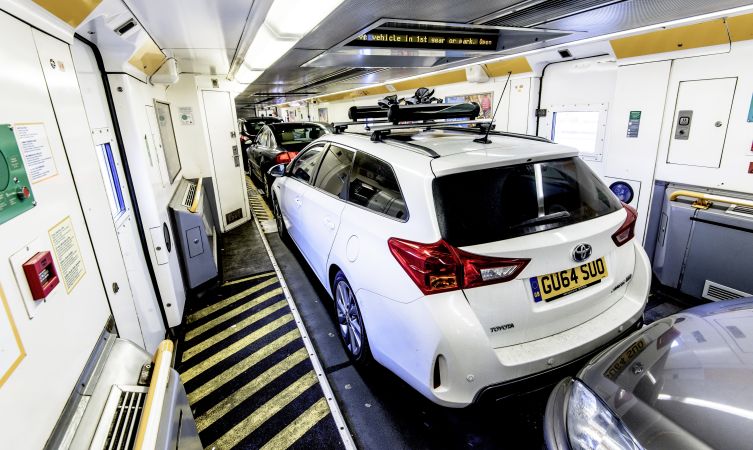 Either side of the Channel Tunnel, the car's external temperature gauge displayed a mild seven degrees – the level at which winter tyre compounds become less advantageous – yet our Pirelli Sottozero tyres appeared to make no impact whatsoever on the quiet, comfortable and predictable behaviour of the Auris.
We knew the rubber would soon come into its own, when the flat topography of Northern France gave way to the abrupt rise of the Alps in the Chartreuse region.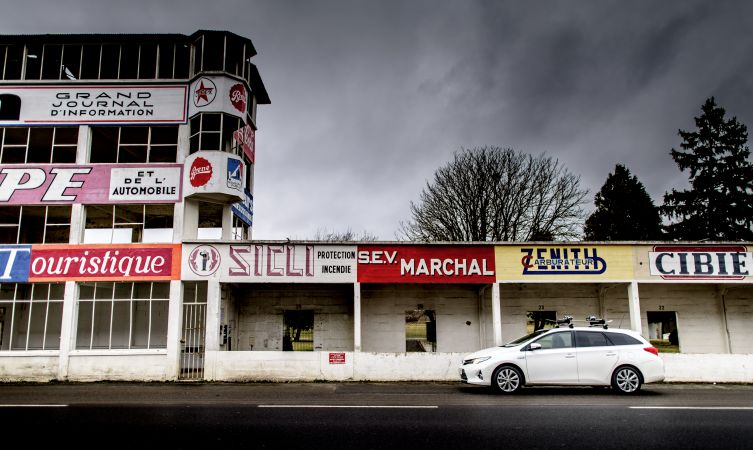 In the meantime, we punctuated the monotonous sections of péage with a stop-off at the abandoned grandstand, timing pavilion and pit garages of the Grand Prix street circuit outside Reims.
A temple of speed for almost half a century, some of the most famous names in motorsport history raced on this super-fast, eight-kilometer-long street circuit. Interestingly, the last official car race ever conducted here took place on Wednesday 25th June, 1969, and was won by American driver Peter de Merrit in a Toyota-powered Formula 3 car.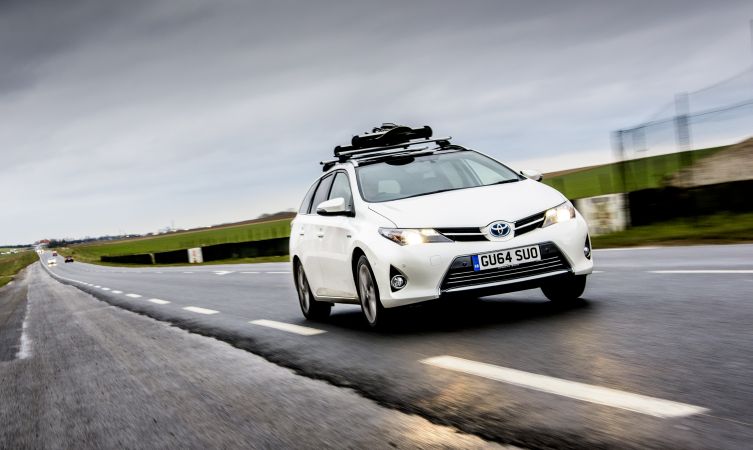 Fortified by this pilgrimage, we pressed on with the aim of reaching Auris-en-Oisans for a well-deserved late dinner at our hotel. Spurred on by hunger, our cruising speed increased to the maximum allowable 130km/h (80.6mph), yet our average miles per gallon economy failed to go in the opposite direction, still steadily climbing and now reading into the low 50s.
We thought that a remarkable achievement for a car weighed down with kit, made less aerodynamic with roof attachments, and rolling on tyres with greater rolling resistance.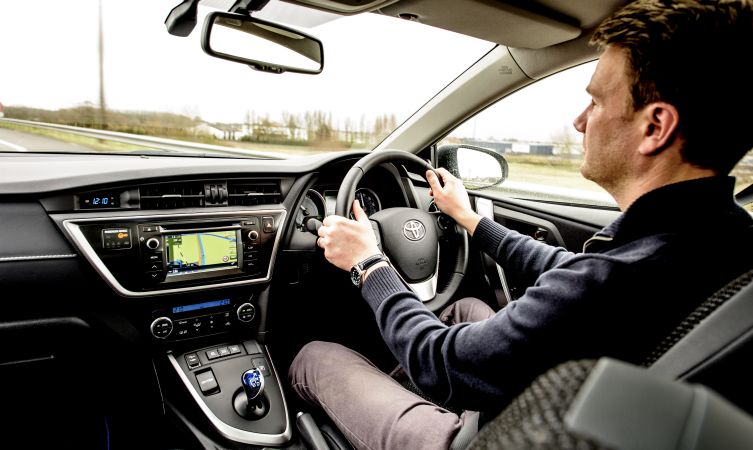 Darkness is not the ideal time to be introduced to the Alps. Mountains that loom majestically during the day suck ambient light like impenetrable black holes at night, making drivers heavily reliant on the strength of their headlight beams to identify poorly signposted junctions or the sudden arrival of a 180-degree hairpin bend.
The standard Touch 2 with Go navigation system in our Excel model was a huge bonus here, visualising the shape of the road ahead long before our eyes could physically see it. The comprehensive mapping also never failed to lead us in the right direction.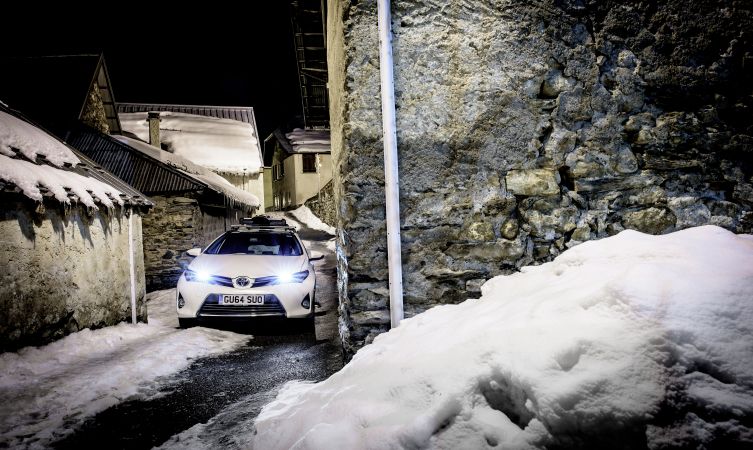 But then as we made our zig-zag ascent through the Massif des Écrins mountains to the vicinity of Auris at an elevation of 1,500m, the density ratio between trees and snow tipped in favour of the latter, reflecting moonlight and bathing the area in an ethereal glow that made street lighting almost redundant.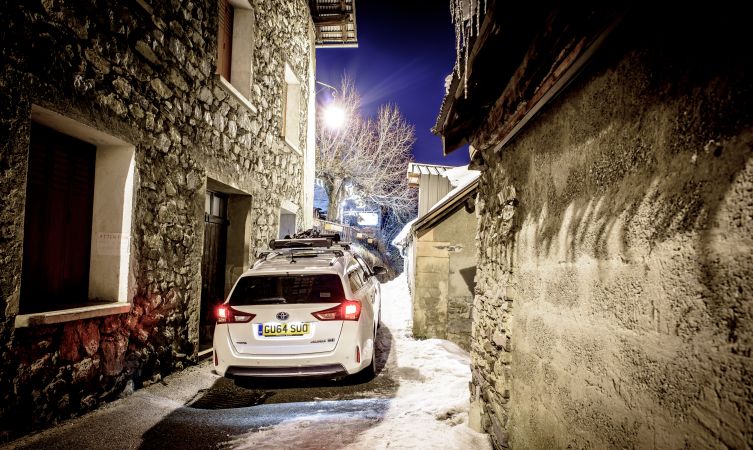 Our stay had been organised in L'Auberge de la Forêt, a charming hotel in the hamlet of Les Cours in the heart of Auris-en-Oisans. Unlike the busier ski station ten minutes away and slightly higher up the mountain, Les Cours has an authenticity about it that you soon appreciate has not been modified in order to accommodate vehicles.
Roads within the hamlet are little more than pathways, and those brave enough to squeeze their car to the hotel entrance to drop off luggage simply have to reverse back again into the communal parking area.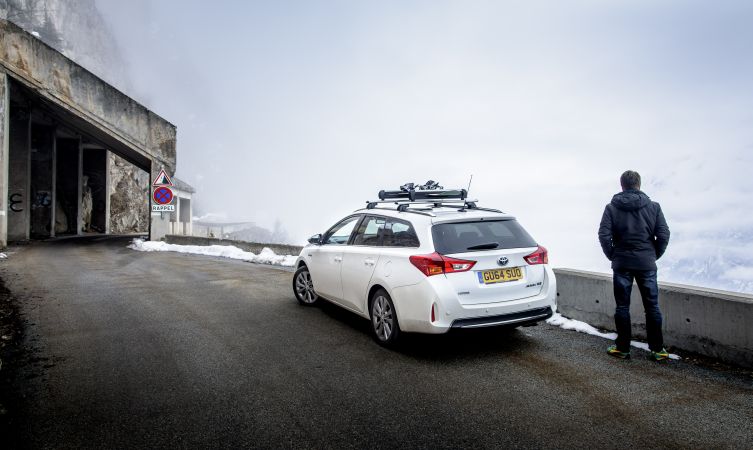 Cloud cover obscured the view early the next morning but the south-facing perspective of Auris ensured that the sun quickly burnt away the suspended moisture to reveal the magnificent panorama of La Meije mountain range.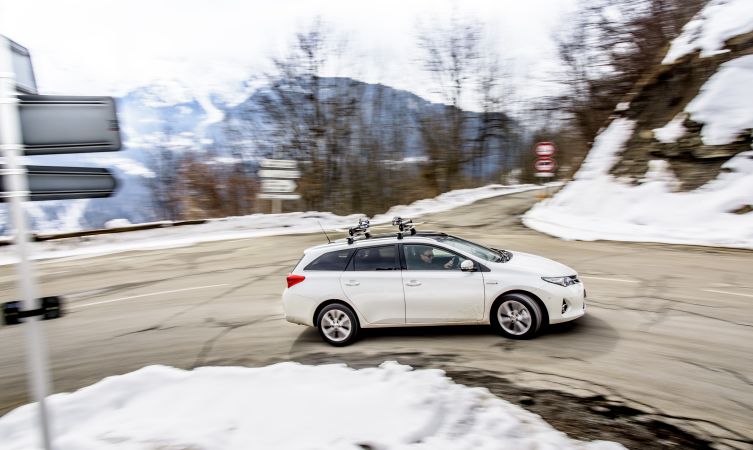 Keen to explore the area and the challenging roads that are part of the Tour de France route, we set off after breakfast in the Auris Touring Sports and headed higher up the mountain.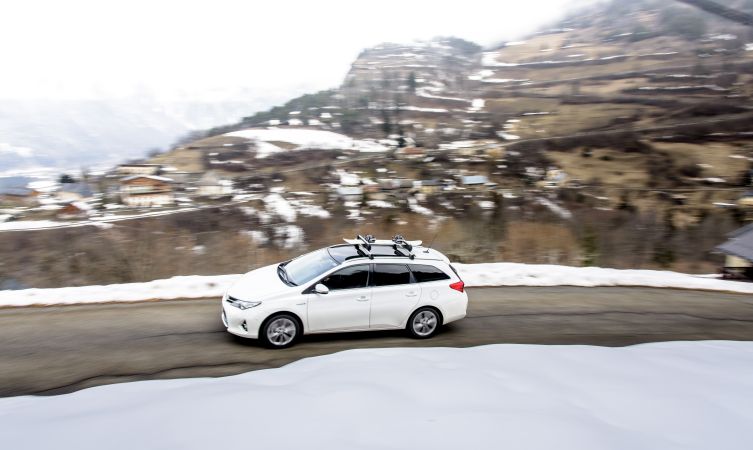 Signs warned us that routes between the hamlets of Auris-en-Oisans were often narrow, sinuous and difficult to cross. True, but we would have also liked to see the adjective 'breathtaking' included because venturing up some of these single-track roads made us feel like mountain goats, hugging the rock face and hoping that no other traffic was approaching as passing places were few and far between.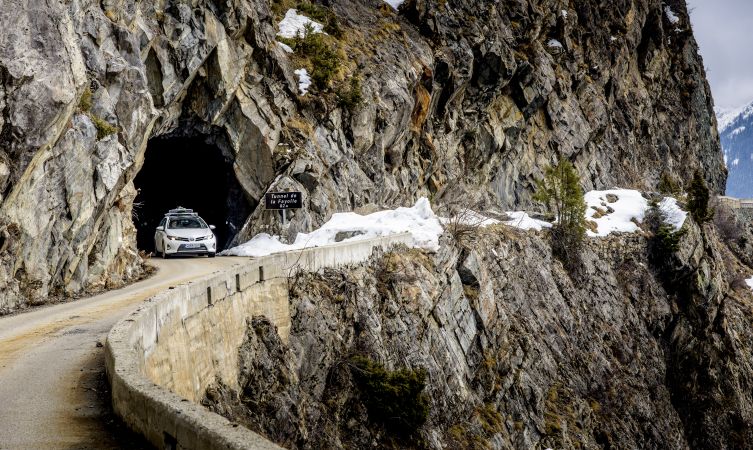 Tunnels brutally chiselled into the mountain gave the impression that the Alps had done their best to resist such in-roads but had begrudgingly complied.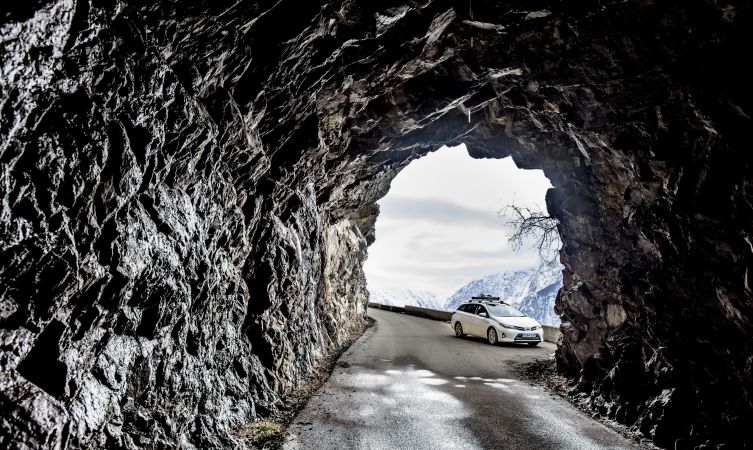 The quality of road-clearing machinery in Alpine communities is impressive and the teams are quick to react to changing weather conditions. But we discovered that many visitors relied heavily on this service, not bothering to switch to winter tyres.
This wasn't much of a problem on the main arterial routes but it was virtually impossible to take smaller roads or successfully navigate yourself into or out of car parks without being shod in appropriate rubber.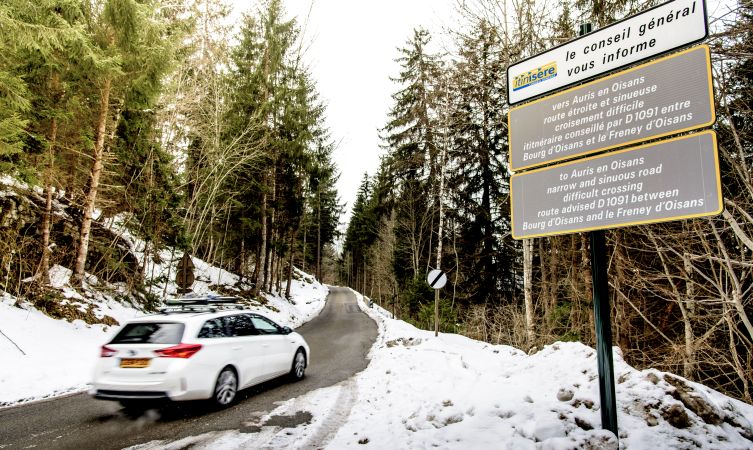 It was remarkable how easily our Auris Touring Sports scavenged traction from these areas when equipped with winter tyres. What's more, the perfectly judged torque of the hybrid electric motor made it easy to conduct low-speed manoeuvres without wasting any energy in wheel spin or in sending plumes of toxic emissions into the atmosphere.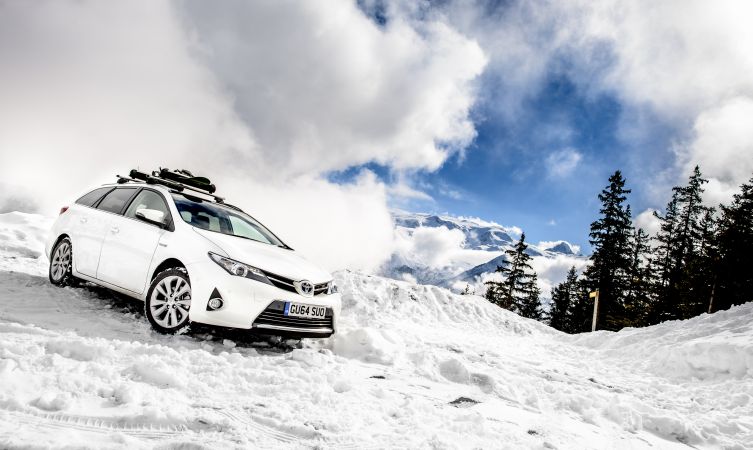 As an example, the photo above was taken at the highest parking zone at the Auris station. Just out of shot was another visitor who must have spent a frenzied hour trying to extricate his car (on summer tyres) from the area. Of course we offered to help but he refused, so we let him spectate as we glided nonchalantly across the snow with no need for shovels or a spritz of deodorant afterwards.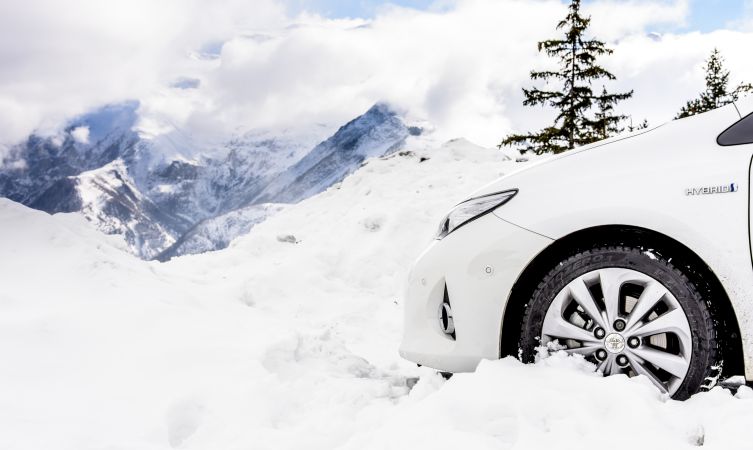 With a good selection of photos already in the bag, we felt the need to touch base with the mountain and finally unfasten our equipment from the roof.
Auris is a smaller, more chilled-out and family-friendly resort than Alpe d'Huez on the other side of the valley. It has 24 signposted ski runs for every level, including five starter slopes perfect for children.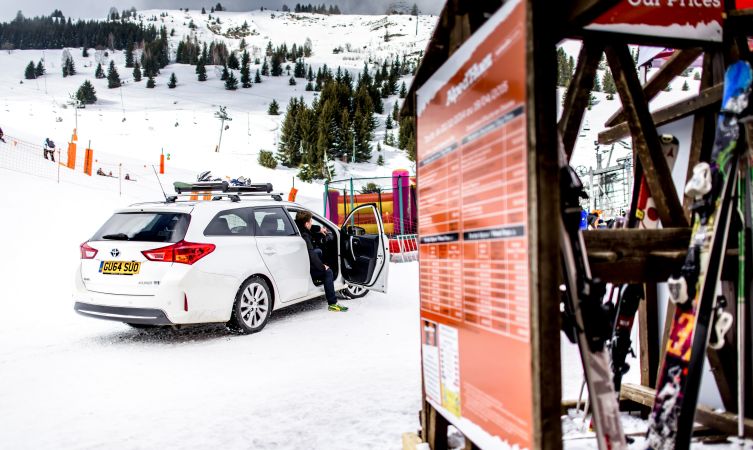 But as part of a handful of interconnected resorts spanning an area of 155 square miles, the station also has a lift that will take you directly to Alpe d'Huez and therefore access to a further 133 signposted ski runs. This includes the Sarenne black run, which begins at Pic Blanc at an elevation of 3,330m and carries on for 10 miles – the longest of its kind in the world.
Snow in this part of the Alps can last until May, after which Auris converts itself into a resort for summer activities where the same ski lifts are used to transport hikers and bike riders to the tops of the mountains.
A similarly adaptable nature came across during our journey in the Auris Hybrid Touring Sports. We found the car supremely refined and economical on the long sections of motorway, yet also in its element in congested city centres where the hybrid powerplant flexed its muscle to move us along in zero-cost EV mode.
The interior is spacious, airy and incredibly flexible, especially in the enormous boot compartment with its hidden, under-floor storage areas. And then with the assistance of official Toyota accessories, the car can be equipped for many different outdoor activities. For instance, now that we have the cross bars it's easy to fit a roof box, or carry bikes and canoes.
You know what people say about time flying when you're having fun? Well, our few days on the slopes of Auris had come to an end, but we felt reluctant to leave. The fresh air, the stunning scenery, the physical activities, the hospitality of the Aurienchons (inhabitants of Auris), and our impeccable transport had recharged our batteries.
So as we sat on a bench overlooking a viewpoint, contemplating the next few days over a cup of coffee in a souvenir mug, we wondered if there was any way of extending the experience somehow.
And then  it struck us. Auris is just an hour from the city of Grenoble, where Toyota is currently testing its futuristic i-Road concept as part of a pioneering urban mobility scheme. What's more, the Active Lean technology found in the all-electric i-Road was directly inspired by the body leaning and leg articulation of skiers tacking down a mountain. Perhaps we could arrange to have a go at some 'road skiing' on the way back.
It would be fair to call the i-Road a revolution in how it adopts a biomimetic approach to replicate the action of natural movement. Perhaps because of this, every person that used the three-wheeler came away with the broadest grin plastered across their face.
The Auris Hybrid and i-Road stand at the sharp end of current power technologies, and our final stop-off on the route back home to the UK provided a clear reminder of how far we have come.
The steam hammer now used as an architectural centrepiece in the former mining town of Le Creusot, Bourgogne region, may have been the world's largest but it was a blunt instrument in comparison. It could plunge its hammerhead into an object with a force of up to 100 tons but this steam-driven technology soon got taken over by hydraulic and mechanical steel presses that could apply force more evenly.
Indelicacy is not something you can level against Toyota's Hybrid Synergy Drive technology. Whether hauling people, luggage and roof-wear up a mountain or cruising serenely through the French countryside, the Auris Touring Sports was never anything less than a brilliant travelling companion that always used its hybrid technology to deliver optimal economy.
In fact, this same technology is also playing an important environmental role in making sure the Alps remain white in the winter. Which hopefully means that we will have many more opportunities to bring the namesakes together again.
Thanks to the Auris-en-Oisans tourist office, Auris Ecole du Ski Français and SATA for their help in organising this feature.