When the Toyota iQ was launched, Toyota GB's intrepid social media team decided to put the funky new city car through its paces in a peculiar way. Rather than focus on traditional road car test specifics such as 0-60mph times or handling around corners, they conducted a Toyota iQ fuel economy test.
The objective was to try to beat the official claimed economy figure of 65.7mpg. Read on to find out how they fared…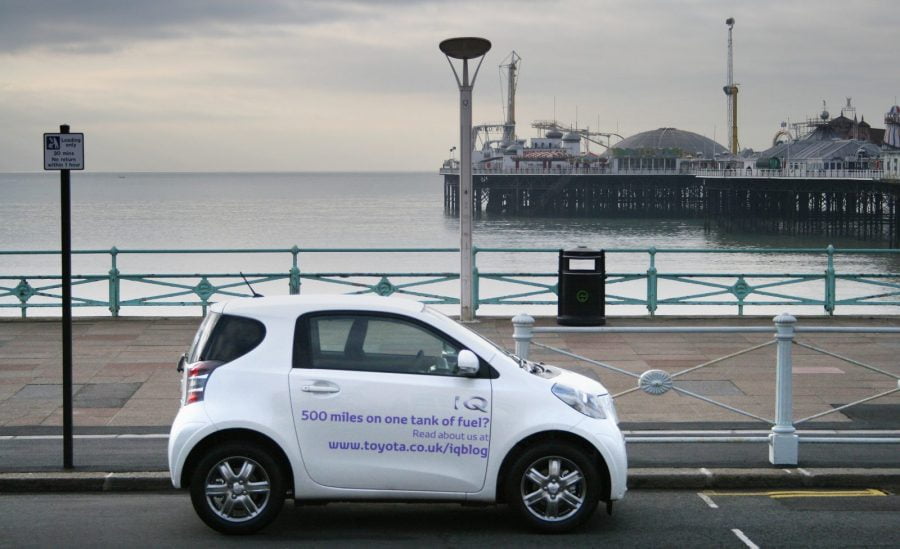 Toyota iQ fuel economy test: 26 January
This morning we picked up the car we'll be using in our Toyota iQ fuel economy test – a pearl white iQ² with a manual gearbox. We drove the car hard for a few minutes to get a feel for it – and because it turned out to be good fun.
But then it was down to the business of seeing how many miles we could eke out of each gallon of fuel, in a quick bit of practise. It's surprisingly easy to keep iQ's real-time consumption gauge above 60mpg, but not quite so easy when you're climbing up hills on the A23, even if you have got a Royal Mail van to follow.
Having never attempted a Toyota iQ fuel economy test before, we're not expecting to set any records and we aren't sure how far we'll get on our attempt. But we are interested to find out how far the iQ can go on a tank: we're aiming to average more than the car's official 65.7mpg, giving us a range of more than 460 miles.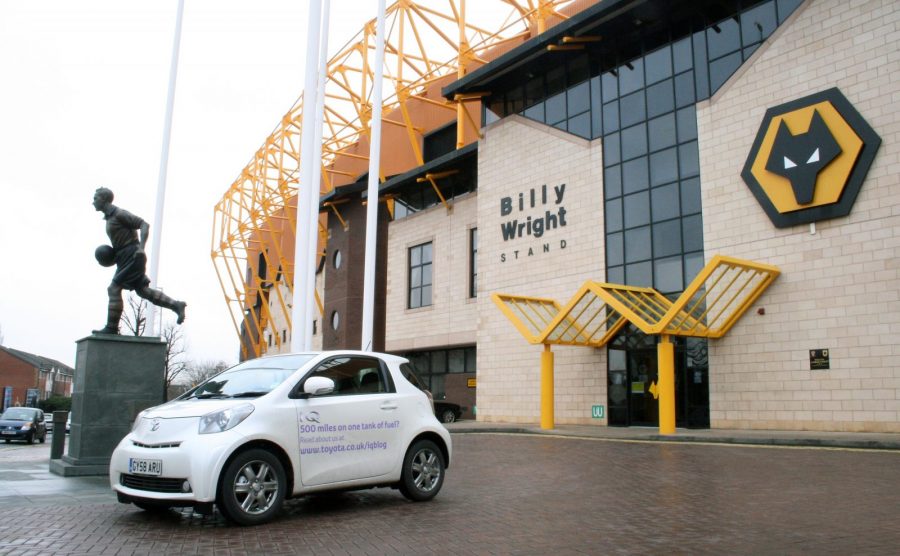 Toyota iQ fuel economy test: 27 January
1430hrs: Simon and Mark set off on the challenge early this morning from Brighton. So far they've visited five of their targeted 18 cities and are successfully keeping the average mpg above 60.
Simon reports: "What we're finding is that the real difficulty is other traffic. If we could remove all other traffic and traffic lights from the road, beating the official mpg would be a doddle. But you get caught out by traffic lights, or someone else pulls out in front as you're trundling happily along at optimum speed – so you have to put the breaks on and waste energy."
Mark adds: "Regenerative breaking – which is included on the Prius, and many other hybrids – would be a big plus. At least then when you stomped on the breaks you could store that energy and use it again."
Simon and Mark have both queried why the instantaneous and average mpg readouts on our iQ stop at 60mpg. We're going to get in touch with Toyota's technical team and ask them what they know.
2000hrs: Simon and Mark have just reached Cardiff, having tagged Chichester, Portsmouth, Southampton, Winchester, Salisbury, Wells, Bath and Bristol en route (and got a picture in each town to prove it). Including Brighton – where they started the journey – that's 10 of our 18 cities.
As they head towards Gloucester – their final city for day one – they report that they've passed the 250 mile mark of the route (halfway) but there is still more than half a tank of petrol in the car. It's looking good. Despite lots of congestion on the edges of all these cities, and some serious rain heading into Wales.
Toyota iQ fuel economy test: 29 January
You'll know that at the end of day one we'd covered 308.3 miles to spend the night in Gloucester, our 12th city. But the prospects for day two didn't seem good. With just two of six segments remaining on the fuel gauge, and both of us anxious not to have a repeat of the previous day's late night slog, we were on the road before 9am…
Before we could leave the city we had a photo to take outside Gloucester Cathedral's St Mary's Gate. Moving again, and with iQ's cold engine light yet to go out, we were bogged down in city traffic; hitting red light after red light as we headed out to Hereford.
In Tuesday's driving we'd noticed the car's uncanny ability to gather speed on some downhill stretches, leaving us closing in on slower traffic at an alarming rate and having to scrub off speed with the brakes. It didn't seem to happen every time, though, and on the way to Hereford we realised why: older, rougher road surfaces were sapping more energy out of the car than newer, smoother ones.
There wasn't anything more dramatic to think about until, around 20 minutes from Worcester, the penultimate segment disappeared from the fuel gauge. We'd covered only 360 miles and were yet to tag our 14th city, and suddenly it looked like we wouldn't even reach the Midlands, let alone run out of fuel there.
Wolverhampton wonderers
After a couple of wasteful U-turns in Worcester, and convinced we hadn't long to go, I managed my smoothest driving of the trip over the 37 miles or so to Wolverhampton, where we were spotted by blog reader Trevor. I wasn't sure if Mark nodding off was a compliment or not, but soon enough he was at the wheel again for what we knew would be the last stint.
Much to our surprise, we soon found ourselves in the heart of Birmingham – the UK's second biggest city – trying to find the Selfridges building to photograph ourselves against. Without the right address for the SatNav, we drove past the Bullring and turned round at New Street station before deciding we had the photo we needed and pressing on anyway.
In Coventry, with a fuel gauge that had been blinking for more than three hours, we were willing iQ on. We hadn't yet managed to equal the car's theoretical 462-mile range on a full tank – the bare minimum target we'd set ourselves – and although we'd got our photo by the beautiful cathedral ruins, it looked like we were going to come up short.
We'd covered 446.5 miles: Mark was hungry, I was parched, iQ was running on fumes, and Oxford – city 18 – was 58 miles away.
University challenge
Mark eased us out of town, and although we desperately needed the smooth, easy running of the motorway, we had to stay on A roads where it would be safer for us to splutter to a halt. Just 15 minutes later we were in a filling station, but it was Mark & me taking on fuel. Somehow, iQ was still going.
It was still going as we passed Warwick Castle on the A429 and, mercifully, still going as we nudged past the 462 mile mark. At least now we'd proved that it's possible to match a car's official fuel figures in real life driving, and at least now we wouldn't feel like we'd let anybody down.
"This is were you find out how many extra miles you can really do, when the petrol gauge shows empty," Twitter user Geoff Lloyd told us, and Mark was doing everything he could. By this point he'd become a dab hand at carrying speed through corners, and I'd become adept at catching our various gadgets as cornering forces unseated them.
The traffic was light as we drove the A44 towards Oxford, and we'd started daring to believe we'd get there. Messages of support were coming in and, blinking fuel gauge aside, iQ wasn't complaining. But it couldn't last. Somewhere approaching Woodstock as we reached the end of a lengthy climb, the car gave a jerk and I looked at Mark: "Was that you or the car?"
On the next climb, every bit as big, iQ stuttered again and we knew our time was nearly up. We passed 492 miles. We thought the next hill would finish us. We considered throwing seats and overnight bags from the car – anything to just reach Oxford.
And then we looked down and saw 499 miles on the clock. Surely not? Our car's graphics, carefully applied by designer Rick, said "500 miles on one tank of fuel?". As we approached our 18th city centre, we could finally lose the question mark.
We knew as we parked up for a photo opportunity in front of the Bodleian Library that it would be our last. Starting up again with a faltering engine we managed to add another 2.2 miles to the 502 we had on the clock. In the thick Oxford traffic it took us 14 minutes.
As we pulled into a quiet side road the engine gave its biggest complaint yet. It was still idling, but we knew it was time to call it a day. Out came the plastic petrol can and in went its contents. Now we just needed to find a filling station, brim the tank again and head home.
Reflections on our efficiency drive
We've reluctantly returned our iQ to Toyota HQ, and had a chance to reflect on last week's 500-mile drive.
We set out to prove that iQ is an efficient car, but also that it's not only possible to match a car's official fuel consumption figures – you can beat them in real driving on real roads.
iQ's tank holds seven imperial gallons (32 litres) of fuel; after we filled it to the brim we managed to go for 504.2 miles. Allowing for some extra fuel in the filler pipe, we managed 70-72mpg – the car's official figure is 65.7mpg.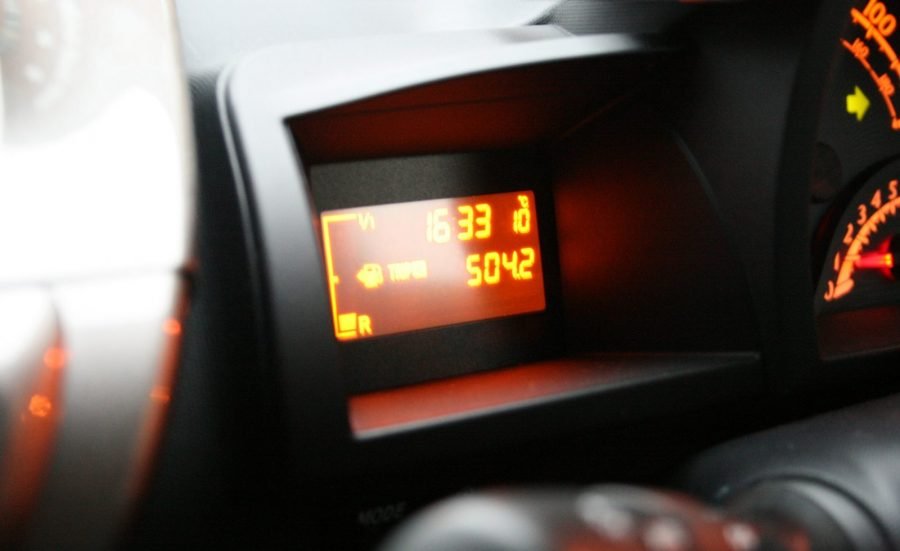 We're really happy with our result, but there's no doubt we could have got further. We drove into the centre of 18 cities and met heavy traffic in several – notably Wolverhampton, Birmingham and Oxford. We had a couple of hours of heavy rain in Wales, and used headlights during six hours of our first day's driving.
Of course, bad weather and darkness are unavoidable at this time of year (we're glad we missed this week's snow), and it's fair to say that we made a couple of our own problems. Chief among these was our route, which – particularly on the first day's driving across the West Country – took in many hilly, bendy and narrow back roads. We were surprised to discover just how much more fuel we used on these than on motorways, where we could keep up a more constant, faster speed.
It's not just our route that would have benefited from a bit of extra research, either. Neither Mark or I had attempted this kind of economy challenge before, and while we sought advice from others who had attempted similar feats, we've discovered a wealth of extra resources since we returned – not least of which is the information provided by cleanmpg.com.
What we learned
What we did show is that it's possible for any driver to save on fuel by changing their driving style. We discovered that doing so takes a bit of practice and a lot of concentration, but that it definitely isn't dull. It isn't unsafe, either – many of the most effective techniques rely on good observation and anticipation.
It may sound obvious, but cars use the most fuel when accelerating, so the key to saving it is to accelerate gently and avoid slowing down as much as possible. We learned a lot in our two-day drive – and are by no means experts now – but here are the techniques we found to be easy and effective:
• Don't drive too quickly – tests by What Car? showed that the most economical speed is the slowest that you can drive in top gear without the engine labouring – in iQ's case that's about 35mph. But depending on the road, the minimum safe speed may be much higher – we maintained around 55-65mph on motorways.
• Leave a gap – leaving a large gap to the driver in front let us accommodate many of their actions without having to hit the brakes at all. It's also much safer in an emergency.
• Cornering – throwing a car through corners can be dangerous, but slowing down too much wastes energy. We read the road ahead as much as possible and tried to keep our speed through corners, slowing when necessary by coming off the accelerator well in advance rather than braking. A good gap helps here, as many other drivers slow more than they need to.
• Drafting – A lorry or coach moves a huge amount of air, and we picked up the benefits of this by following behind them. Keep a safe distance, though – never get so close you can't see what the traffic in front is doing, or react in time to an emergency.
As we're happy to admit, we're novices at this, and we know that our results will be beaten soon. If you do better, we'd love to hear about it.
The details of this article were correct at the time of publication in 2009.