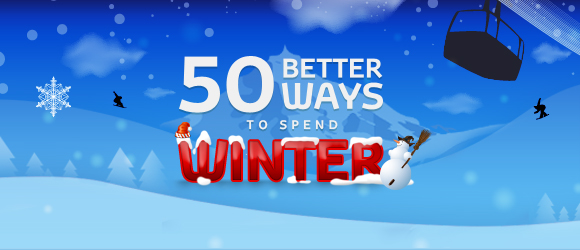 UPDATE: 1/2/2013 – VOTING IS NOW CLOSED.
We're into the final stage of the Toyota 50 Better Ways to Spend Winter competition and it's time for YOU to choose who you think should win a perfect UK winter getaway.
We've selected the top entries submitted so far, and now it's down to you to pick the overall winner.
Here's the shortlist:
Steve Robertson would like to take a Verso to the Lake District for a family holiday in a log cabin. He says: "What better way to stave off the winter chills than in front of a roaring fire surrounded by the people you love. Heavenly!"
Lisa Anderson wants to load her family, including Granny and Grandpa, into a Land Cruiser and tour the country to find the scariest roller coaster. She added: "Surprisingly, Granny and Grandpa are up up for it too! I hope Granny knows what roller coasters are like these days!"
Nick Young says: "I'd love to take a trip with my family up to one of my favourite places, Scotland, so I can get back to nature and use my camera to take plenty of photographs." He'd like a GT86 for the trip, and says he'd love to improve his photography technique among beautiful scenery of Scotland.
Rose Tabberer would also head north of the border, heading for Speyside in a Land Cruiser. She'd like to take country walks, try horse riding, dine out on haggis every day and sample the best of the local distilleries' single malts.
Will Bishop wants to visit Burton on Sea, Dorset to watch paragliders from the comfort of a seaside cafe. He'd also take in the sights of the New Forest in a Land Cruiser.
Anita Rea wants to treat her dogs to a walk to remember on Exmoor, using a Yaris to get there. She says: "Wind whipping our hair and their floppy ears as we smile gleefully and they pant happily. Enjoying the wonderful wilderness Devon has to offer and sharing it with my nearest and dearest."
Richard Hesse wants to sample the culinary delights of the Peak District, most importantly learning how to bake the famous Bakewell Tart. He'd use a Verso to explore as much of the area as possible, including meeting locals and visiting Matlock – and when he isn't out and about, cooking on open fires.
So there are the entries, now it's time to make your choice. The overall winner will be selected by your votes alone, so head over to our Facebook page to pick your favourite!
Voting is open until Thursday January 31st.