A new 2.8-litre engine leads a series of technical, dynamic, styling and equipment upgrades for the 2021 Toyota Hilux, the latest version of our world-famous, go-anywhere pick-up. With these measures, the model strengthens its appeal and maintains its reputation as one of the most competitive and capable workhorses in its segment.
The DOHC 16-valve 2,755cc turbo diesel unit (codenamed 1GD-FTV) generates 201bhp at 3,400rpm. Maximum torque varies depending on transmission, with the six-speed automatic offering a gutsy 500Nm between 1,600 and 2,800rpm. The manual transmission offers 420Nm of torque but in a broader 1,400 to 3,400rpm range.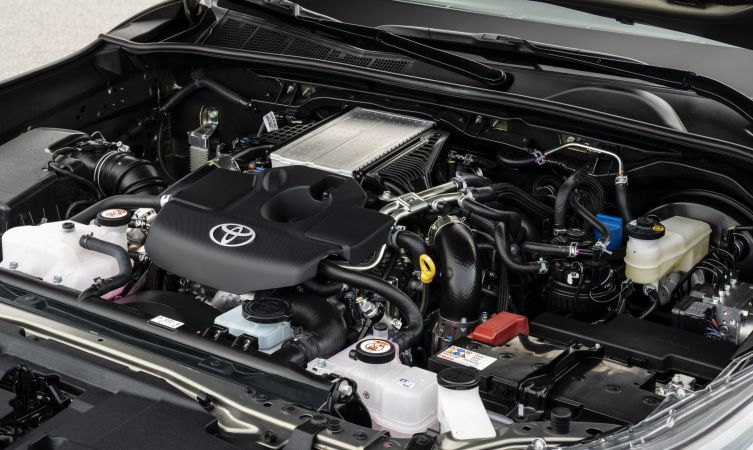 Outright performance is significantly improved compared to the established 2.4-litre unit. Acceleration from 0-62mph has been reduced by 2.1 seconds to 10.7 seconds (automatic transmission), yet despite the new engine's larger capacity and higher output, there is only a modest difference in efficiency. Official WLTP combined cycle data shows that owners can expect to return 28.5 to 30.0mpg with automatic transmission, and 31.3 to 33.2mpg with manual transmission.
What hasn't changed, however, is the model's one-tonne payload capacity and the ability to tow braked loads of up to 3.5 tonnes.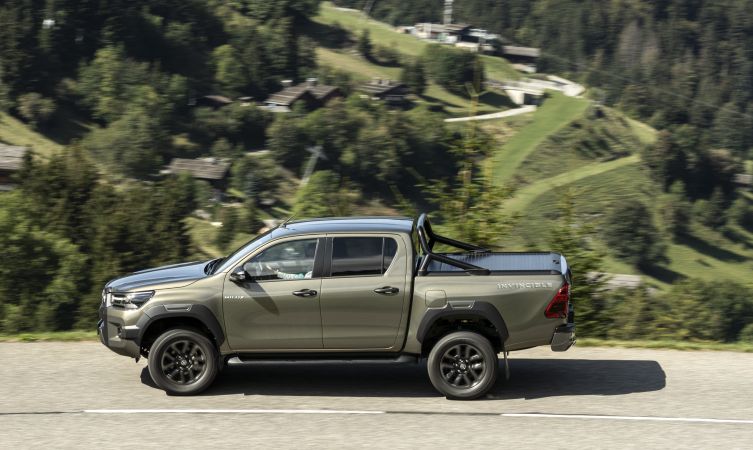 Key to the new engine's strong balance of performance and efficiency is precision engineering and construction. Measures include an optimised combustion chamber shape, pistons and piston rings, a diamond-like carbon coating on the piston rings, and a slowing of the combustion gas flow to reduce cooling losses. There is also a two-stage oil pump that can modify pressure as required, reducing the load on the pump when the engine is cold or operating under light loads.
The exhaust gas recirculation section of the intake manifold is designed to suppress variation, and intake efficiency has been improved by dispensing with the swirl control valve. Further measures have adjusted catalyst capacity and performance to ensure compliance with Euro 6d emissions regulations. The engine is quieter, too, with less vibration thanks to detailed adjustment to the shape of the intake manifold and the catalytic converter's insulator.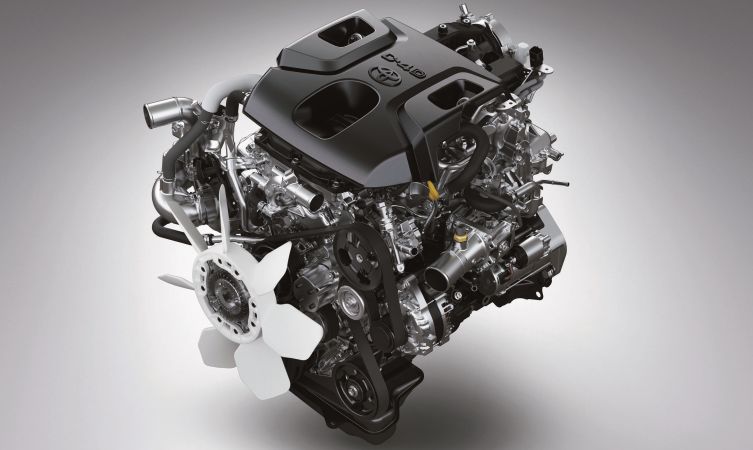 The new 2021 Toyota Hilux continues to be available with the existing 2.4-litre turbo diesel unit, which itself has been upgraded with a new stop-start system (except entry-level Active grade). The new 2.8-litre engine is available with a choice of automatic or manual transmissions. It powers the top-of-the-range Invincible X Double Cab model (pictured) and can be specified in the Invincible Double Cab model. Details of pricing are available here.
The new Toyota Hilux is on sale now!
*Please note that the images shown in this article are not UK spec