The new 2019 Toyota Corolla and Touring Sports have arrived and we have all the information you need about them. Built at Toyota's Burnaston factory in the UK, the all-new Corolla has a more dynamic look with stronger differentiation between the compact, sporty hatch and the sleek, refined Touring Sports wagon.
Toyota has more than 20 years of hybrid technical leadership and has amassed more than 12 million global hybrid vehicle sales – including 1.5 million in Europe. The 2019 Corolla establishes another landmark in its development of the technology with the debut of Toyota's dual hybrid strategy, adding a new 2.0-litre self-charging hybrid electric powertrain to the range.
Toyota has responded to feedback from potential customers who want more power when driving a hybrid car, moving to offer its core models with a choice of two hybrid powertrains. One has all the established strengths of Toyota's fourth-generation system, including improved responsiveness, more linear acceleration, fuel efficiency and a relaxing drive. The other builds on these qualities with more power on demand, effortless acceleration and more dynamic, fun-to-drive characteristics.
Below, we take a dive into each of the characteristics of the new 2019 Toyota Corolla in more detail to see what sets it apart from both its predecessor and its competitors.
2019 Toyota Corolla: design
The new Corolla Hatchback has a more striking frontal design that is dynamic and distinctive. The car's overall length has been increased by 40mm, all of which are contained within a longer wheelbase. Significantly, the overall height has been reduced by 25mm, while the cowl height has been brought down by 47mm. The result is a sleeker shape and a lower, more attractive bonnet, which in turn improves safety by increasing the driver's field of vision.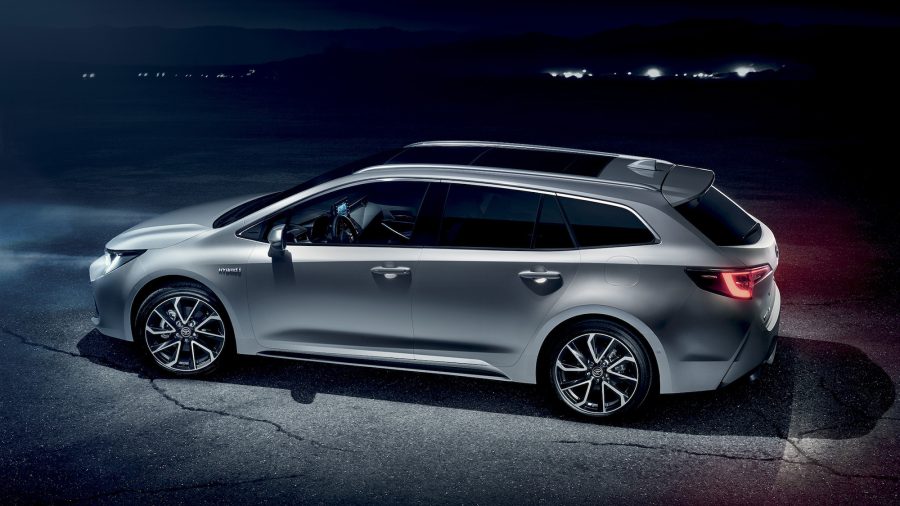 Beneath the curved edge of the flatter, clamshell bonnet, a narrow upper grille accommodates new, all-LED lamp clusters with integral daytime running lights. The trapezoidal lower grille has a new mesh design and a frame that projects powerfully forwards. It is less sharply angular and sits more upright than before, resulting in the front overhang being reduced by 20mm.
The sides of the grille surround generate Toyota's signature catamaran shape, emphasising the 30mm increase in the car's width and its broad, sporting stance. The upturned edges of the front spoiler house new LED fog lights.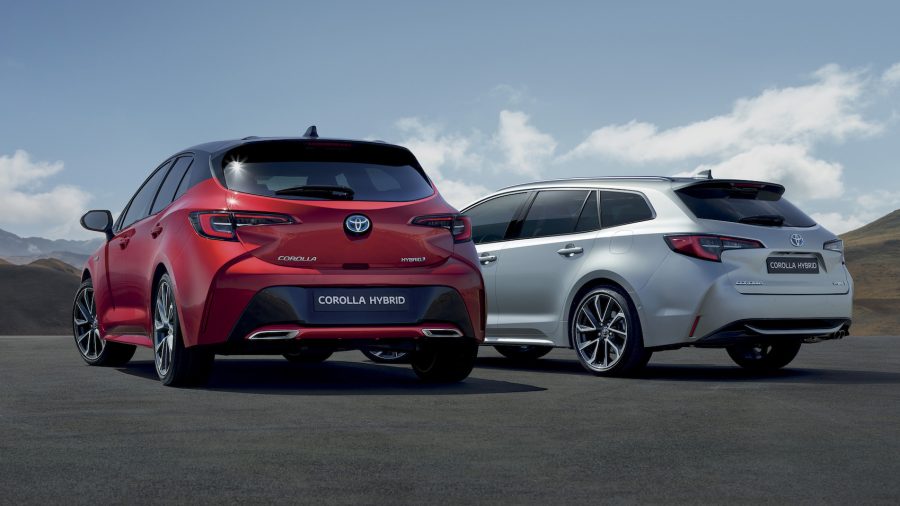 The rear styling is more rounded than before, strengthening the visual relationship with the front of the vehicle. The tailgate is made of a resin material, which makes the complex curves of its design possible while also saving weight. A 14-degree increase in the angle of the rear screen and muscular haunches above the rear wheel arches combine to give the car a more compact appearance. All versions of the Hatchback feature a roof spoiler and shark fin antenna.
The car's width is emphasised by the all-LED light clusters located as close to the edge as possible, while the rear bumper styling echoes the catamaran look of the front. A lower rear lip features twin chrome inserts.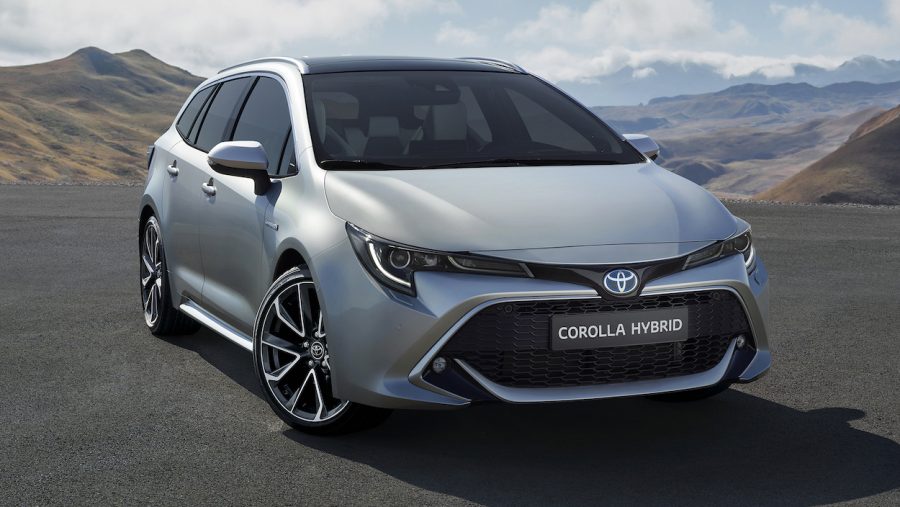 The Corolla will be available with five new wheel designs, including 18-inch machine-finished aluminium alloy wheels and two new 17-inch alloys – one silver and one black/machined. Customers will have 11 body colours to choose from, including four new shades. Exclusive to its segment, the new model will also be available with four optional bi-tone colour schemes, combining a black roof, pillars and lower grille surround with a contrasting body colour.
Exterior design: Corolla Touring Sports
The new Corolla Touring Sports has a body style that is unique to Europe and was styled in Europe, at Toyota's recently opened design centre in Zaventem, Belgium. Thanks to the adoption of TNGA architecture, the wagon is no longer simply a variation of the hatchback but a distinct model in its own right.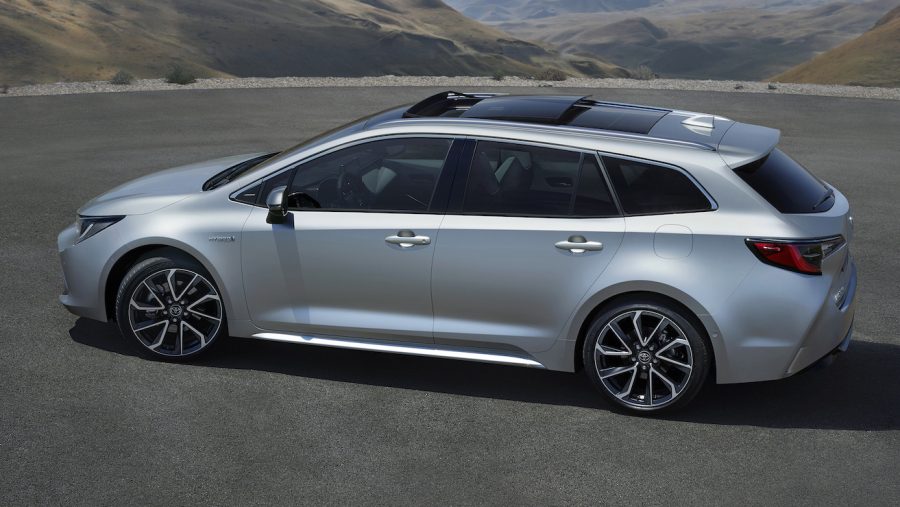 It is 58mm longer than the previous Touring Sports. More significantly, the wheelbase has been increased by 100mm, and the distance between front and rear seats has been extended by 48mm to offer best-in-class rear legroom.
Although it has the same frontal styling and 25mm reduction in overall height as the new Corolla Hatchback, every body panel rear of the B-pillar is exclusive to the model, offering a sweeping estate roofline that is elegant yet robust. The sporting profile is reinforced by the same flared arches found on the hatchback, their edges hemmed so the wheels can be positioned further outwards to emphasise Corolla's wider stance and lower centre of gravity.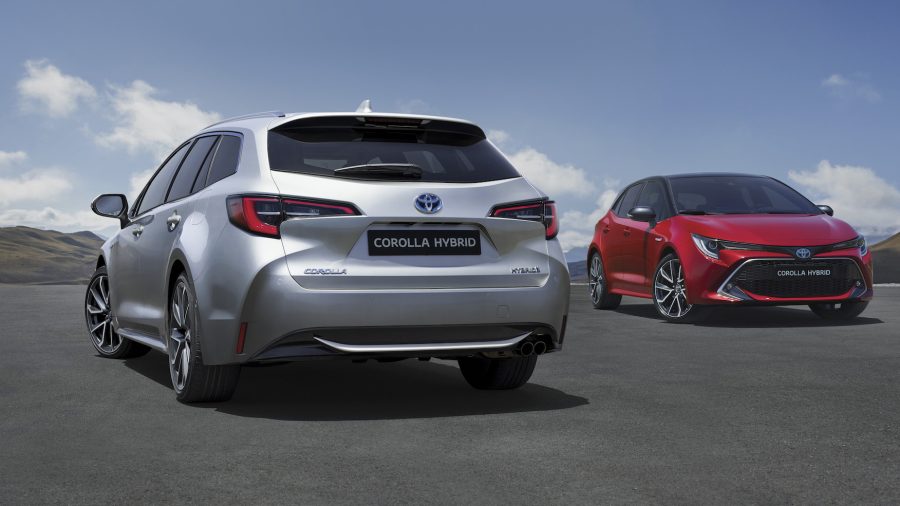 At the rear, the full LED lamp clusters are spaced widely apart and the rear screen has a 12-degree lower rake than the current model. The licence plate sits higher on the tailgate and the sill has a smaller step. Deeper rear bumpers echo Toyota's catamaran design cue witnessed in the car's frontal styling.
Colour choices will be the same as those for the Hatchback, including bi-tone finishes.
Interior design: Corolla
The new Corolla range showcases an all-new interior that presents a spacious, modern and cohesive cabin environment in which new textures, colours and trims combine to offer the highest levels of visual and tactile quality.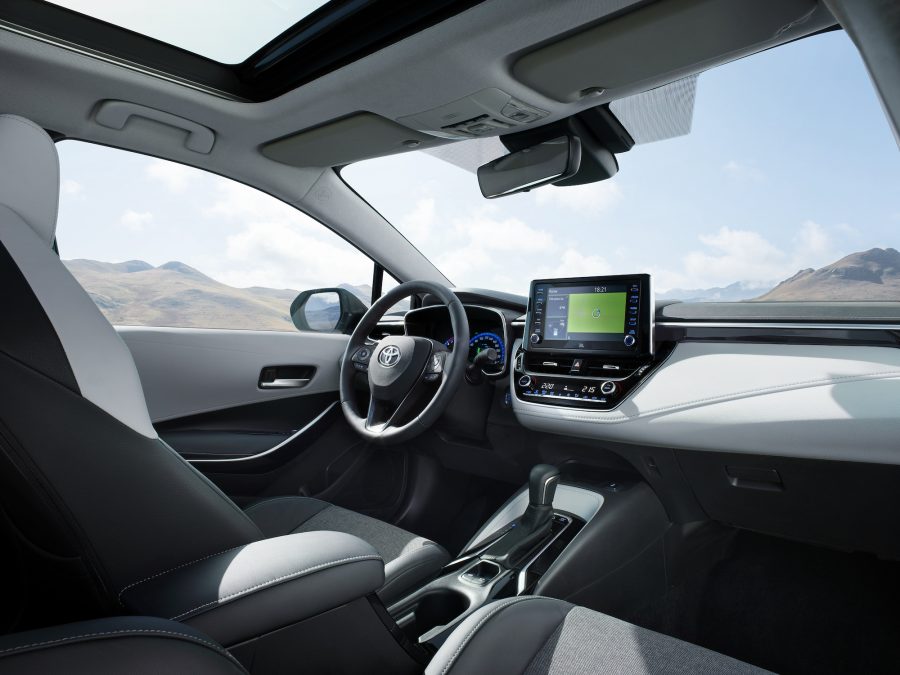 A new instrument panel, 24mm slimmer than in the current model, is key to generating a sense of spaciousness. The resulting reduction in the height of the upper panel area reduces the perceived mass of the panel itself and improves the driver's forward visibility. This has also allowed the front seat hip point to be lowered and brought closer to the car's centre of gravity, giving a more engaging driving position.
Conversely, the centre console has been made 42mm wider and 22mm higher to improve ergonomics and enhance the wrap-around feel of the cockpit. At the same time, the armrest height has been optimised and its sliding range increased to improve comfort.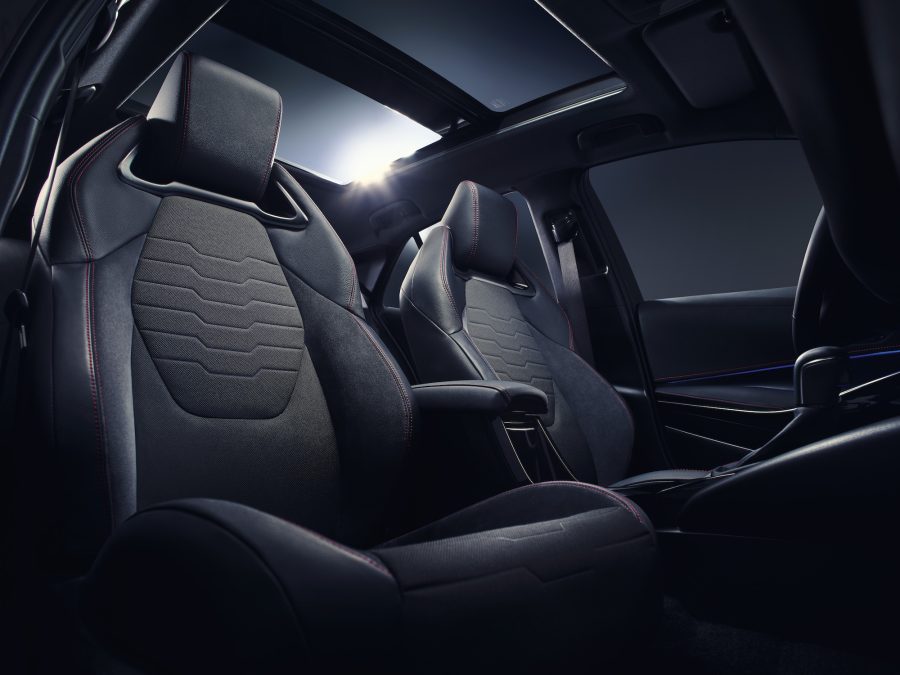 The front seat design has been revised with changes to the seatback and cushion springs and the thickness of the urethane pad. These measures promote a better driving posture with wider pressure dispersal, increasing comfort and reducing fatigue, particularly on long journeys. Higher grade models feature new sports seats with shoulder supports and thick side bolsters to achieve excellent holding performance in an overall slim seat design.
The rear seats have also been revised, with a new cushion material that allows for more even distribution of the occupant's weight. As standard, all rear seats can be folded using a remote lever to create a fully flat extension to the load space.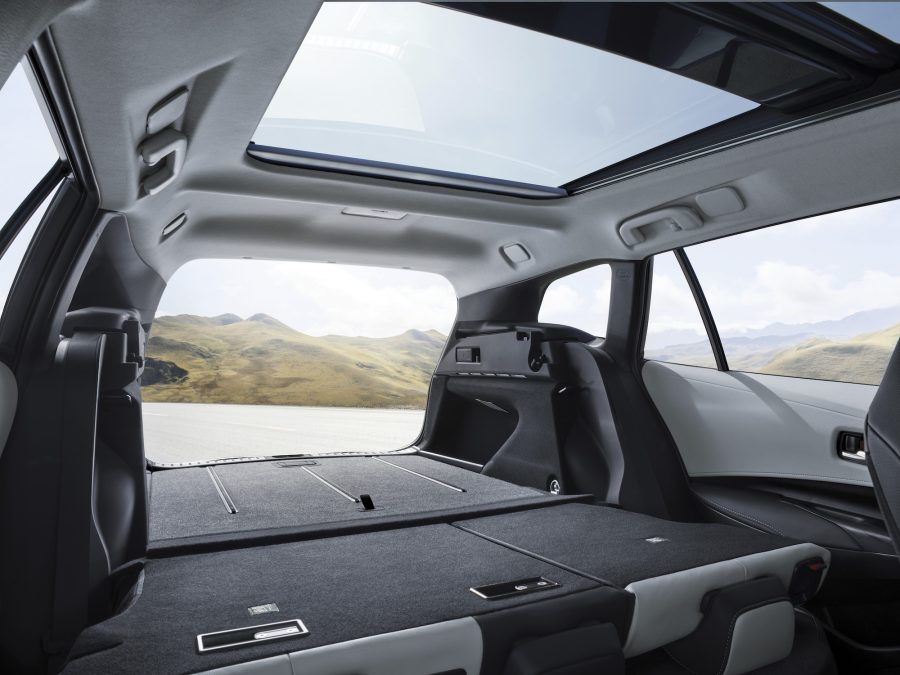 The materials and trim finishes have a high visual and tactile quality, including satin chrome plating and paint, piano black elements, and a choice of cloth, Alcantara or genuine leather upholstery.
2019 Toyota Corolla: comfort and technology
The new 2019 Toyota Corolla is equipped with a comprehensive range of comfort and convenience technology features, either as standard or available as an option, according to model grade. The highlights are summarised below.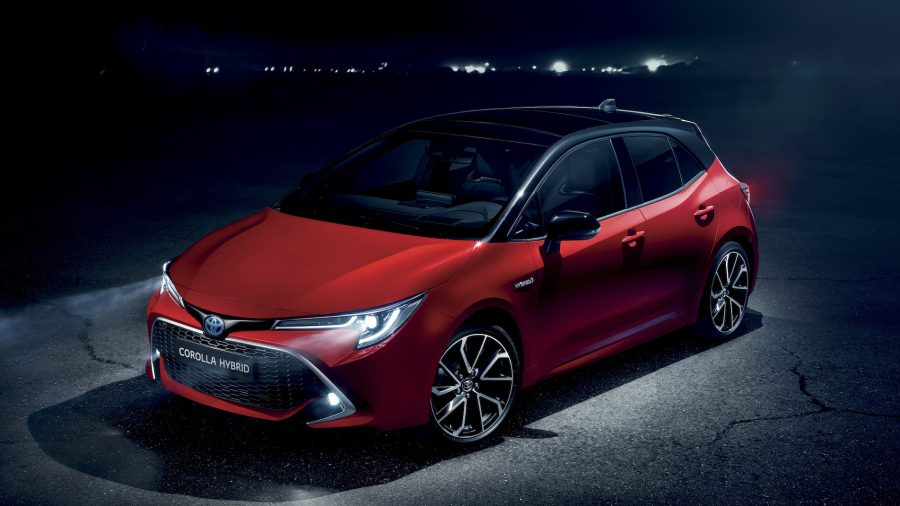 LED headlamps
Three LED headlight systems are featured in the Corolla line-up, according to model grade – a triple LED parabola unit headlamp; a bi-beam LED headlight with Automatic High Beam System; and an LED headlight with an Adaptive High-beam System.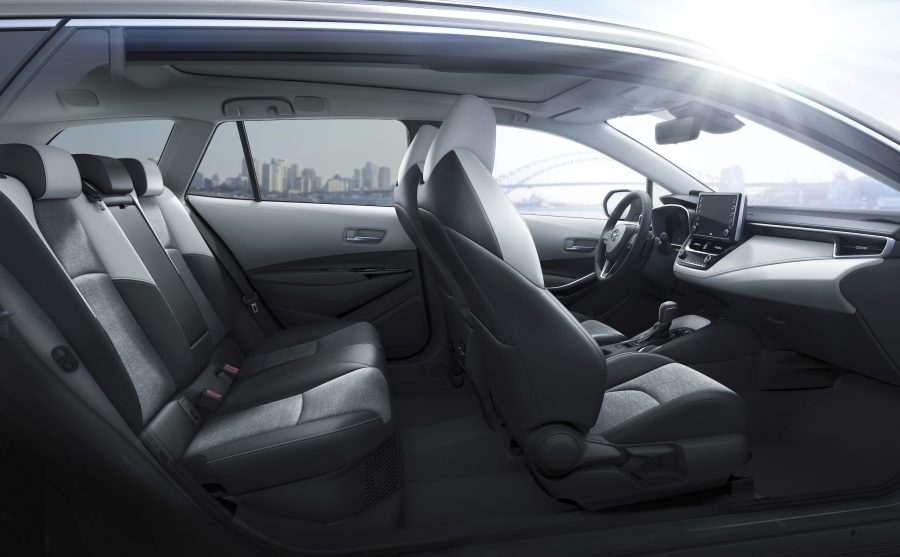 Toyota Touch 2 multimedia system
The Toyota Touch 2 with Go multimedia system is operated using a full-colour, eight-inch touchscreen in the centre console. It is quick and intuitive to use, reacting to familiar pinch, zoom and slide gestures like a smartphone.
eCall
eCall will automatically contact emergency services in the event of an accident in which the airbags are deployed, giving details of the vehicle's precise location and the number of people on board. The eCall button can also be used to reach the emergency services directly; the call is made using the car's built-in SIM, with no charge to the owner.
Connected services
Connected services will be available, giving access to convenience and peace-of-mind features such as Last Mile Guidance, Send to Car navigation, Find My Car, Driving Analytics and Maintenance Reminder.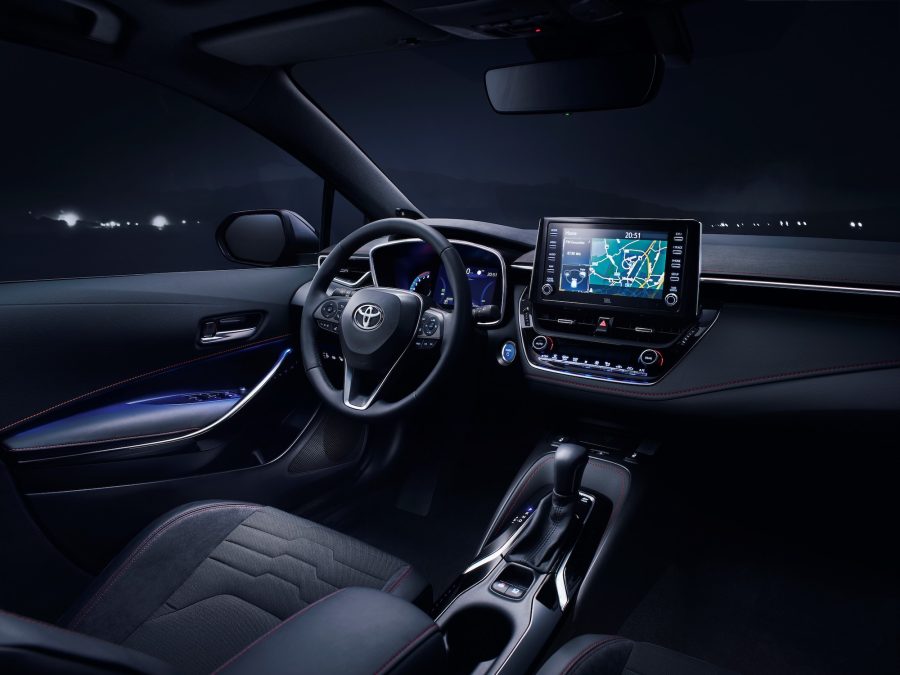 JBL GreenEdge Premium sound system
An eight-speaker JBL Premium sound system will be available for new Corolla hybrid electric models. The speakers, which include JBL's signature horn tweeter mounted in the A-pillar, have been tuned to suit Corolla's notably quiet cabin. The system incorporates Clari-Fi technology which supplements frequencies that are lost in compressed digital audio files, restoring the sound quality and stereo mix as closely as possible to the original recording.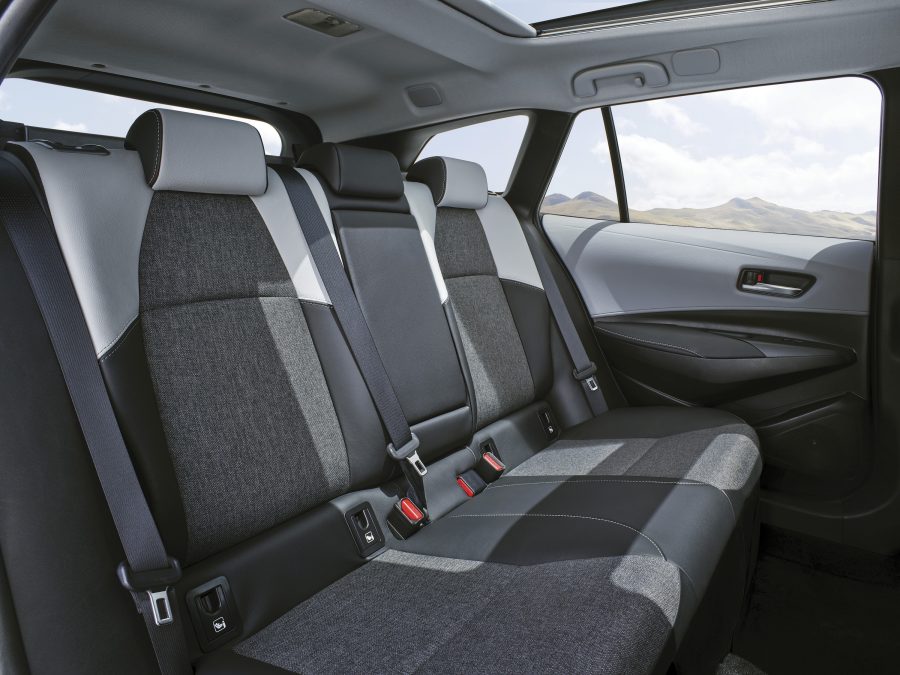 Skyview panoramic sunroof
The Skyview panoramic sunroof has two glass panels. The front panel slides to give a maximum opening of 272mm, with a mesh deflector to reduce wind noise. The roof is also fitted with an internal roller shade.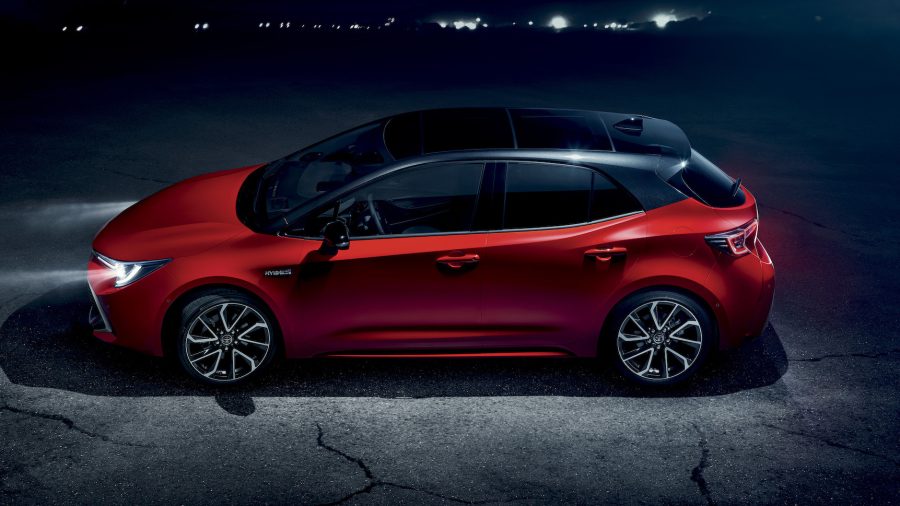 Simple Park Assist with Intelligent Clearance Sonar
The SIPA system uses a rear camera and ultrasonic sensors on the sides of the front bumper to identify viable reverse and parallel parking spaces. It will automatically apply the correct sequence of steering angles to manoeuvre the car into the target space; all the driver has to do is control the vehicle's speed. SIPA activates the Intelligent Clearance Sonar system to ensure safe manoeuvring.
2019 Toyota Corolla: powertrains
This is the third of four blog articles focusing on important characteristics of the new 2019 Toyota Corolla Hatchback and Touring Sports models. We have already examined the model's exterior and interior design and its comfort and technology features. This blog looks at the Corolla's powertrains, and the final article will concentrate on the vehicle's dynamic qualities.
Hybrid electric powertrains
Greater awareness of environmental issues has helped prompt ever-stricter emissions regulations, particularly in large European cities. Toyota's self-charging hybrid electric powertrains are a compelling proposition, offering exceptionally low emissions and high fuel efficiency, with the ability to cover up to half of the average European commuting journey on electric power alone.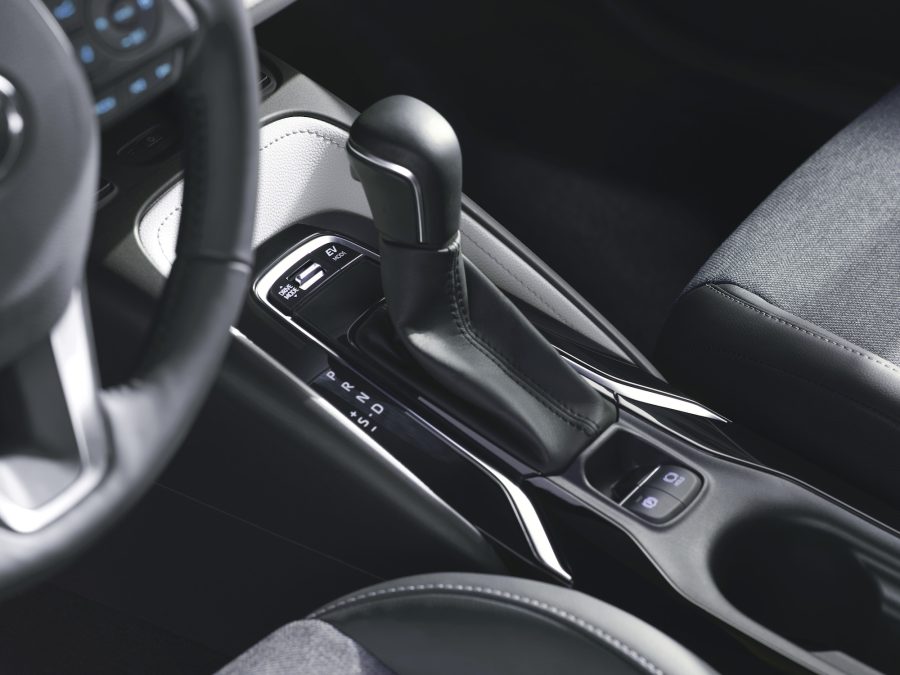 The new Corolla is the first Toyota model to be offered with a choice of two self-charging hybrid powertrains: 120bhp 1.8-litre and 178bhp 2.0-litre hybrid systems. The range is completed with one conventional petrol engine – a 1.2-litre turbo unit.
Improved 1.8-litre hybrid system
The fourth-generation 1.8-litre hybrid electric system develops 120bhp and 142Nm of engine torque. The added power is provided by a 53kW electric motor-generator, which generates 163Nm of torque from zero revs.
The size and weight of the system have been reduced so that it can be installed on the new GA-C platform without compromising its output or quietness. The 1.8-litre engine benefits from a series of friction-reducing measures, a larger-capacity exhaust gas recirculation system and optimised heat management.
The hybrid drive system's calibration has been further refined, and greater torque from the electric motor gives a more linear increase in revs under acceleration. Fuel efficiency is aided by the use of a lithium-ion hybrid battery.
New 2.0-litre hybrid system
The new 2.0-litre hybrid electric system develops 178bhp and 192Nm of engine torque, with further torque provided by the electric motor generator.
Exploiting the stability and handling benefits of the TNGA platform, it offers an energised drive with more power, a Sport drive mode and six-speed Sequential Shiftmatic transmission that can be operated using paddle shifters on the steering wheel.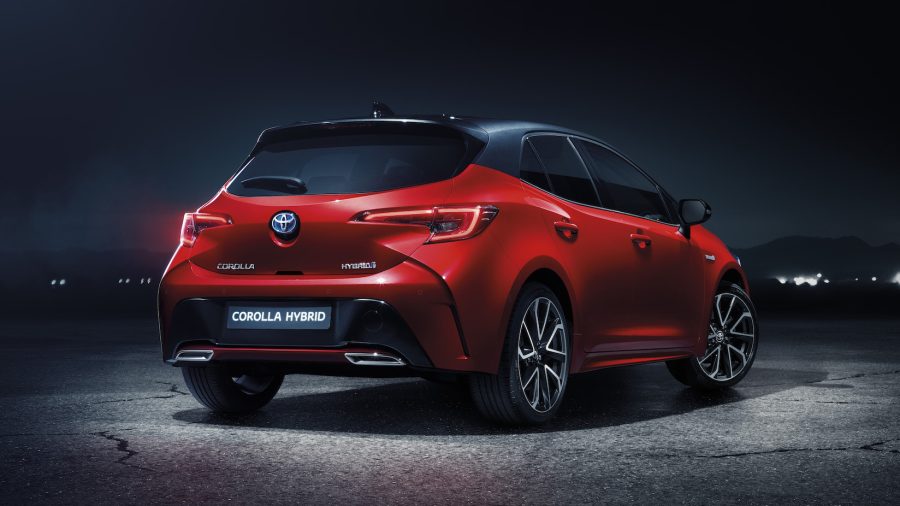 The new system is unique in Corolla's market segment, as no conventional powertrain offers the same combination of power and low emissions. Toyota has applied numerous measures to ensure the extra power is matched by fuel efficiency, reduced emissions and quieter running.
The fuel efficiency is supported by a number of additional factors: the engine's high, 14.0:1 compression ratio, a high tumble flow generated by an efficient intake port design and long stroke, a new oil pump design, and a series of friction-reducing measures. Reducing the size of the transaxle, power control unit, motor-generator and hybrid battery further reduces fuel use.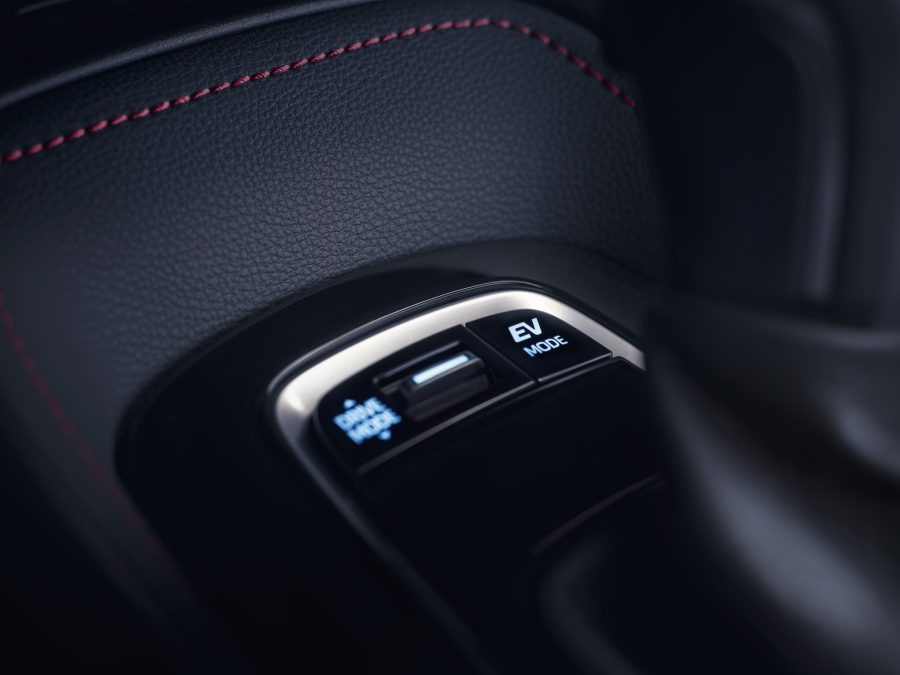 The maximum speed when driving in all-electric mode has been increased to more than 70mph and system control has been changed so that the engine cannot be started without the accelerator pedal being operated, even before engine warm-up starts. Together these measures substantially improve fuel efficiency.
The catalytic converter has been located closer to the engine, and warm-up control after engine start has been optimised to give early, improved performance to reduce emissions.
Powertrain noise has been reduced to exceptionally low levels with the use of a balancer shaft, a change in the engine mount position and shape, structural changes to the transaxle, polishing of the gear teeth and the adoption of a positive/negative hysteris damper, lightweight timing chain and revisions to the water pump motor.
Both the new 2.0 Hybrid and 1.8 Hybrid derivatives of the new 2019 Toyota Corolla have towing capacities of 750kg.
2019 Toyota Corolla: driving dynamics
This is the fourth and final blog article focusing on important characteristics of the new 2019 Toyota Corolla Hatchback and Touring Sports models. Previous articles have examined the model's exterior and interior design, its comfort and technology features and powertrains.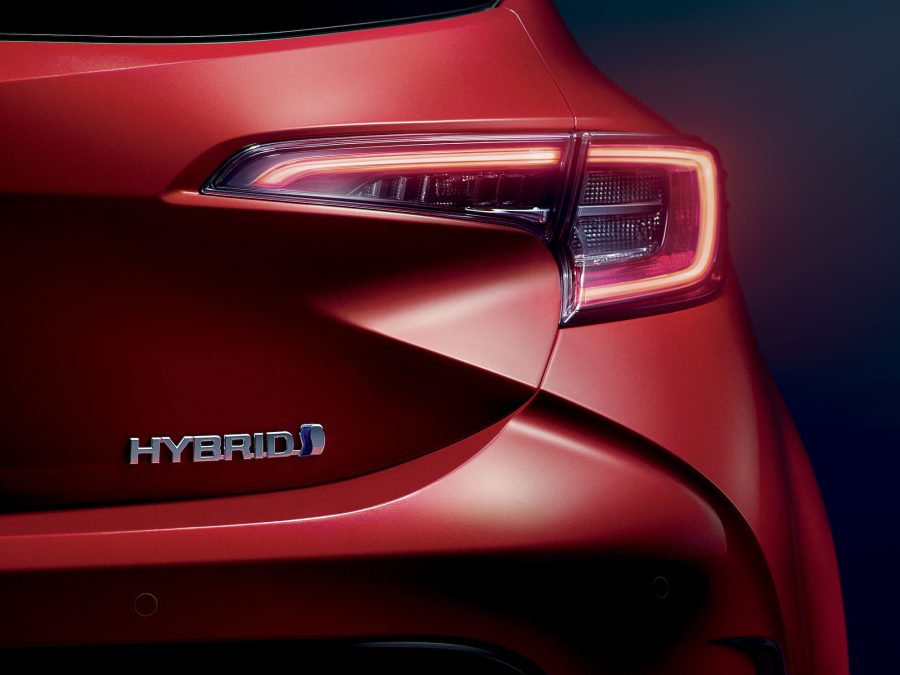 TNGA body shell
The Toyota New Global Architecture platform which forms the foundation of the new 2019 Corolla range brings considerable dynamic benefits, together with marked improvements in ergonomics and the driver's view from the wheel.
The body shell makes extensive use of aluminium, high-tensile strength steel and hot stamped materials, while the thickness of the doors and roof panel has been reduced. The result is a considerable reduction in weight and a consequent improvement in fuel efficiency.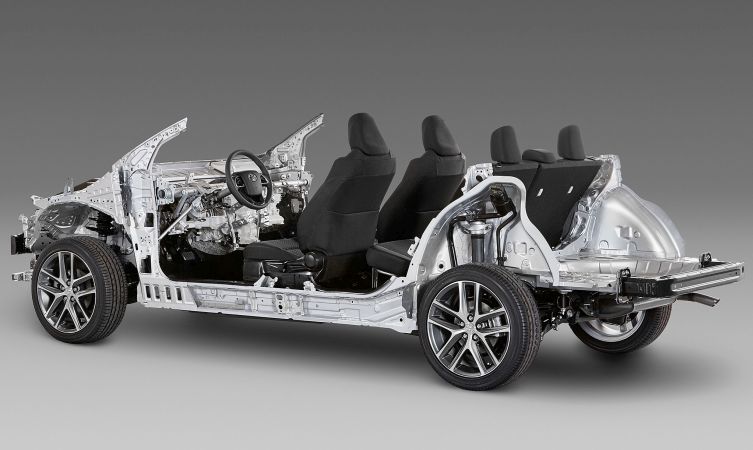 Using adhesives and more extensive spot welding has helped increase body rigidity by around 60% compared to the current Hatchback and Touring Sports models. This helps achieve a notable increase in handling agility, steering responsiveness and high-speed stability.
Handling and agility are further improved by a lower engine mounting height, a lower hip point for the seats, and the location of the hybrid battery beneath the rear seats. These measures have helped lower the car's centre of gravity by 10mm.
Suspension
The new Corolla uses a proven MacPherson strut front suspension and an all-new multi-link system at the rear. The shock absorbers feature new valve technology and, for the first time, Corolla will be available with Adaptive Variable Suspension (AVS).
The front suspension geometry has been revised and the characteristics of the coil springs and shock absorbers have been optimised for a linear steering response in mid- to high-speed cornering. Changes have been made to the suspension arms and bushes and friction in the sliding parts has been reduced to minimise the transmission of shock from rough surfaces.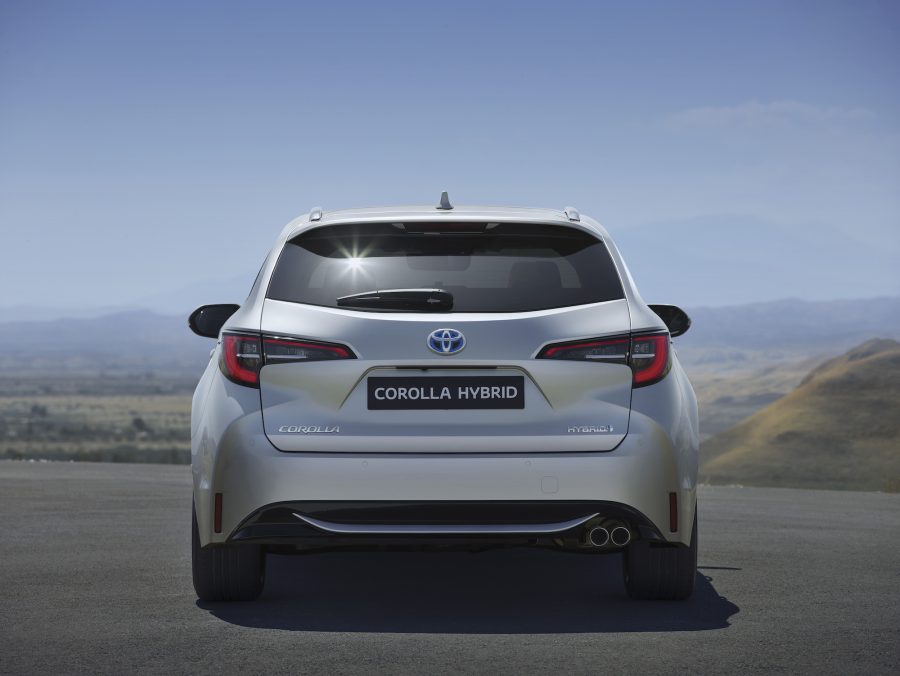 Compact packaging of the new multilink rear suspension means there is less intrusion in the load space, allowing for an increase in volume. It also delivers excellent handling stability and ride comfort, supported by an exclusive coil spring design. Link arm locations have been precisely determined to keep the tyres at a toe-in angle, both during cornering and under braking, improving the vehicle's stability and response to steering inputs.
Both front and rear suspension systems benefit from a new shock absorber valve design which provides a 40% reduction in friction for a smoother and more comfortable ride.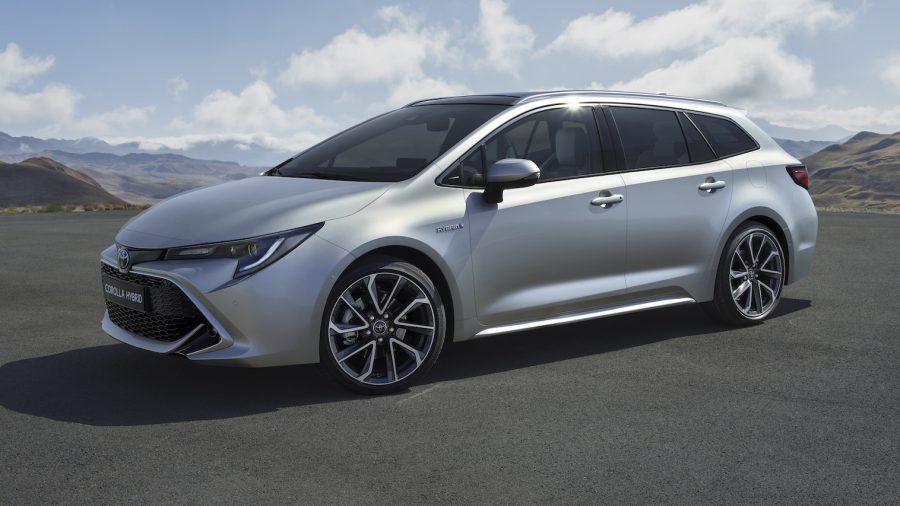 The AVS system controls damping on all four wheels, giving better ride comfort, improved steering response and a flatter cornering attitude to enhance driving performance.
Damping force is automatically and continuously controlled through 650 steps by a solenoid which operates four times faster than a conventional step motor. It co-operates with the Drive Mode Select system to control damping force in line with the driver's selection and provide the appropriate balance of ride comfort and handling agility.
2019 Toyota Corolla: price and grade structure
Corolla will be the first Toyota model in Europe to be available with a choice of two hybrid powertrains – a revised 1.8-litre system and a new 178bhp 2.0-litre version engineered for effortless acceleration and fun-to-drive character, without compromising on overall fuel and emissions efficiency. The choice of powertrains also includes a 1.2-litre turbocharged petrol engine, mated to a six-speed manual transmission.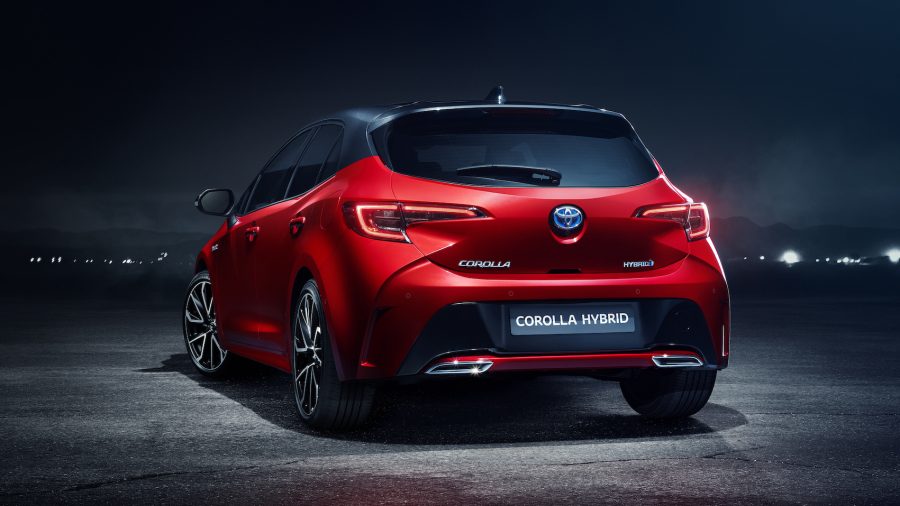 Grades and equipment features
| | |
| --- | --- |
| GRADE | CORE EQUIPMENT FEATURES |
| Icon | 16-inch alloy wheels, automatic LED headlights, E-Call system, heated front seats with lumbar support, Toyota Touch 2 with eight-inch multimedia touchscreen, reversing camera, DAB, 4.2-inch TFT multi-information display, dual-zone air conditioning (1.8 Hybrid only) |
| Icon Tech | Additional features: Toyota Touch 2 with Go satellite navigation and voice control, seven-inch colour TFT multi-information display, parking sensors and Intelligent Park Assist (Intelligent Clearance Sonar on 1.8 Hybrid) |
| Design | Additional features: 17-inch machined alloy wheels, rain-sensing windscreen wipers, power-adjustable heated door mirrors with automatic folding function, auto-dimming rear-view mirror, rear privacy glass, LED front fog lights, optional opening panoramic roof |
| Excel | Additional features: 18-inch alloy wheels (Hatchback), bi-LED headlights, smart entry, sports front seats, part-leather seat upholstery, optional opening panoramic roof, optional bi-tone paint finish (Hatchback), optional eight-speaker JBL premium sound system (2.0-litre Hybrid) |
The new Corolla is available in eight body colours. Selected Excel Hatchback models can be specified with a bi-tone finish consisting of a black roof, pillars and door mirror casings.
All models are equipped with the enhanced functions of our second-generation Toyota Safety Sense system.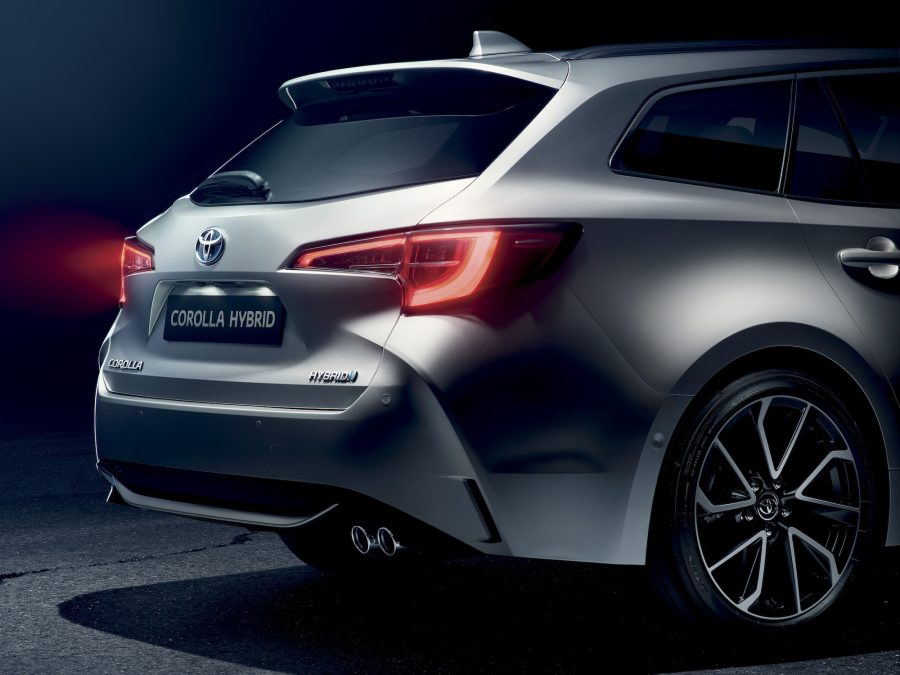 Prices and powertrains
| | | | |
| --- | --- | --- | --- |
| GRADE | BODY STYLE | POWERTRAIN | PRICE |
| Icon | Hatchback | 1.2T manual | £21,300 |
| | | 1.8 Hybrid CVT | £23,750 |
| | Touring Sports | 1.2T manual | £22,570 |
| | | 1.8 Hybrid CVT | £25,020 |
| Icon Tech | Hatchback | 1.2T manual | £22,350 |
| | | 1.8 Hybrid CVT | £24,800 |
| | Touring Sports | 1.2T manual | £23,620 |
| | | 1.8 Hybrid CVT | £26,070 |
| Design | Hatchback | 1.2T manual | £23,375 |
| | | 1.8 Hybrid CVT | £25,825 |
| | | 2.0 Hybrid CVT | £27,550 |
| | Touring Sports | 1.2T manual | £24,645 |
| | | 1.8 Hybrid CVT | £27,095 |
| | | 2.0 Hybrid CVT | £28,820 |
| Excel | Hatchback | 1.8 Hybrid CVT | £27,345 |
| | | 2.0 Hybrid CVT | £29,070 |
| | Touring Sports | 1.8 Hybrid CVT | £28,615 |
| | | 2.0 Hybrid CVT | £30,340 |
All information is correct at the time of publishing.