In 1994, Toyota's launch of the original RAV4 introduced a new kind of car to the world. It was one that combined the go-anywhere performance and rugged stance of an SUV with compact dimensions and handling more akin to a hatchback. The same pioneering spirit is witnessed in the all-new fifth-generation 2019 Toyota RAV4.
The new RAV4 has made its first European appearance at the Paris Motor Show and takes the SUV into a new era of performance, capability and safety, advances that are underpinned by the first use of a TNGA (Toyota New Global Architecture) platform in an SUV and a powerful new design.
With its low centre of gravity and significantly increased body rigidity, the new 2019 Toyota RAV4's GA-K platform directly contributes to superior handling and ride comfort. It also provides a spacious interior, class-leading load space and the freedom to produce a strong, eye-catching design with lower roof and bonnet lines and higher ground clearance. As well as providing more space and comfort, the cabin displays exceptional quality and finish throughout.
The new RAV4 remains unique in its class in offering customers a self-charging hybrid electric powertrain – the choice of an overwhelming majority of customers in Western Europe (85% in 2018). The new 2.5 litre, 219bhp TNGA hybrid powertrain will strengthen customer appeal, delivering step-changes in power, responsiveness and efficiency, with best-in-class fuel economy and emissions.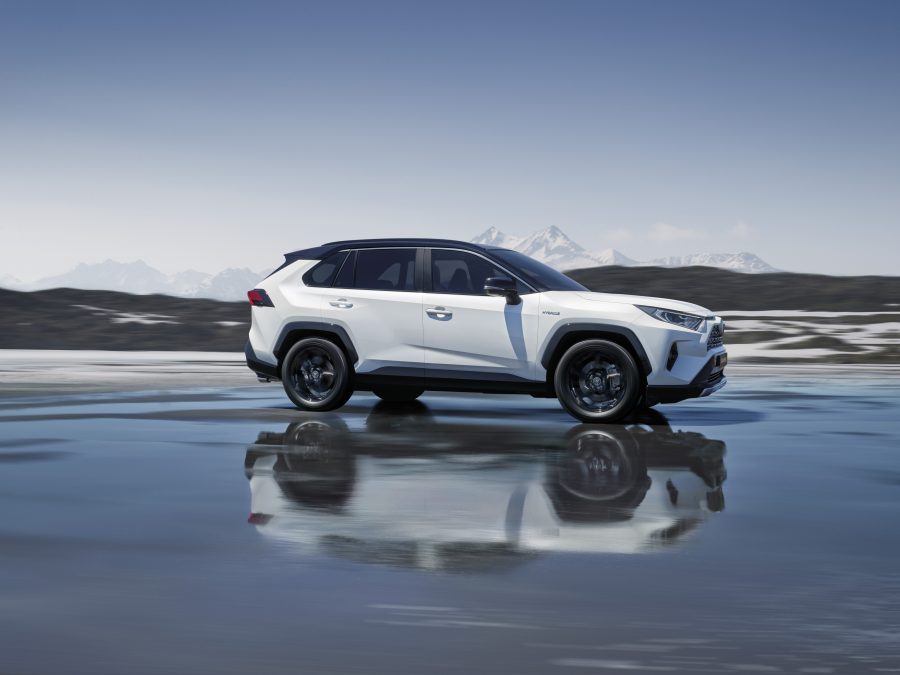 At the same time, RAV4's all-wheel drive systems have been comprehensively improved to achieve a drive-on-any-road capability. The new RAV4 Hybrid's electric AWD system has been re-engineered and enhanced to provide much stronger performance in challenging conditions and secure handling on slippery surfaces.
The new RAV4 is also the first Toyota to benefit from additional Toyota Safety Sense features that extend the use of advanced technologies to help prevent accidents and provide greater driver assistance, including systems that introduce a degree of automated driving.
2019 Toyota RAV4 Hybrid: concept and design
The TNGA platform was of great benefit to Toyota's designers in their mission to give the new RAV4 a strong SUV character and styling that sets it apart from other models in its segment. The fact that TNGA introduces so many standardised parts simplified the development process, giving the designers more time and scope to create an all-new look, inside and out.
The exterior lines and detailing in the cabin are influenced by polygonal shapes, communicating strength and coherence. The powerful design combines with the self-charging hybrid electric powertrain to give the new RAV4 the stand-out qualities required to attract customers in a highly competitive marketplace.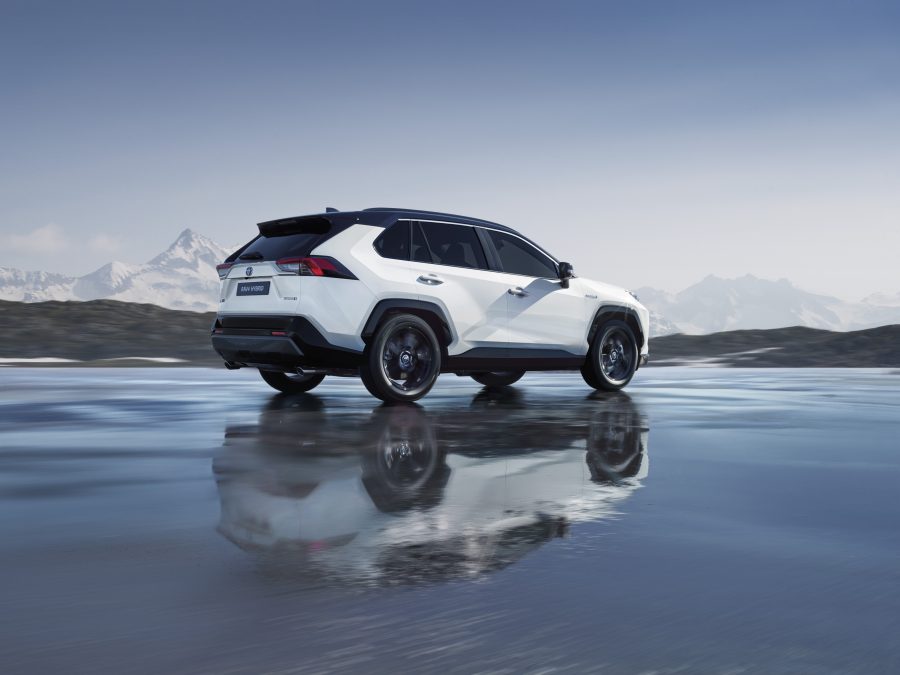 Key elements in generating this impact include ground clearance raised by 15mm, large diameter wheels, and making the car suitable for multiple types of use.
The exterior look is powerful and individual, with a solid form that offers the sense of a strong mass and authentic SUV capabilities. At the front, the emphasis is on width and strength with extra volume added to the lower bumper section. A similar effect is applied at the rear, where the horizontal line created by the tail lights and back window angles sharply downwards at each edge. This draws the eye towards the rear wheels and expresses the polygon design influence.
The cabin is characterised by high sensory quality throughout and precision execution. Soft-touch surfaces abound, including the dashboard and door panels. Consistent patterns, textures, colours and ambient lighting are applied, with symmetrical shapes and the use of the polygon motif seen in the Toyota FT-AC concept model. The switchgear is new, too, with cleanly integrated buttons and pleasingly tactile controls, such as the dial to adjust the air conditioning.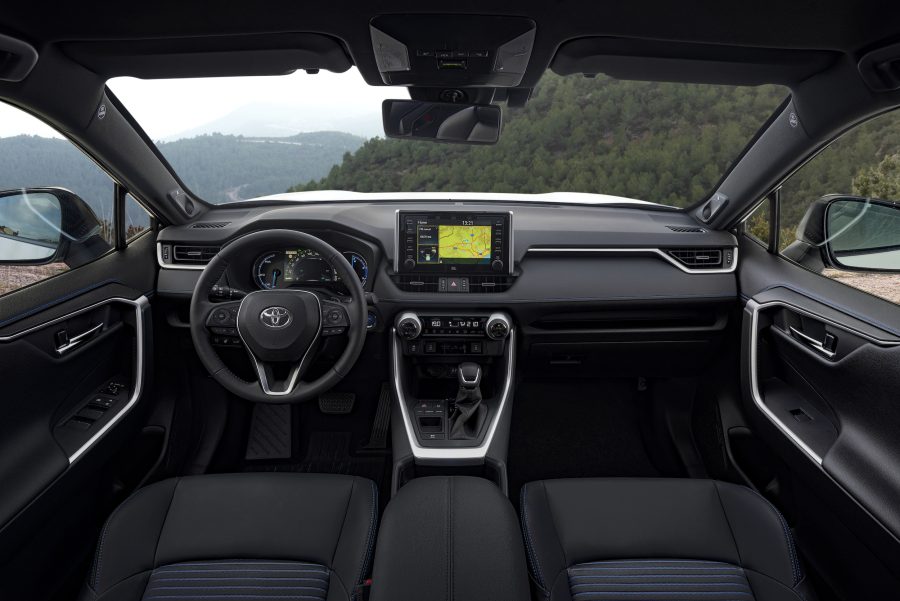 The low-set instrument panel – a further benefit of the TNGA platform – has powerful horizontal lines that flow into the door panels. These emphasise the cabin's generous width and give the driver a clearer view of the road ahead. A larger, open centre console between the front seats is in keeping with a welcoming yet functional SUV interior. Special attention was paid to providing plenty of useful and easily accessible storage for the driver and front passenger.
The TNGA platform helps secure impressive cabin space, best-in-class load space and all-around comfort. Reducing the front and rear overhangs by a combined 35mm means the new model is shorter overall (now 4,600mm) and retains its agile manoeuvrability. Yet the wheelbase has been increased by 30mm to secure a more spacious cabin.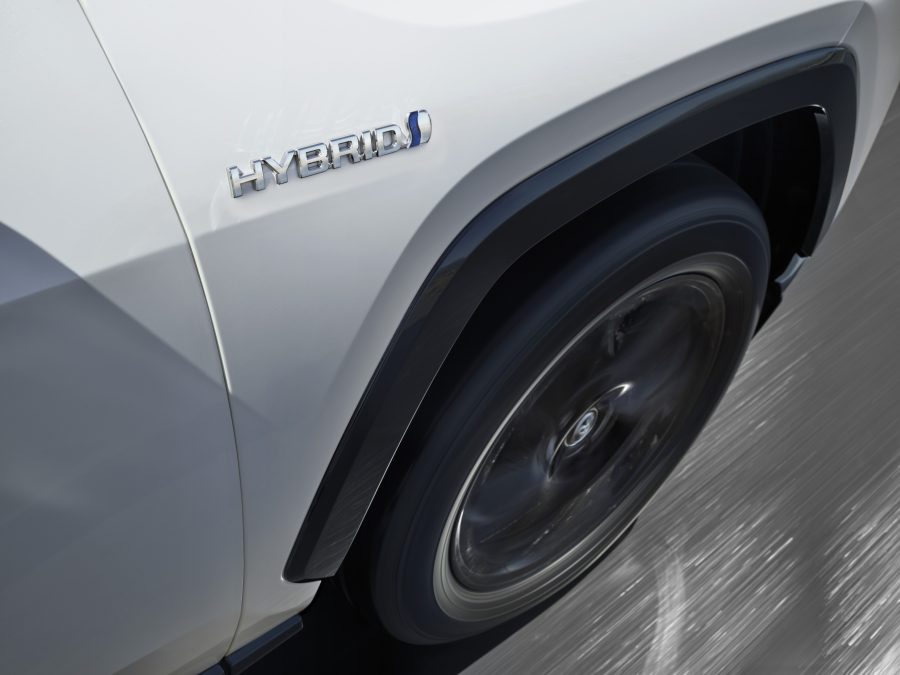 To add to the new model's purposeful, wide stance, the overall width has grown by 10mm and the front and rear tracks have been increased. At the same time, the overall height has been brought down by 10mm.
2019 Toyota RAV4 Hybrid: powertrains
The 2019 Toyota RAV4 Hybrid's new 2.5-litre powertrain is both more powerful and fuel-efficient than that in the outgoing model. This fourth-generation self-charging hybrid electric system brings additional benefits. Key components, including the power control unit and nickel-metal-hydride battery, are lighter and more compact and engineered to reduce electrical and mechanical losses.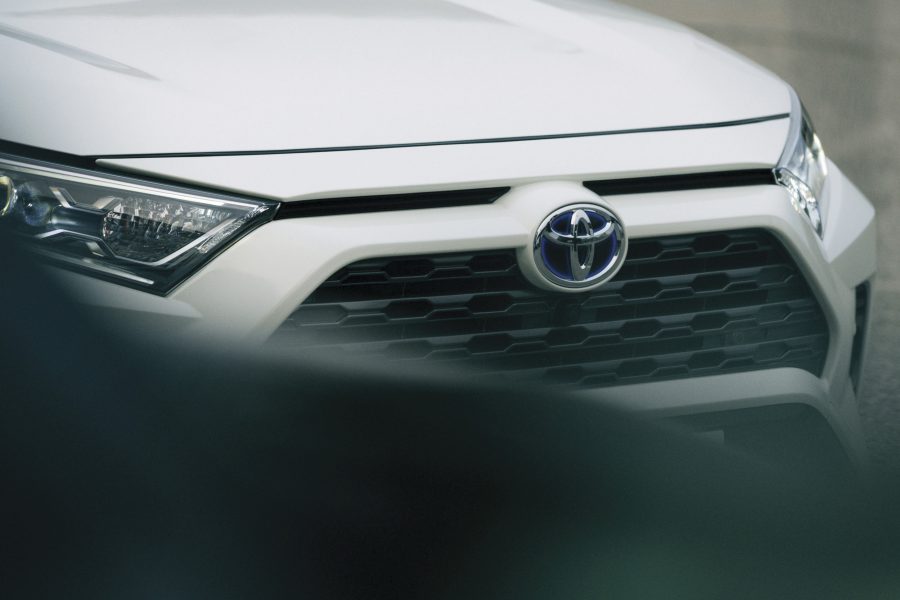 Its full system maximum output of 219bhp is 24bhp higher than the unit in the previous generation RAV4 Hybrid, signalling how Toyota's latest self-charging hybrid technology is not lacking in strength. Acceleration from rest to 62mph takes just 8.1 seconds, while combined fuel economy is expected to be 62.8mpg and CO2 emissions as low as 102g/km. For the driver, the benefits are better acceleration from stationary, improved efficiency at higher speeds and more linear acceleration.
This proposal of power with no compromise gives the new RAV4 a unique advantage in its class. And with the benefit of its improved performance, driveability and efficiency, this powertrain is expected to account for an even greater proportion of sales across Western Europe.
2019 Toyota RAV4 Hybrid: all-wheel drive
The new RAV4 Hybrid is equipped with a significantly enhanced and more capable electric all-wheel drive (AWD) system. Free of disadvantages, it returns better fuel economy in urban driving, quieter performance at high speeds, and better traction in slippery conditions. It is also more compact and lighter than mechanical AWD systems, so fuel consumption and vehicle packaging are not compromised.
The system generates drive torque using power from the hybrid vehicle system and an additional motor generator on the rear axle. This design reduces energy losses, saves weight and optimises AWD operation in different driving conditions.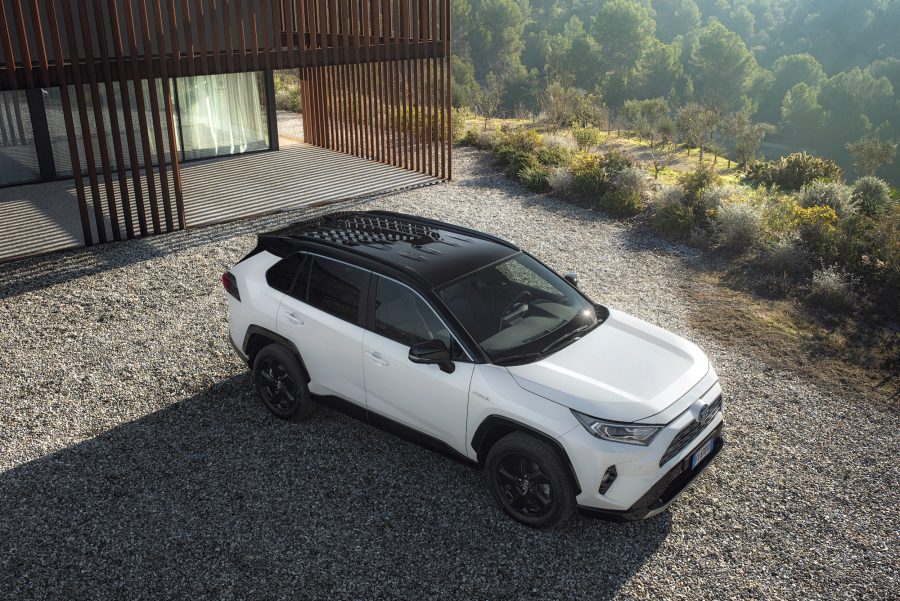 Compared to the current model, the level of torque that can be directed to the rear wheels has been increased by 30%, enabling a front/rear split from 100:0 to up to 20:80, depending on driving conditions. Maximum torque to the rear wheels has increased, matching or even bettering that achieved by mechanical systems and giving a more surefooted performance, such as when pulling away on loose, slippery surfaces.
The new 2019 Toyota RAV4 is an adept lugger of loads. All-wheel drive RAV4s have a towing limit of 1650kg (braked) and 750kg (unbraked). Front-wheel drive examples have a braked and unbraked towing limit of 750kg.
AWD Integrated Management: The new RAV4's AWD performance is further improved with the introduction of AWD Integrated Management (AIM), a unique feature in its class. This automatically adjusts different vehicle systems – steering assist, brake and throttle control, shift pattern and drive torque distribution – according to the drive mode selected.
In the new RAV4 Hybrid, the driver can switch from Normal to Eco or Sport mode. When choosing Sport, AIM modifies the steering assist, throttle control shift schedule and drive torque distribution to gain better on-road performance.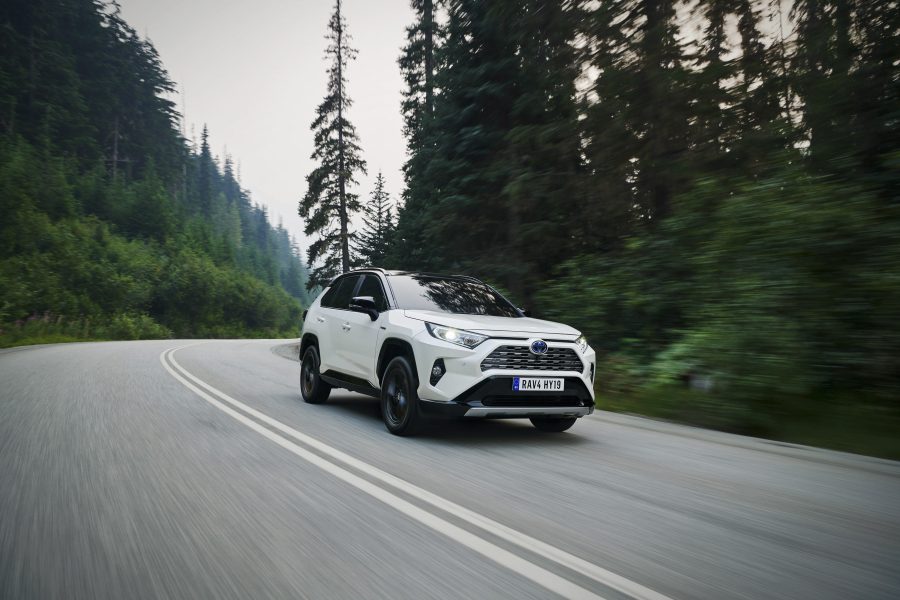 Great escapes with Trail Mode: The RAV4 Hybrid gains a higher level of off-road capability with the introduction of a new automatic limited-slip differential control called Trail Mode. This ensures the best possible grip and control in slippery or off-road conditions.
With the current generation RAV4 Hybrid, there is a risk of the vehicle becoming stranded if a driven wheel loses contact with the ground on very uneven terrain. On the new model, Trail Mode will brake the freely rotating wheel and direct torque to the grounded wheel. Throttle control and the transmission shift pattern are also adapted to help the driver keep the vehicle moving.
Both front-wheel drive and all-wheel drive models will be available, the latter being an intelligent system with much greater on- and off-road capabilities than the current RAV4 Hybrid. As an electric-powered system, it is lighter and more compact than mechanical all-wheel drive, yet can achieve the same level of torque output.
2019 Toyota RAV4 Hybrid: comfort and convenience
Securing better all-around visibility was a key consideration in the design process of RAV4. The TNGA platform allows the bonnet to sit 15mm lower, adding two degrees to the driver's field of vision, while the external mirrors have been moved to a lower position on the front doors. The front pillars are slimmer, the belt line has been lowered and the rearward view from the driver's seat has been improved by enlarging the rear side windows.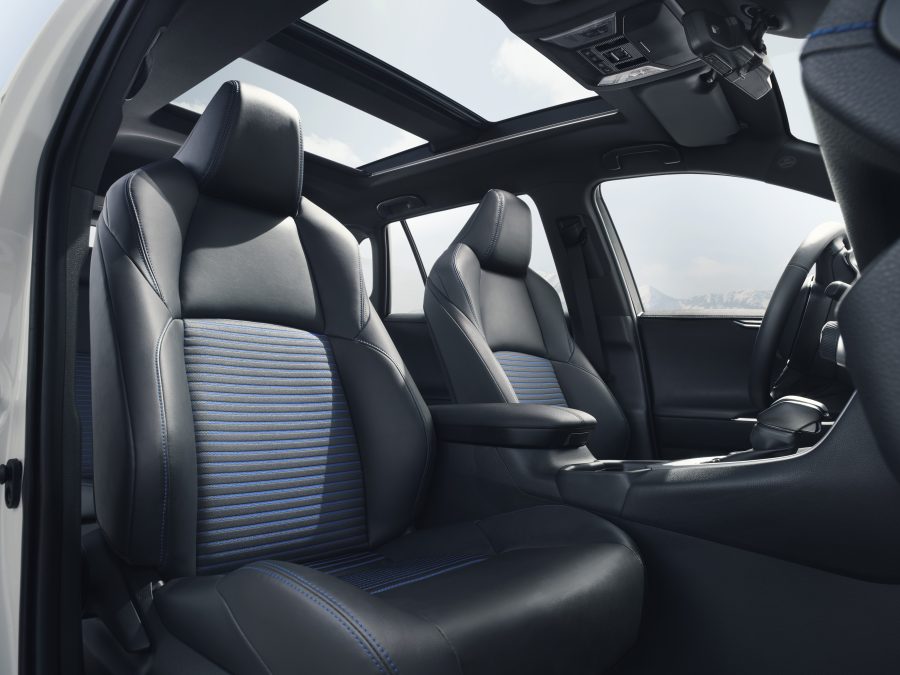 The new TNGA chassis allows for a more engaging driving position, without detracting from the commanding view of the road that's a defining quality of SUVs. The driver's hip point has been lowered by 15mm but the range of steering wheel adjustment has been increased by 50%. Together with a generous seat adjustment range and precise positioning of the pedals and armrest, this ensures more customers will be able to find their ideal driving position.
Comfort for rear seat passengers has been improved with 40mm greater width, more spacious rear foot wells and two air vents. Increasing the opening angle of the rear doors and reducing the distance from the hip point to the sill makes it easier to get in and out of the vehicle, or access child seats.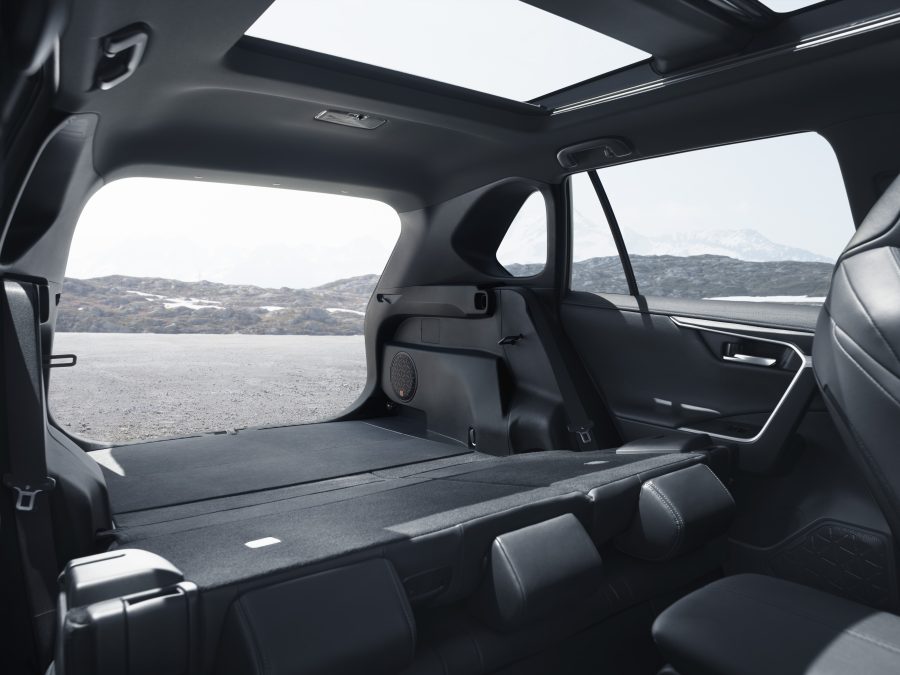 The load space behind the rear seats has been made larger and more user-friendly, thanks to a fully flat floor and a length extended by 60mm to secure best-in-class capacity, 79 litres more than the current RAV4. With the rear seats folded down, the new RAV4 can accommodate a 29-inch mountain bike without needing to remove any wheels.
There is a height-adjustable, two-level deck board that can be reversed when dirty items need to be carried. The rear seats have a 60:40 split-folding function and there are storage nets on each side of the boot. Details include a hand grip on the tailgate that can serve as a hanger and a power-operated tailgate with a hands-free function.
2019 Toyota RAV4 Hybrid: equipment
The new RAV4 will offer generous equipment specifications across its range in Europe, with all models equipped as standard with the latest iteration of Toyota Safety Sense. Further features that will be available include a power-operated panoramic roof and up to five USB ports around the cabin for the connection of multiple devices.
Even at entry-level, the checklist will include 17-inch alloy wheels, roof rails, LED headlights, push-button start, seven-inch display audio and a 4.2-inch TFT multi-information display. Features such as 18-inch alloys, smart entry, extensive soft-touch cabin trims, larger display screens, leather upholstery, projector LED headlights, rear privacy glass and a power-operated tailgate will also be available.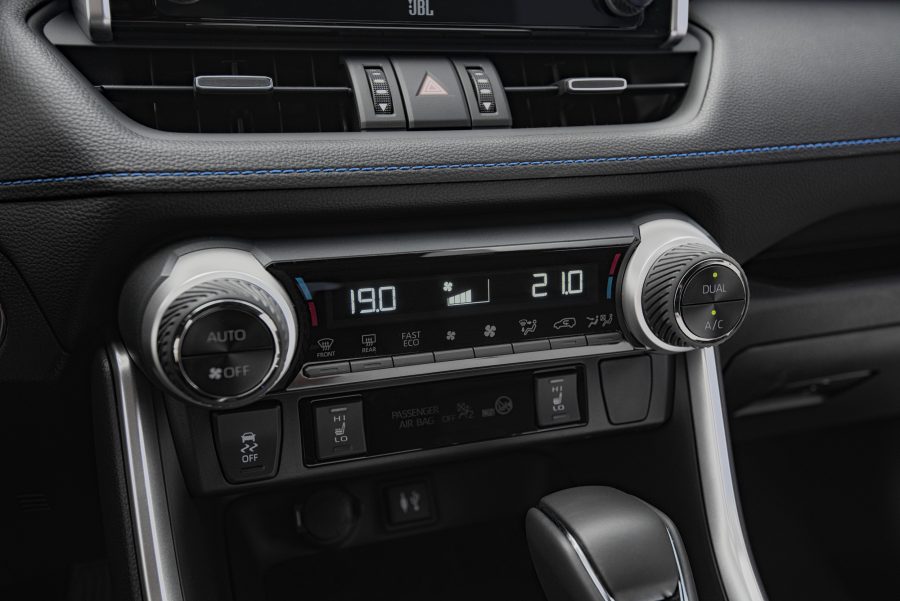 Further premium features which will be available on the new RAV4 include a Panoramic View Monitor, which provides the driver with a real-time 360-degree view of the area immediately around the vehicle, including a bird's eye aspect from above. This is of value both off-road, to better negotiate tricky terrain, and when manoeuvring in confined spaces where hazards can lurk outside the driver's line of sight.
The spacious cabin can be further enhanced with an opening panoramic sunroof. Where on-board entertainment is concerned, Toyota has worked with premium audio partner JBL to deliver a high-quality, immersive experience. The tailor-made JBL audio system will deliver concert sound quality through its nine-speaker architecture. It features JBL's signature Horn Tweeters, a new, powerful subwoofer and an amplifier with Clari-Fi digital music restoration technology.
Grades and equipment features
GRADE
CORE EQUIPMENT FEATURES
Icon
17-inch alloy wheels, front fog lights, rear parking sensors, rain-sensing wipers, dusk-sensing headlights, auto-dimming rear-view mirror, push-button start, roof rails, parabola LED headlights, rear privacy glass, electronic parking brake, power-adjustable heated door mirrors with auto-folding function, Toyota Touch 2 with eight-inch multimedia touchscreen, seven-inch TFT driver's multi-information display, DAB, Toyota Safety Sense 2, E-Call, rear-view camera
Design
Additional features: 18-inch five-spoke alloy wheels, smart entry, power back door, front parking sensors, satellite navigation
Excel
Additional features: Projector LED headlights, Blind Spot Monitor, Rear Cross Traffic Alert, power door mirrors with auto-folding function and puddle lights, heated front seats, driver's seat with power adjustment and lumbar support and memory function, full leather seat upholstery, heated steering wheel, headlight cleaners, windscreen wiper de-icer

Options: JBL nine-speaker premium sound system, packaged with a Panoramic View Monitor and an opening panoramic roof

Dynamic
Additional features: Black 18-inch alloy wheels, heated front sports seats, bi-tone metallic paint, black interior headlining

Options: JBL nine-speaker premium sound system, packaged with a Panoramic View Monitor and an opening panoramic roof
The new RAV4 is available in nine body colours. Selected Dynamic grade models can be specified with a bi-tone finish consisting of a black roof and pillars. The leather seat upholstery in Excel-grade models can be specified in one of three colour ways.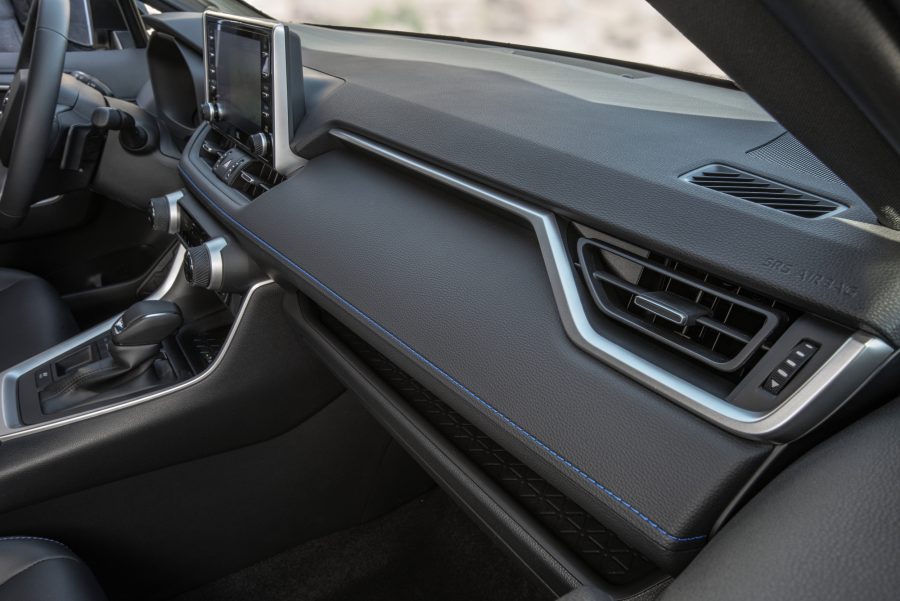 All models are equipped with the enhanced functions of our second-generation Toyota Safety Sense system.
Powertrains and prices
| | | | |
| --- | --- | --- | --- |
| GRADE | POWERTRAIN | DRIVE | PRICE |
| Icon | 2.5 Hybrid CVT | Front-wheel drive | £29,635 |
| Design | 2.5 Hybrid CVT | Front-wheel drive | £31,190 |
| Design | 2.5 Hybrid CVT | All-wheel drive | £33,430 |
| Excel | 2.5 Hybrid CVT | Front-wheel drive | £33,610 |
| Excel | 2.5 Hybrid CVT | All-wheel drive | £35,850 |
| Dynamic | 2.5 Hybrid CVT | Front-wheel drive | £34,400 |
| Dynamic | 2.5 Hybrid CVT | All-wheel drive | £36,640 |
All information is correct at the time of publishing.