The Toyota Prius hybrid is one of the world's most technologically advanced and innovative cars, and when it was first launched 15 years ago this week it marked the start of a new car revolution.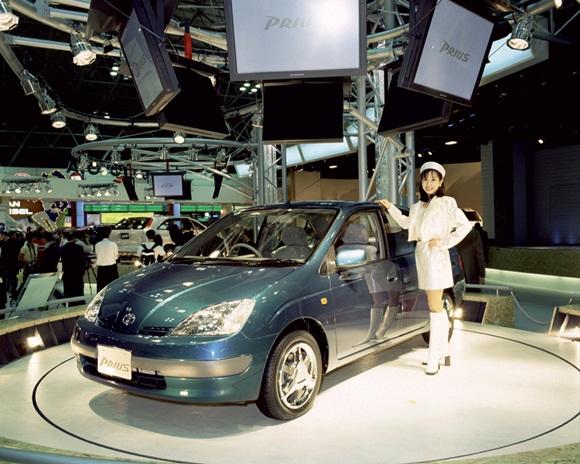 The petrol-electric trailblazer went on sale in Japan on December 10th, 1997 with the tagline 'just in time for the 21st century'.
We thought we'd celebrate the milestone by taking a look back at the Prius and its history, adding a few facts and figures to this car's remarkable impact on the new car market:

Prius by numbers…
3 – So far there have been three generations of the core Prius model, released in the UK in 2000, 2003 and 2009.
72 – The petrol-electric hybrid system that powers Prius gives it a stunning fuel economy of 72 miles per gallon. The original model had an equivalent figure of 57mpg.
89 – The current Prius emits just 89 grams of CO2 per kilometer. The original Prius I achieved a figure of 114g/km.
1994 – Toyota's G21 project began in 1994. It aimed to create a vehicle with low emissions and impeccable environmental credentials through using an alternative drivetrain.
1995 – Toyota's G21 project was shown as a concept car at the Tokyo Motor Show.
1997 – Just three years after it was first conceived, the Prius went on sale in Japan.
3,000,000 – Toyota has sold almost three million Prius across the world so far.
5,000,000 – A total of five million full hybrid Toyota vehicles have been sold to date, including Prius.
Critical reception…
The first generation Prius, Model NHW10 helped break ground for a revolution in mass production hybrid engined cars. Designed in California, it's since become a world wide hit, scooping prestigious design and engineering awards, and now inspiring an entire family of vehicles.
The second-generation Prius remains a favourite even today – in fact it was named best medium car to own in the 2012 Which? Car Survey.
Importantly, the Prius paved the way for Hybrid Synergy Drive in other models – notably the Yaris Hybrid and British-built Auris Hybrid.
And of course, there is now more than one Prius available. The Prius+ MPV and Prius Plug-in hybrid joined the range this year, giving eco-conscious buyers the option of increased space or extended EV-only running respectively.
Do you remember when you first saw a Toyota Prius? Or do you have a Prius story to tell? Let us know in the comments box below.