The credentials of the Toyota GT86 as a sports car star are now beyond doubt, as it has been named the Top Gear Magazine Car of the Year 2012.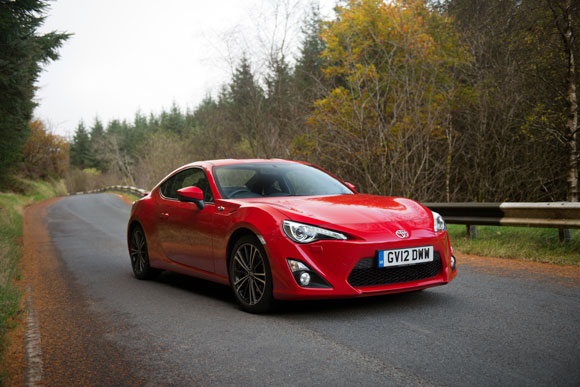 In a clean-sweep it was also Jeremy Clarkson's personal Car of the Year and the Top Gear Magazine Coupe of the Year.
In taking the titles, GT86 confirmed its status as one of the most exciting new models of 2012. More than that, it's priced to be affordable for many drivers, rather than being an exotic supercar reserved for the ultra-rich.
Read our GT86 reviews roundup.
Charlie Turner, Top Gear editor, said: This is a fantastic achievement, for a car to win a Top Gear Award is recognition of a truly exceptional vehicle. Only the remarkable are considered for a Top Gear Award and this year the GT86 has proved to be the stand-out machine."
The award follows on from GT86's success in the magazine's Speed Week contest, featured in the August issue, in which it emerged the overall victor against competition from such exotic machinery as the McLaren MP4-12C, Porsche 911 Carrera S and Lotus Exige S.
At the time, Oliver Marriage, Motoring Editor, expressed how GT86 was more enjoyable to drive than more rapid rivals: "Acceleration is fun, but the noise is as important as the kick in the back, and I'd rather spend 30 seconds wringing the GT86 up to speed than three seconds being pummelled by the McLaren. You have more time to enjoy it, you feel more like part of the process."
Watch Ollie driving the GT86 in our Drift Sprint contest.
In the same Top Gear report, Senior Writer Sam Philip added: "For driving thrills, this is my sort of performance car. Good steering, nice crisp gear change, revvy engine. You can find its limits, slide it around, without fear of being inadvertently deposited in a loch…"
GT86 becomes the second Toyota to earn Top Gear's top award, the Aygo city car having shared the Car of the Year title with the Bugatti Veyron in 2005.
The GT86 has also won the title of Performance Car of the Year from Auto Express magazine and Britain's Best Driver's Car from Autocar.