"I've always wanted a Toyota pickup – since I was about 15. But my mum didn't want me to have one – she said they were 'too boyish'. I think I was inspired by Jeremy Clarkson when he tested one to destruction. Am I allowed to say that?" asks 27-year-old sheepdog trainer Becky Dykes as she heaves on a lever to attach a six-wheeled trailer to her four-month-old Hilux.
Becky is a sheepdog trainer and breeder, runs a dog grooming business and also has a flock of over 200 pedigree sheep at her family's farm in Offcote, near Ashbourne in the Derbyshire Dales.
"It's the practicality and luxury you get inside a work vehicle that I love. And the colour – I think it looks amazing in this blue. I had to wait longer for it but it was definitely worth it.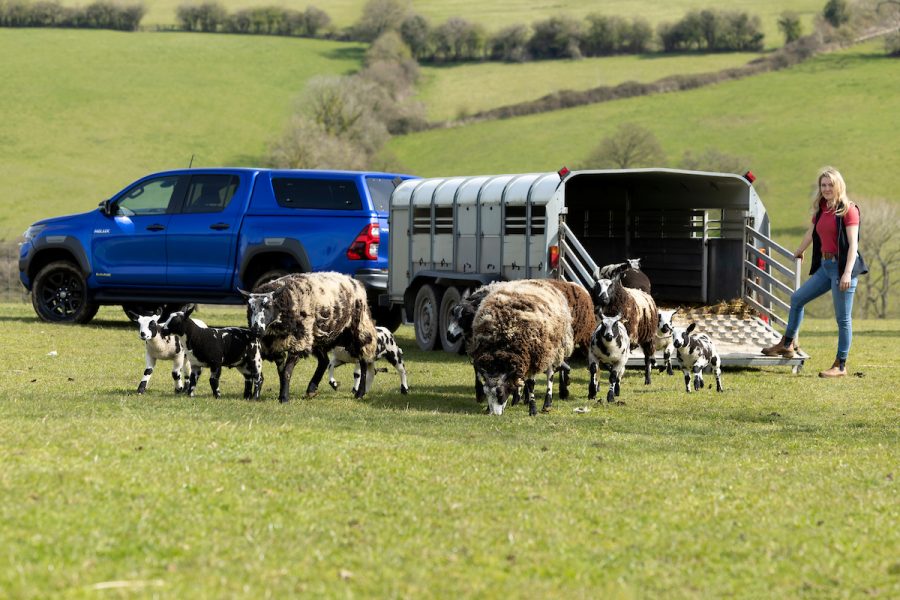 Becky's language is nearly as blue as her Toyota, as she sprints around a barn trying to separate-out her Dutch Spotted sheep from her Texels, before wrestling them into a pen and loading them into the trailer. "You don't ever see a fat farmer, unless they're lazy!" she laughs.
She deftly reverses the 14ft-long trailer and heads for a daffodil-bordered field where she releases the sheep to feast on acres of fresh grass. "It's the first time they've been out for a couple of weeks".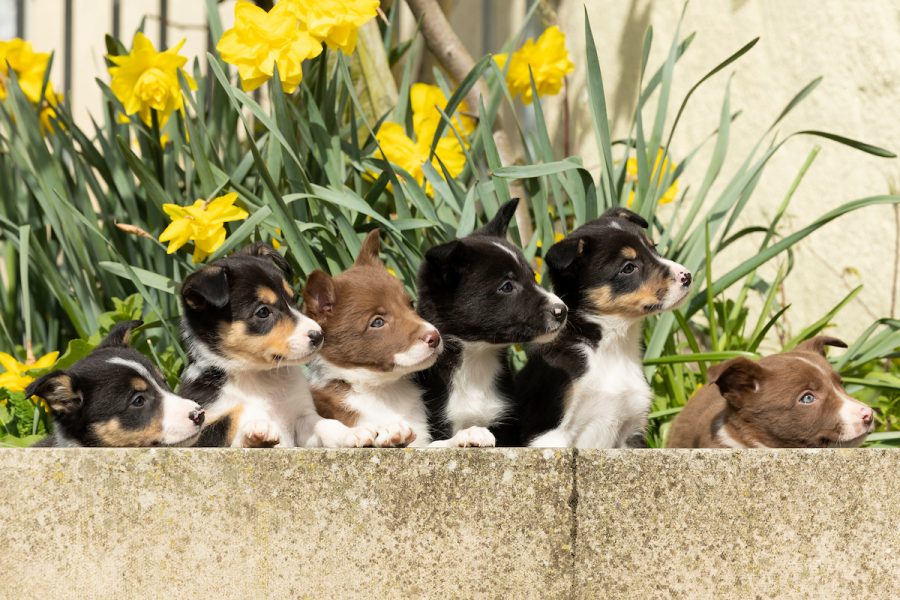 Then the sheepdog trainer jumps back in her pickup and drives off to fetch her puppies. "It's the top of the range 2.8 Invincible X – I'm not sure what extras it's got. I just said, 'I want everything on it' when I ordered it from Cheshire Contracting back in February last year.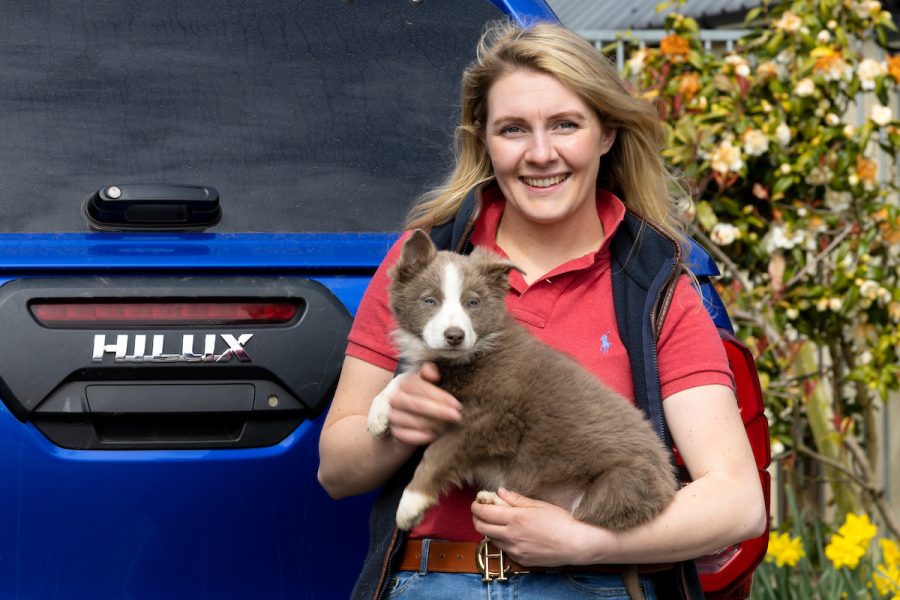 "It was delivered on Christmas Eve and since then I've been all over the place. I regularly go to Shrewsbury, I've been to Carlisle, collected a dog from Lanark and I'm off to Pembrokeshire in a fortnight. It's already done five-thousand miles. The Apple CarPlay is just awesome too. You feel safe and comfortable in it and it has a very smooth automatic gearbox. Some other four-by-fours I've had in the past felt clunky and agricultural in comparison."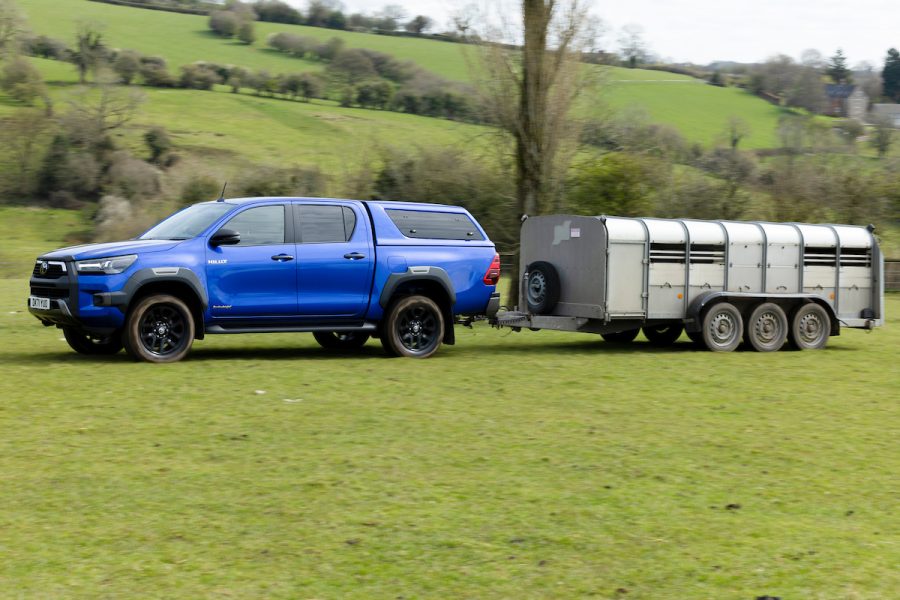 She returns to the field with some of her young Border Collie recruits in the back of the Hilux. "It takes two-years to fully train a dog, so I just start them off with fun bits of training and socialisation. I sell them part-trained at six to 12-months-old. They're only sold to farmers as they're definitely not pets", she explains between shouts of 'come-by', 'lie down' and 'away'.
"I use the Hilux for everything animal-related really. It's good to put the dogs and sheep in the back so the car doesn't stink. It's got a smart matching-blue Toyota back on it with opening side windows for ventilation for the dogs. I didn't want to look like Farmer Jo Bloggs with one of those tatty metal tops on the back.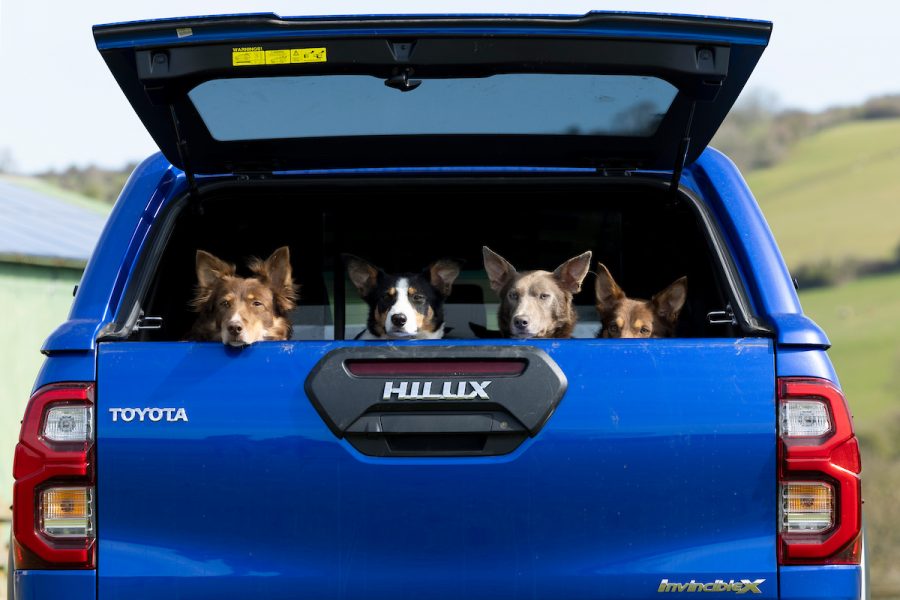 "I can fit four sheep in the pickup but I use my Ifor Williams sheep trailer if I need to move more. When I had the tow-bar fitted I asked for the most indestructible one possible, so if anyone hits me in a car park they'll come off worse." she chuckles.
To keep her Hilux looking pristine, Becky may soon want to try some 'Clarkson Parking', a term coined and parking style adopted by many to save their precious vehicles from being bashed in car parks, after the motoring journalist – and now fellow farmer – once parked a car across two parking bays.
Words By Rod Kirkpatrick
Learn more: Toyota People – Guy Nicholls, world-class Hilux collector