When writing a piece featuring a dog, it's incredibly tempting to go all-out canine pun-tastic – I'd be barking not to. Right?
Toyota always asks me to limit any mentions of any other manufacturers but this story is a gift which cannot be ignored, so I'll have to break protocol. The tail (see what I did there!?) starts when Tim Mason's large four-by-four car runs so dog-rough he is forced to swap it for his mother's tiny Yaris. Tim's car? Well, it's not a Hillman Husky, nor a Ferrari Berlinetta Boxer. It's not a Colani Whippet, a Bedford Beagle or even an AC Greyhound. It has two words in its name – and the second is Rover. I bet you didn't know there's a search engine called Dogpile.com – it's great for looking-up doggy car names!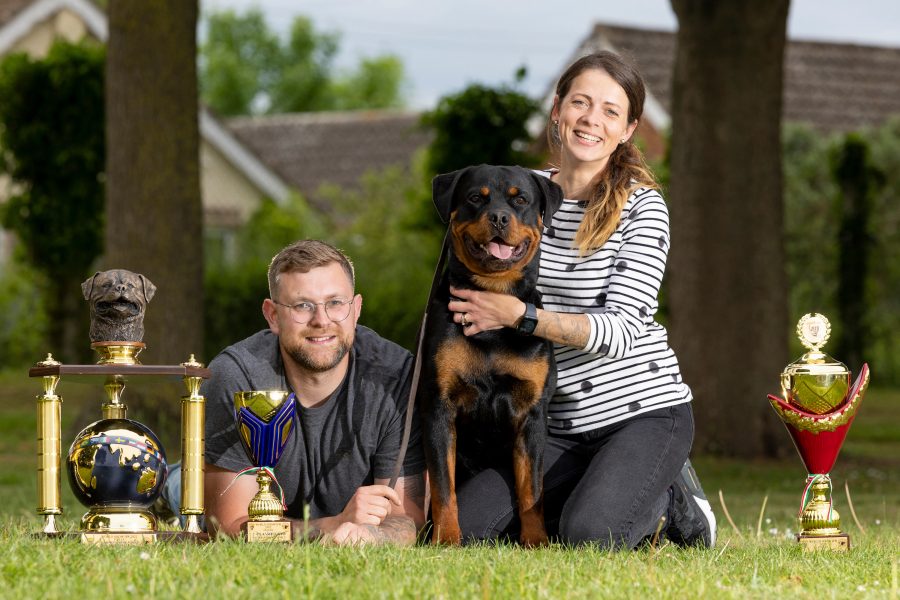 "I'd taken it to the garage for a service and check-over on the Tuesday before our trip to Italy," explained Tim. "But I was hit with a bombshell when I collected it: 'The turbo's gone and you've got a bad oil leak,' the mechanic told me. He said it would be at least £3,000 to fix it and told me not to drive it on any long journeys. I didn't know what to do," he said.
With ferry tickets booked for the next morning, Tim, 31, was looking at a long stay in the dog-house unless he could find an alternative car. He needed to get himself, his wife Karolina and their nine-month-old puppy, Ted, to Italy in time for the start of the IFR (International Federation of Rottweiler Friends) – the most important dog show in the Rottweiler calendar, starting in three days' time.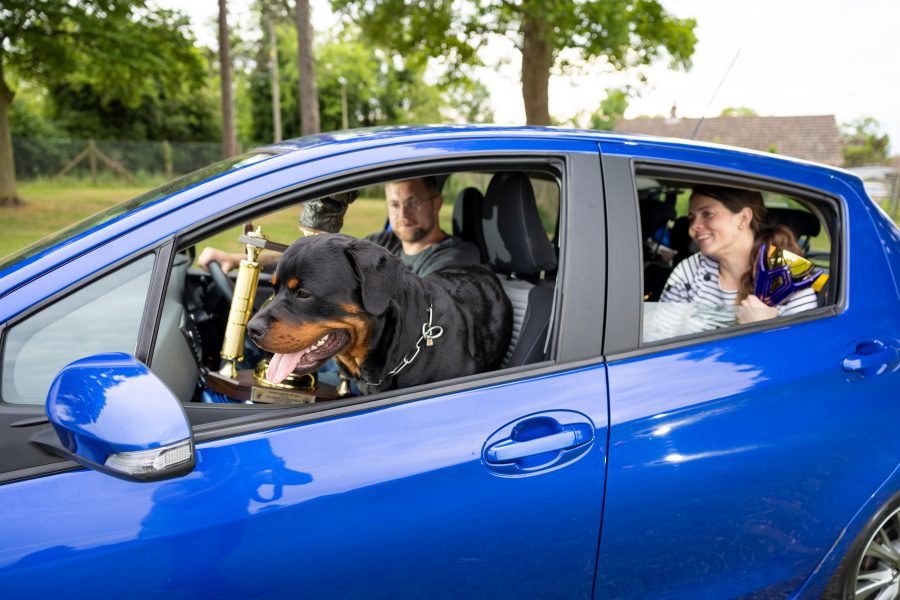 "That's when mum said to me, 'Why don't you take my Yaris?' In the back of my mind, I knew we had no other choice. But I was a bit reluctant as I'm six-foot-six, it's a big long drive and it's such a small car."
Builder's merchant manager Tim and civil servant Karolina, crammed all their luggage in the diminutive Yaris and set off for Dover at 4:00am with Ted sprawled across the back seats.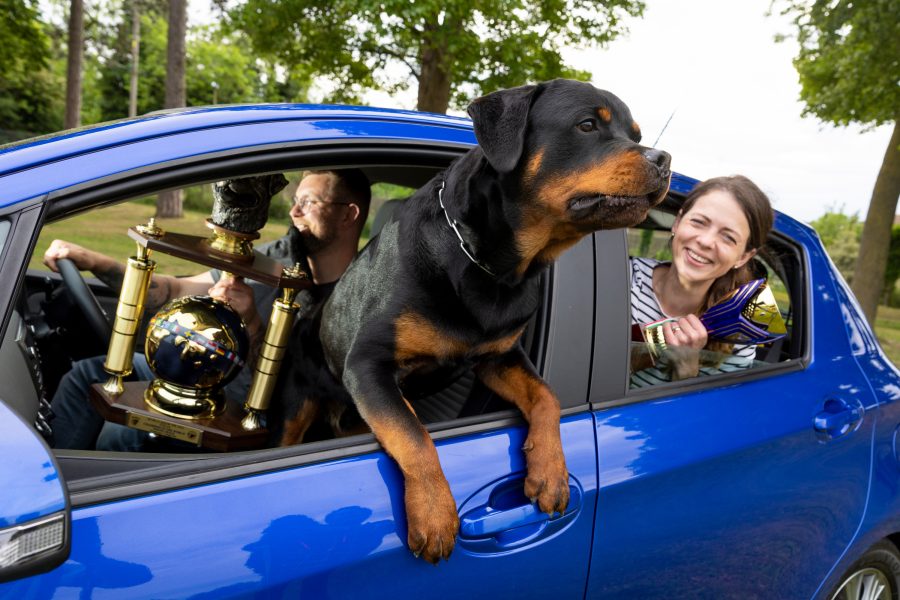 "Ted was actually very comfortable. We had to leave him in the car during the ferry crossing – he just slept and didn't even eat the seats," smiled Karolina.
"And then we started to enjoy the car – it whizzed along and made all the steep hills in the Alps. I thought Tim wouldn't be comfortable but he managed just fine. We'd blitz it in four-and-a-half hours, stop and then blitz it again. It felt like we could go anywhere – there was no limit to the Yaris.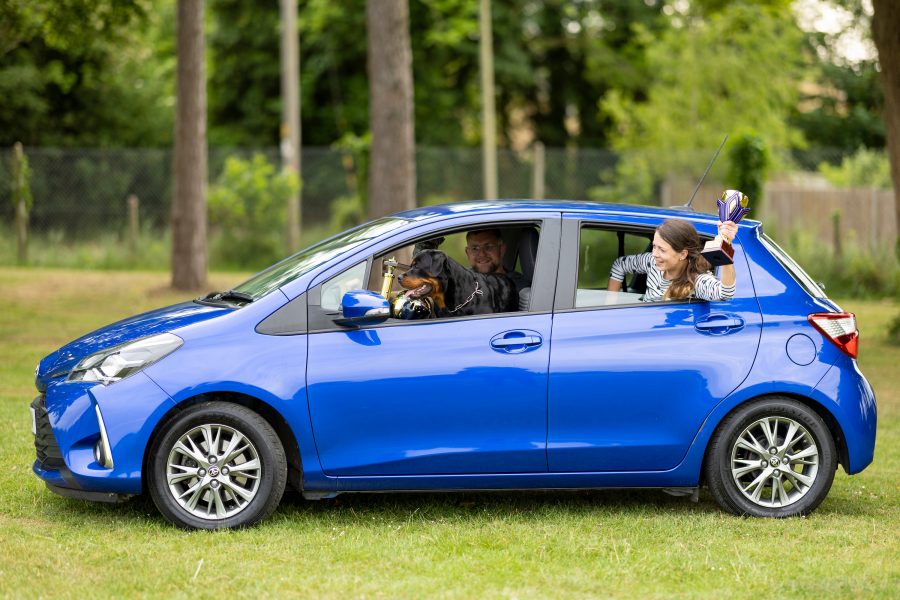 "It averaged between 40 and 50 mpg even with the air-con switched on – in fact it cost more in tolls than it did in fuel."
After spending a night in Mühlestalden in Switzerland and another in Modena – the home to Ferrari and Italian motor racing – the pair arrived, in the blue 2019, 1.5 Yaris Icon, at the dog show on Saturday morning. "Everyone else had huge SUVs and trailers for their dogs. People were looking at us as if to say, 'What is this?' Friends of ours who were also at the show laughed and said we looked so ridiculous – all squashed in together that we should tell Toyota our story," laughed Karolina.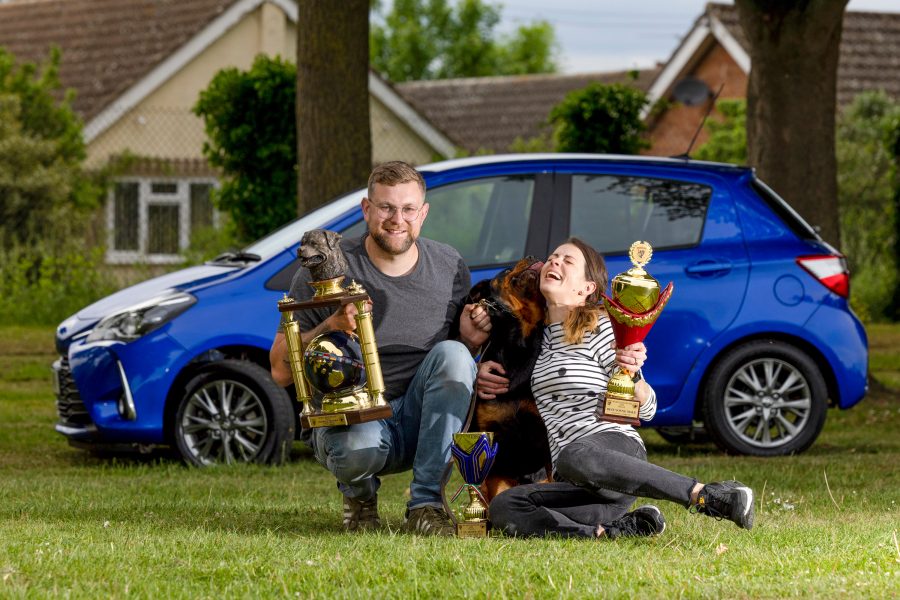 But the judges didn't laugh when they saw Ted. His official show name is Kamaro Is Rojaus Slenio and he was imported from Lithuania last year.
"He won his class, and then the whole junior class and by the end of the day he was World Champion. He'd won a competition in Nottingham earlier in the year but we didn't expect him to win this – no one in Britain has ever won before," said Tim.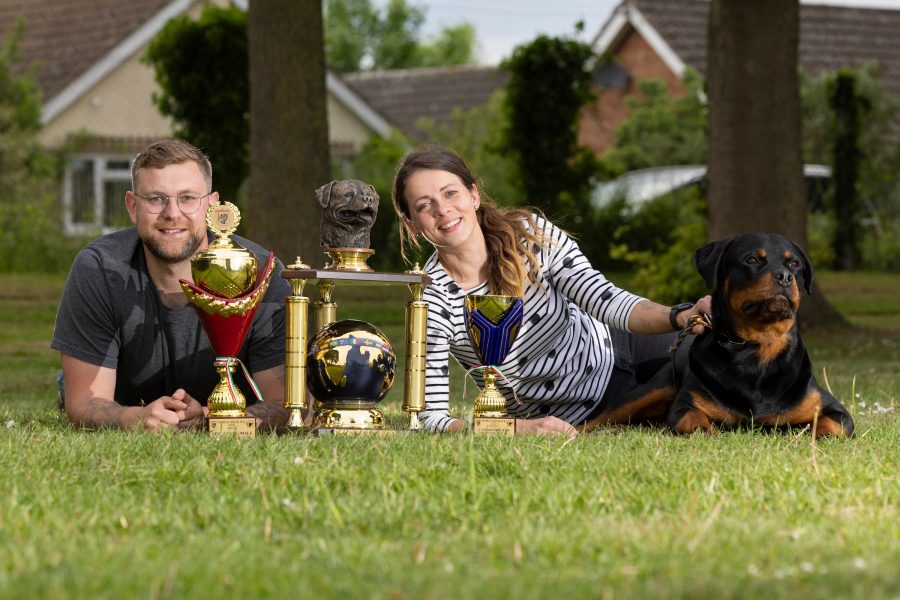 I guess it's not surprising Ted won, after all, he'd travelled in a Yaris. According to Toyota, the name 'Yaris' is an amalgamation of Greek and German words. In Greek mythology, 'Charis' was a symbol of beauty and elegance. Toyota swapped the 'Ch' with 'Ya' – German for 'yes' – to symbolise the perceived reaction of European markets to the car's styling – or in this case Ted's good looks.
"Ted won three trophies – one of them took up a quarter of the boot space – and we were already full when we arrived. Somehow we managed to squeeze everything in.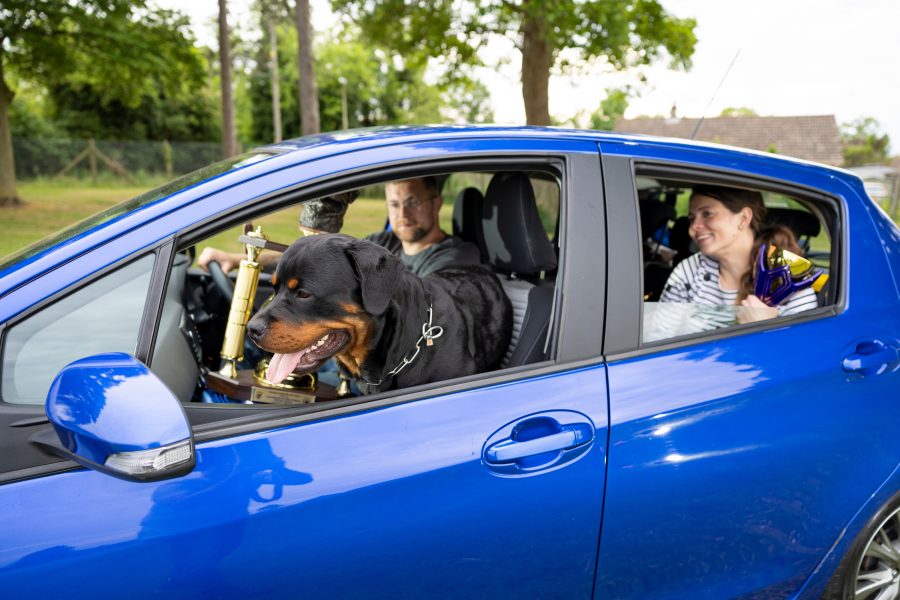 "At a border crossing on the way back the police just laughed when they opened the boot. But having such a small car made it easy for on-street parking – especially in an old town in Champagne where we stopped. We even bought a few presents and managed to somehow fit them in the car.
"Next year we'll be going to the world show in France and another big one in Germany. I think people know us as the little Toyota people now, so perhaps we should wear matching Toyota team shirts? We drove 2,500 miles in six days and the Yaris was amazing. We are thinking of buying a new car to replace our old one, we'll be looking at one that's quite a bit bigger – one with a tow bar which will be good for the dogs – perhaps a Land Cruiser or a Highlander," said Karolina.
Toyota will be very pleased to have two new members join the pack and I'm sure not owning a car with Rover in its name will be a walk in the park for the Mason family.