The story of supermodel Twiggy and the gold Toyota 2000GT dates back to the late 1960s. Following two years of appearances in prototype form at the Tokyo motor show, the first time the Toyota 2000GT was shown as a final production model in Japan was at the 14th Tokyo show in 1967.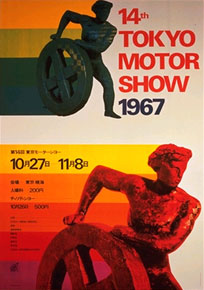 As if seeing a brand new example of Japan's first supercar wasn't enough of an event in itself, Toyota gave the 1967 show car (frame #10130, engine #10181) a visual boost in two important areas.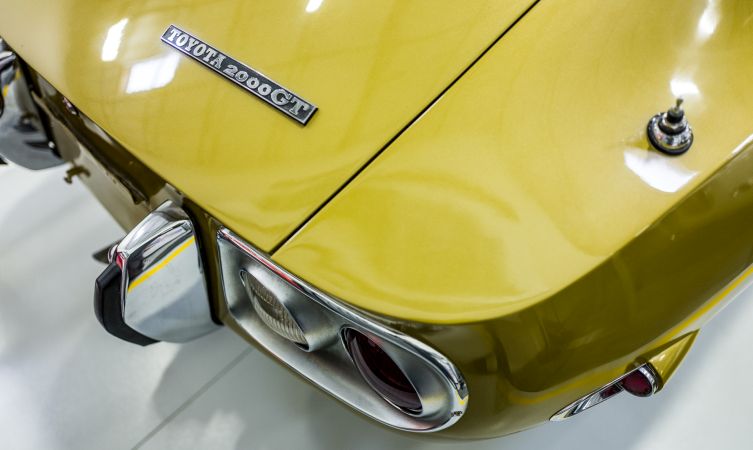 First, it was painted metallic gold. In terms of collectivity, it doesn't get better than gold, for only one other 2000GT was adorned in this factory colour scheme. That particular car was given back to development partner Yamaha as a special thank-you gift.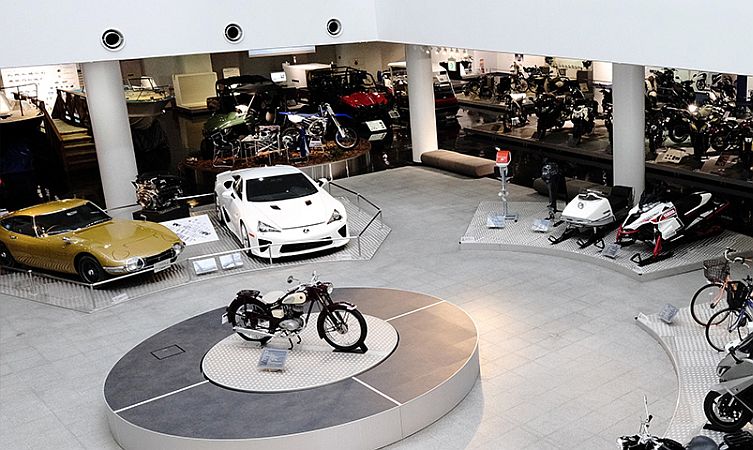 As seen in the image above, it is proudly displayed alongside its spiritual successor, the Lexus LFA, in the exhibition showroom of Yamaha Motor Company's headquarters in Iwata, Japan.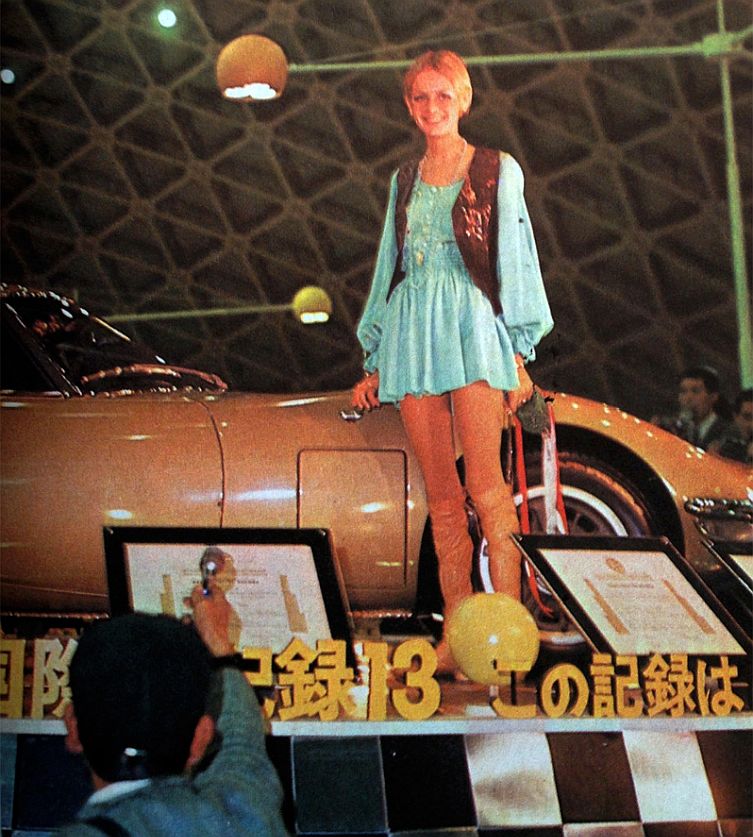 Second, Toyota hired British supermodel Twiggy to stand on the Tokyo show stage alongside the gold 2000GT, deepening the impression left on Japanese consumers. After the conclusion of the show, Toyota generously gave Twiggy the 2000GT as an expression of its gratitude for her assistance.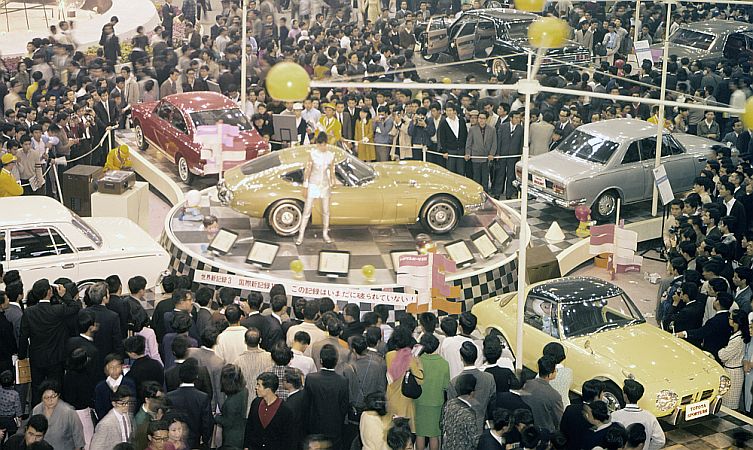 Following shipment of the vehicle to Britain, Twiggy took delivery of her brand new, gold 2000GT in February 1968. The press event and handover of 'UBY 2F' was hosted in the London showroom of the recently established Toyota (GB) Ltd.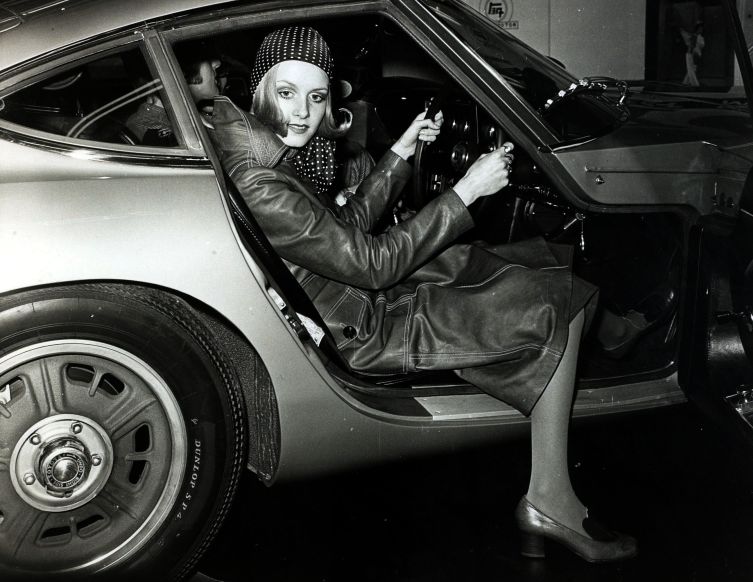 It is our understanding, however, that 18-year-old Twiggy did not yet have a licence. So following the staged photo above, driving duties were handed to then boyfriend and manager Justin de Villeneuve.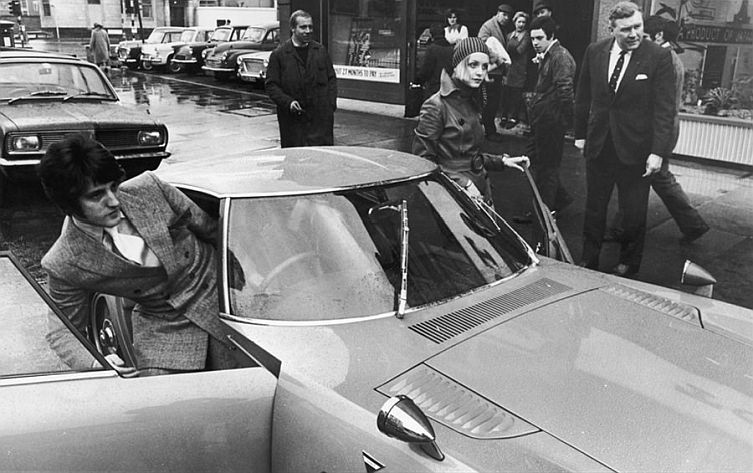 Some sources assert that Twiggy relinquished ownership of the car soon afterward. We can neither confirm nor deny this assertion but logic dictates that the Toyota was not left to its own devices for long. It was swiftly enlisted to play a cameo role in a new TV production called The Ugliest Girl in Town.
This new ABC sitcom first aired on 26 September 1968 and focused on the antics of Canadian comedian Peter Kastner as he attempted to continue his budding romance with English actress Patricia Brake (below) while ineffectually disguised as a female model – hence the title of the series.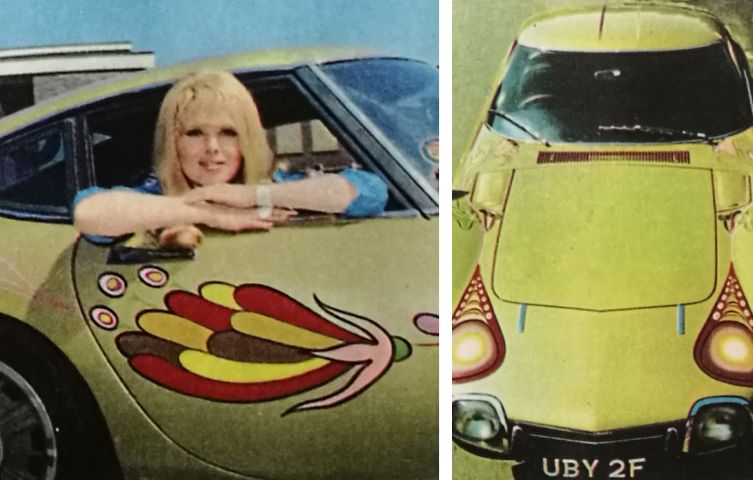 Many of the outside sequences of London and its vibrant mod scene included product placements by six Toyota models and a single Rolls-Royce. Foremost among these was Twiggy's gold 2000GT, albeit tragically modified for the part with psychedelic, painted graphics.
Despite sharing the same executive producer as the hit TV show Bewitched and the Emmy Award-winning director of The Monkeys, the TV series was a commercial disaster and critically panned. It was removed from schedules before all 20 episodes were aired and The Ugliest Girl in Town was never actually screened in the London area where the series was filmed and set.
Perhaps it was embarrassment by association that led to the vehicle losing its key identifying feature, its gold paintwork. No details exist to identify the exact point where car #10130 was resprayed bright red, or indeed at what juncture the 2000GT took its second long sea crossing, this time to the United States.
But it is a matter of official record that Toyota USA purchased the vehicle in 1981 and sent it to the classic car specialists at Hill & Vaughn in Santa Monica, California, for a full restoration.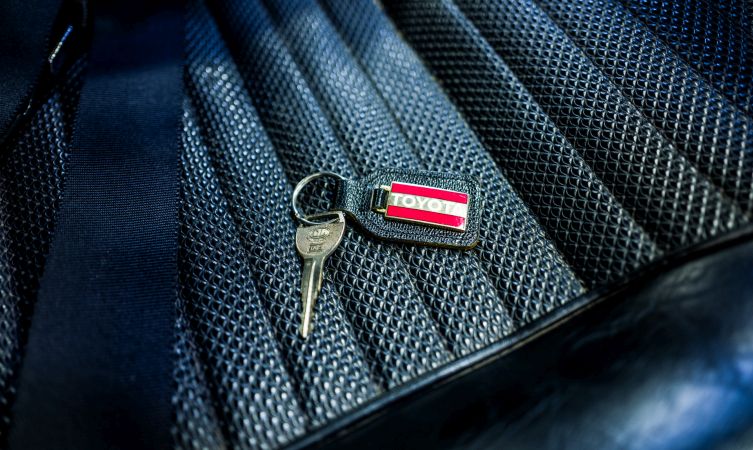 We have no doubt that the car which eventually emerged from Hill & Vaughn's workshop looked fantastic, but it concealed a multitude of flaws that would not be discovered until a couple of decades later. These came to light following an engine fire that initiated the commissioning of a second, ostensibly minor, restoration.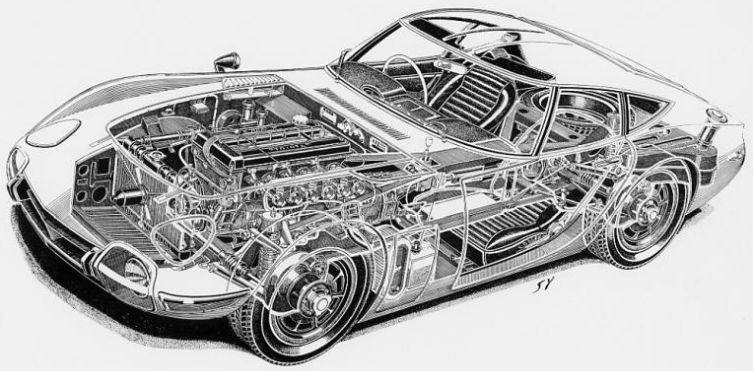 By this point, Hill & Vaughn had ceased trading, so Toyota USA entrusted the car to the highly talented Shin Yoshikawa of Studio Time Capsule in Kern County, California. As a master fabricator, extraordinary cutaway artist, and author of the definitive written history of the 2000GT, Yoshikawa-san was in the best position to restore car #10130 to its former glory.
However, Shin's early inspection process revealed some startling revelations that must have come as a shock to Toyota USA. To begin with, the car had not been painted in period-correct Solar Red but had been covered in a similar but inappropriate shade from the Ferrari palette.
Compounding the wrong, red wasn't even the factory colour, as a tiny arc of an entirely different colour was visible around the door latch (see above). This clearly showed that the Toyota was originally gold, and when this was cross-referenced against the frame and engine codes, immediately elevated the car to one of only two in existence. The numbers also connected it right back to its early life as Toyota's 1967 show star.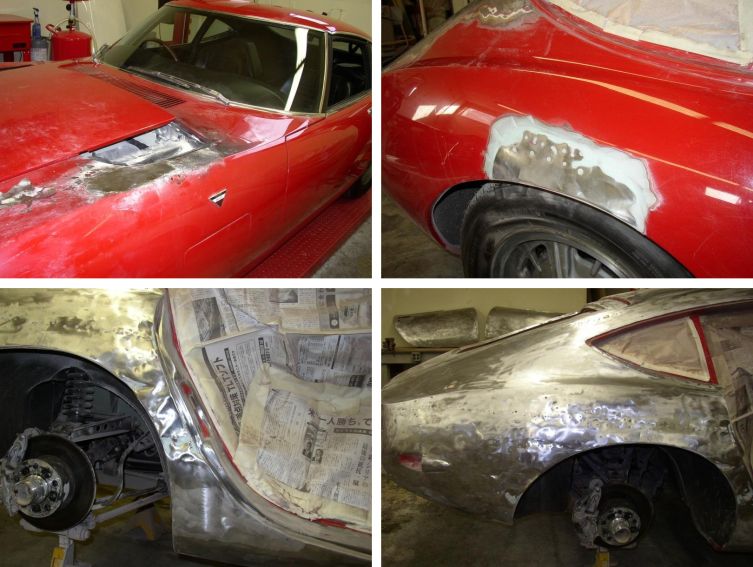 These facts meant a full restoration and bare metal respray was needed. But shortly after Yoshikawa-san began his work, the final and most fundamental issue was uncovered. The underlying metalwork had been badly damaged at some point following its TV appearance but had only ever been superficially repaired with body filler – upwards of an inch deep around the offside rear quarter panel, sills and nose.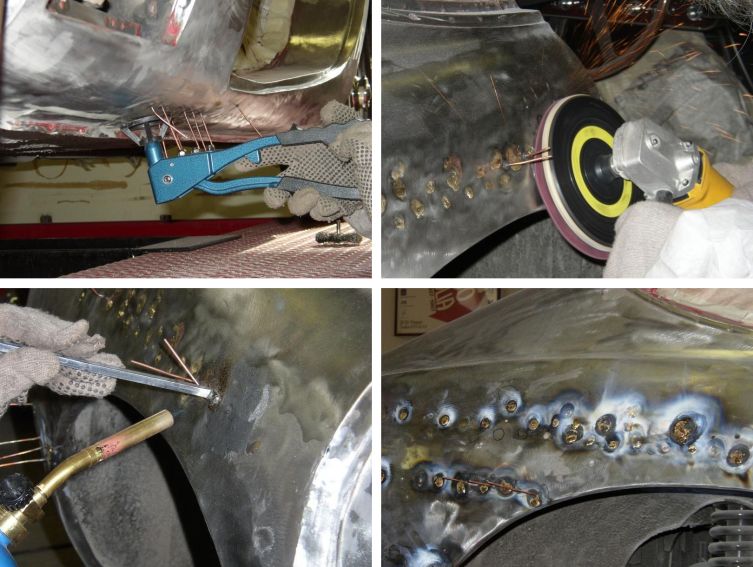 In order to restore the crushed aluminium, Yoshikawa-san welded stud nails into the centres of each dent and painstakingly pulled the metal back into shape. Once the nails were cut off and the stumps ground away, all small imperfections were filled using the traditional method of tinting the aluminium with molten lead. The surface was then skilfully hammered and filed smooth until the perfect all-metal shape was restored.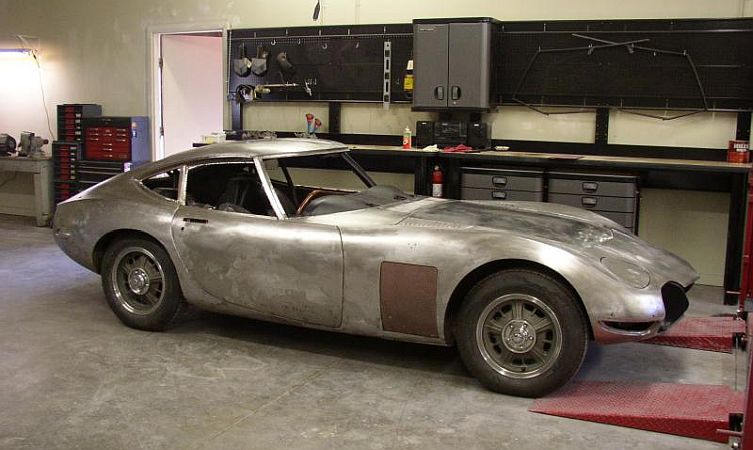 The joyous task of applying the colour took time as well. Yoshikawa-san reports that a total of seven coats of gold paint were applied, each layer wet-sanded before application of the next. The colour was then sealed in for posterity with a further three coats of lacquer.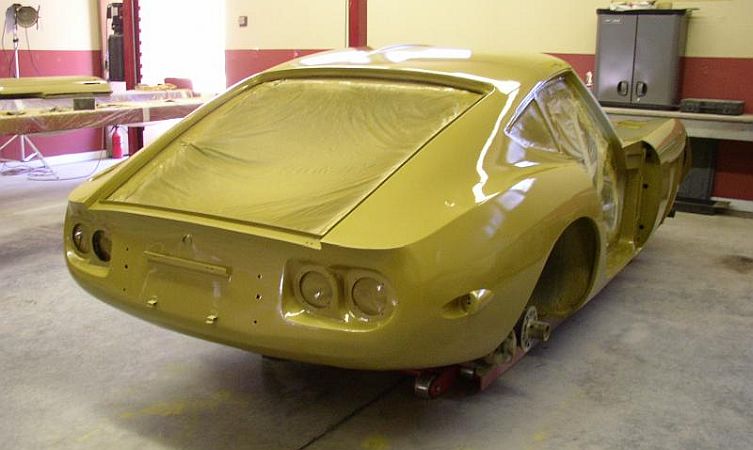 After the 2000GT was put back together again it was finally returned to Toyota's custody. Befitting its status as a landmark vehicle in the manufacturer's history, it currently resides in the fabulous Toyota USA Automobile Museum in Torrance, California.
The Twiggy 2000GT as it is today
Sat on an elevated platform reminiscent of the one upon which the car was first displayed almost 50 years ago, visitors to the museum now have an unrivalled view of its flawless restoration. The only thing that would complete the picture is Twiggy stood once again by its side.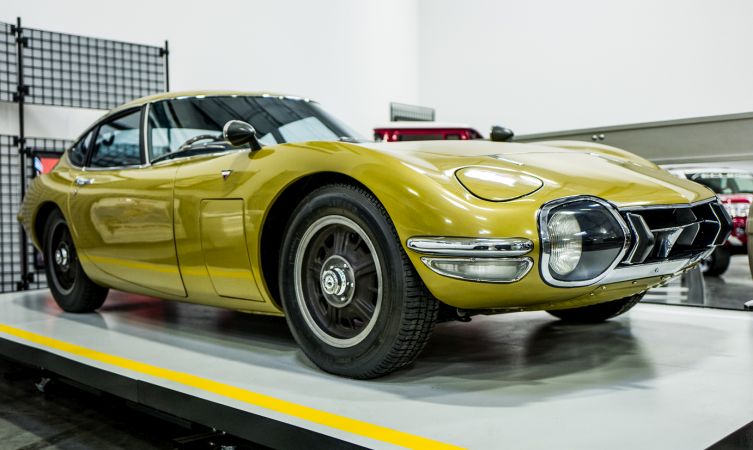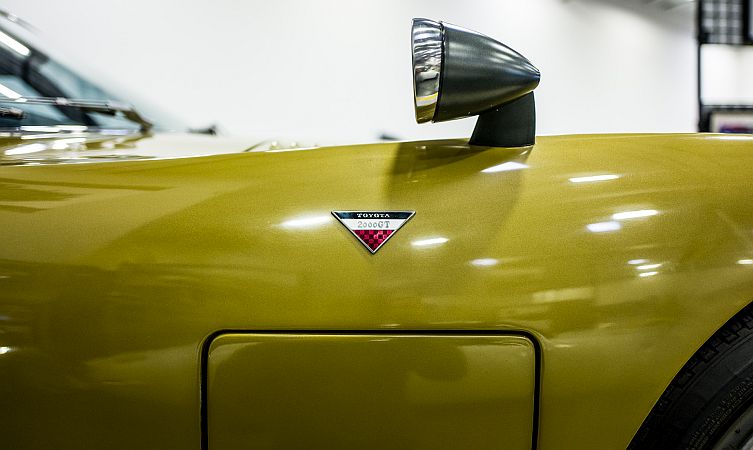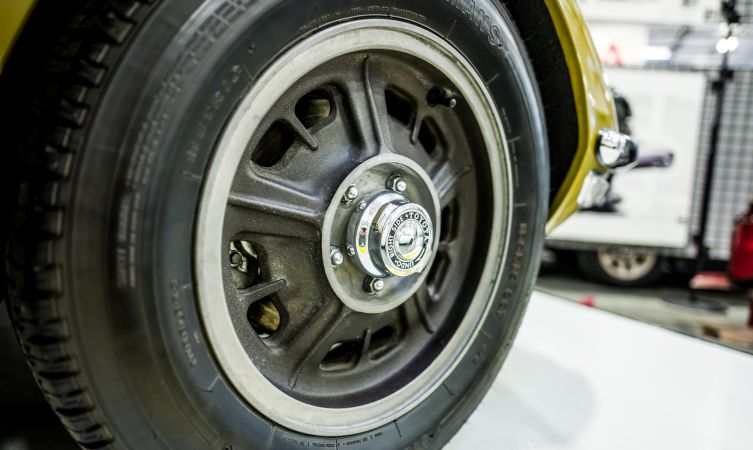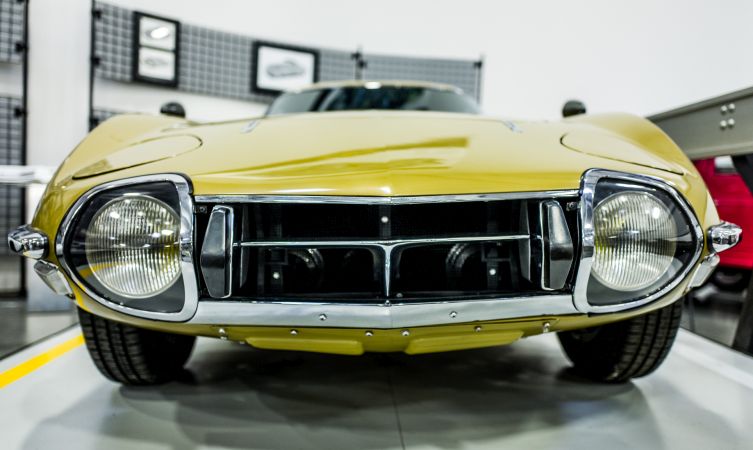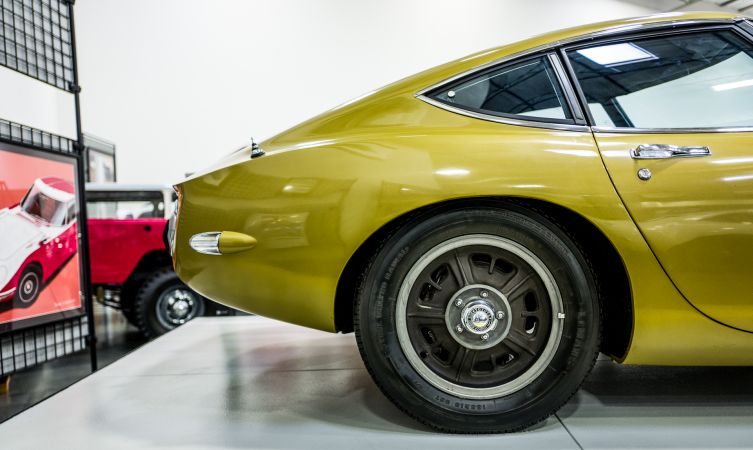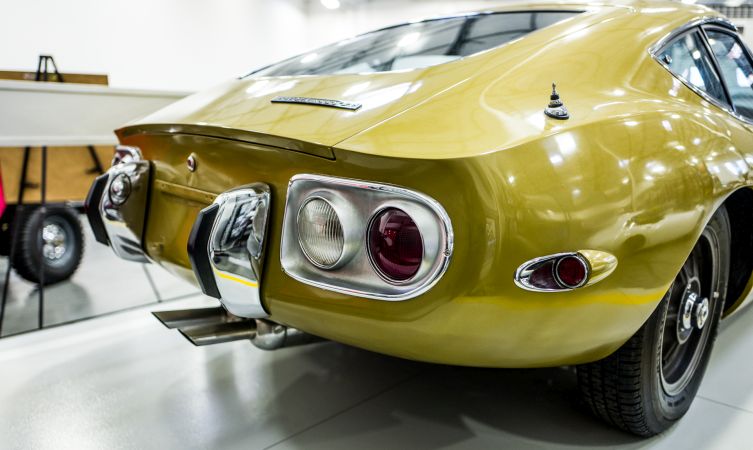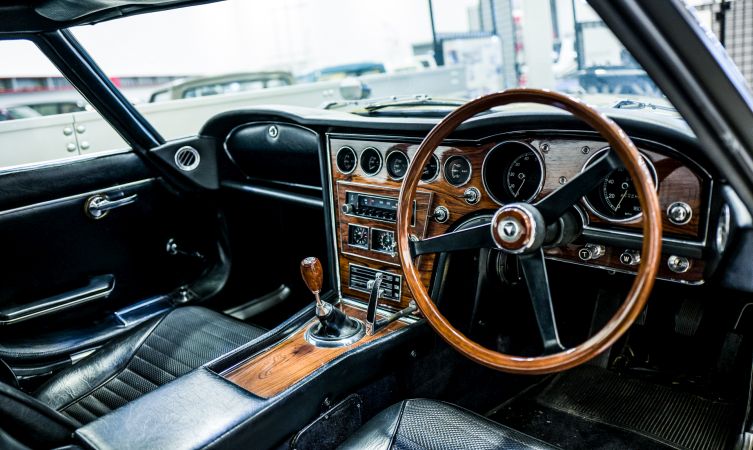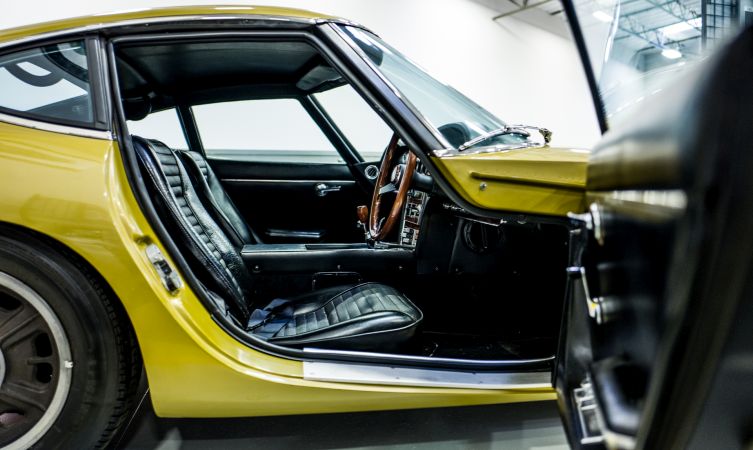 Learn more: History of the Toyota 2000GT
UPDATE (May 2020): Toyota enthusiast Carol Chapman recently got in contact to let us know that she was the official body double and stunt driver for actress Patricia Brake in the TV show The Ugliest Girl In Town.
In that capacity, Carol remembers driving this 2000GT on a couple of occasions for filming and apparently loved its "amazing psychedelic paintwork." It was a more daunting yet exciting machine to pilot than her own BMW Isetta 300, so Carol particularly relished the times when she was allowed to practice driving the sports car around Shepperton Studios, where many of the show's scenes were filmed.
A fan of Toyota cars – and sewing machines – since that time, 73-year-old Carol currently owns a second-generation Prius with over 180,000 miles on the clock. She has owned it for ten years.