Toyota Motor Corporation announced that it has developed advanced engines and transmissions and further evolved its hybrid systems based on its Toyota New Global Architecture – its structural basis for making ever-better cars and pursuing superb driving and environmental performance. Toyota intends to deploy these new powertrain units in a rapidly increasing number of models from 2017.
Toyota has been using TNGA to change the automobile right from its basic structure, bringing down bonnet heights, lowering vehicles' centre of gravity and implementing other innovations to improve driving performance. It implemented a comprehensive review, centred on vehicle platforms, to enhance fundamental "go-turn-stop" performance and, following on from the launch of the fourth-generation Prius, is expanding the use of these platforms throughout its product line-up.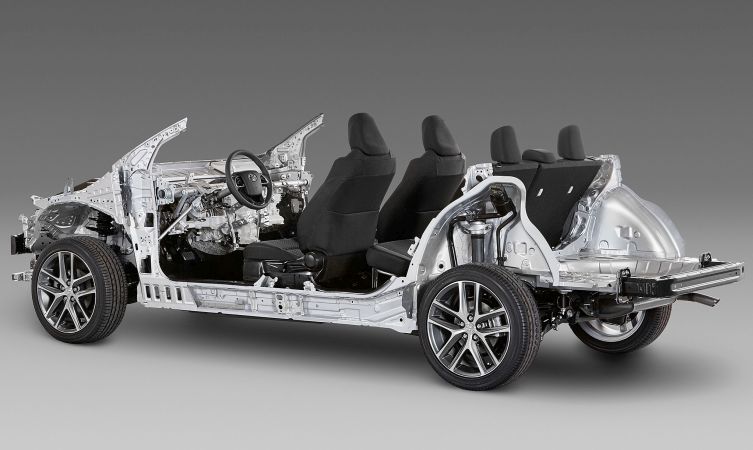 At the same time it has been developing new powertrain units which will also yield significant improvements in driving and environmental performance. These new engines and transmissions are light and compact and have a low centre of gravity. In-depth reassessment of basic vehicle performance has led to the development of engines with high-speed combustion and highly efficient, multi-gear transmissions. Modular (unified) designs have been used to create standardised structures, establishing a foundation for the future manufacturing of "well-built cars".
While it was a given that the new powertrain units would deliver a high level of environmental performance, the development programme also focused on how they could "change how Toyota cars drive," following the principle of "direct and smooth".
For Toyota, the starting point for making cars is that they should be "fun to drive" – giving real pleasure when you are behind the wheel with performance that responds directly to the driver's intentions, while at the same time being fuel-efficient and considerate to the environment. The new engines and transmissions announced today achieve approximately 10 per cent more power and around 20 per cent better fuel economy. Combining this with gains achieved through evolution of vehicle body design, including aerodynamics, weight reduction and other factors, can open the way to even greater power and fuel economy.
New 2.5-litre direct-injection in-line four-cylinder petrol engine
Toyota has named its new range of internal combustion power plants Dynamic Force Engines. To realise their full potential, their basic structure was completely rethought using TNGA, with innovations applied to their overall structure and configuration. Work will continue to make these units even more advanced.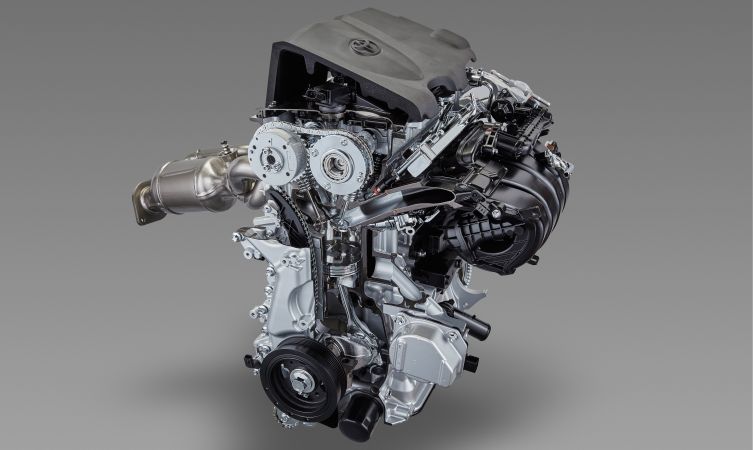 The new engines use high-speed combustion technology and a variable control system. They also have greater thermal efficiency, with a reduction in energy losses associated with, for example, exhaust and cooling systems and the friction between moving parts, resulting in high output. The line-up includes a 2.5-litre engine that has one of the world's highest thermal efficiency levels – 40 per cent when used in a petrol-powered vehicle, 41 per cent when used in a petrol hybrid vehicle. It features many new technologies, including precise control to secure highly responsive performance and the generation of ample torque at all speeds.
New eight and 10-speed automatic transmissions
Toyota has developed two new automatic transmissions: the eight-speed Direct Shift-8AT for front-wheel drive applications (below) and the 10-speed Direct Shift-10AT for rear-wheel drive applications.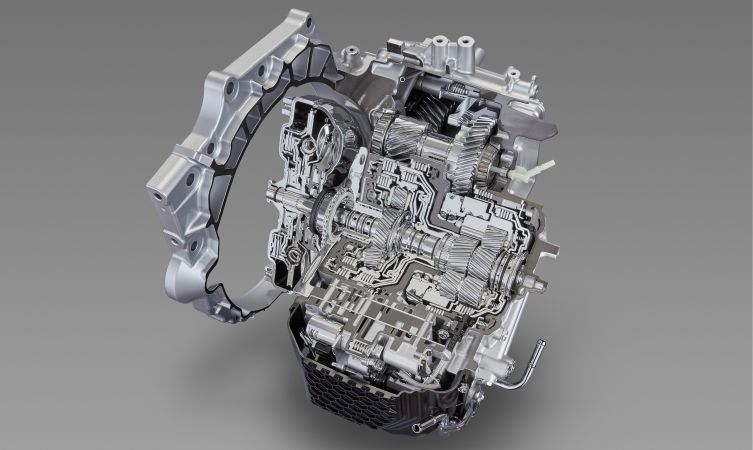 In both units measures have been taken to minimise energy losses and increase efficiency. A new technique to achieve a lower friction coefficient when the gears engage has been applied to the surfaces of the gear teeth. Also, by optimising the configuration of the friction material inside the clutch, clutch torque loss during rotation has been reduced by approximately half, compared to the performance in a conventional six-speed transmission.
These and other measures have helped produce one of the world's most efficient transmissions. The units are more compact and lighter than comparable, conventional transmissions, contributing to vehicle fuel economy. Their lower centre of gravity results in improved stability in straight-line driving and cornering.
Furthermore, wider gears combine with a new high-performance, compact torque converter to give a broader gear lock-up range. The resulting quick and smooth response to accelerator pedal inputs creates an "as desired," direct driving feel.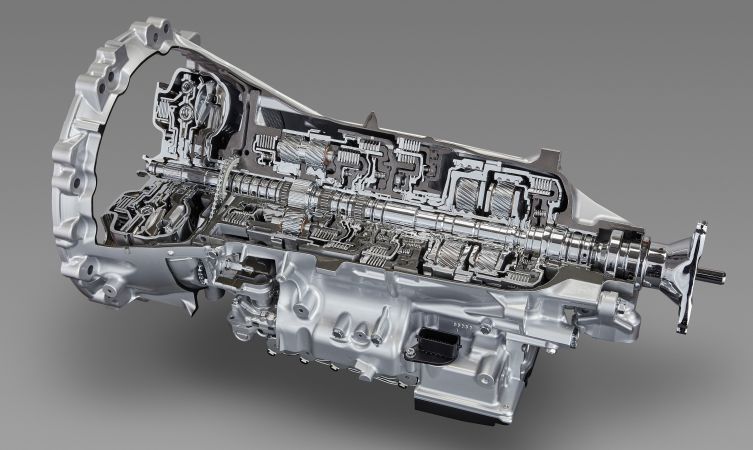 In the case of the Direct Shift-10AT (above), the use of close-ratio gears optimises the range of use for each gear, particularly in the low to mid-speed range. The resulting smooth shifts – among the world's quickest – create a rhythmical and comfortable sensation that's appropriate for a premium, rear-wheel drive vehicle.
Through such measures, basic vehicle performance in everyday driving situations – from moving around town to motorway cruising – has been noticeably improved. Smooth response to the accelerator pedal makes for "as desired" pulling away and overtaking, with a lag-free, rhythmical increase in speed that meets driver expectations, even when there is sudden and heavy use of the throttle.
Advances in the Toyota Hybrid System II
Toyota has applied the size, weight and loss-reduction technologies it used in the fourth generation Prius to improve its hybrid system for 2.5-litre engines and develop the new, high-performance Multistage THS II for rear-wheel drive vehicles.
THS II for 2.5-litre engines excels in both power and fuel economy thanks to the combined effect of size, weight and loss-reduction, coupled with the high thermal efficiency and output of the new TNGA-based engine.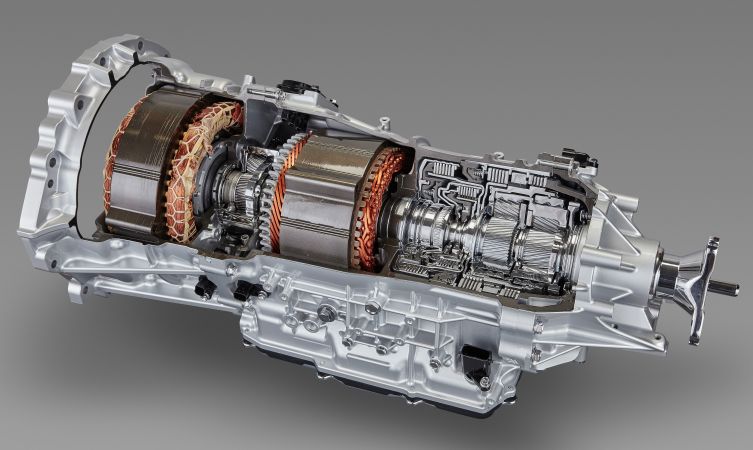 Multistage THS II (above) gives hybrid vehicles an all-new driving quality in terms of acceleration from standstill and a high degree of direct driving feel. As well as improving system efficiency at high speeds, it makes intermittent use of the engine at high vehicle speeds possible, further improving fuel economy.
The system for plug-in hybrid vehicles (PHVs) has also been enhanced. A new dual-mode system allows the electric motor, previously only used as a generator, to provide direct drive power, resulting in powerful performance even when the vehicle is operating in all-electric EV mode. A high-capacity lithium-ion battery (below) brings further benefits, helping increase the driving range in EV mode to 37 miles or more.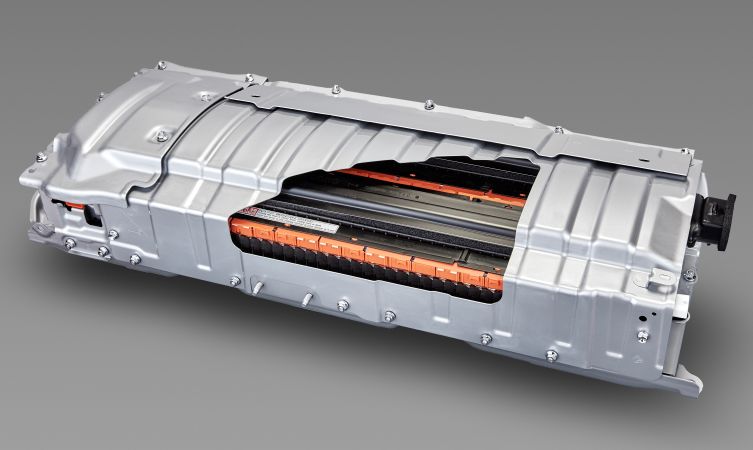 Roll-out of new powertrain units
The application of TNGA for car making has allowed Toyota to achieve efficiencies in the development of the base technologies for its new powertrain units, together with improvements in quality, making it possible to introduce new, affordable, high-quality products simultaneously. This will lead to Toyota being able to provide its customers with ever-better cars promptly, and to further promote the widespread use of environmentally and fuel-efficient vehicles.
In the five years up to the end of 2021, Toyota plans to introduce 17 versions of nine engines, including the 2.5-litre power plant announced today; 10 versions of four transmissions, including multi-geared automatic transmissions and a new kind of continuously variable transmission; and 10 versions of six hybrid systems.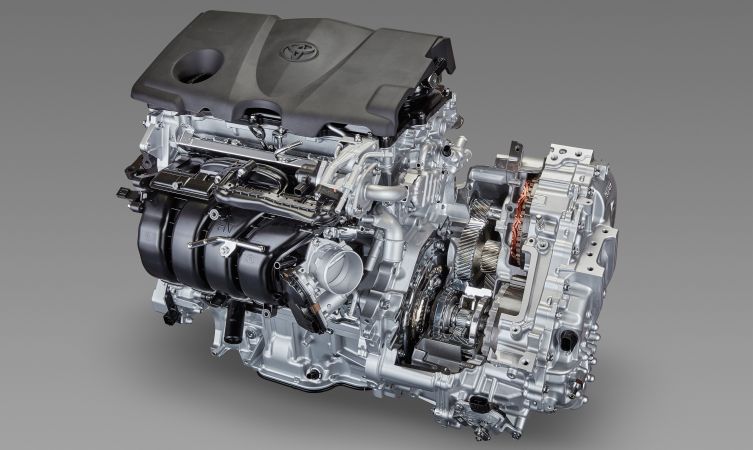 In this way, and through TNGA-based modular development, Toyota will roll out numerous types of new powertrain units within a short timeframe, successively introducing them in different models, starting with the launch of a new model in 2017.
By the end of 2021, Toyota aims to have the new powertrain units in 60 per cent or more of the Toyota and Lexus vehicles sold annually in Japan, the United States, Europe and China. It forecasts that the Toyota and Lexus vehicles sold that year will account for a 15 per cent or more reduction in CO2 in those markets, taking into account the new powertrain units' fuel efficiency contributions alone.
Review and strengthening of powertrain company development structure
Toyota intends to review and strengthen the development structure of its in-house powertrain company. The vast majority of vehicles currently on the market use conventional engines; hybrid and plug-in hybrid vehicles, the advance of which is expected to continue, also use internal combustion engines.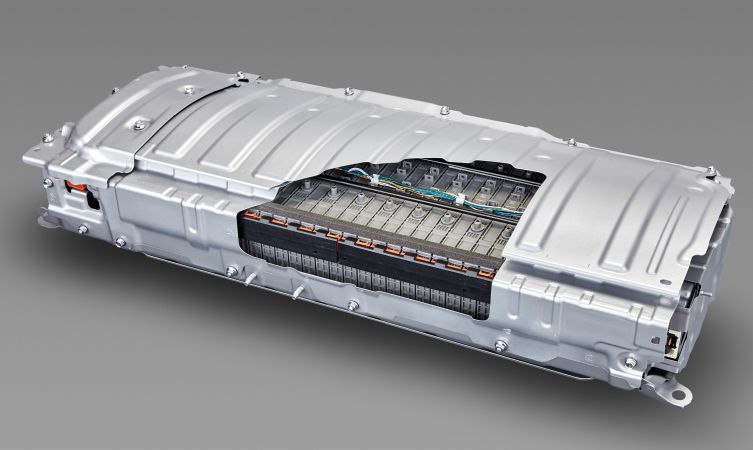 As well as promoting development of engines and transmissions, which should remain a mainstay in the market for time to come, Toyota is also accelerating development of hybrid technologies (electrification technologies), such as those used in electric motors, batteries (nickel-metal hydride battery pictured above) and power control units.
Sharing technologies to raise the Toyota Group's collective ability
Toyota has long conducted research and development of key technologies and systems, working to its principle of "acquire through in-house creation". The accumulation of knowledge, know-how and experience is what allows Toyota to use the experience of failure to bring about improvements. This approach has been the backbone of Toyota research and development and is viewed as the reason why Toyota was able to develop a practical hybrid system, launch Prius – the world's first mass-produced hybrid vehicle – and develop and be quick to market with the Mirai fuel cell vehicle.
However, Toyota realises that it would be difficult to raise the pace of development and commercialisation of electrification technologies if it continued to rely on its own resources, as it has done hitherto. It will continue to carefully select the elements that it considers necessary to acquire through in-house creation, but from now on it will also promote the sharing of technologies within the Toyota Group and increase the number of fields covered by joint research.
It will strengthen joint development that uses cross-group obeya (project rooms), efficiently use group resources to quickly establish advanced technologies and aim for increases in three areas: in the collective ability of the Toyota Group; in the speeding up of development; and in the scale of proliferation and expansion of environmental technologies.
Strengthening the development structure for hybrid technologies – the core technologies for electrification
Key hybrid technologies, as found in electric motors, batteries and power control units (image below), are also used in electric-powered vehicles such as plug-in hybrids, fuel cell vehicles and EVs. Toyota plans to increase the number of people working on hybrid technology, to increase the speed of development. Specifically, it plans to reorganise its development structure from 2017 and increase the workforce engaged in hybrid technology development by around 30 per cent within the five years up to the end of 2021. Beyond that time it plans to further strengthen its human resources for this area of its work, as required.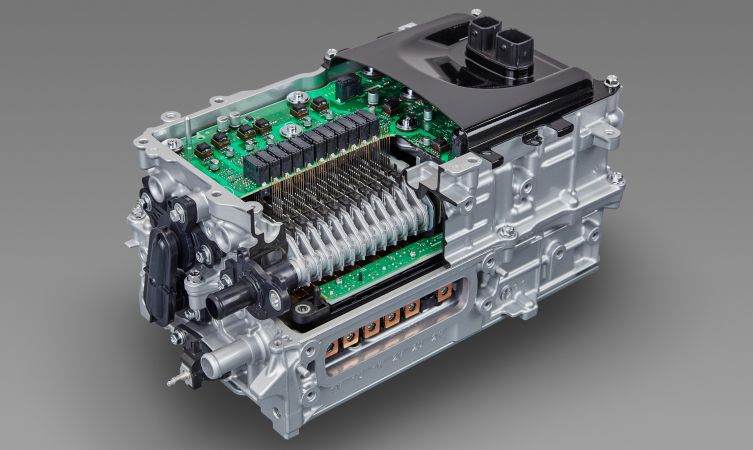 Toyota aims to reduce new vehicle CO2 emissions by 90 per cent by 2050, compared to 2010 levels. Based on its principal policy of conserving energy – the cornerstone of its development of environmentally efficient technologies – through the further evolution of engines and transmissions the promotion of widespread use of hybrid and plug-in hybrid vehicles, Toyota is working to improve fuel efficiency as a means of reducing CO2 emissions. With a view to the future and an eye on limiting fossil fuel consumption, and to respond to the diversification of energy sources, Toyota is advancing its development of hydrogen fuel cell vehicles and EVs.
To further reduce CO2 emissions, Toyota is continuing to develop environmental technologies and commercialise environmentally efficient vehicles, working on the premise that widespread market uptake is necessary to realise their potential contribution.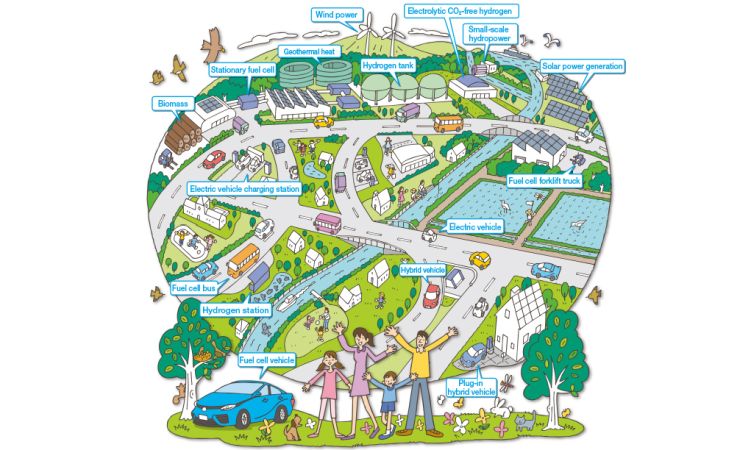 Looking ahead, Toyota will strengthen its undertakings by rallying the collective ability of the Toyota Group through a TNGA-based approach to making ever-better cars, accelerating the commercialisation of cars that are both fun-to-drive and contribute to safeguarding the Earth's environment, and speeding up the reduction of CO2 emissions.