With plenty of Toyota Yaris accessories available, there is no limit to the ways you could personalise your Yaris to suit your needs. Whether you need some added interior protection against little feet during the school run or some added style in the local supermarket car park, there are plenty of Toyota Yaris accessories to help make your new car your own.
Toyota Yaris accessories: protection packs
You are bound to love your brand-new shiny Yaris, so the last thing you want is for it to get dirty or damaged within the first few months of driving it. To prevent this, the Yaris can be specified with two protection packs (Essential Protection Pack and Protection+ Pack) to ensure your new car stays looking showroom fresh for as long as possible, both inside and out.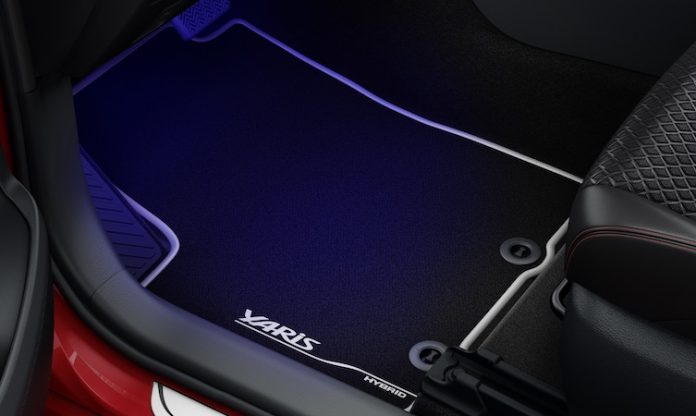 The Essential Protection Pack adds a boot liner, rear bumper protection plate in black plastic plus front and rear mudflaps to your Yaris. The Protection+ Pack offers the same as the Essential Protection Pack but upgrades the rear bumper protection plate from black plastic to stainless steel and adds rubber floormats for the interior. Both protection packs are available on all grades of the new Yaris.
Toyota Yaris accessories: style packs
There is no question that the new Toyota Yaris is a stylish supermini, but for some extra pizzazz, the following additional packs could be just the ticket.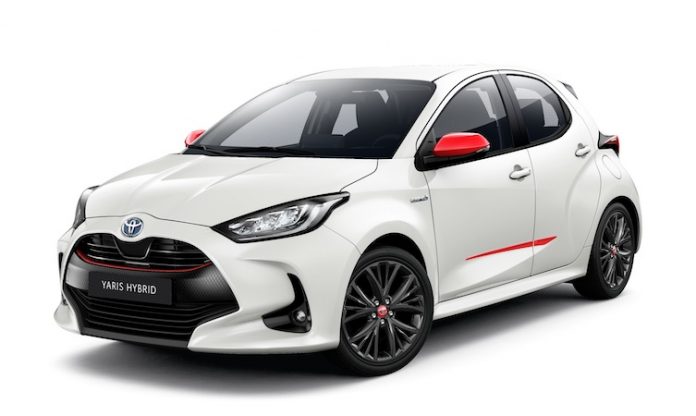 The first options are the Tokyo Fusion and Tokyo Fusion+ Packs. The Toyko Fusion pack adds a red front grille trim plus matching red rear boot door trim, while the Tokyo Fusion+ Pack adds red side sills for a completely cohesive look.
The colour-matching wing mirror covers and wheel centre caps are available separately and are not part of either the Tokyo Fusion or Tokyo Fusion+ Packs, but are great touches to add with both packs.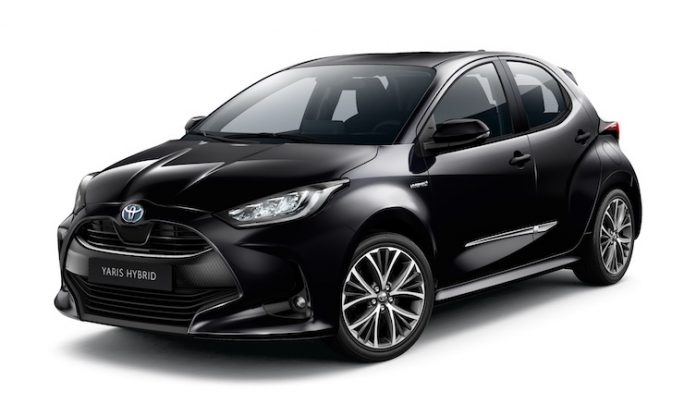 The second choices are the Chrome and Chrome+ Packs. The Chrome Pack gives the Yaris some chrome front grille trim and rear boot door trim, while the Chrome+ pack adds chrome side sills.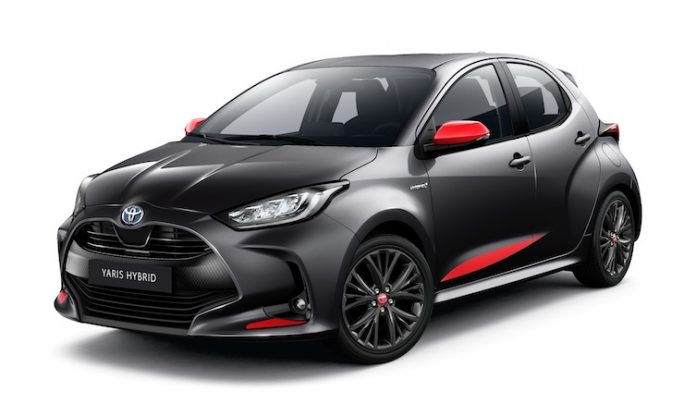 As with the Toyko Fusion and Fusion+ packs, the colour-matching wing mirror covers and wheel centre caps are individually available and can be purchased separately from the style packs.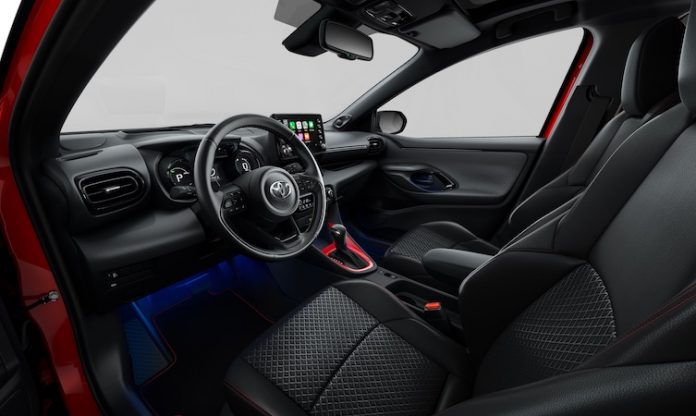 For those wanting to inject the same exterior style into the Yaris, the interior can be optioned with the Toyko Fusion Interior Pack. This interior pack adds matching carpet mats as well as a centre console accented with red detailing. The Tokyo Fusion Interior Pack is available on all grades of the new Yaris.
Toyota Yaris accessories: wheels
Considering the exterior of the new Yaris is the most stylish yet, it's only right that you have some equally stylish wheels to match. You can opt for a 16-inch gloss black machined alloy or anthracite machined alloy if you have the Design grade of Yaris. You might fancy the 17in Gloss Black Alloy or Anthracite Machined Alloy (pictured) if you have either the Excel or Dynamic grade.
Whichever wheel design you choose, it will be the perfect finishing touch to your super stylish supermini.
Toyota Yaris accessories: roof accessories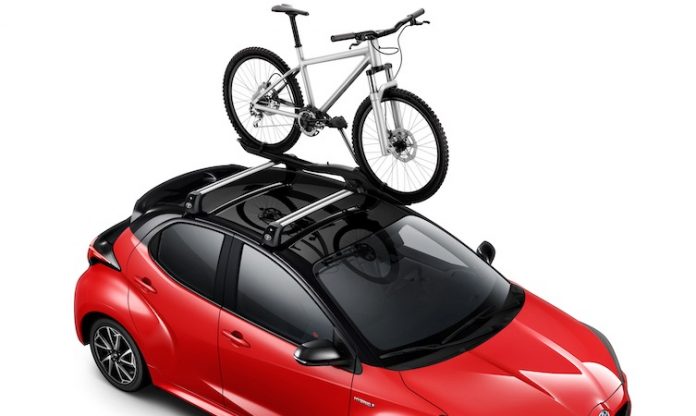 Owners may require a tad more space every now and again. To achieve this, the all-new Yaris comes with three roof accessories which can be quickly fitted to the car by our trained technicians. Owners can opt for either a roof rack, roof box or roof bike holder (pictured) to help satisfy any additional space requirements. All three accessories can be fitted to all model grades of the Yaris.
Toyota Yaris accessories: dash cameras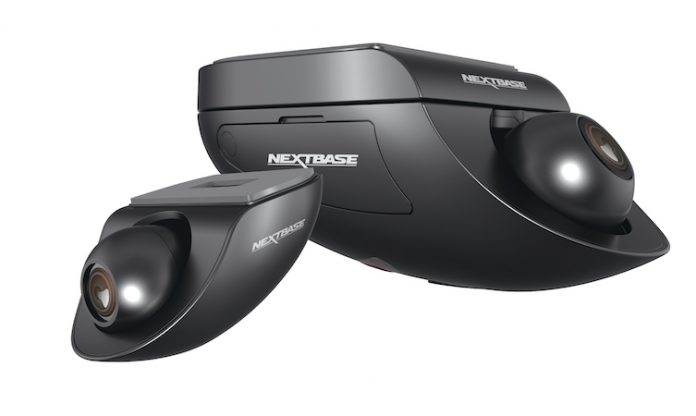 Some drivers purchase a dash cam as an aftermarket option for their vehicle, but it can be tricky and cumbersome to install. The new Yaris is available with a choice of NextBase cameras which can be fitted to your car by one of our trained technicians.
You can choose from either a NextBase front-facing dash cam or front and rear dash dams (pictured) which can be fitted on all grades of the all-new Yaris.
All the Yaris accessories and which grade they are available on can be found in the handy table below.
| | | | | | |
| --- | --- | --- | --- | --- | --- |
| Customisation (ABU) | | Icon | Design | Excel | GR Sport |
| Essential Protection Pack | Rear bumper protection plate (black), boot liner, front and rear mudflaps | X | X | X | X |
| Protection + Pack | Rear bumper protection plate (stainless steel), boot liner, front & rear mudflaps and scuff plates | X | X | X | – |
| Chrome Pack | Front bumper trim and rear boot door trim | X | X | X | – |
| Chrome + Pack | Front bumper trim, rear boot door trim and side sills | X | X | X | – |
| Tokyo Fusion Pack | Front bumper trim and rear boot door trim | X | X | X | – |
| Tokyo Fusion + Pack | Front bumper trim, rear boot door trim and side sills | X | X | X | – |
| Tokyo Fusion Interior Pack | Coloured centre console and coloured carpet mats | X | X | X | – |
| Flare Pack | Front, side and rear styling stickers in Tokyo Fusion colour | X | X | X | – |
| Alloys | 16″ Gloss Black Machined Alloy wheel | X | – | – | – |
| | 16″ Anthracite Machined-faced Alloy wheel | – | X | – | – |
| | 17″ Gloss Black Alloy wheel | – | – | X | – |
| | 17″ Anthracite Machined Alloy wheel | – | – | X | – |