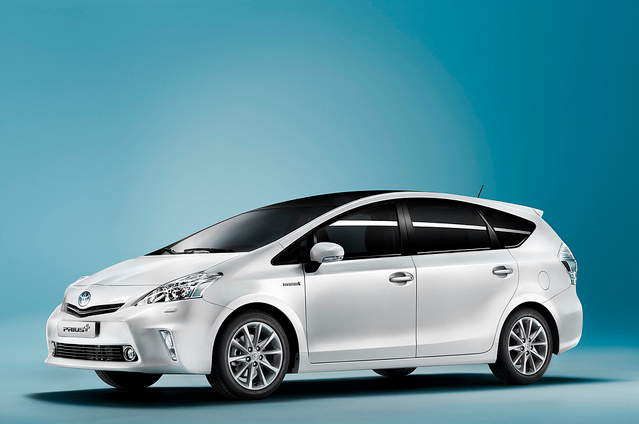 As we hinted a few weeks ago, Toyota is set to expand the Prius family with the launch of the new Prius+. Making its debut at the 2011 Geneva motor show, Prius+ is the first full hybrid model in Europe to offer seven seats, combining family friendly versatility with strong environmental performance and advanced technology.
Compared to 3rd-generation Prius, Prius+ provides a significant increase in space and passenger accommodation. This includes three independent, split-folding second row seats and a 50:50 split-folding third row. In spite of the increase in size, it retains the fundamental performance benefits associated with Prius, including the lowest fuel consumption of any seven-seater on the market.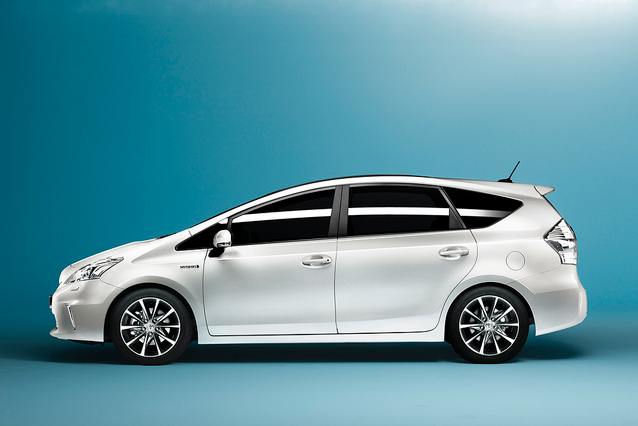 The full hybrid MPV features a fixed integrated panoramic sunroof, the familiar Prius triangular silhouette,  sharp-edged headlamps, flat, vertical 'aero' corners that reduce air turbulence, and an enlarged lower grille to improve aerodynamics and engine cooling. The rear of the car incorporates a top-hinged tailgate, intricate lamp clusters and a roof spoiler that further manages smooth airflow. Overall, Prius+ has a Cd 0.29 drag coefficient.
Prius+ is equipped with the latest generation of Toyota's Hybrid Synergy Drive and is the first Toyota non-plug-in hybrid to use a lithium-ion battery pack. The compact dimensions of this battery – first introduced in Prius Plug-in (PHV) – allow it to be contained entirely beneath the second row seats, which means passenger and loadspace are unaffected.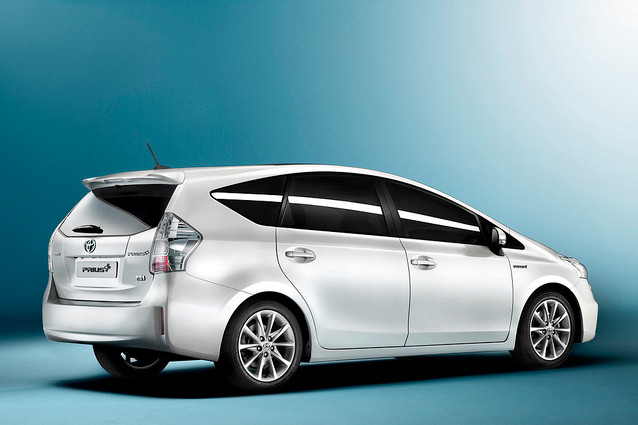 As in the current Prius, Prius+ features three 'on-demand' drive modes so that capabilities of the hybrid powertrain can be fully exploited. EV mode allows the car to be driven on electric motor power alone, resulting in zero fuel consumption and tailpipe emissions; ECO mode maximises hybrid system efficiency and fuel economy, while POWER mode sharpens response and boosts performance.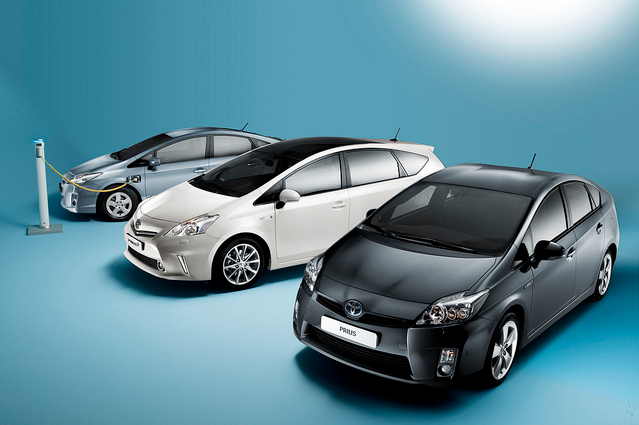 Prius+ is set to go on sale during the first half of 2012, alongside Prius and Prius Plug-in. Click here for more news from the 2011 Geneva motor show.