This is the new Toyota RAV4 Plug-in Hybrid, the most powerful and efficient version of the world's best-selling SUV. Taking its place as the new flagship of Toyota's hybrid vehicle range, the model is equipped with a new plug-in hybrid system that sets electric power as the vehicle's default running mode.
Toyota RAV4 Plug-in: performance and technology
The new RAV4 Plug-in represents the next development in performance and technology following two generations of Prius Plug-in models. Previously, the focus was on achieving a longer all-electric EV driving range by using a larger high-voltage battery in conjunction with the standard hybrid vehicle's electric motor. Now, however, the RAV4 Plug-in pairs a more powerful motor and a larger battery to gain extra drive power, as well as the ability to cover greater distances and run at higher speeds in EV mode.
Maximum output for the full powertrain is 302bhp, which is 38% more than the standard RAV4 Hybrid. This equates to a 0-62mph time of six seconds (2.1 seconds faster than the RAV4 Hybrid) and more accessible power for improved driveability. In fact, there is now 50% more power available when accelerating out of urban zones.
At the same time, CO2 emissions and fuel consumption are sharply improved. Official weighted WLTP combined cycle figures show 22g/km CO2 and 282.4mpg respectively.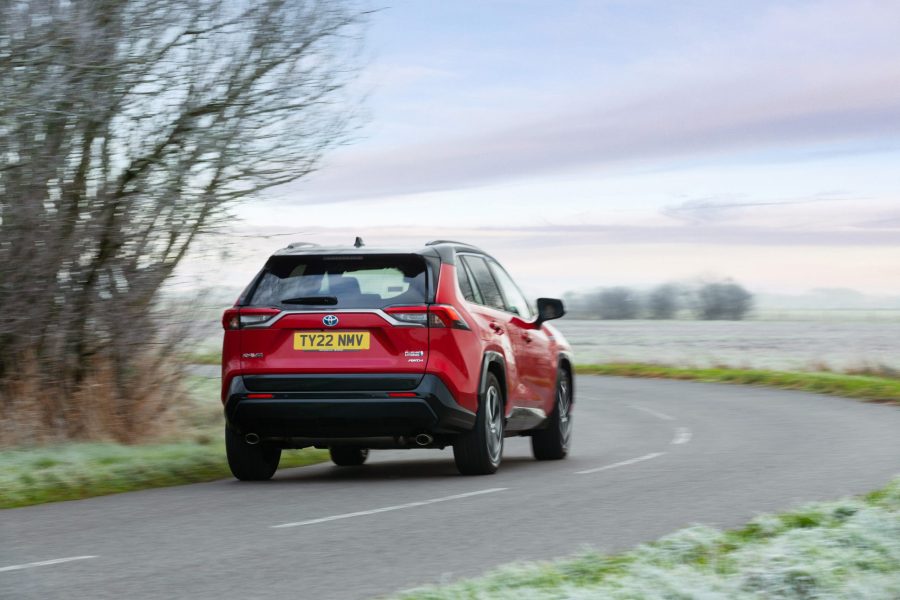 RAV4 Plug-in operates as an authentic electric vehicle: with pure EV running as its default mode where it can cover up to 61 miles in urban driving (WLTP city cycle) on a full battery charge, and 46 miles in mixed (WLTP combined cycle) driving, comfortably more than the average European daily commute, and reach speeds of 84mph (where permitted), with no intervention from the hybrid powertrain.
Further flexibility is built into the technology in order to allow the driver to choose to start the journey in hybrid (HV) rather than EV mode. For example, this would allow the driver to maximise efficiency by saving the vehicle's EV range for an urban area. Nevertheless, when the limit of EV driving range is reached, the RAV4 Plug-in automatically switches to hybrid (HV) mode.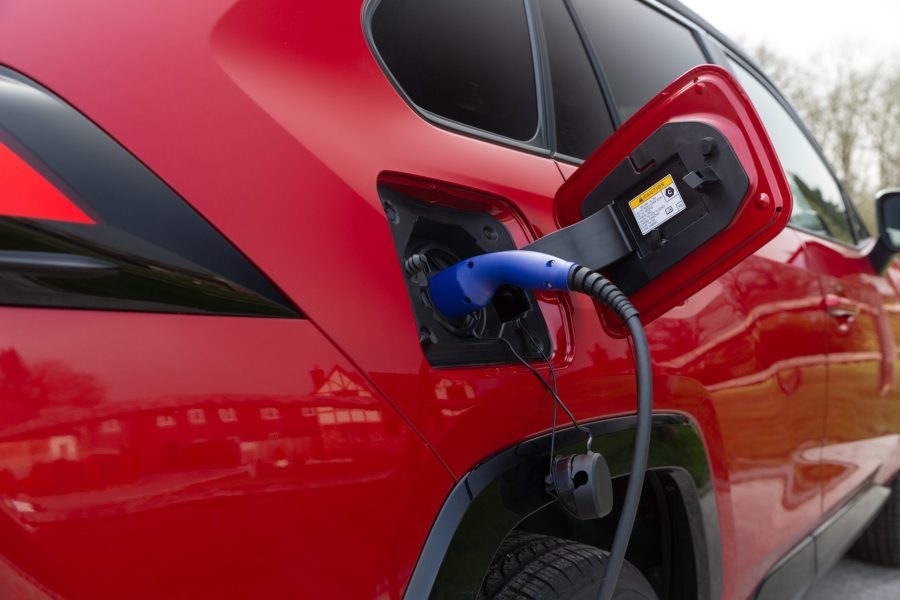 In Auto EV/HV mode, the hybrid system will automatically come into play when extra power is needed, for example under sharp, sudden acceleration. It will then return to EV mode immediately afterwards.
Toyota RAV4 Plug-in: hybrid system
Toyota has developed a more powerful hybrid system for the RAV4 Plug-in, making detailed changes to the compact, lightweight components in the fourth-generation hybrid technology featured in the current RAV4 Hybrid model.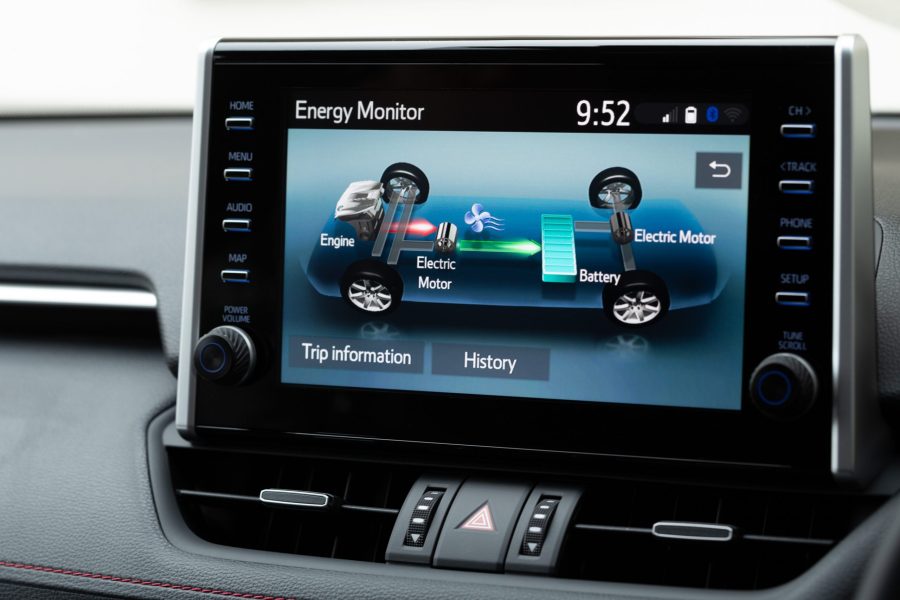 It uses a new lithium-ion battery with a significantly higher output. Energy capacity has been increased to 18kW/h and voltage is now rated at 355.2V. The power control unit has also been adjusted with the addition of a boost converter so that more power can be drawn from the battery. The output of the front electric motor is also increased, by 46kW to 134kW.
Battery charging is simple and safe and can be accomplished in 2.5 hours using a 230 V/32 A connection and a wallbox charging unit. Type 2 cables for connection to a domestic power supply or wall box are provided as standard with the RAV4 Plug-in Hybrid.
Grades and prices
The new RAV4 Plug-in Hybrid will be available in two equipment grades: Dynamic and Dynamic Premium with on-the-road prices for the former are £47,395, while the latter will cost £50,895.
Featuring a 2.5-litre petrol engine, a more powerful electric motor and a larger battery, the RAV4 Plug-in delivers more rewarding performance (0-62mph in six seconds) and drivability, with 50% more available at 37mph compared to the standard RAV4 Hybrid. Due to official fuel consumption of 282mpg with 22g/km CO2 emissions (WLTP combined cycle), the Plug-in Hybrid secures a benefit-in-kind rate of just 6.0% for company car taxpayers.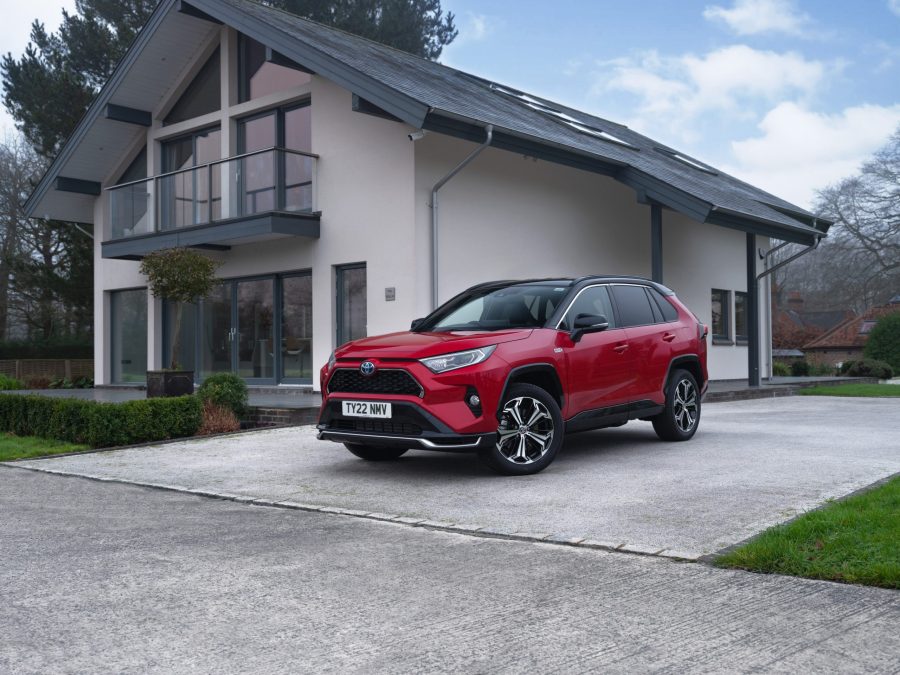 Based on the equivalent RAV4 Hybrid specification, Dynamic will offer 19-inch machined-face alloy wheels, a nine-inch multimedia touchscreen, access to connected services, heated front and rear seats and LED projector headlights. To support its EV capability, it will come with a 6.6kW (32A) cable for fast charging (wall box system required).
The Dynamic Premium version adds black leather upholstery, front seats with ventilation and memory settings, a panoramic roof, a head-up display and a JBL Premium Sound System.
All information is correct at the time of publishing.