In a lifespan of 52 years and eight generations, the Hilux has become a byword for rugged versatility. It's a dependable work tool for businesses the world over, proven in the harshest environments; from the North Pole to the Dakar Rally and, for Robin Moody and his modified Hilux, the Las Vegas Convention Centre and the world's biggest custom car show.
Origin of the Species
The N10-generation Hi-Lux (as the name was stylised at the time) was a well-timed launch when it arrived in the United States in 1969. American customers were offered the 'Toyota Truck' as a pared-down model range, comprising a single-cab, short-bed variant with a larger 1.9-litre petrol engine than Japan and Europe, putting 97hp to the rear wheels through a four-on-the-floor manual transmission.
Economical and car-like to drive, it tapped into a growing leisure market for 'minitrucks' – a trend which spawned camper conversions at the time and caught the attention of customisers too. It's a proposition that appealed to Robin before he could even drive.
"My Mom said I was born with a toy car in my hand, they've always been my passion," he tells us. "I got into minitrucks in high school, and I've been a die-hard ever since. But you never see these, especially in this part of the country."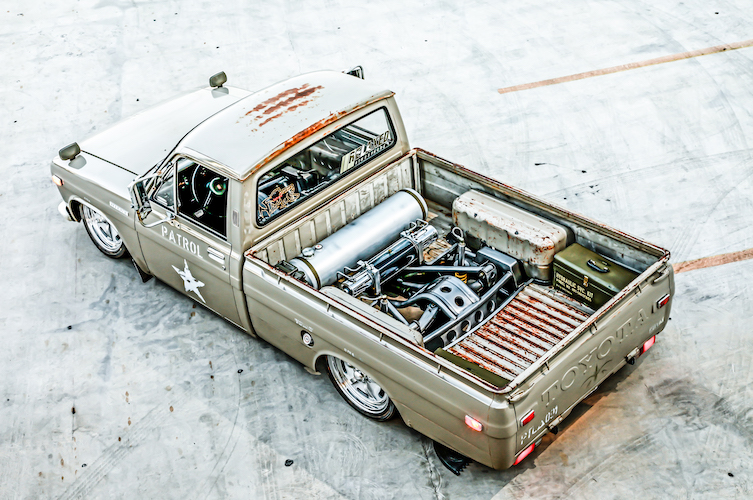 Built to Last
Despite that rarity – these were hard-working trucks, not pampered weekend cars – he stumbled across his future project unexpectedly. "I saw it in this guy's driveway, and I knew exactly what it was. It had been his Dad's truck, and lived most of its life in California, hence the lack of rust and rot. But I was worried he wouldn't sell it to me, so I told him I was going to restore it. He got a good deal."
In its first guise, that wasn't far from the truth. With no rot to contend with, Robin opted to preserve the original paintwork, buffing away years of oxidation with the help of his wife, Wend, but leaving decades-old signs of use intact. An unusual choice for a modified Hilux project, the 17-inch Centreline wheels had to be custom made but, with a small reduction in ride height and the high-compression cylinder head from the later '18R' engine to liven it up, it took very little to revive the truck for daily use.
Read more: Hilux goes high-end bespoke at Mooneyes Japan show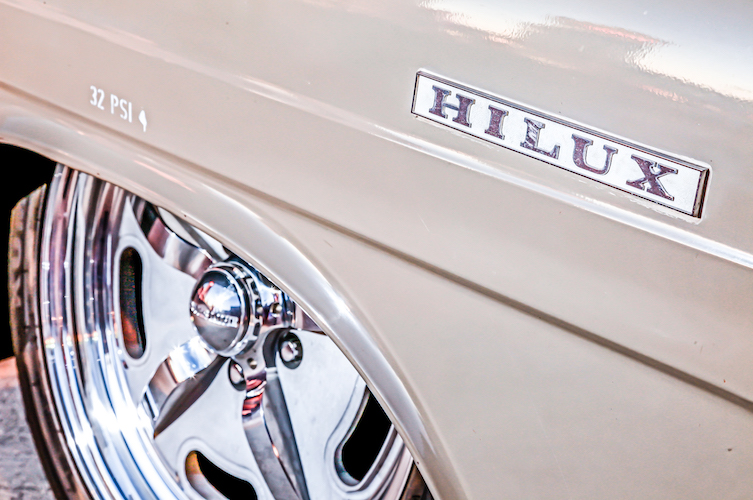 Pickup, Dropped
Needless to say, it didn't stop at the superficial. The N10 featured a car-like double-wishbone suspension setup at the front and a durable leaf-sprung rear axle, but the engineers responsible wouldn't recognise much of the hardware built into this one.
Robin's modified Hilux features a four-link suspension setup fabricated by Keith Sawyer of Nfamous Air Suspension, which is mounted off a specially made crossmember beneath the bed. Raised rear wheel tubs and notches to the frame and transmission tunnel provided enough clearance for moving parts to allow the twin-pump hydraulic suspension to lay the truck's sills on the ground. That's a party trick most Hilux owners can't match.
It also avoided the need to tamper with decades of patina: "The yellow chevrons on the mirrors, and the look of the factory signals on the fenders had a military feel, so the army thing was an easy look to pull off," says Robin.
"I had reverse stencils made, used a light coat of paint, then aged it using a fine-cut buffing compound, then added my own pinstriping at the rear. It allows the well-preserved interior and exterior to be displayed, which I think on a truck as rare as this adds value, as most people haven't seen one in person before."
Read more: History of the Toyota Hilux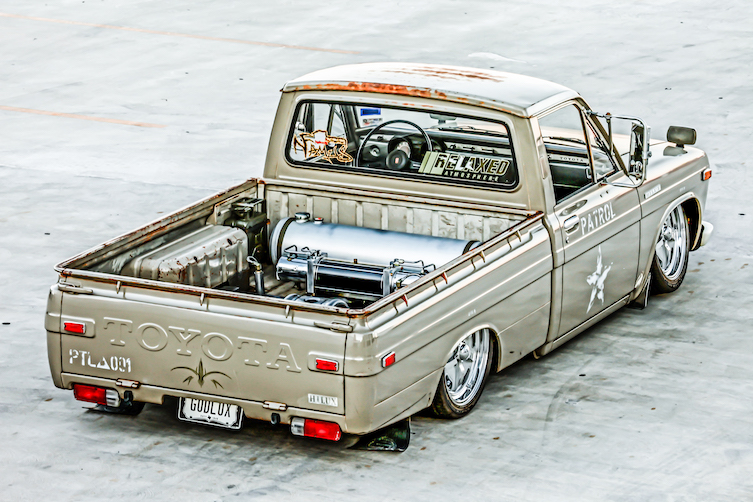 Continuing a Theme
Beyond that immediate visual impact, this is a project defined by the smallest details. The bed drops low enough that it requires a cut-out section for the rear diff, and the custom-made rear frame section features dimple-dies to add strength – including on components you can't see. Its new dashboard and door cards were bead-rolled and dimpled to match, and all of the fabricated parts are protected by a clear powdercoat or penetrating oil, giving the impression of bare metal.
With no covered boot space, packaging the hydraulic system's multiple 12-volt batteries required some clever thinking, he explains. "I thought about hiding the batteries under the bed, but it would make charging them difficult. But I had all this space in the bed, and it hit me that tool boxes would fit the look of the truck as well as function as battery compartments.
"These are brand new Craftsman toolboxes, which I dented up and painted olive drab green. Then the battery hold-downs are military surplus from the Army Navy store. The military
theme meant I was able to really obsess over the little details that sell the whole look, without doing a bunch of crazy body mods that everyone else has already done."
Read more: Toyota People: Tiana Walton and her modified Hilux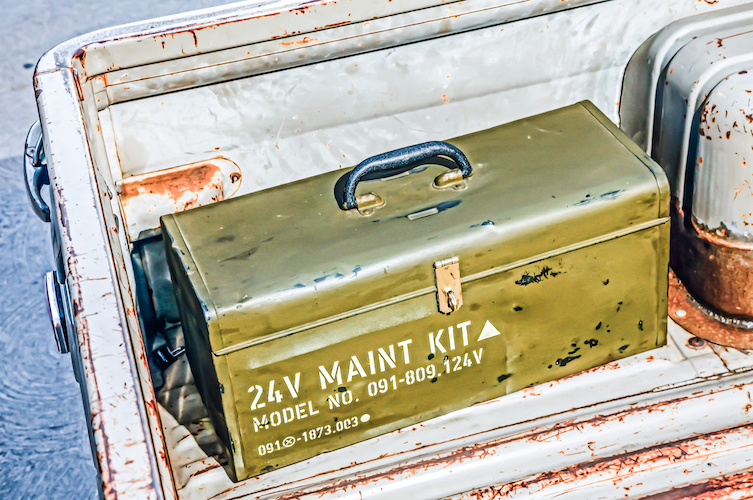 Low Thing in Las Vegas
The previous owner, reluctant to part ways with the truck, would have struggled to imagine how quickly life would change. Still wearing all the marks of its previous life, the Hi-Lux embarked on a new adventure just nine months into Robin's ownership, earning a place at the SEMA Show in Las Vegas.
"I never would have thought that my rusty little truck would be at the world's largest custom car event," laughs Robin. "That definitely was an item on my 'bucket list – it went down better than I ever expected."
Sure, it's only one State border crossing from Texas, but 52 years and eight generations in, Toyota's ever-versatile pickup is still proving itself in new environments.
Words: Alex Grant
Images: Andy Tipping