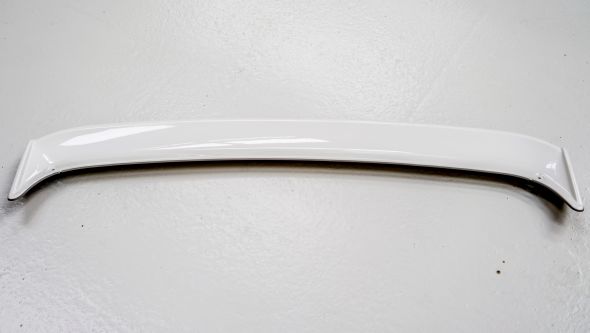 See also:
Toyota Prius Plug-in TRD project: Part 1 – Wheel and tyre package
Toyota Prius Plug-in TRD project: Part 2 – Front suspension setup
Toyota Prius Plug-in TRD project: Part 3 – Rear suspension setup and wheel alignment
Toyota Prius Plug-in TRD project: Part 4 – TRD accessories
Toyota Prius Plug-in TRD project: Part 6 – Front and rear bumper spoilers
Toyota Prius Plug-in TRD project Flickr album
Toyota Prius Plug-in TRD Nürburgring record Flickr album
Oh dear. The instructions for fitting the Toyota Racing Development (TRD) rear spoiler were in Japanese and appeared very complicated, even for those of us still playing with Lego Technic. Probably because we are currently the only people on this side of the world to attempt to 'TRD' a Prius Plug-in!
Nevertheless, by carefully analysing the diagrams and reading the measurements, we worked out that we needed to draw the centre line of the car across the original rear spoiler and then mark two further lines 400mm either side of that centre. A tiny paper template was then used at these three locations to mark where the outer edge of the new spoiler's rubber trim should sit.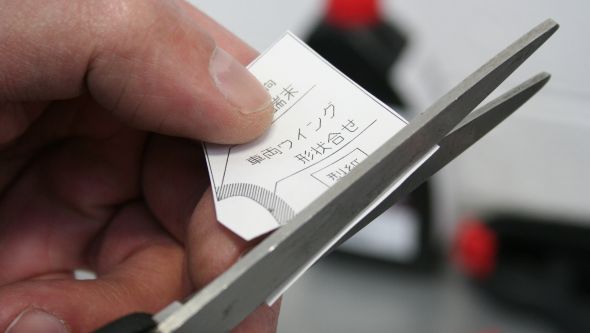 With the centre line of the TRD spoiler also marked and those three measurements on the body to align it with, we were able to hold the spoiler in position and mark the location of the two drill holes. These holes needed to be 9.5mm in diameter and drilled to a depth of just 10mm, ready for the insertion of captive Wellnuts (like rubber rawl plugs) that we could bolt the spoiler into. Small pilot holes were drilled first.
TRD has made sure that far more than just two bolts hold the new spoiler in place. Its underside was also covered in strong double-sided tape from the factory, so the relevant area of the rear hatch was thoroughly degreased with panel wipe and a lint-free cloth for the best adhesive surface.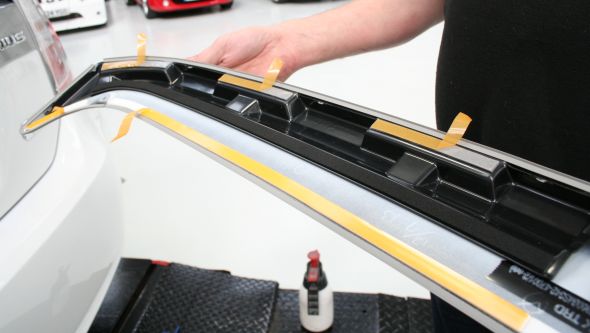 Only short lengths of the silicone paper were released from each section of tape in order to give us greater opportunity to align the spoiler without it grabbing the surface. Afterward, pulling these tiny 'tongues' allowed the adhesive to stick immediately without the risk of airborne contaminants being attracted to the glue.
Bolts tightened down, it was evident that the new TRD spoiler will be staying put for a long time to come.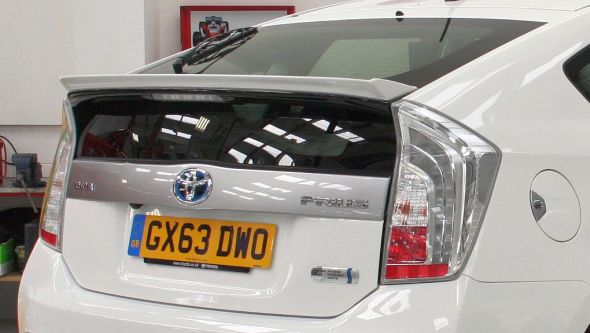 Look out for the final build instalment next week, when we complete the TRD makeover with the front and rear bumper trims.
See also:
Toyota Prius Plug-in TRD project: Part 1 – Wheel and tyre package
Toyota Prius Plug-in TRD project: Part 2 – Front suspension setup
Toyota Prius Plug-in TRD project: Part 3 – Rear suspension setup and wheel alignment
Toyota Prius Plug-in TRD project: Part 4 – TRD accessories
Toyota Prius Plug-in TRD project: Part 6 – Front and rear bumper spoilers
Toyota Prius Plug-in TRD project Flickr album
Toyota Prius Plug-in TRD Nürburgring record Flickr album