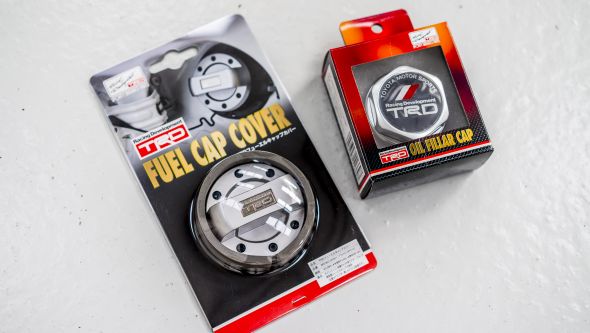 See also:
Toyota Prius Plug-in TRD project: Part 1 – Wheel and tyre package
Toyota Prius Plug-in TRD project: Part 2 – Front suspension setup
Toyota Prius Plug-in TRD project: Part 3 – Rear suspension setup and wheel alignment
Toyota Prius Plug-in TRD project: Part 5 – Rear spoiler
Toyota Prius Plug-in TRD project: Part 6 – Front and rear bumper spoilers
Toyota Prius Plug-in TRD project Flickr album
Toyota Prius Plug-in TRD Nürburgring record Flickr album
Before embarking on the most difficult aspect of the whole Toyota Racing Development conversion – fitting the body kit – we prepared ourselves by installing the handful of TRD accessories ordered at the same time.
The oil filler cap and fuel cap cover were child's play to fit but also look great. The former is a direct and gorgeously chunky all-alloy replacement for the plastic original, while the latter has the appearance of a cast alloy piece but is actually a plastic cover with faux allen bolts. It simply adheres to the top of the standard fuel filler cap.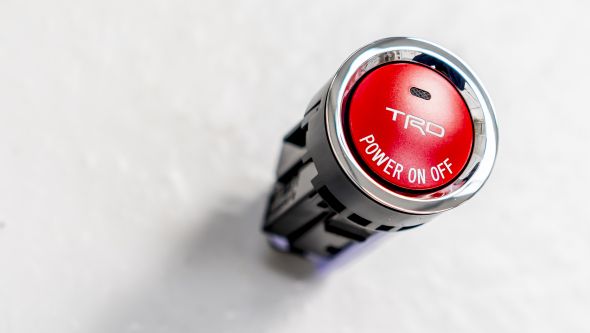 The red TRD starter button was more involved to install and might prove daunting if you are not intimately familiar with the construction of the Prius Plug-in dashboard. Because to unclip the starter button you have to remove its panel from the dashboard, which first means detaching the gear lever surround, cup holder surround and audio system surround… in that exact order. The panels required a confident but not unnecessarily hard tug to release from their clips.
The original starter button and new TRD item are directly interchangeable, only requiring the wiring connector to be unplugged and the securing clips released from behind the panel to switch over. After doing so, the dashboard panels were then clicked back into position in their reverse order.
See also:
Toyota Prius Plug-in TRD project: Part 1 – Wheel and tyre package
Toyota Prius Plug-in TRD project: Part 2 – Front suspension setup
Toyota Prius Plug-in TRD project: Part 3 – Rear suspension setup and wheel alignment
Toyota Prius Plug-in TRD project: Part 5 – Rear spoiler
Toyota Prius Plug-in TRD project: Part 6 – Front and rear bumper spoilers
Toyota Prius Plug-in TRD project Flickr album
Toyota Prius Plug-in TRD Nürburgring record Flickr album