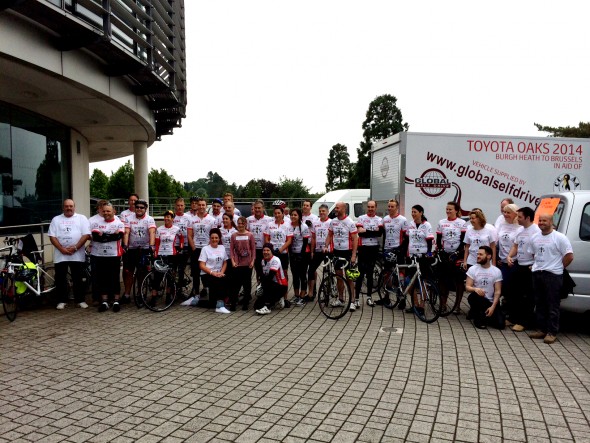 Last week, we told you how plucky members of Toyota GB staff were saddling up for a charity bike ride from our HQ in Burgh Heath, Surrey, to to the home of Toyota Motors Europe (TME) in Brussels – we're delighted to say that all 26 riders completed the ride!
The cycle took place over four days from May 30 to June 2, and raised vital funds for the Children's Chronic Arthritis Association (CCAA); a charity established in 1985, that aims to provide a practical support network for children with arthritis and their families.
The charity was nominated by Ronnie Giles, Senior Secretary at Toyota GB, whose daughter suffers from arthritis. In summing-up the importance of the charities' work, she said: "The CCAA brings groups of families together at events like the CCAA annual weekend, organised for children and families that are dealing with the effects of juvenile arthritis. Children with the disease get to see others going through the same thing so know they're not on their own. They do so much to highlight and teach about this terrible disease – and they need the funds to help continue their efforts."
Thus far, the riders – who were split into smaller teams for the duration of the ride – have raised over £9,000 for the charity, with donations still pouring in. You can donate on the team's designated Just Giving page here.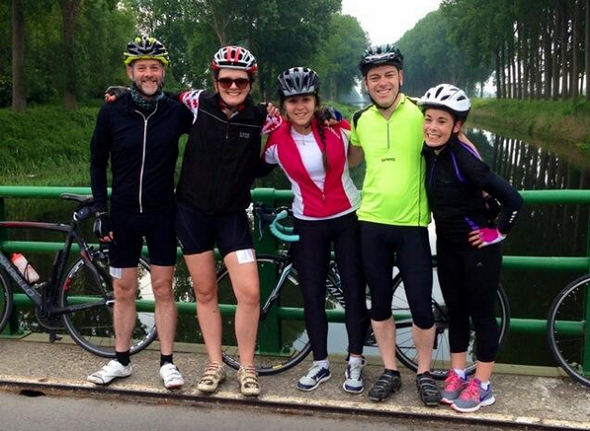 The riders were supported by a nine-strong team of volunteers. Principal sponsors were Sodexo, who provide facility management and catering services to TGB, and Bristol Port Company – private owners of Bristol deep sea port. Further sponsors included digital marketing agency Amaze, data analysis agency Mazepoint, Supaguard, Aquaserve, Qubedata, Rolling on Cycles and anti-virus software firm Symantec.
Members of the riding and support teams shared their highlights. Rider Paul Clack who is After Sales Manager at Toyota GB, said: "Late on Sunday morning, the sun was shining and the teams were in good spirits, chatting and laughing as they rode along at 20mph – it was one of the best moments I've had on a bike in my life."
Daniel Mann, Support Analyst, Toyota GB, was on the support team for the ride and said: "Witnessing someone having a tough time in the saddle and ride through that to come out the other side looking like a seasoned pro was really inspiring. The look of delight on riders' faces at a refreshment stop when I'd offer sweets, chocolate bars and flapjacks was a unforgettable.
You can congratulate the team's valiant effort by making a donation to the CCCA here. See the ride as-it-happened on Twitter, buy searching #ToyotaOaks.