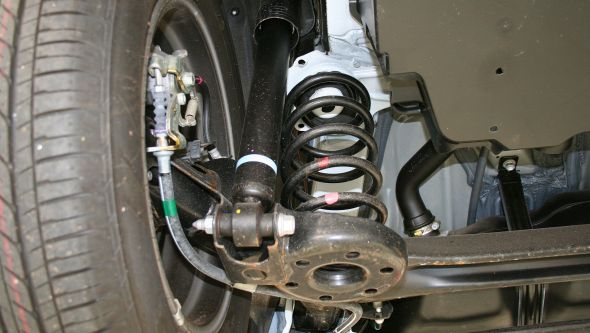 See also:
Toyota Prius Plug-in TRD project: Part 1 – Wheel and tyre package
Toyota Prius Plug-in TRD project: Part 2 – Front suspension setup
Toyota Prius Plug-in TRD project: Part 4 – TRD accessories
Toyota Prius Plug-in TRD project: Part 5 – Rear spoiler
Toyota Prius Plug-in TRD project: Part 6 – Front and rear bumper spoilers
Toyota Prius Plug-in TRD project Flickr album
Toyota Prius Plug-in TRD Nürburgring record Flickr album
Compared with the front suspension, switching the rear suspension of our Prius Plug-in for the uprated TRD Sportivo setup was relatively straightforward. This is primarily because the spring and shock absorber are mounted independently of each other.
As the torsion beam needs to drop freely to remove these suspension components, the first job was to disconnect the ABS wire and height sensor for the HID headlights. The lower shock absorber bolts were then loosened but not removed; followed by the removal of the top mount nuts, which were reached through small access panels either side of the boot. A little compression on the springs then allowed the bottom bolts to be removed so the shock absorbers could be pulled free of the car.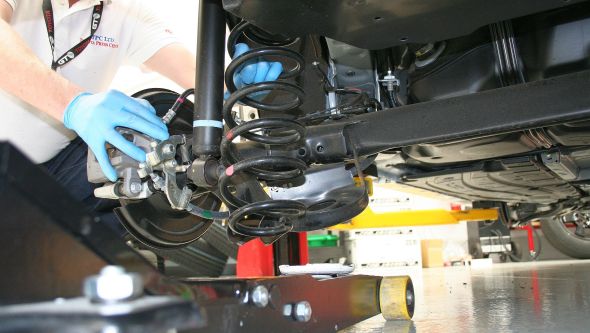 At this point the original springs could be taken out by hand, and immediately switched over to the new TRD Sportivo items. Just as it was vital that the ends of the coils were positioned correctly in their rubber seats within the strut at the front end, the same holds true at the back end.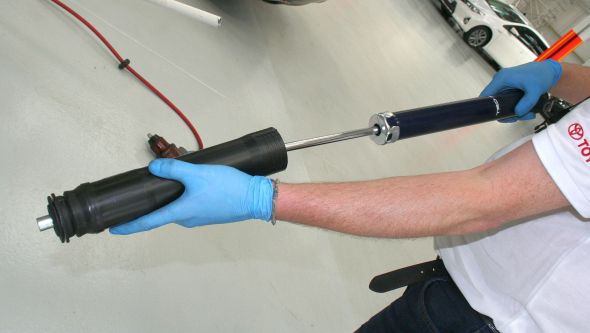 With the original rubber dust sleeve inserted over the top, each new rear shock absorber was bolted back in place using torque settings of 66 lb/ft and 18 lb/ft for the bottom bolt and top nut respectively.
A short drive around the block helped to settle the suspension before the geometry could be checked and to make sure there were no untoward noises coming from underneath the car.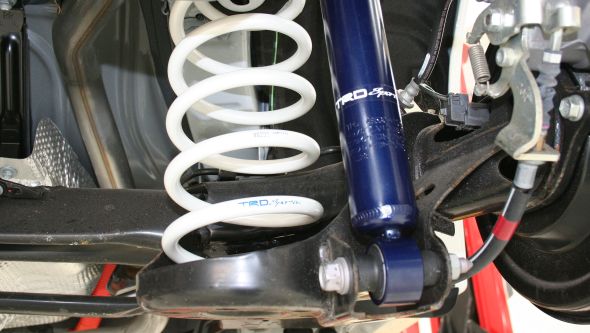 Back in the workshop again, the Prius was driven onto a ramp for an alignment session, whereby a receiver pad is attached to each wheel and the precise geometry is checked to a minute degree by laser reflection. Incredibly, every value was still within Toyota's famously stringent tolerance levels, so no remedial tweaking of the suspension components was necessary. This speaks volumes for the precise build quality of the Prius and that of the TRD Sportivo parts.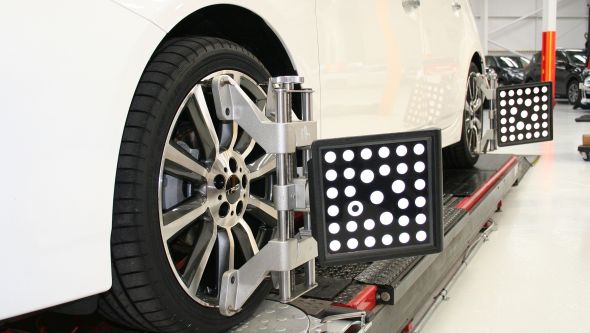 In the fourth chapter next week we will move on to fitting the TRD accessories.
See also:
Toyota Prius Plug-in TRD project: Part 1 – Wheel and tyre package
Toyota Prius Plug-in TRD project: Part 2 – Front suspension setup
Toyota Prius Plug-in TRD project: Part 4 – TRD accessories
Toyota Prius Plug-in TRD project: Part 5 – Rear spoiler
Toyota Prius Plug-in TRD project: Part 6 – Front and rear bumper spoilers
Toyota Prius Plug-in TRD project Flickr album
Toyota Prius Plug-in TRD Nürburgring record Flickr album