Selected members of the UK motoring press have been putting the new Toyota Prius Plug-in through its paces on the European launch in Spain, testing its balance between all-electric and hybrid petrol-electric drive.
This is our round-up of their coverage but you can also click on the bold links to be taken directly to each full review.
Learn more: Introducing the 2017 Toyota Prius Plug-in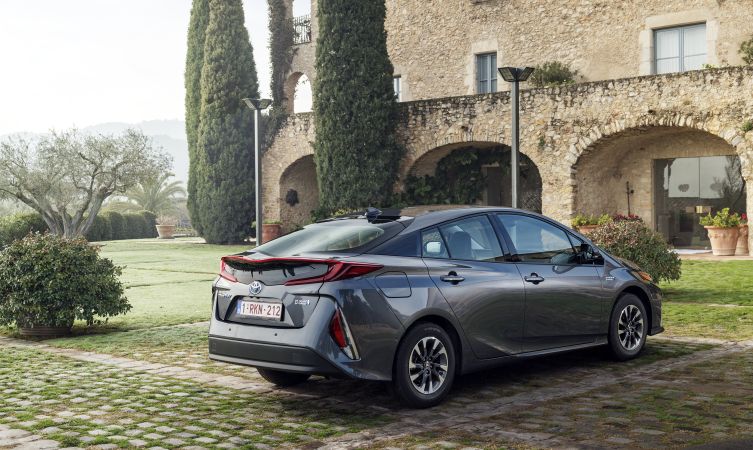 "If you behave in town and when cruising, [the Prius Plug-in] will reward you with some pretty impressive refinement to match the instant acceleration that only an electric motor can bring. There's barely the faintest whine as you pull away, and when you're cruising gently in hybrid mode the combustion engine drops into a background thrum pretty quickly."
In comparison to the outgoing model, McIlroy noted that when you demand full power, the revs were "quicker than before to die down again, as the system uses a little torque from the electric motor to get over any demands for sudden acceleration or steep inclines."
Offering his verdict, McIlroy commended Prius Plug-in as "a technological tour-de-force." He also asserted that, "If you want to make relaxed progress with some impressive on-road efficiency and a clearer conscience about the environment, it should be on your shortlist for consideration."
Overall test score: 4/5
Compared with the regular Prius, Lloyd points out that the new Prius Plug-in is around £6,000 more expensive like-for-like "but in exchange you get three times the fuel economy… meaning minimal fuel bills and a silent, smooth drive."
"For best results," he recommends, "serve in EV mode; press the respective button to put the Prius Plug-in's petrol engine into lockdown. It… feels more than fast enough for urban settings, and it's surprisingly agile around corners too – perfect for dodging London buses and maintaining momentum for maximum range.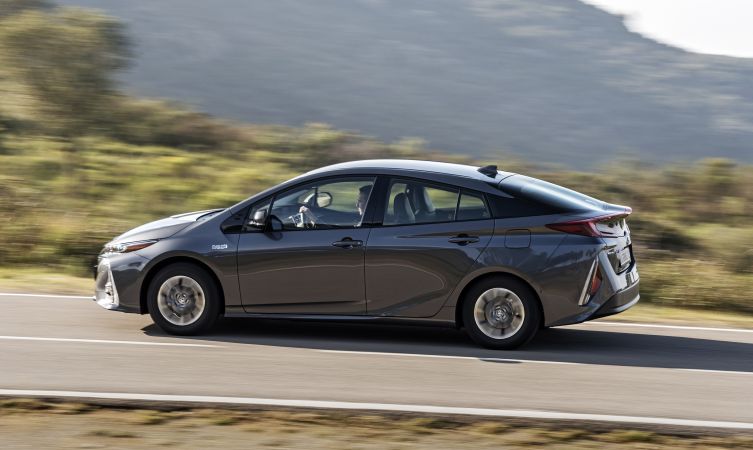 "Hybrid mode, meanwhile, juggles petrol power and electric energy for itself, while a super-pious EV City mode… only calls on under-bonnet fossil fuel fireworks when you mash the throttle into the bulkhead.
"Company car drivers should still be able to send their fleet manager into fits of delirium with colleague-humiliatingly small fuel receipts. More money-saving goodness comes in the form of the free home charger provided courtesy of a government grant and a Toyota top-up."
Overall test score: 4/5
Matt Saunders, Autocar:
"Bigger-batteried Prius is frugal and works well as an urban EV," begins reviewer Saunders, in reference to its "official combined fuel economy of a frankly absurd-sounding 283mpg" and "claimed electric-only range of 39 miles."
Following a conversation with Chief Engineer Shoichi Kaneko, who revealed that he was inspired to come up with an electric vehicle that charged itself, Saunders praised the "optional solar panel roof that can put enough power into its drive battery for a 90% charge in little more than a week."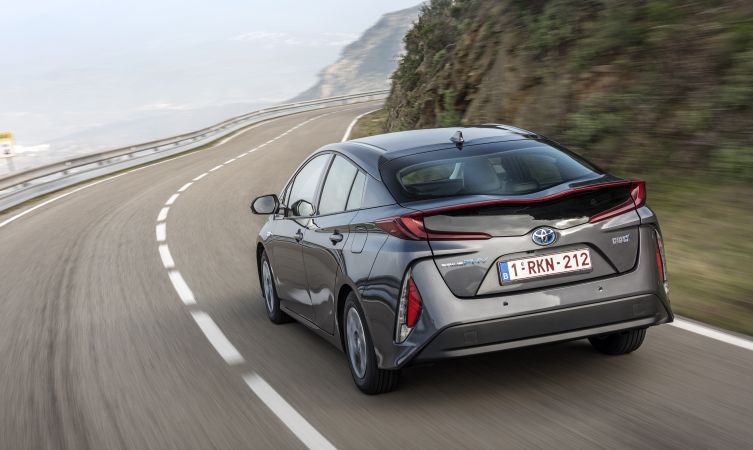 With regard to its on-road behaviour, "Toyota claims a big gain in real-world performance and driveability… by virtue of fitting its first ever 'dual motor' hybrid powertrain… and new 352v lithium-ion drive battery."
"Up to about 50mph, progress feels strong in electric-only mode. The Prius Plug-in has more than enough power and torque to keep its combustion engine quiet and responds to the pedal in the super-keen, linear proportion you want from an electrified car. Once the… drive battery is depleted and you're beyond the bounds of the city, the car takes on a dynamic character indistinguishable from that of a regular Prius."
Overall test score: 3/5
"Effectively, the Prius Plug-in is two cars in one," identifies reviewer Dron. "Electric power for short trips, which amount to the majority of journeys, and hybrid propulsion for long-distance motoring without the inconvenience of having to recharge.
"[The Plug-in] isn't just a standard fourth-gen Prius packed with a bigger battery; it's a distinct model in its own right… But perhaps the most eyebrow-raising addition is an optional solar roof panel. Toyota reckons that in London sunlight, the panels can generate enough go for 400 miles of electric driving every year. Or if you live in sunny Rome, 715 miles per year. That's not to be sniffed at.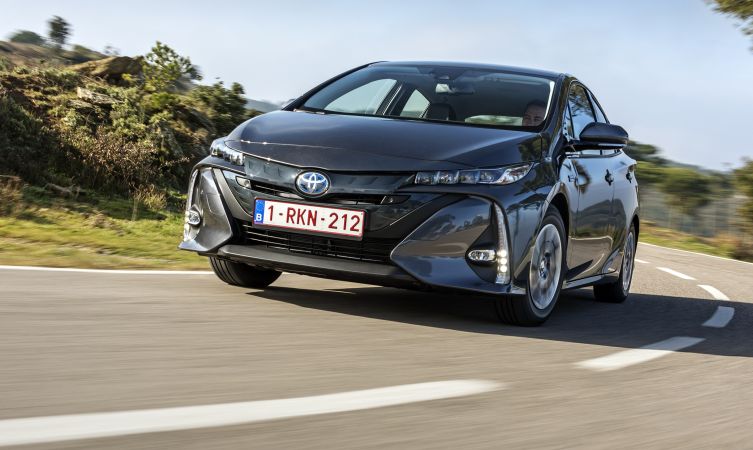 "On the road it doesn't feel excessively weighty. Throw it into a corner and body roll is more than acceptable and it becomes patently obvious on twisty roads that this is perfectly decent in the handling department. Yes, the front end can begin to lose grip on the tightest corners when really pushing… but who will push a Prius hard in everyday driving? On the whole, Toyota has done a fine job of finding a nice balance."
Overall test score: 3/5