Airport taxi service Checker Cars has added four Toyota Prius to its fleet of cars operating out of Bristol Airport. The move supports its strategy to lower vehicle emissions at all the sites where it operates.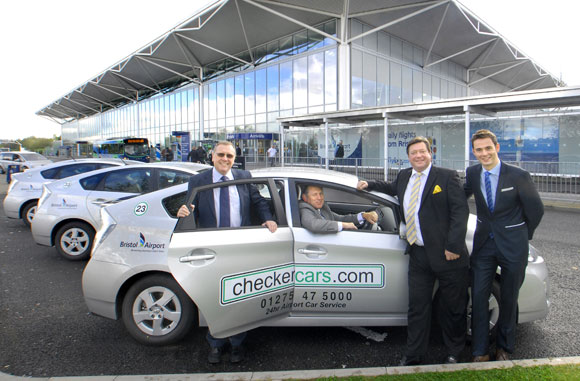 The Prius is a full hybrid, and can be powered solely by its electric motor at lower speeds, which means zero fuel consumption and zero tailpipe emissions. They offer low carbon dioxide emissions of 92g/km plus combined fuel economy of 70.6 mpg. Standard features include Bluetooth, heads-up display and seven airbags. The cars, all T3grade, have been supplied through Hills Toyota of Woodford Green in Essex.
David Crouch, Managing Director Checker Cars said; "Our environmental policy is to reduce emissions wherever possible, and we're also looking for greater economy in the operation of our fleet, because with fuel prices as they are that's becoming more and more important. We are also committed to the airports' drive for lessening our effect on the local environment."
Peter Downes, Bristol Airport's Commercial Manager (Ground Transportation) said; "The arrival of the new Prius cars represents the latest phase of a rolling fleet replacement programme which will ensure Checker Cars continues to operate one of the newest, safest and most environmentally friendly taxi fleets on the road today.
"Bristol Airport is committed to reducing CO2 emissions and energy usage. We have worked with Checker Cars on introducing this latest initiative, which will contribute to improving air quality in and around the airport where taxis are stationary or travelling at lower speeds. Checker Cars is the only official taxi operator at Bristol Airport and all its drivers are authorised to set down and pick up from the Terminal forecourt. This provides passengers with a streamlined, door to door service, and thanks to the new vehicles they can also reduce the CO2 emissions of their journey".