Like most impecunious students, Alex Dotchev has to find clever ways to stretch his money as far as he can and still realise his dreams. The University of Brighton media undergraduate has been passionate about cars for as long as he can remember, and since buying his first car in December 2017, he's owned no fewer than 15 vehicles.
His dream was to own a Toyota Aristo V300, the muscular rear-wheel-drive saloon that was also sold as a Lexus GS. Unfortunately for Alex, reality bit hard in the shape of his barren bank account, which was several thousand pounds short of the sum needed to secure an Aristo.
So he worked hard and formulated an ingenious plan to achieve his dream. We asked him to recount the tale of the Lexus that thinks it is a Toyota.
TGB Blog: Where did your passion for Toyota as a brand originate?
AD: "My passion for Toyota is largely due to Lexus. Around the age of 16, I stumbled upon the Lexus GS300 on YouTube. Following that, I found out that it came with the famous 2JZ engine. Researching the car further, I discovered that the Japanese domestic market version actually came with the Twin-Turbo 2JZ-GTE engine and was badged as a Toyota Aristo. That's when I fell in love.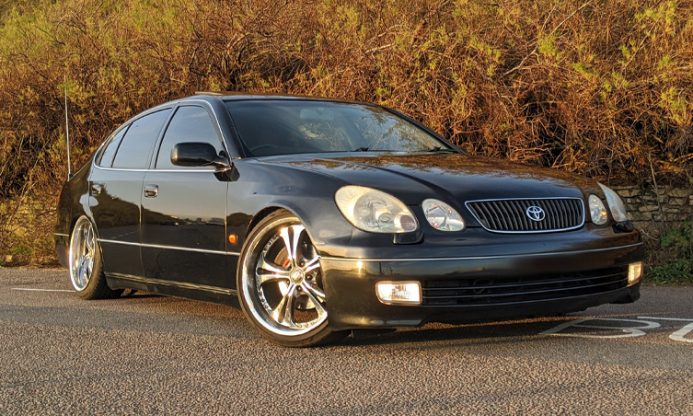 "Looking further into the exclusive Japanese market Toyotas, I discovered all of the JZXs, their different trim levels and how they were being used as drift cars. My passion for Toyota, and my dream of owning an Aristo, grew from there."
How did you come to own your car?
"As a student, who is also a car guy, I had to come up with a plan for achieving my dream of owning a Toyota Aristo. I thought to myself: 'how can I earn some extra money to help me save, while also doing what I love – driving?'. The next day, a leaflet advertising vacancies for Domino's Pizza delivery drivers was shoved through my letterbox. The day after that, I was kitted out in the Domino's uniform and behind the wheel, delivering my first pizza.
"After about a year of saving, I could finally afford the base for my dream Toyota – the JZS160. I didn't jump on the first one I could find in my budget range – my JZS had to have a black exterior as well as a black interior. My search ended in about a month, with me travelling about four hours to Birmingham to collect the perfect black-on-black Mk2 GS300.
Ah yes! Your Toyota Aristo started life as a Lexus – please explain!
"My car is a 2004 Lexus GS300 and will always be that by its VIN. A few people from the car community have been very critical of my so-called 'Aristo conversion', thinking that I'm claiming it's a real Aristo; but I am simply in the process of transforming this UK-spec GS300 to my dream Toyota Aristo. I spent about two months speaking to a few Japanese acquaintances online, asking them to help me track down a full set of Aristo badges from scrap yards and dealerships all over Japan. The V300 badge was the most difficult one to obtain.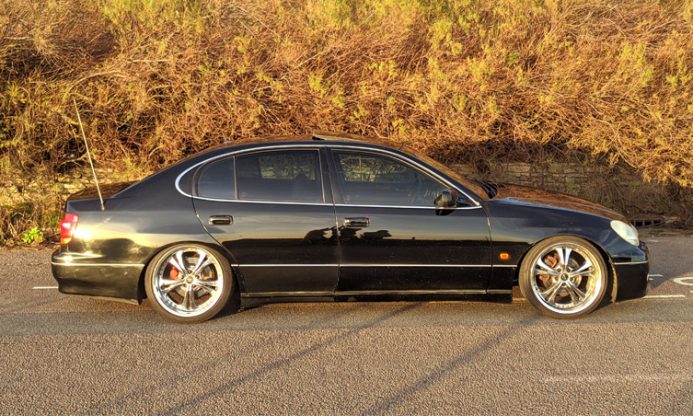 "My final goal with this project will be to source and swap in a full V300 Aristo drivetrain, the 2JZ-GTE and the Torsen limited-slip differential. An avid Toyota fan may ask: "why not just import an actual Aristo from Japan?" and my answer to that is simple: my budget. The import Aristo prices can go up to five-digit figures, whereas a GS300 like mine can be found for less than £1500. Saving on the initial payment has allowed me to build the car up to how I like it, at my own pace, while still being able to enjoy driving it."
What work have you done on your car?
"When I got the car, it had just had an extensive service, including brakes, cooling system and oil change, so it allowed me to focus on modifying it rather than servicing it. I installed brand new HSD Dualtech coilovers with 14-way damping adjustment and 10kg/7kg spring rates. These coilovers allowed me to lower the car while keeping the ride quality as close to OEM as possible.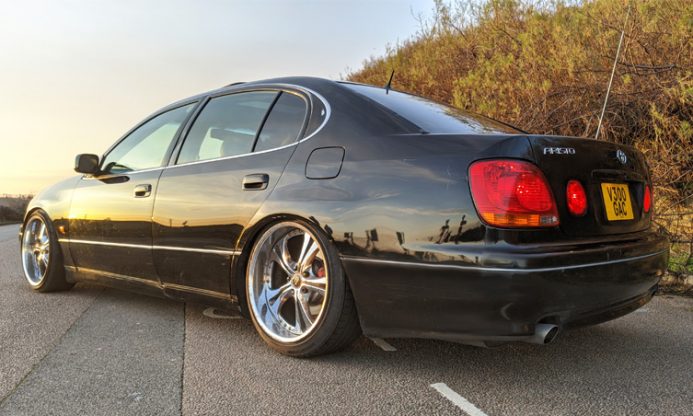 "One of the other key modifications are the wheels. They had to be three-piece, Japanese and deep-dish. After a month of searching, I found these Weds Kranze Cerberus II. They actually came off of a freshly imported JZX100 Chaser. The seller wanted to go for a different look for his Chaser, and he was very supportive of the visions I had for my car."
What is your car like to drive?
"Very similar to how a standard GS300 would feel, just a little more planted. It's a pain to get around if the road surfaces are uneven. Speed bumps are also a nightmare. I installed the aftermarket suspension with intentions to improve the aesthetics more than the performance, but it feels a lot better in the corners as a result of the lower centre of gravity and the reduced body-roll."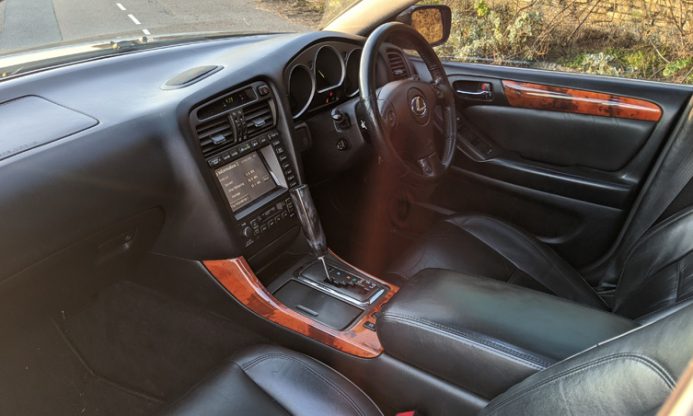 Does it turn heads when you're out on the road?
"Mostly on motorways, other road users giving me a thumbs up. I have definitely turned some heads in residential areas, particularly if I end up scraping over a speed bump."
What's the best thing about owning it?
"Knowing that I have an amazingly built car. The comfort of being able to completely trust it every time I am driving. It is just soul-fulfilling to own my dream car and to have it looking very close to what I've always envisioned."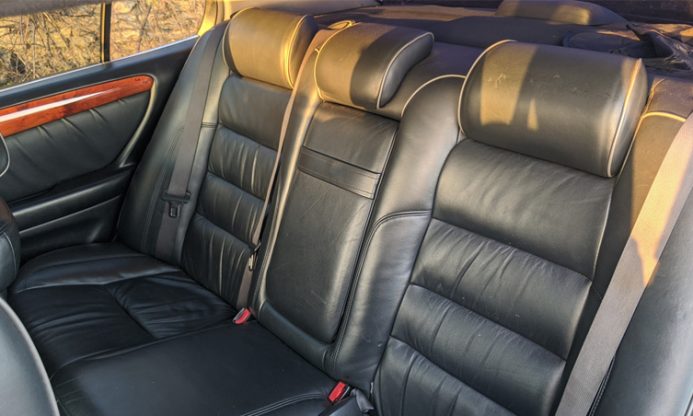 Have you owned other Toyotas in the past?
"As part of a part-exchange deal for a previous car that I owned, I ended up holding the keys to a red 1992 Toyota Starlet GL. It had some modifications, like stiffer springs, wheels and an aftermarket exhaust. As a 6ft 2in tall guy it was far from ideal from the comfort side of things, but it was definitely a car I will always remember. The stiffer suspension, manual steering and the extremely responsive carburetted 1.0L made it a blast to drive around for the short time I owned it."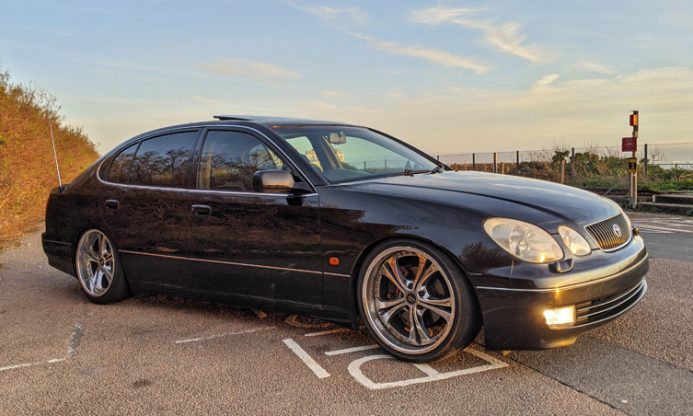 What's your all-time dream Toyota if money was no object?
"This is an impossible question to answer. Anything along the lines of an old Corolla AE86, or an A60 Celica-Supra, even something newer like a JZX or a Z30 Soarer. Then there's the new GR Supra… the list goes on there are just too many amazing cars to choose from."
Toyota People: Jack Godwin, Land Cruiser adventurer
Toyota People: Tony Lynch, MR2 rallycross driver
Toyota People: Koen Beckers, Dutch explorer
Toyota People: Joel Clark, hand-cut vinyl artist
Toyota People: Gemma Wade, young restorer
Toyota People: Gerard and Kieran, dedicated job-for-lifers
Toyota People: Julia Albu, epic adventurer
Toyota People: Fergus McIver, resto-modder
Toyota People: Guy Nicholls, world-class Hilux collector
Toyota People: Warner Lewis, rally's Mr Toyota