Travelling around Australia in a Toyota Land Cruiser 70 Series might not be everyone's idea of the beginning of a love story, but this was the case for two strangers who ended up on a ten-week trip across the outback. Spending days upon days in the confines of the trusty KZJ70 Land Cruiser was more than enough to create the initial spark between Benjy and Aimee Cradock, which saw them get wed, start up an off-roader business together and even ship their beloved Land Cruiser back to the UK. This is their story.
How instrumental has the KZJ70 Land Cruiser been to your relationship?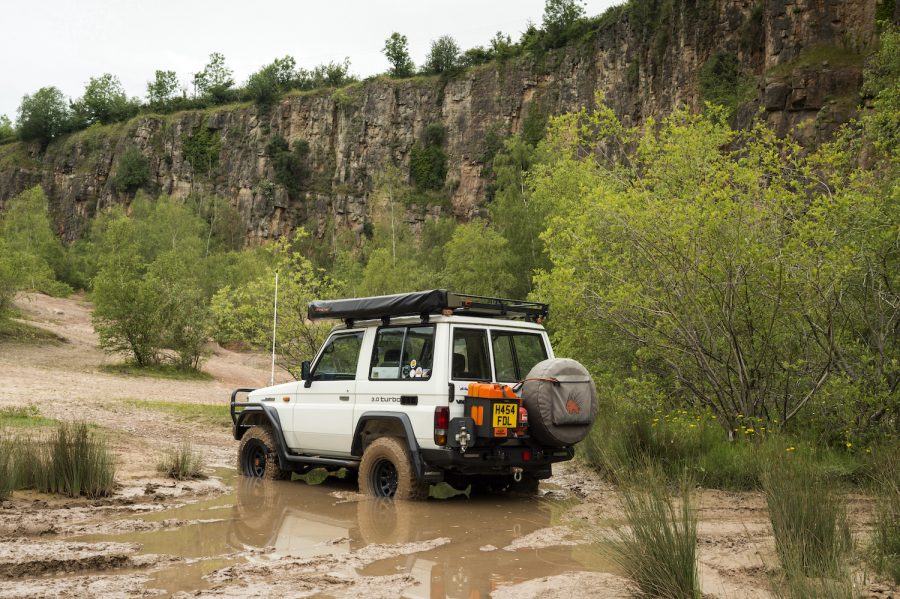 Aimee: "I'd say quite a bit. We met when we were travelling in Australia back in 2014. Benjy had his 80 Series set up to go travelling and had posted an advert on Gumtree looking for people to rideshare with him to share the cost of fuel, camping fees, food etc. I thought it sounded like a great adventure and signed up for a 10­ week trip, travelling halfway around Australia, in Roxy [the name of Benjy's Land Cruiser]."
Benjy: "My brother had come out to join me. I'd been in Australia for two seasons, working, and bought a car and started travelling. He came and joined us and we bought a second Land Cruiser 80, so we would be safer off­-road and we could also be more adventurous because we had the security of two cars. Backpackers used to come along to rideshare, which helped with the cost of travelling in two big cars."
Did you modify either of those 80 Series while out in Austrailia?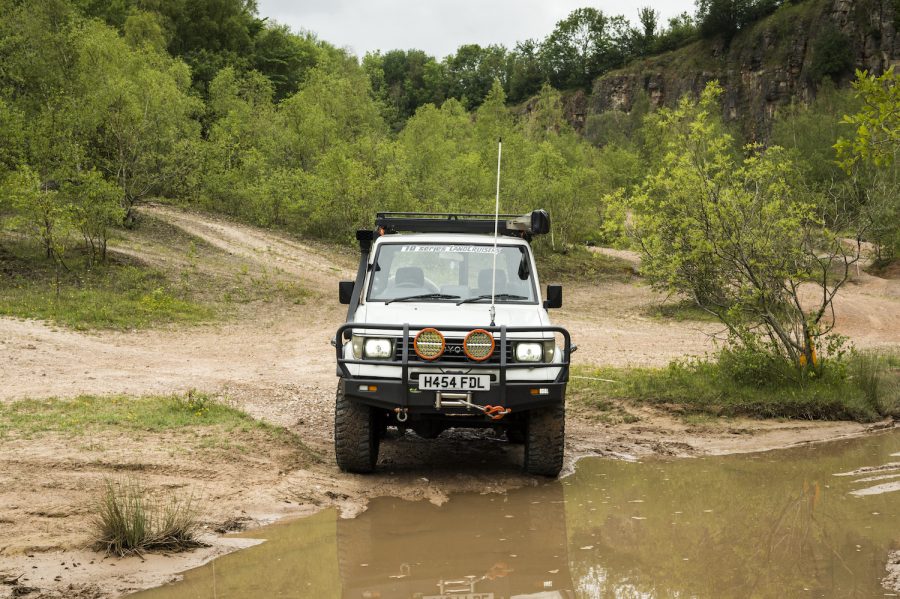 Benjy: "They were modified to the point where they were fit for off­-road travel and could carry extra gear. We upgraded the suspension, we fitted fridge freezers, cooking equipment, and this roof rack to carry camping gear. But other than that, the drivetrain and the engines we kept standard because we were on a limited budget. The dream is always for loads of power, but they were perfectly capable as they were. So realistically they were off­ the ­peg Land Cruiser 80s."
Have you've always been enamored with Land Cruisers, Benjy?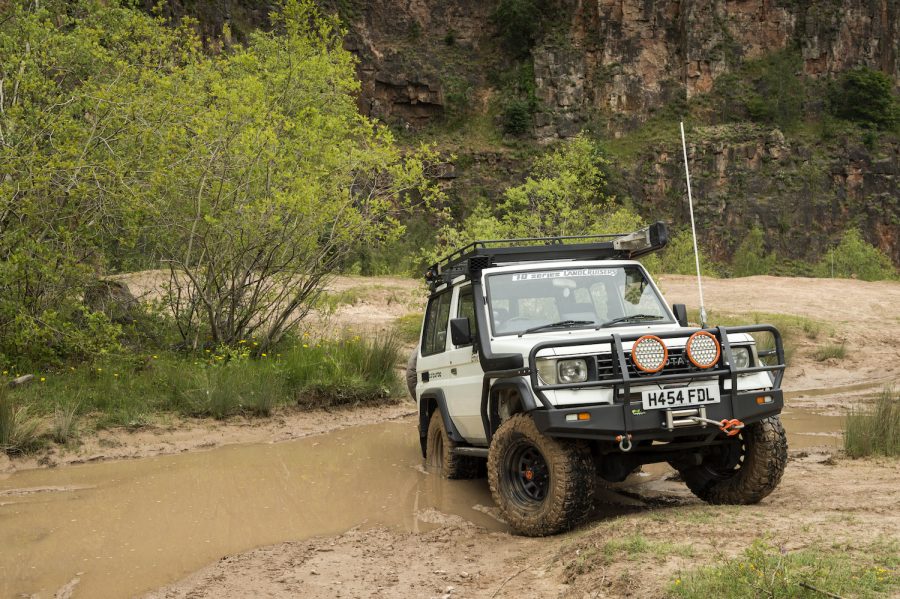 Benjy: "My father drove Land Rovers in the '70s and '80s, but there wasn't much option available back then. Then Dad came across a Land Cruiser 80 which he used for work and decided that was the car for him. I grew up going to primary school in the back of that Land Cruiser and grew attached to them after that. We still have that Land Cruiser 80 Series in the family to this day. The whole reason I chose a Land Cruiser for my Australia trip was that I was familiar with how good they were and knew that Australia runs on Land Cruisers, so if I ran into any trouble out there I knew I could easily get parts for it."
How many Land Cruisers are in your family currently?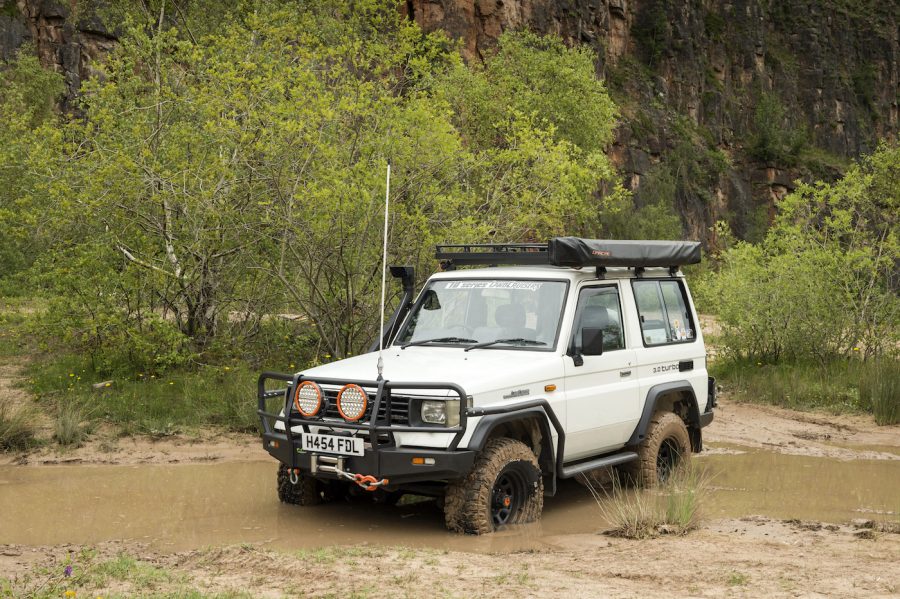 Benjy: "I think approximately eight across our immediate family. Mum and dad have some, my brother has three. I've got three. Obviously, Aimee now has one which makes about eight or maybe nine between us at the moment, not including any we've had in the past. What is unique is that each of the Land Cruisers has its own name."
Can you remember all the names of the Land Cruisers in the family?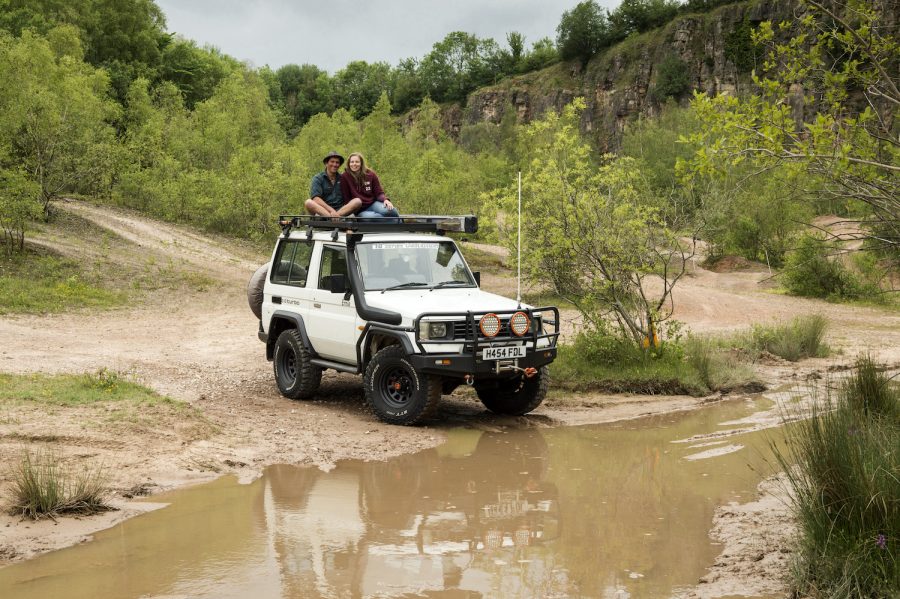 Aimee: "So my Land Cruiser KZJ70 is called Ernie."
Benjy: "My Touring 80 Series I bought in Australia is called Roxy. I have an 80 Series I use for work called Elvis. My latest purchase is a 1979 BJ­40 called Colonel Mustard. Our parent's 100 Series is named after our late uncle, whose favourite colour was maroon. Reginald is maroon. My brother's HJ­45 is named Grunt because he just looks mean, like something out of Mad Max. His HDJ­79 is named Ellie 2.0 after the second 80 Series we owned in Australia, which unfortunately never made it… So that's named after that, in memory. And my brother's HDJ­80, which is our first family car, is named Lorraine. There's not really much rhyme or reasoning behind the names, just that we pick names that we think suit the cars looks or personality."
Your KZJ70 Land Cruiser has had some work done to it, what modifications has 'Ernie' had so far?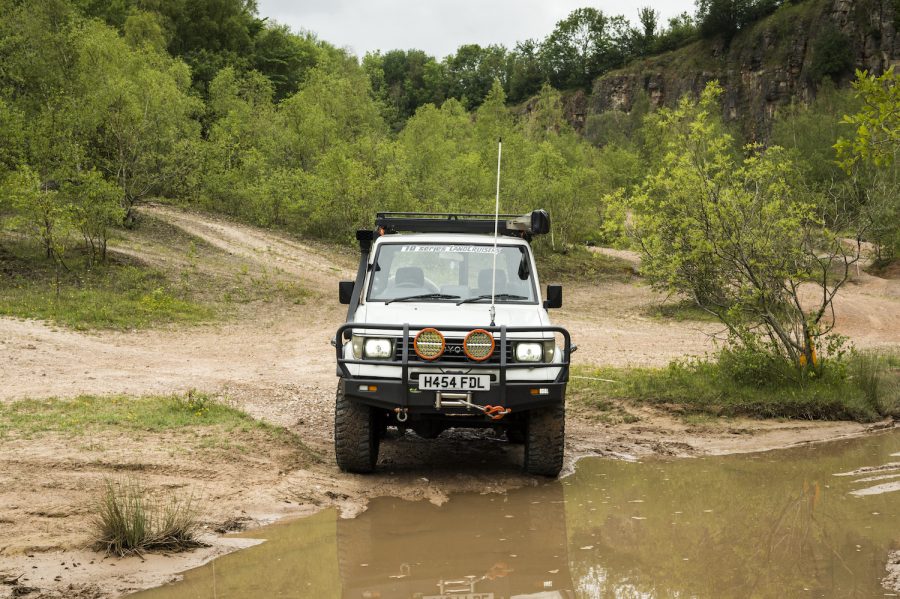 Aimee: "His biggest one is probably his engine. So he originally would have come with a 2.4, and he's now got a three-litre turbo engine in him. I take suggestions from my husband and my brother­-in­-law, who know the vehicles very well, about possible modifications but in terms of the colour scheme and some of the other accessories on the vehicle, they have been my choices."
Benjy: "Aimee wanted a white KZJ70 Land Cruiser after falling in love with Land Cruisers in Australia because they're quite common, and she said, "That would be my dream car." So I said, "When we get home, we'll try and find one." Aimee said she wanted a white car with grey steel metalwork and a detail colour with her favourite colour orange. So I said, "That's fine, we can do that." So we went and picked out certain parts of the car in orange, which is why it's got orange bits all over it, but that was Aimee's choice. We found the car online for sale with no engine, so we decided to just buy the bigger engine and fit it."
Is there anymore room for modifications on either of your Land Cruisers?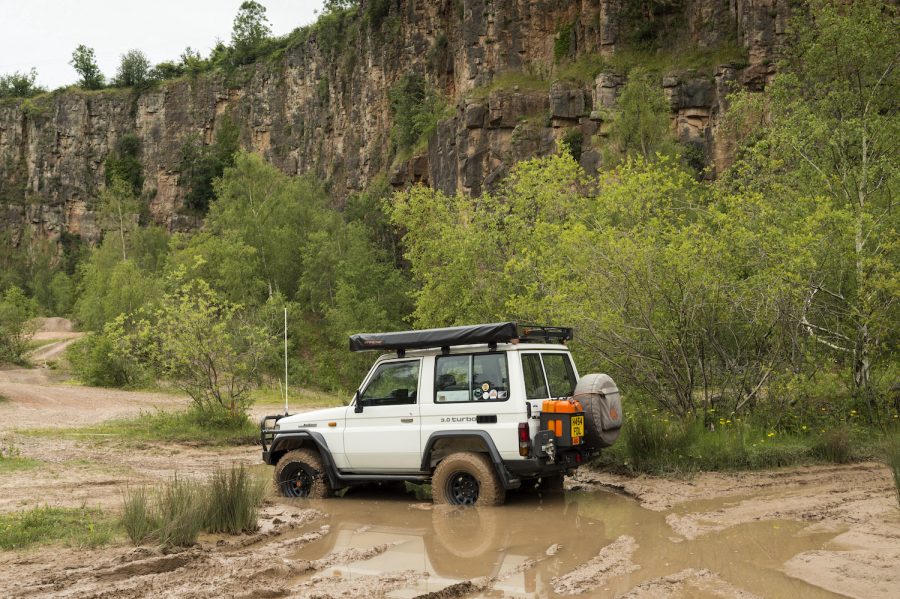 Aimee: "I think Ernie is pretty perfect. It could do with solar charging, the ledger battery struggles, because it gets parked up a lot of the time when I am at work and outside the house. So if you're going to try and run your fridge all the time, the ledger battery needs some solar input."
Benjy: "Roxy is pretty well set up for what she does. But I always look at ways of doing and carrying what we've got in a more efficient manner. And lifestyles change as well. So when travelling in Australia, it was well equipped for carrying four people. And now I've probably got a little bit too much in the way of utensils and equipment because I don't carry four people so much anymore. Our trips don't go for 10 weeks, they're like two days or four days. So I could do with improving that a little bit at the moment. But it's all stuff that you just do because it's a hobby."
Have you taken either of your Land Cruisers on any other big adventures?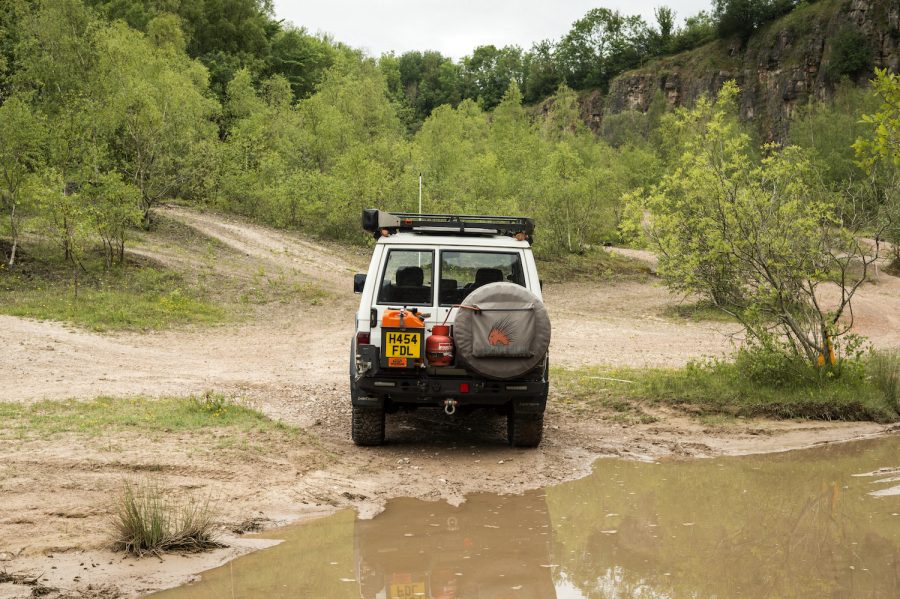 Aimee: "Ernie had only just been finished as COVID hit, so he hasn't had the opportunity to go on any kind of big trip. He's done a couple of green laning trips within the UK and a couple of small camping trips. But Roxy, the travelling 80 Series, has been shipped to Iceland for a two ­week adventure. And we also shipped her to South Africa and did a seven-week trip; South Africa, Botswana, Namibia for our honeymoon."
How do you decide which Land Cruiser to take on trips?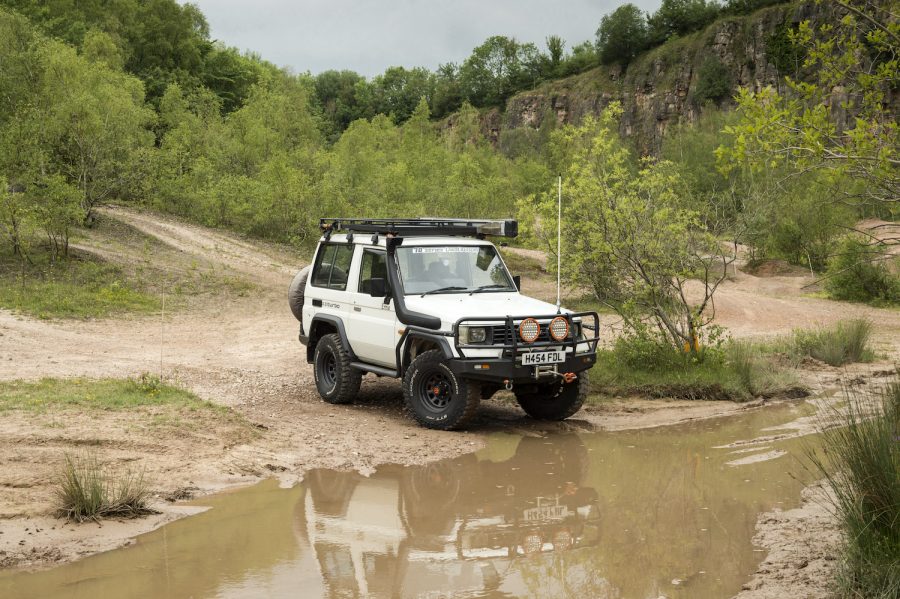 Aimee: "We mix it up and take it in turns. If one of them hasn't been out for a little ride in a while we take that one instead of one of the others."
Benjy: "If we did a big trip over a long distance, we might take Roxy because it's just a big cruiser. Ernie is quite low geared, so he's sort of maxed out at 60mph comfortably. Whereas, Roxy will quite happily sit at 70mph or more. If it's local or not that far, we'll take the old one just because that's what I bought it for. But we tend to mix it up. Sometimes we might even take both if we're going on a green laning trip and we both want to drive, especially if we're taking friends. They'll come down and we'll take two carloads of people out."
Have you got any more trips planned in your KZJ70 Land Cruiser?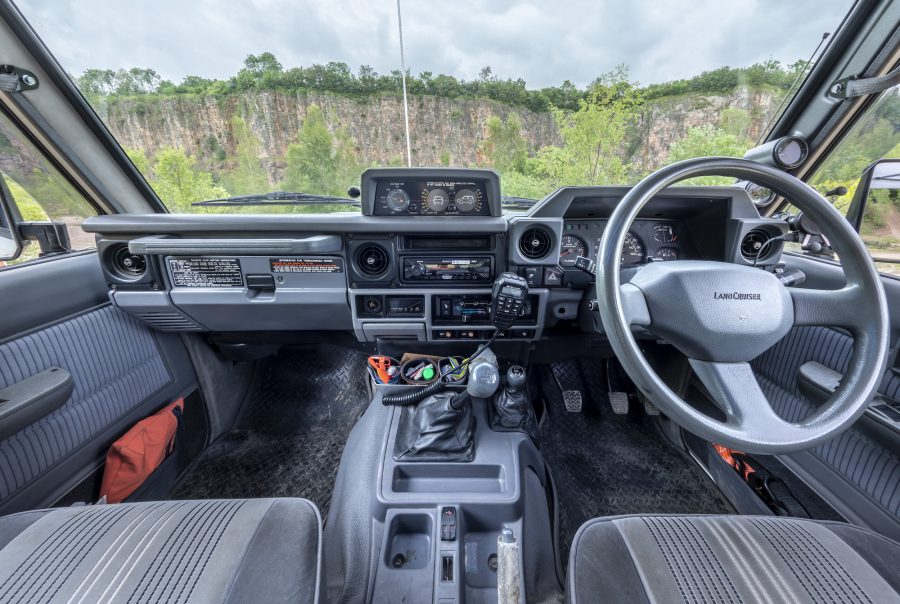 Benjy: "We're desperate to get Aimee's out for a camping trip because like Aimee said earlier, it was built and finished during the pandemic, so we haven't been able to go out and use it properly. We've got a campsite at the farm so we've used it there. But not in any real journey where we've travelled and camped. We need to do a trip in that really and christen it. With regards to my own Land Cruiser, I'll go for everything from a night out to off­ roading, to a week or two weeks trip at any opportunity."
What are you both doing now?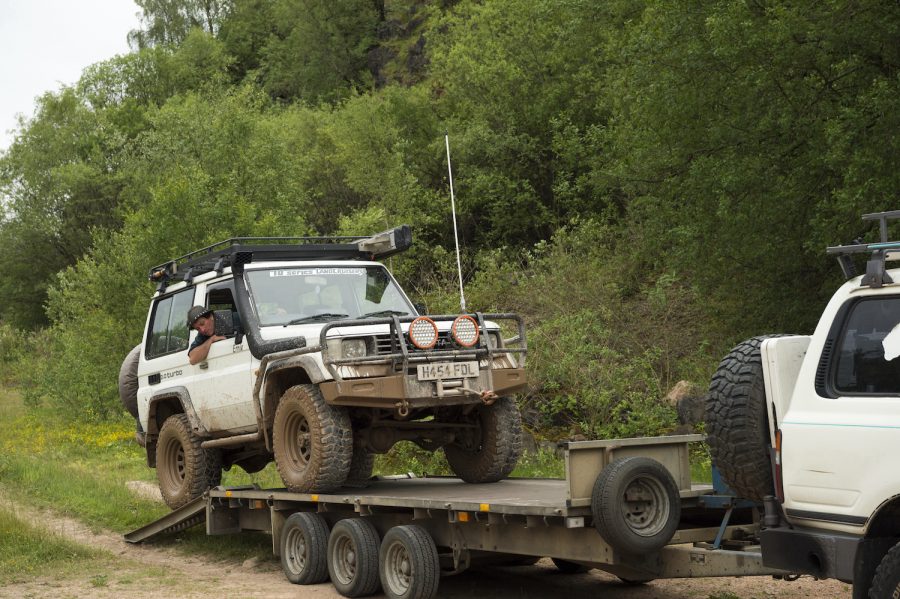 Benjy: "The business that we work in as agricultural engineers needed diversifying because work was becoming quiet in the area we live. There appeared to be a niche in the UK to specialise in Land Cruiser maintenance, and we started a business. We began advertising and marketing it via our social media page, and after a couple of years we're fully booked. It's not just the maintenance and repairs, we also do overland preparation for different models. It seems like the owners want someone who knows their way around the car inside out, and not just someone who can change an oil filter."