Meet the Mini Mirai, the UK's first hydrogen-fuelled remote-controlled (RC) car, based on the hydrogen-powered Toyota Mirai bigger brother. But why, and more importantly, how, you might ask?
Before we answer those questions for you, take a look for yourself at our Mini Mirai in action as we went for a spin around Old New Inn Model Village in Bourton-on-the-Water, Gloucestershire. Could there be a more appropriate setting to showcase this UK first?
Why miniaturise the Mirai?
Being at the forefront of hydrogen technology, Toyota wanted to showcase the potential for hydrogen to be used in multiple, slightly more novel ways. Toyota has already made a name for itself in terms of hydrogen power, with more than 20 years of hydrogen research and development which led to the launch of its first production fuel-cell car in 2015, the first generation Mirai. Continuing to pioneer fuel cell technology and following this year's launch of the all-new Mirai, Toyota is increasing its fuel cell production ten-fold to 30,000 units a year. This will enable the expansion of fuel cell technology into broader forms of transport and haulage, as well as industrial energy applications.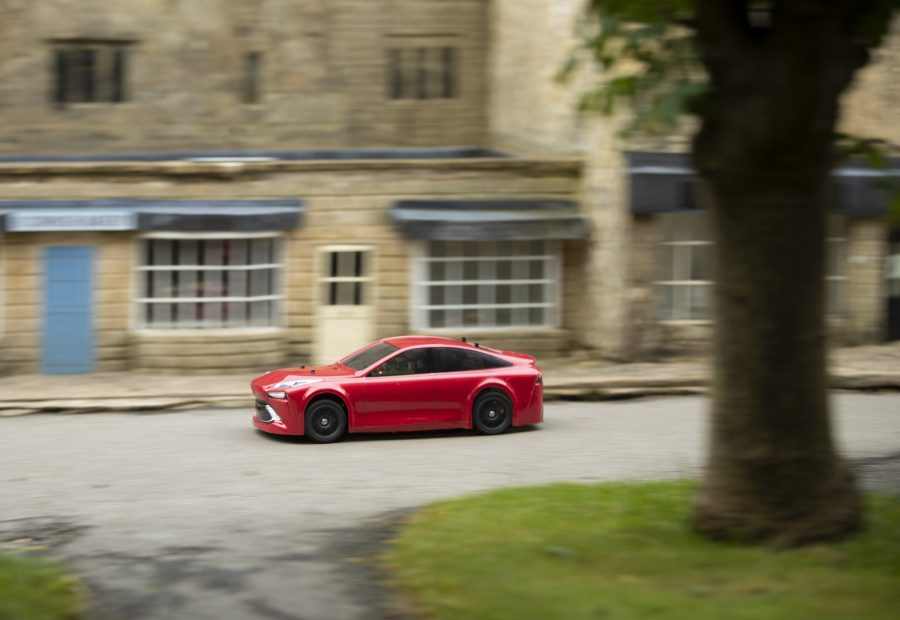 How did we create it?
In order to create our one-off Mini Mirai, we enlisted help from Bramble Energy, a company specialising in miniature hydrogen applications, and the Tamiya model company. For the body, Tamiya used their expertise to create a 1/10 scale replica of the new Mirai hydrogen saloon with one of Tamiya's popular TT-02 RC cars used as the starting point. In order to achieve a striking resemblance to the full-sized Mirai saloon, every inch of the vehicle was surveyed, with even the colour of the Mini Mirai (Scarlet Flare) being an exact replica of the real car.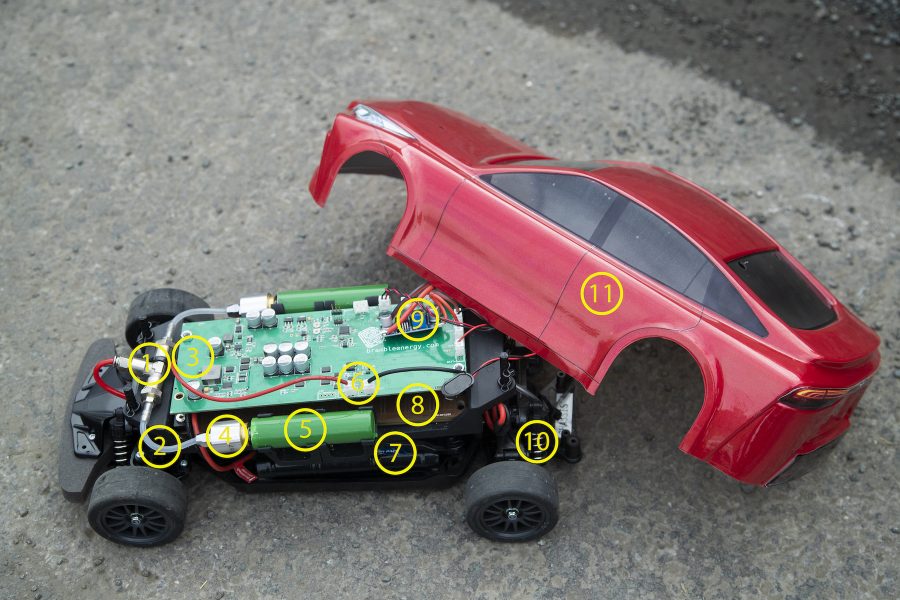 For the hydrogen fuel cell system, Bramble Energy fitted a miniaturised version of its printed circuit board fuel cell (PCBFC) system, a control system and hydrogen storage, into the standard four-wheel drive RC chassis – the exact same one that is readily available in model shops before the Tamiya Mirai body shell was fitted on top. The Mini Mirai is fitted with two hydrogen fuel canisters that are switchable, allowing for quick replacement when fuel runs out. The Bramble Energy system provides around 20 Watts of power, with double the running time capacity compared to a conventional battery-powered RC car.
Just like its full-size sibling, the RC model excels when it comes to driving range. The new Mirai can cover up to 400 miles on a tank of hydrogen. The Mini Mirai can cover twice the distance of an equivalent, conventional battery-powered RC car.