Vic Herman is one of Toyota's elite master drivers, tasked with testing the Yaris GRMN to the limit of its capabilities to fine-tune its handling and performance. Here he gives us the backstory on the team that developed the supercharged hot hatch.
What is a Toyota master driver and what are they responsible for?
"The master drivers are Toyota's main vehicle evaluators. There are only a few of us, working in Europe and Japan. We look at the vehicle as a whole, not just the suspension or the brakes, but everything that comes into play dynamically when driving a car. Of course you need good driving experience and be able to control a car at the limit at high speeds, but you also need to have a lot of experience in different areas of vehicle performance. It's not mandatory to have motorsport experience, but for my own part, I've been competing since I was a kid and it's through the sport that I've really learned the fundamentals that I use in my work.
"The Yaris GRMN is the first car that I have been in charge of as a master driver. I've worked for Toyota since 1999, initially looking at noise and vibration, then ride and handling, and now overall vehicle dynamics."
See also:
Yaris GRMN: A Forensic Parts Examination
Yaris GRMN: What Came Before
How has the vehicle dynamics development programme been shared between Europe and Japan?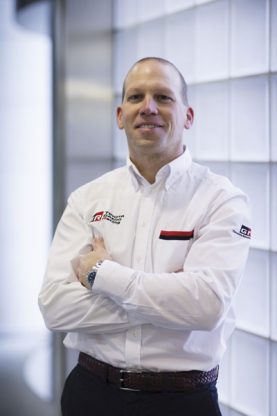 "A combined European and Japanese team worked at the Nürburgring on a wide range of elements – chassis reinforcements, coil springs, anti-roll bars, bump stoppers, steering system settings and so on. The work involved a number of loops of the circuit and driving on local roads. There was also a winter confirmation programme in Hokkaido, Japan, where we worked on the car's agility and stability control on snow-covered roads.
"At the same time, we worked closely with our suppliers, such as for the limited-slip differential, to determine what amount of slip the unit should provide. Also, for the driver's seat, I made several visits to the specialist seat manufacturer Toyota Boshoku to make sure we achieved exactly what we wanted."
How did the Yaris GRMN differ from other projects you have been involved in?
"As this was a specialised, low-volume model, there was a much smaller team working on it, which gave us the benefit of excellent communications with each other and with suppliers. For this kind of car, of course, performance was a much bigger priority, which was clearly understood by everyone. That meant it was much easier to align everyone's efforts. Also there was more freedom, because the cost limitations were not as severe as they are with models produced in large volumes."
How was the car's performance measured against the competition?
"There are already quite a few excellent B-segment sports cars in Europe and I evaluated all of them in order to understand what the Yaris GRMN had to deliver. Most of them are fun to drive and they all have their own character, which is great. For the Yaris GRMN, we wanted it to feel like a genuine little sports car – uncomplicated and addictive to drive. It was important for us to engineer a car that is suitable for the road, but equally one that is in its element on a race track."
What were the most important qualities the Yaris GRMN had to deliver?
"The most important aspect is that the car is responsive and the driver can easily build confidence in the car – the precision of the controls, the consistency of its responses. The Yaris GRMN had to be capable of performing on the Nürburgring, even though most of the time it will be driven on public roads.
The Yaris GRMN had to be capable of performing on the Nürburgring, even though most of the time it will be driven on public roads.
"The Nürburgring is an ideal tuning environment for what we wanted to achieve, because there are lots of bumps and uneven corners, just like you find on public roads. This helped us produce a stable, balanced suspension that remains composed and responds predictably to the driver's inputs."
What important things can be taken forward from this project?
"What we have learned from working with the Yaris GRMN we will be able to take into account on the cars we develop in the future, especially any further GRMN models. In particular, we were able identify things we couldn't achieve with the current Yaris platform and this intelligence is already being used in the development of the next platform. From a personal point of view, it was fantastic to see all the team members – we had not worked together before – gain trust and respect for each other and become a really tight team."