As part of Toyota's desire to engineer greater driving appeal into its cars, most current generation Toyota Hybrid models have the capacity to tow trailers and caravans. This might lead owners to wonder how about hybrid towing and how much their car is able to tow.
The regulations surrounding towing can be quite complicated to understand. So while this post is not designed to explain all the rules on this subject, we hope it clears some confusion by supplying straightforward answers to important, frequently asked questions.
Within this post we have also supplied relevant links to official government pages, related associations, and Toyota resources.
1) Hybrid towing – Which Toyota Hybrid models can tow?
The latest generation Yaris, Corolla, Toyota C-HR, RAV4 and Prius.
Moving upwards in towing ability, the latest Yaris has a towing capacity of 450kg. The Prius and Toyota C-HR share a recommended towing capacity of 725kg for both a braked or unbraked trailer. You can read more about this in our special feature on towing with a Prius. Meanwhile, all Corolla models – Hatchback, Touring Sports and Saloon – have an unbraked capacity of 450kg and a braked towing capacity of 750kg.
All RAV4 models have a legal towing capacity of 750kg for unbraked trailers. But with regard to braked trailers (where the trailer has its own braking system), the front-wheel drive RAV4 has a recommended towing capacity of 800kg and the all-wheel drive RAV4 has a 1,650kg capacity. Straddling the two is the new RAV4 Plug-in, which has a braked trailer maximum set at a 1,500kg.
For more information on how legal towing capacities are calculated, please see question four.
2) Hybrid towing – Can I tow with a Toyota Camry?
The current generation Camry has not been homologated to tow in the United Kingdom.
Some hybrid Camry models in other markets have been specially configured to tow light loads but these models are not available in the UK. Their cooling systems are different and the components cannot be retro-fitted to UK-spec cars.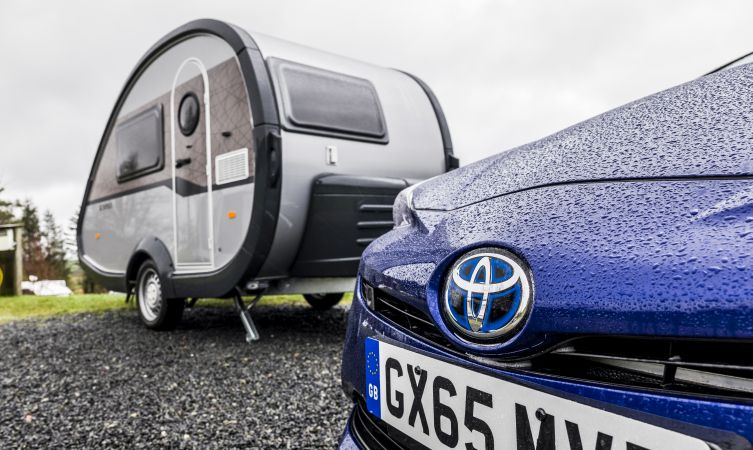 3) Hybrid towing – What am I allowed to tow?
It depends on when you passed your driving test, the weight of your car and what you are towing.
You can get the latest rules and restrictions on the government services and information website.
4) What is my car legally allowed to tow?
The figure authorities use to enforce the maximum towing capacity of a vehicle can be found on the Vehicle Identification Number (VIN) plate. This goes for all cars, not just those capable of hybrid towing.
Not all vehicles have been homologated to tow, but those that have will display either three or four sets of figures on the VIN plate. Reading from top to bottom, these will be the gross vehicle weight (the maximum mass of the vehicle including occupants, fuel and load), the gross vehicle train weight (the combined maximum mass of the vehicle and trailer) and the maximum loads across the front and rear axles respectively.
In order to create a recommended maximum towing capacity, vehicle manufacturers usually deduct the gross vehicle weight from the gross vehicle train weight.
For more advice on your specific Toyota model and hybrid towing, please follow this link to the My Toyota site where you download a copy of the owner's manual for your car.
See more: Towing the line with the new Toyota Prius
Further information: National Trailer & Towing Association
Further information: AA guidance on towing