It fetches objects, opens doors, waves, and even dances and sings – this is the prototype Toyota Human Support Robot (HSR) research platform that visited the home of Anthony Walsh, who lived with motor neurone disease (MND), during the first UK home visit of the machine, designed to test strategies for how to help with everyday tasks for those who need it.
The project came about through Toyota GB's three-year charity partnership with the MND Association. The results of the in-home trial are revealed in a new short film.
Anthony Walsh lived in Southgate, North London, with his wife Siobhan and two young children. He was diagnosed with MND in May 2021 and went from being able to play football, to being in a wheelchair, owing to the rapid progression of the disease, for which there is no cure. He had significant weakness in both legs and found it very hard to move around the house and he didn't like to ask others for help all the time.
Anthony commented: "Not being able to walk for the last month has been very hard to cope with. I've lost my mobility and I have to be dependent on others, which is not the sort of person I was."
The Toyota Human Support Robot (HSR) is a service robot that can assist people at home and is one of Toyota's robotics concepts now under development as part of the company's global mission to provide freedom of mobility for all. The robot has a highly manoeuvrable, compact, cylindrical body and a folding arm. It is equipped with a wide variety of sensors and cameras so that it can perform practical tasks for elderly and disabled people and those recovering from illness or injury. It can grab objects, it can interact with humans and can navigate human environments.
During the home trial, the Toyota Human Support Robot was manually controlled by an operator to perform many everyday tasks for Anthony and his family, such as bringing a carton of orange juice from the fridge, passing objects like the TV remote control, and a box of tissues. It even sang using Anthony's voice which had been 'banked' in advance. While the robot is currently manually controlled, King's College intends to collaborate with Toyota and the MND Association to make it autonomous.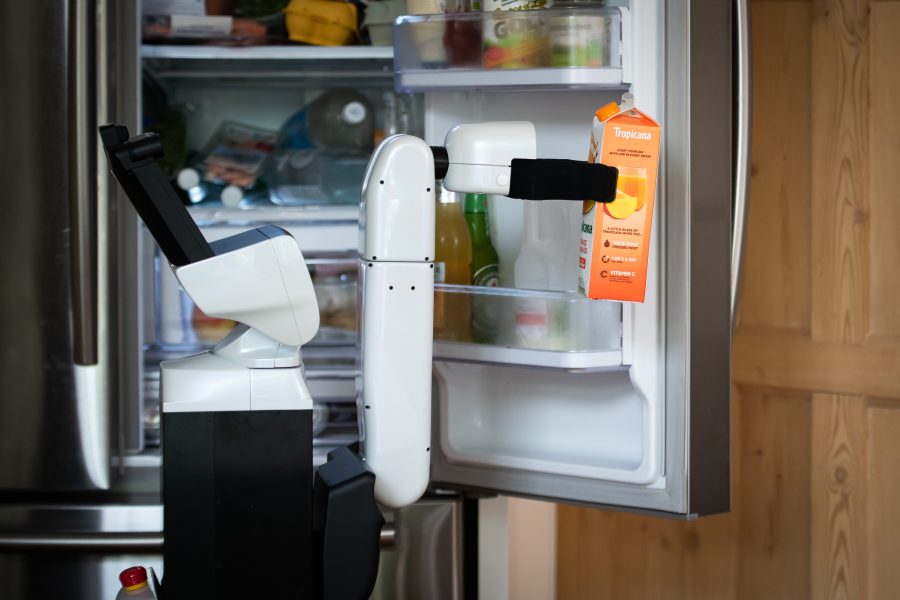 Mark Van Loock, Technology Manager at Toyota Motor Europe (TME), commented: "We've been offering the HSR open innovation platform to research partners worldwide, and although the robot isn't on general sale to the public, this home trial with Anthony Walsh has provided useful insights into how this type of robot could help people in the future. It is a perfect expression of how Toyota as a mobility company wants to make freedom of movement, and the opportunities that brings, available to everyone in society."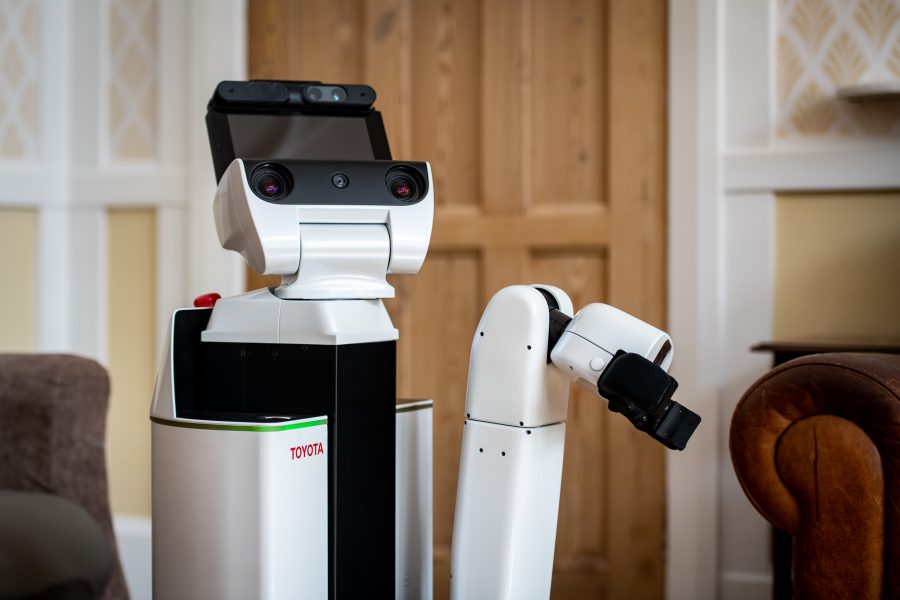 The King's College robotics lab received the robot from Toyota for research purposes – to develop algorithms so the HSR can learn how to perceive and interact with humans. The team's aim is to make the robots adapt to their users' needs and preferences, as well as make them learn new skills autonomously through their interaction with the environment, such as their user's home.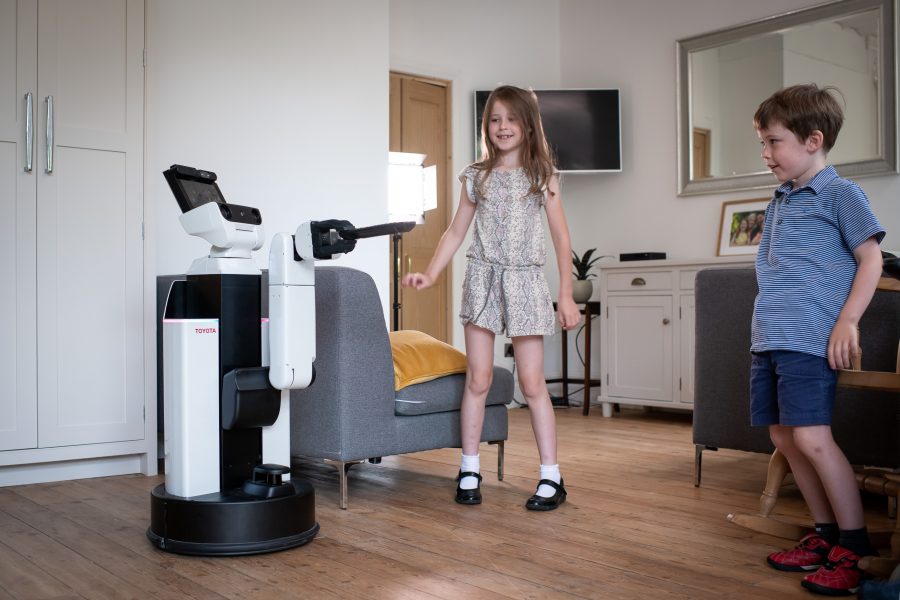 Oya Celiktutan, Lecturer in Robotics at the Department of Engineering at King's College London, said: "One of the problems we are focusing on is how to make robots learn continuously without forgetting their past knowledge. For instance, how we can make the HSR robot learn which is their user's favourite mug and then bring their tea in it. We are also working on algorithms to make the robot learn new tasks simply by watching humans, such as potentially preparing and giving medication."
Anthony commented: "We're just getting the first taste of what the future might hold and what technology is out there that might be manipulated to help people in my condition, particularly those who maybe don't have the same support network as I do. I think there could be a place where this robot could be there to help people in different ways with their day-to-day life. It gives you back a little bit of your independence, albeit you're still relying on something else. This robot would actually free up time for other people to not always be at your beck and call and to have some of their own time back. It can relieve a lot of stress in the family situation."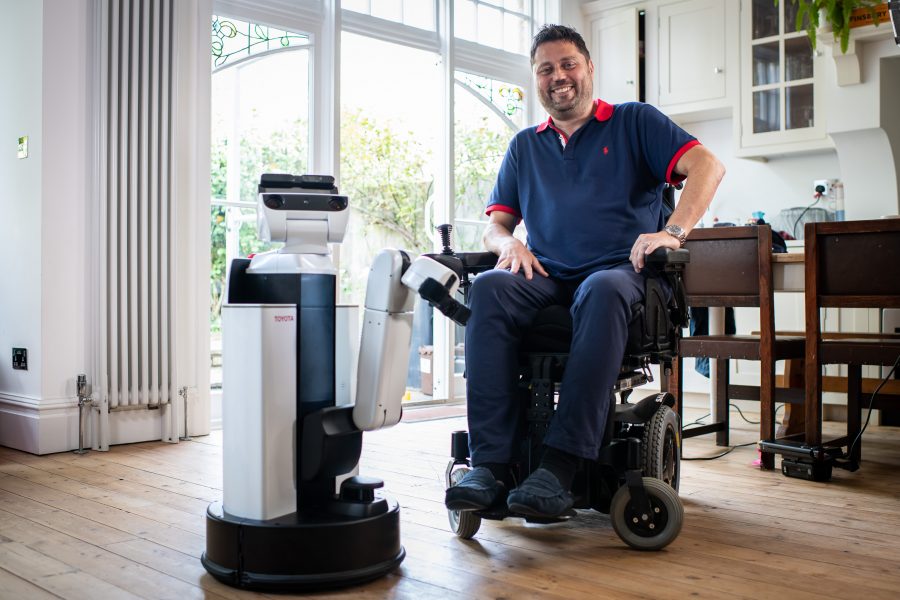 Viktor Schmuck is a robotics PhD student at the Department of Engineering at King's College London, who supervised the HSR home trial. He said: "This was a great opportunity for us to see the challenges when robots are used in real-world home environments and assisting people living with MND. It gave us a great opportunity to see the user acceptance of, and trust in, the robots. In the next 20 years, I see robots like HSR being deployed more and more in different environments – indoors, outdoors, and specifically in care settings where they would be placed in homes of those in need, such as people living with MND. And these robots could really alleviate the pressure on the care workers who interact with these people by mimicking the tasks they do."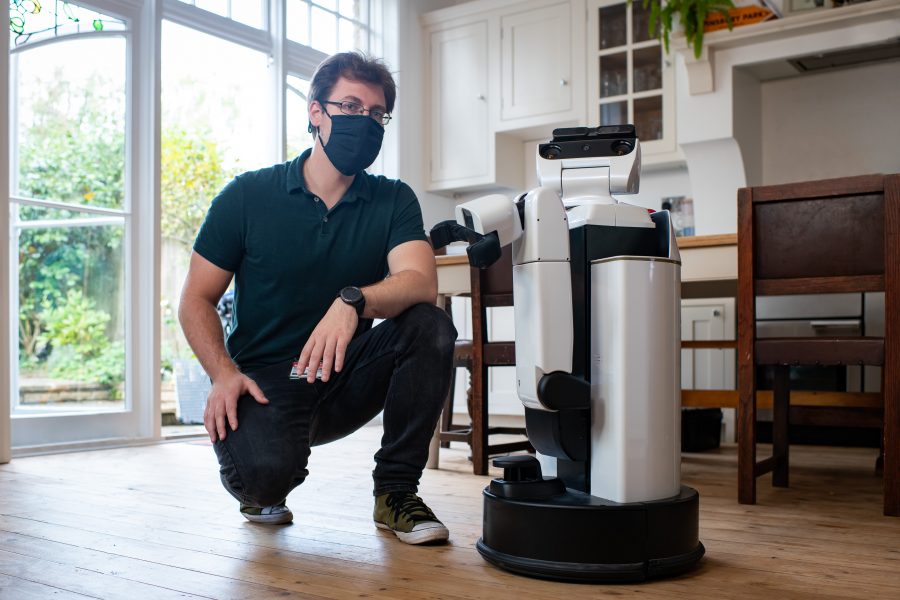 Sadly Anthony died soon after the robot home trial, and after discussions with his family the film is being released to respect his wish to raise awareness of motor neurone disease and the work of the MND Association.
Nick Goldup, Director of Care Improvement at the MND Association said:
"MND is an extremely complex disease which affects the nerves in the brain and spinal cord which tell muscles what to do. As it progresses people lose the ability to move, which means they often rely on others to carry out simple tasks like fetching a glass of water or picking up the remote to change the TV channel.
The Toyota HSR robot is a brilliant example of how innovative technology could help to improve the lives of people living with MND and why partnerships with pioneering companies like Toyota are vital to explore what might be possible in the future. We are incredibly grateful to Anthony and his family for being so open and enthusiastic about trialling the robot in their home and contributing to the development of this exciting technology. The sad news of Anthony's death is a stark reminder of why we must continue our efforts towards a world free from MND. Until that day comes, we will continue to push boundaries of what may be possible in care and support for people living with MND today."