The Toyota Environmental Challenge 2050 is a set of six environmental challenges that it plans to have in effect by 2050. The aim is to achieve zero environmental impact in all vehicle-related activities; but more than that, Toyota wants these initiatives to have a positive and sustainable impact on society as a whole.

The six environmental challenges are listed below, followed by a detailed description of how Toyota plans to implement the first challenge by 2050. Click on any of the further links to be taken to separate posts describing how each challenge will be implemented.
Toyota Environmental Challenge 2050:
1) Zero CO2 emissions in new vehicles
2) Zero CO2 emissions throughout a vehicle's life cycle
3) Zero CO2 emissions from all production facilities
4) Minimising and optimising water usage
5) Establishing a recycling-based society and systems
6) Establishing a future society in harmony with nature
Challenge 1: Zero CO2 emissions in new vehicles
Toyota has challenged itself to reduce vehicle CO2 emissions by 90% in comparison to 2010 levels. This will be achieved by 2050 and promoted through the development and widespread adoption of next-generation vehicles with low or zero CO2 emissions.
Why is it needed?
As if to demonstrate the reality of global warming, extreme weather patterns are provoking successive natural disasters throughout the globe. If current conditions continue and measures are not taken to reduce greenhouse gases, it is estimated that by the start of the 22nd Century the world's average temperature will have risen by 3.7 to 4.8°C. What's more, if we are to restrict the temperature rise since before the industrial revolution to below 2°C, we not only need to reduce CO2 emissions to zero but restore an environment where the element is naturally absorbed.
What is Toyota already doing about this challenge?
The average fuel efficiency of new Toyota vehicles improved by 22% in the decade following 2005. In 2010, Toyota set the intermediary goal of reducing the average CO2 emissions of new vehicles by 22% by the year 2020 – a figure that equates to approximately 28% improvement in fuel efficiency.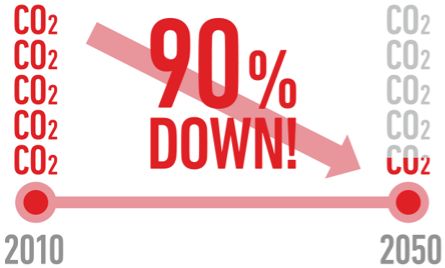 In addition to reducing the fuel consumption of all engine-driven vehicles, Toyota is actively developing next-generation vehicles with low or zero CO2 emissions. These include hybrid petrol-electric vehicles (HVs), plug-in hybrid petrol-electric vehicles (PHVs), electric vehicles (EVs) and fuel cell vehicles (FCVs).
Toyota launched its first hybrid vehicle in 1997 in response to resource and environmental issues of the 21st Century. Since then Toyota has produced over ten million petrol-electric hybrid vehicles, which it estimates has stopped 77 million tonnes of CO2 emissions being released into the atmosphere and saved 29 million kilolitres of fuel (compared to conventional petrol-powered vehicles of similar size and driving performance).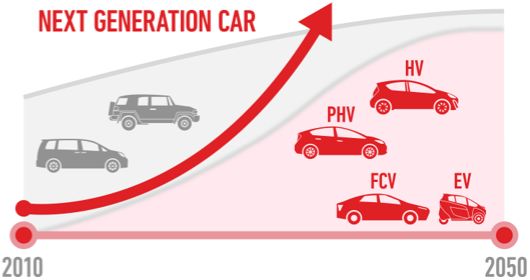 Toyota continues to promote the widespread adoption of eco-friendly vehicles. Following in the footsteps of Prius, Toyota now sells 34 different hybrid models in more than 90 countries and regions across the globe. Cooperation is also being sought to build the infrastructure for widespread adoption of EVs and FCVs. In that respect, Toyota is contributing to initiatives aimed at achieving a fully-fledged hydrogen-based society by 2030.
Learn more: Why does Toyota make hydrogen cars?