From its nationwide launch in 2020, the Toyota Buy Online programme has aimed to deliver the most convenient and satisfying car-buying experience within the industry. The sheer number of five-star reviews on Feefo proves that customers have thoroughly enjoyed this new process.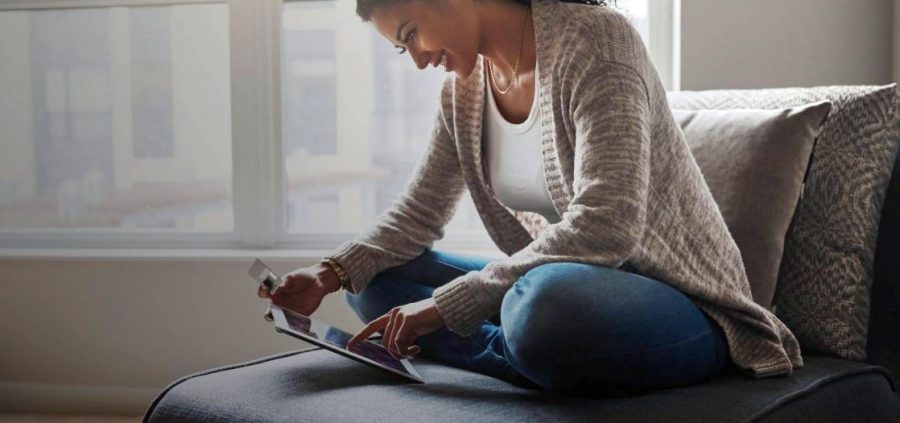 However, we realise that others might feel sceptical about conducting such an important purchase away from a traditional retail environment. So we've interviewed a number of recent customers to provide a little more information about their remote-purchasing experience.
Damson Wetherell and her Aygo X Limited Edition
Damson knew something was brewing in the Wetherell household. Her parents were trying a little too hard to appear normal, and that made her suspicious; especially today.
Why did they need her to join them on a mundane, midweek errand during her half term holiday? Her father had mumbled something about booking their car for a service, but that is something he's always been able to manage by himself. More to the point, what was so important about this service that it had to be sorted out the morning of her 17th birthday?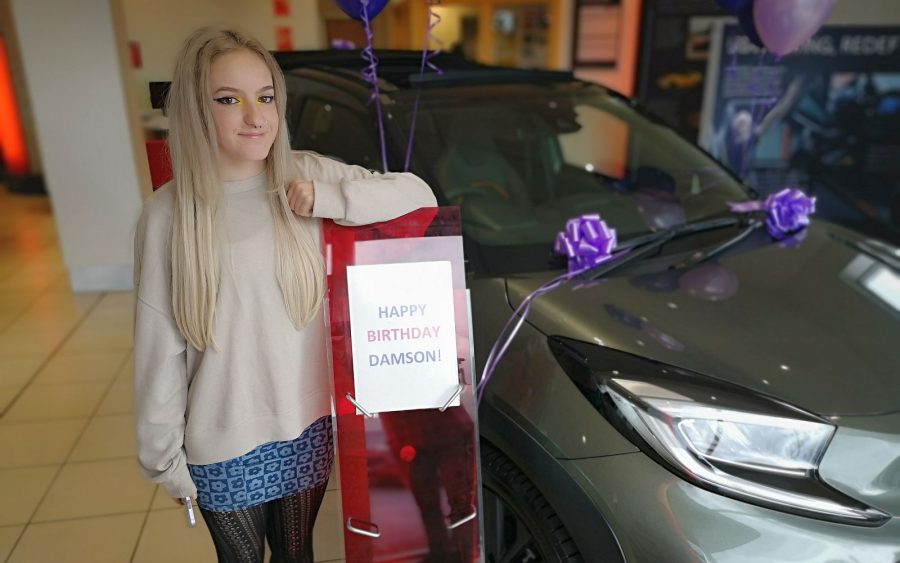 What Damson didn't appreciate at the time, and what her parents had been trying so desperately hard to keep under wraps, was that something had indeed been brewing over the past few months. It was true that the three of them needed to visit WR Davies Toyota in Shrewsbury, but it wasn't to arrange a service; it was to collect a brand new Toyota Aygo X, which had been purchased through Toyota Buy Online and arranged to be collected as a very special birthday present for a very special young lady.
We spoke to Damson's parents, Jayne and Russell Wetherell, to explain more.
What led you towards the new Aygo X for Damson?
Jayne: "My mother had an Aygo and was always very complimentary about it, so we paid a visit to WR Davies Toyota to have a look around the showroom and see what Aygo model we could buy for Damson."
Russell: "But then we saw large posters for the new Aygo X and instantly knew that the Limited Edition model was the car for Damson. We loved the tech and the combination of Cardamom Green with orange highlights. It was unique and special, just like she is."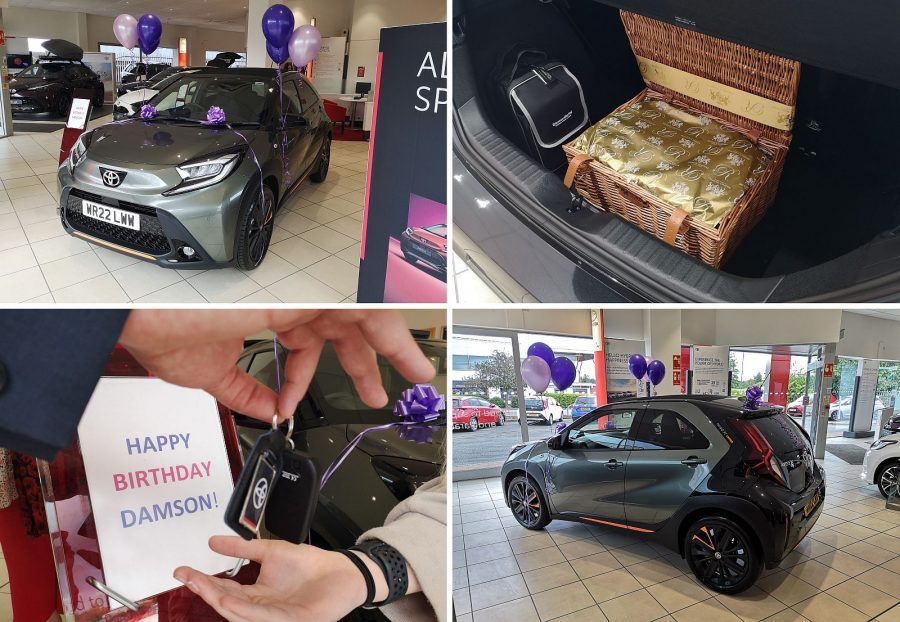 The Aygo X Limited Edition is an online exclusive, so how did you get on with the ordering and purchasing process?
Russell: "Ordering online is a familiar thing nowadays and we found the process relatively straightforward, especially as the Limited Edition is so highly specified that we didn't need to add any optional extras. But we were happy to know that we could always turn to Tom Lees-Bowyer [sales executive at WR Davies Toyota] for advice here and there. He was always very helpful throughout the whole process."
You had a very specific date in mind for the handover of the new car. How did the Toyota Buy Online team help in that respect?
Jayne: "Since making the request for the handover on Damson's birthday, the ongoing communication from the Toyota Buy Online team has been excellent. We felt informed and up-to-date every step of the way, which must have been tricky given that this was a new car launch and the Limited Edition models were among the first to arrive. Our online retail coordinator Shannon Benstead has definitely gone above and beyond to assist us in surprising Damson."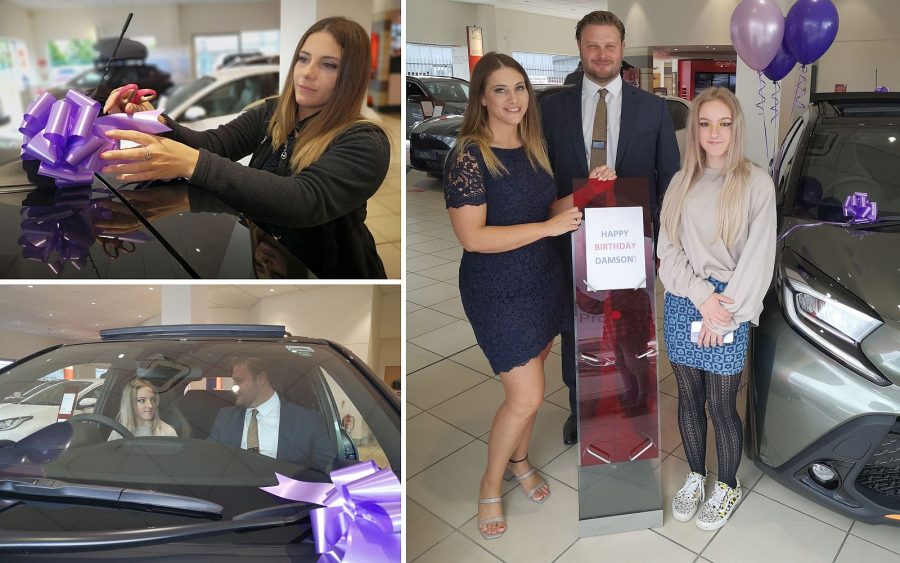 What has Damson been through over the past few years that made you want to do something this special for her?
Jayne: "Damson has endured heart problems that have affected her everyday life for a few years. At first the doctors thought she was anaemic as she often felt light-headed and like she was about to pass out. But it wasn't until Russell bought her a smart watch that we were able to create a proper record of her heart's rhythm and electrical activity – like a mobile electrocardiogram."
Russell: "We sent these records to the consultants, who were eventually able to diagnose her as having SVT – supraventricular tachycardia. Since then she has undergone two major heart operations, and we hope that she will now be able to return to a normal life. She's certainly feeling better, which is giving her more confidence to go out and not worry about having a funny turn."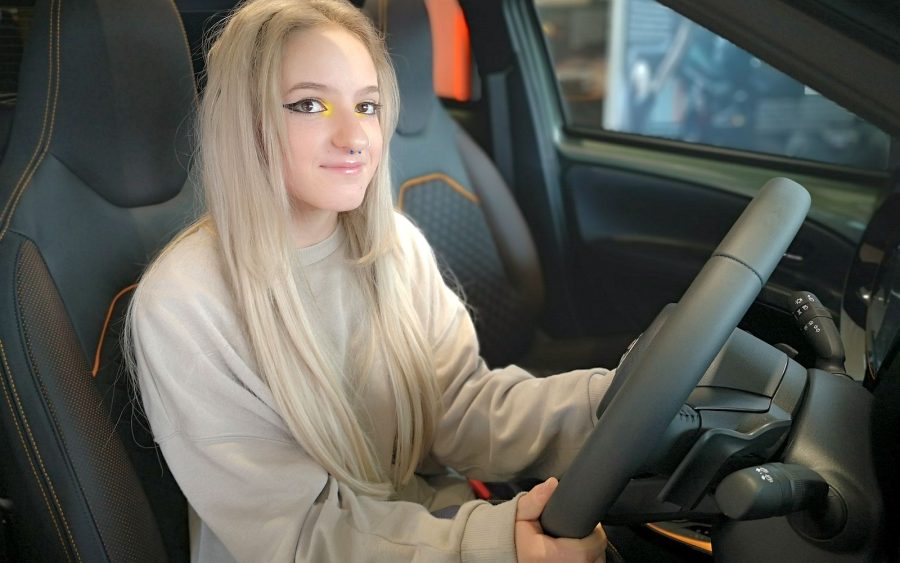 And what a way for Damson to now get out and about in style!
Jayne: "She was so shocked to see the Aygo X there in the showroom with her name on it. With all the attention around her she was struggling to know whether to laugh or burst into tears. But now that all the hubbub has died down, she's told us that she loves the colour, the style, the canvas roof, the smartphone connectivity… and how personal the car is to her through the MyT app. In fact, it's just perfect!"
Russell: "Although Damson hasn't passed her driving test yet, I was amazed at how quickly she took to it. The following weekend we drove around in the car all day and Jayne had to call us back for dinner as she didn't think we'd ever return. From our perspective it looks like mum and dad's taxi service will soon be no more!
"Thanks to everybody at Toyota for helping to make this happen on Damson's birthday. We highly recommend you to all."
Toyota Buy Online: Chantal Bowey and her Hilux Invincible X
Retired bank manager Chantal has owned four Hilux models over the past 20 years. This latest purchase is her fifth as well as her second successive Invincible grade. She finds it an ideal vehicle for balancing her duties as a grandparent with her husband's needs as a commercial builder.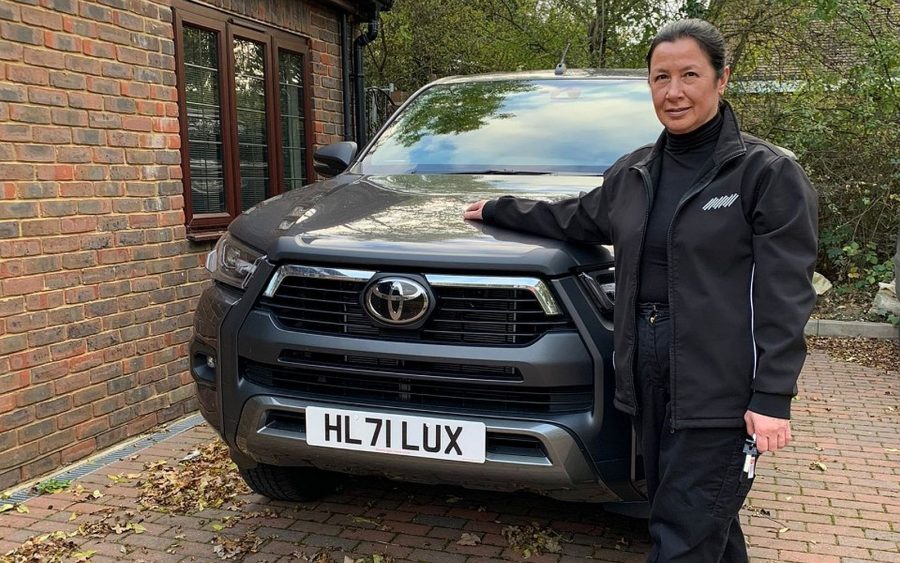 Why did you choose to buy the Hilux online?
Chantal: "My preference is to buy everything online where possible. I like to feel in total control of researching, form filling and purchasing, rather than relying on a third party. So being able to buy my new Hilux Invincible X online was perfect for me."
How easy did you find it to configure the vehicle?
Chantal: "It was really straightforward. The configurator guided me through various options and filters until I arrived at the right vehicle and model. And as I made changes to things like colour, wheels and optional accessories, the image of the vehicle was constantly updated so I knew exactly how it would look."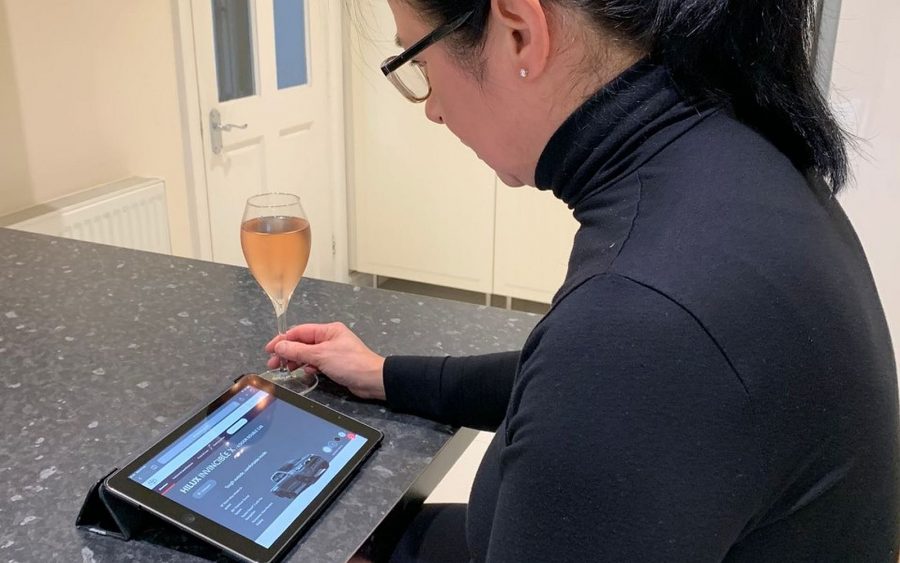 What about the purchasing or financing process?
Chantal: "After configuring my Hilux, I was given the option to either pay for it outright or create a finance agreement. I chose to apply for the latter, and after approving the agreement in principal I was directed to pay a small holding fee on by debit card.
"Within less than a minute I had received an email that confirmed my order and outlined the next steps. This included an invitation to create a MyToyota account which allowed me to check the status of the vehicle and read any update messages.
"There were a couple of other formalities to organise, such as providing a copy of my driving licence and signing the finance documents, but that was all done online. Although I was given the phone number of a customer service agent if I had any questions, I didn't need it. I felt confident during the whole process."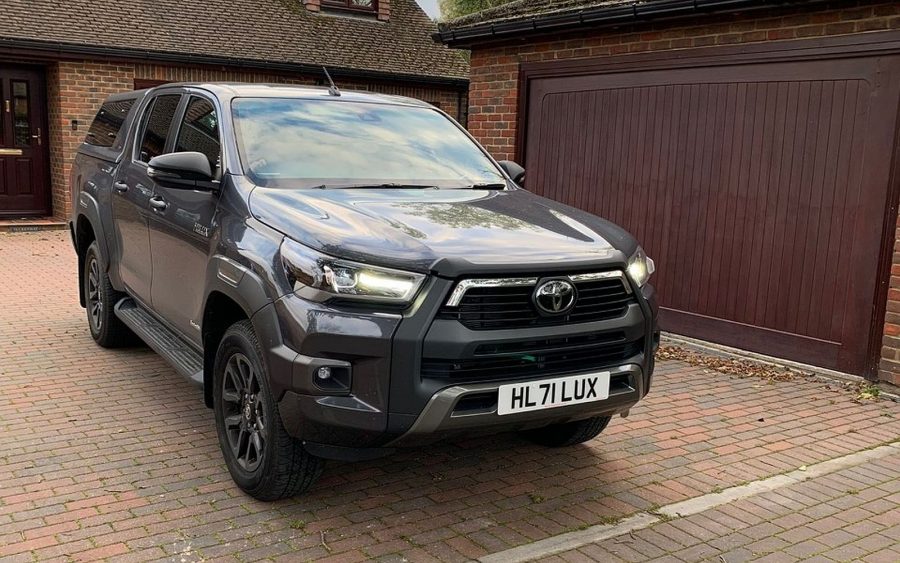 Was there any further interaction with the Toyota Buy Online team?
Chantal: "A few days after my online application, I received a courtesy call from the team. The advisor talked through my order and finance agreement to double-check I was happy and to confirm the vehicle's delivery date.
"But then a few weeks later I phoned the team because I had decided to add an optional hard back to the order. So although I love all things online it was good to still have a direct contact at Toyota Buy Online who was familiar with my case and could action the request for me."
Did you collect the Hilux or have it delivered?
Chantal: "I love the excitement of collecting a new vehicle, so when the team called to let me know the Hilux had arrived in the country and would soon be delivered to my preferred retailer, we arranged a handover date. An added bonus was the complimentary three-day insurance activated on the day of collection. This was also set-up online and I was so impressed with the service and annual quotation that I bought that policy, too."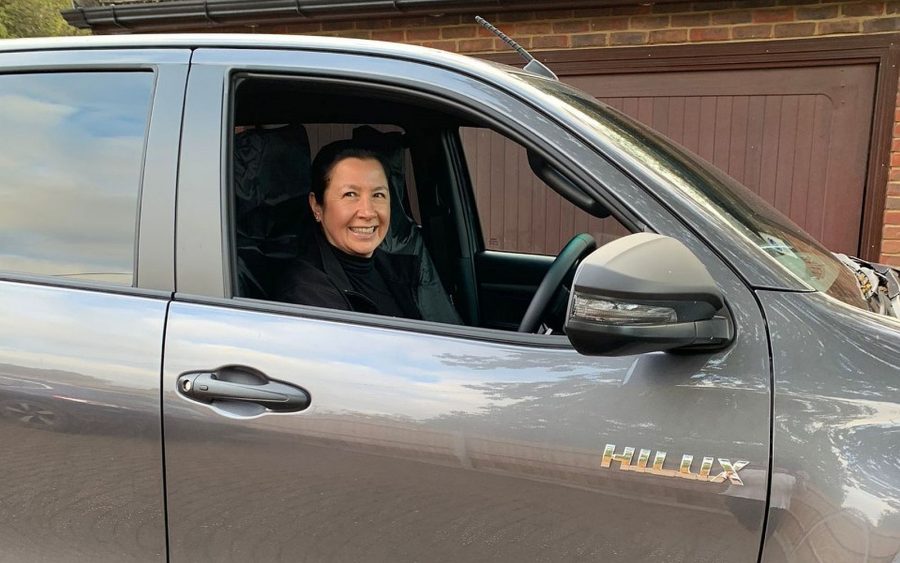 What are your feelings about the whole Toyota Buy Online process?
Chantal: "I could not fault anything about the whole process, so I would wholeheartedly recommend Toyota Buy Online. I felt in total control and I was given all the information and help that I needed. It was all so seamless and easy."
Click here to learn more about the Toyota Buy Online process
NB: Details were correct at the time and date of publication