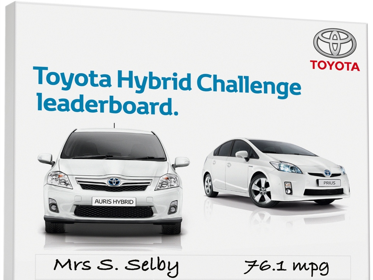 Head to your local Toyota Centre to take part in the first ever Toyota Hybrid Challenge! If you've never driven one of our hybrid cars before, this is a great chance to try them for yourself, and to get some tips on how to improve your eco driving.
Of course, if you're already a Prius or Auris Hybrid owner, you'll be able to put your experience to the test as you try to claim your place at the top the leaderboard.
Toyota Centres across the UK are hosting the competition throughout April and May, each with their own set route, time limit and prizes.
The official combined cycle fuel figures are 72.4mpg for Prius and 74.3mpg for Auris hybrid, but significantly better consumption has been recorded for both models in independent economy drive events – Toyota GB's Richard Seymour and teammate Andrew Andersz achieved over 84mpg with a Prius in the 2009 MPG Marathon.
One thing's for certain: with fuel prices rising and Prius+ and the full-hybrid Yaris joining the range next year, there's no better time to get behind the wheel of a Toyota hybrid – visit your local Toyota Centre to take part, and don't forget to let us know your best MPG.