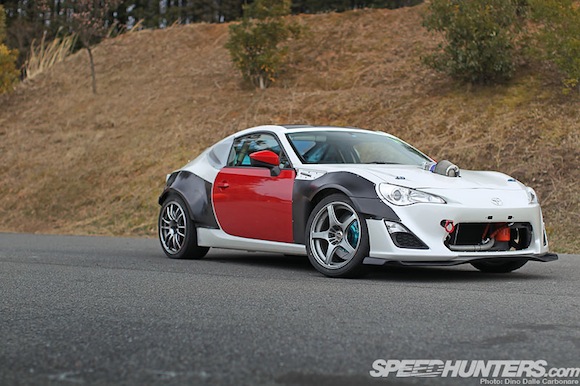 Just one look will tell you that this GT86 ranks among the most heavily-modified examples of the car seen to date.
Built by Japanese motorsport parts supplier Racing Studio-R (RS-R), this Toyota 86 (as the car is badged in Japan) is currently in development ahead of this year's Formula D Asia drifting championship.
The car has been given a near-complete overhaul to deliver the incredible performance and flexibility the team's drivers Max Orido and Fredric Aasbø will need to compete in one of the most extreme racing series around.
Watch this video, produced by Crank and Piston during the car's recent shakedown at the Suzuka Twin circuit in Japan.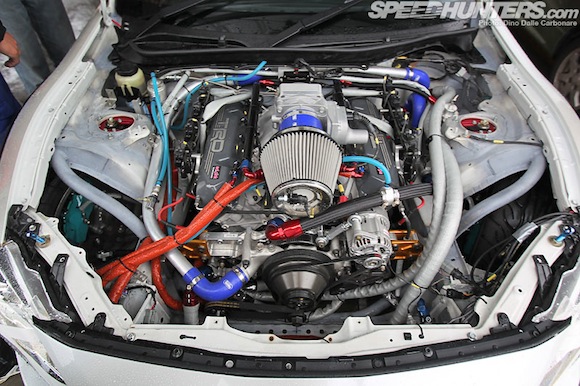 The 197bhp, 2.0-litre boxer engine normally found in the GT86 has been replaced with a massive 5.7-litre NASCAR-spec V8 powerplant, incorporating TRD parts and custom cooling and fuel systems.
It's also been given a full aero kit, carbon fibre body panels including the bootlid and roof (carbon doors are set to follow soon), plus the Rocket Bunny side intakes that take the place of the rear quarter windows.
Take a look at this Speedhunters article on the car to see the full (and very extensive) specification list.
Aasbø, who is currently working on his own Toyota 86-X ice drifting car in his home country Norway, has published a Speedhunters blog about his time in the car so far, discussing its blend of equipment and style:
"Figuratively, this car is put together with red blooded steak from the American heartland, fresh sushi from Japan's Kansai region and Team RS-R even decided on stuffing some Norwegian salmon in there."
A nice way of putting it. We think this project is definitely shaping as 'one to watch', so we'll be sure to keep you posted when we find out more.
The RS-R V8 86 will make its racing debut in the Formula Drift Asia season opener on the weekend of April 27th at Calder Park Raceway in Melbourne, Australia.
Read our other GT86 posts here.
via Speedhunters.com