Tetsuya Tada, the chief engineer for GT86 talks about the FT-86 Open convertible concept unveiled at the 2013 Geneva Motor Show, working with BMW, dogs and drinking beer…
There's no doubt that the Toyota GT86 is a special car, but as we recently reported, without major backing from on high within Toyota, it might never have happened.
Andrew English, who produced that story for us, caught up with GT86 chief engineer Tetsuya Tada for part two of that original tale. This time to talk convertibles, shooting brakes, saloons and of course BMW…
Here's Tada-san's story, in his own words.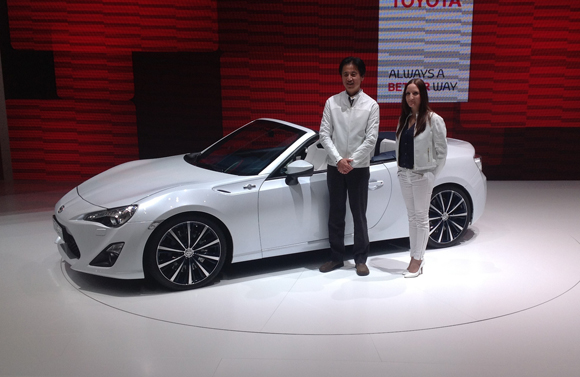 "As far as the convertible is concerned, there's still some way to go before production. We've got many engineering challenges and not all of them are solved yet.
"But from the outset, when we were engineering the coupé, we had the cabrio in mind. So we knew all the hard points that would be involved when it became an open top and bore those in mind. So the indexed windows are one highlight, also the way we laid out the rear suspension to allow for the folding roof.
"Our exterior designer has already had in his mind having a cabrio version, so in his drawings he did a cut-off roof. The designer, Mr Brouchan, he likes convertibles. At the beginning of the project I wasn't too concerned about a convertible version, but I would sneak up on him and he was always drawing a drophead. I would say, 'you're drawing a convertible, again!'.
"Mass producing a sports car for a company like Toyota carries a big business risk and we've tried to mitigate that risk with our collaboration with Subaru. We say, 'mitigate' in one [easy] word, but we had to make some really tough decisions for us to realise this. Also, along the way, we investigated the possibility of a sedan [saloon] and a shooting brake.
"Actually we tried to do this secretly but the executives found us out. They said: "what are you doing? Will you please focus on the coupé." So that was our focal point and it was only with the success of the coupé that we were able to bring out the prototype of the convertible. It would never have existed without the support from you and the customers.
"It's just my personal dream that the GT86 could become a family like what BMW has done with the Mini family. I hope that happens. I also have five dogs myself and I would like to have them in the car, so a sports shooting break would be just right.
"Actually I am flying to Munich after the [Geneva] motor show for discussion about the future cooperation with BMW. We are already discussing what we can do and the potential results of this collaboration. One of the things we learned from our cooperation with Subaru is how to bring these two different cultures together. Something like the GT86 sports car was particularly difficult in terms of collaboration, but what we can take from it is the experience of figuring out how we can get the obstacles to us working together for us. I am hoping that we can leverage this experience when we work with BMW. So just like we bought the GT86 out of our work with Subaru, I am hoping for a synergy effect with BMW that will result in a product that none of us could have imagined; something more than anyone expects. I would like that to be something like a sports car… I would even go so far as to say that for the collaboration to work we have to bring a product which exceeds all these expectations.
"It is absolutely essential to have great connections with each other that go beyond just pure business logic. I was able to have remarkable encounters with people at Subaru and we had supporters behind us on the Toyota and the Subaru side. I'd even say these connections have to happen if the BMW collaboration is to work. If we carried along the lines of same-old, same-old, then nothing good will come out of this.
"At the moment we are struggling, because we are having this really business-like dealing with BMW and we haven't really been able to get through that barrier so far. Perhaps I need to meet them socially and drink beer and eat sausage together. In fact the one time I felt we went beyond the business-like barrier was when we all went to Oktoberfest and drank beer. That was the one time, when we were drinking together that I thought, these are unexpectedly good people…
"I have a friend in Mazda, he is chief engineer on the MX-5 and of course they have just announced a cooperation with Alfa Romeo. Because we talk a lot, I know he is going through very tough times because he is trying to get this project rolling. In collaborative projects like we have experienced, there is always going to be a long, long time where you are in doubt about it all, asking yourself, 'why are we doing this? Why are we in this collaboration? Wouldn't it be quicker just to do it ourselves?' – there's always this period. Luckily for the collaboration on the GT86, we got to a turning point in the collaboration, where we became one team (Team 86) and that goes beyond being Japanese and German, but having a common goal and all working towards the same thing. I'm hoping that the collaboration between Toyota and BMW will at some stage reach the same thing.
"We are investigating several aspects [to this deal] and I assume that it will be much tougher than what we've had with the Subaru deal. One thing that makes it difficult is that we don't have a cross shareholding relationship."
Read our other GT86 posts here.