Back in November we showed you the best of the modified Toyotas from SEMA360, the virtual event that this year replaced the annual SEMA aftermarket show, both from Toyota USA and from amazingly talented custom car builders. As the year draws to a close, the final batches of cars that would ordinarily have been seen at SEMA 2020 have emerged, including the sensational GR Supra Sport Top.
In addition to that and another stunning new build from Toyota USA, there are also a couple of wild creations that made their debuts as part of Toyo Tyres' Treadpass 3D, which enables virtual show attendees to explore a dozen vehicles online with a 360-degree view. Let's take a look at them individually.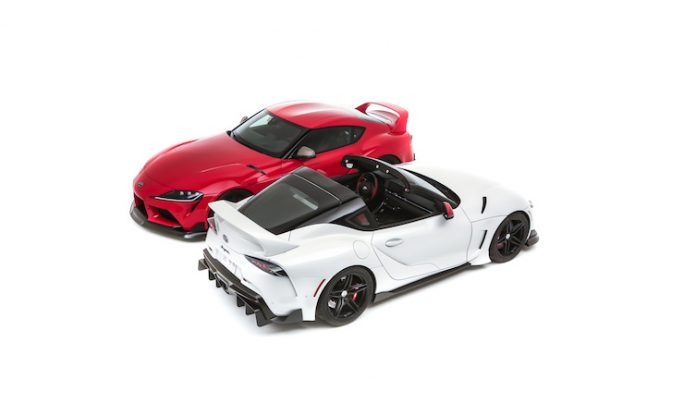 2021 GR Supra Sport Top
Another custom GR Supra? Why not! But this new GR Supra Sport Top is unique – a tribute to the removable-top Supras of years past. The roof features two composite panels, contoured to the GR Supra's body lines, that can be removed to let the sunshine in and stored in the boot of the car.
"Toyota wanted a companion to the Heritage Edition, which got a great response in 2019," says lead builder, Marty Schwerter. "But this was no easy build, and we put a lot of thought into cutting the roof and removing a significant part of the car's structure. Removing the top was extremely tough and required some innovative work to retain the GR Supra's rigidity [by reinforcing the chassis]. I love how it came out and I hope others love it, too."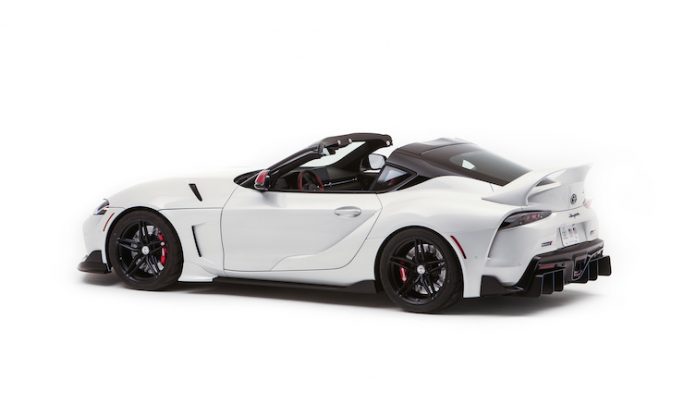 KC Mathieu, owner of KC's Paint Shop in Fort Worth, Texas, led the roof removal work on the GR Supra Sport Top. "The steel was a little harder to cut through than we expected," says Mathieu. "We started with an air saw and got nowhere real fast." Having switched to a different cutting tool, the metal of the roof started to yield, and eventually the surgery proved successful.
The team at Toyota USA's Motorsports Technical Centre hand-built a rear diffuser that's more efficient than the one fitted to the Heritage Edition hardtop, and has smoother airflow onto it from the underbody, as well as a new exhaust setup featuring dual pipes exiting from the centre of the rear fascia. The A80 Supra-style, basket-handle wing was also integrated into the decklid, while round taillights complete the Mk.IV treatment.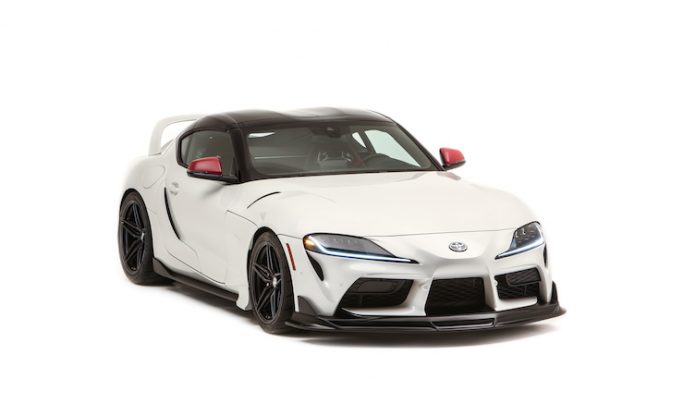 Toyota tracked the build of the GR Supra Sport Top in three videos, beginning with Part 1 here. It's well worth a watch.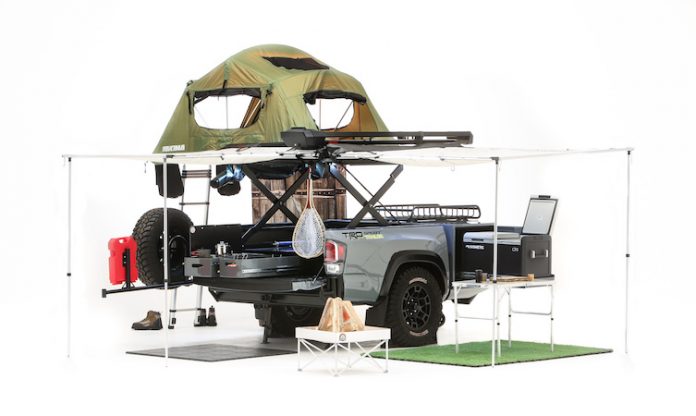 TRD-Sport Trailer
And now for something completely different! Overlanding has been rising in popularity for several years but became a hot trend in 2020, when many more conventional holiday plans fell by the wayside. Made from the truck bed of a Tacoma pick-up, Toyota describes this new custom TRD-Sport Trailer as an out-of-the-box, overlanding multi-tool.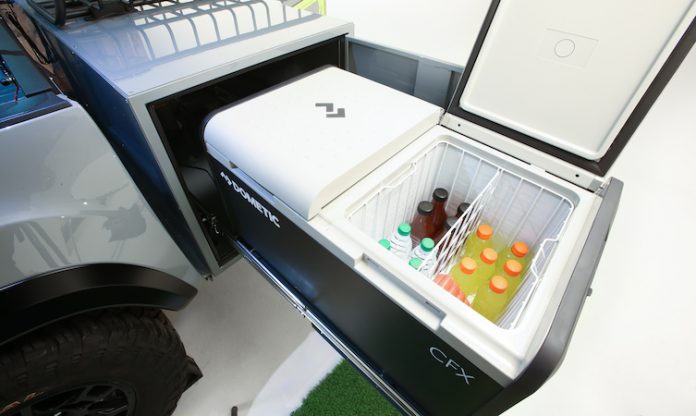 The trailer serves as a backwoods adventure basecamp, adding more space and amenities to any overlanding-ready truck or SUV. It features a scissor-lift that raises a four-person Yakima tent with an awning and fly fishing-pole holders, but that's just the start. There's also a custom-built toilet and rubbish bin, a hot water heater, a shower with curtain, a generator, and a slide-out sink and stove!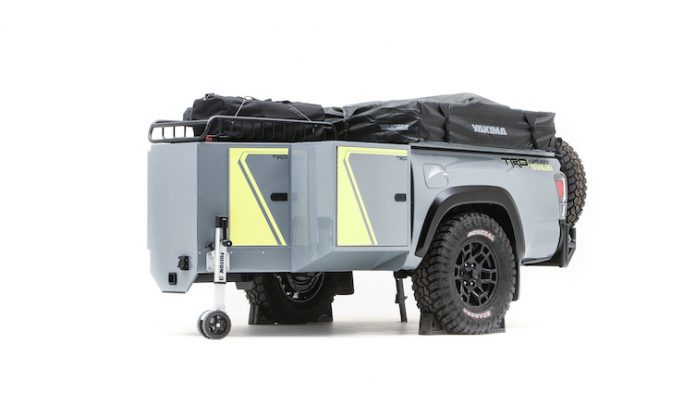 During the design process – which was again documented in a series of YouTube videos, beginning here – the plan was to make the best use of the available space, adding all the creature comforts while maintaining a low centre of gravity and a great approach angle for go-anywhere ability.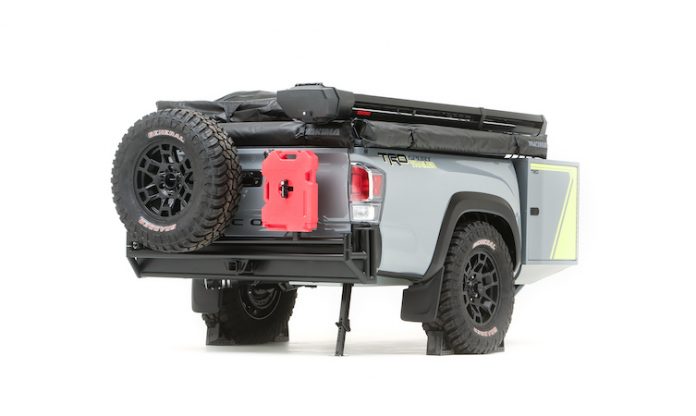 Marty Schwerter and his team worked closely with North American retailers, Bass Pro Shops and Cabela's, to make sure the TRD-Sport Trailer was equipped with important outdoor gear like fishing poles, tackle and nets; waders and wading boots; and coffee mugs, cookware and other essentials. The team added multiple RIGID A-Series Accessory LED Lights and Yakima SunBelt light strips to add powerful night-time illumination while drawing a low amount of power. Cripwerx Engineering assisted with the build, while KC's Paint Shop painted the trailer to match the Tacoma's OEM Cement Grey colour and added custom graphics provided by The Decal Source.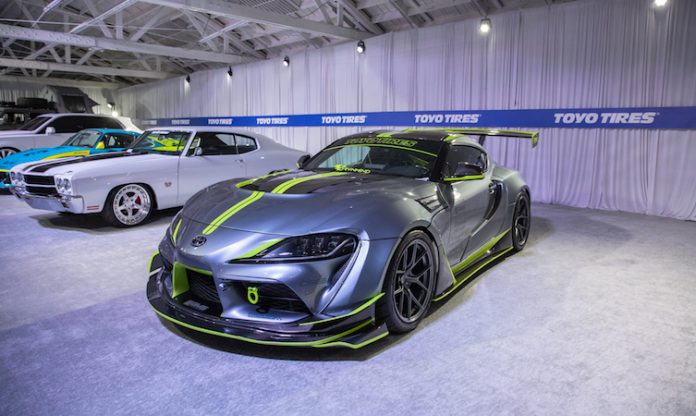 2020 Toyota GR Supra
Revealed online in the Toyo Treadpass 3D, this GR Supra by Daniel Song in collaboration with TRMNL Racing features the world's first production Varis Supreme 90 widebody kit with a carbon-fibre GT wing, rear diffuser, louvred hood and canards.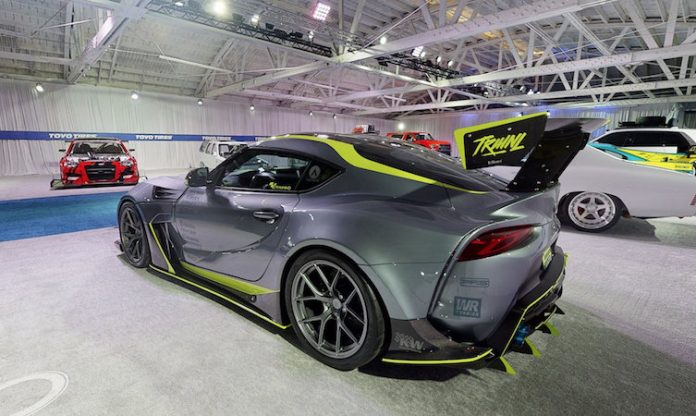 Under the bonnet is a prototype Garrett-based turbo system by AMS Performance (GTX3076R Gen II) with performance downpipe, charge-pipe and EcuTek calibration, and a carbon-fibre ECU cover.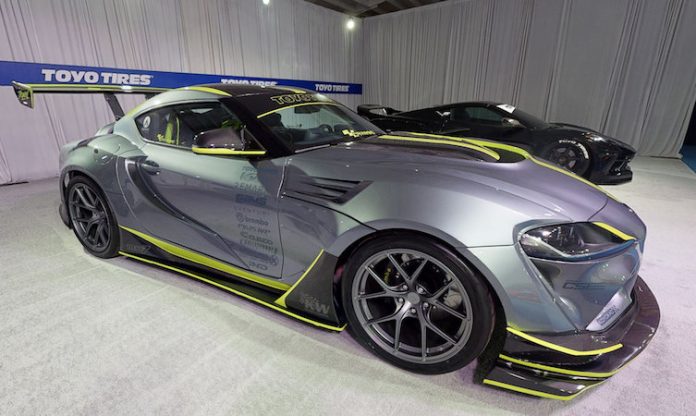 Inside the Supra is a Studio RSR V2 rollcage and rear chassis brace, while the driver and passenger sit in Pro Racer RMS seats by Recaro with Willans X Nightrunner four-point harnesses. The Supra rides on Titan-7 T-S5 wheels with Toyo Proxes R888R tyres and the KW suspension incorporates an HLS front-axle lifting system to protect the splitter on that ultra-low nose.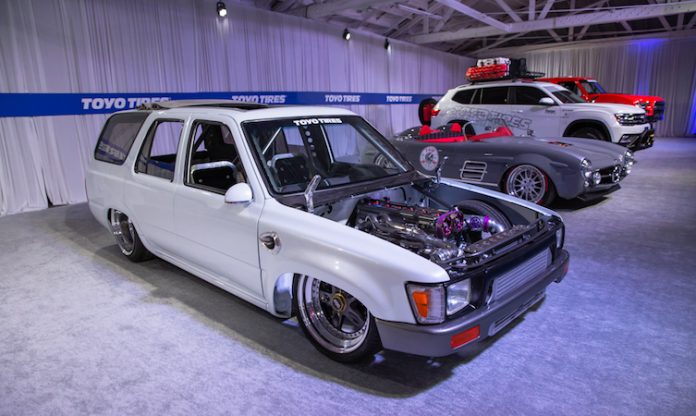 1993 Toyota 4Runner
And finally… You might need a second glance to recognize Scott Kanemura's incredible build as a 1993 Toyota 4Runner. Under the slammed SUV body (complete with full-length rag top) is a drag-race-style, tube-frame chassis with a shortened rear end and four-link suspension.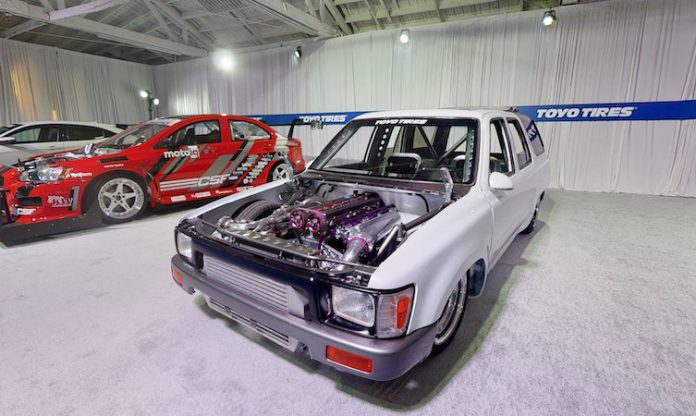 Power for the '5150 Lu' comes from a bored-and-stroked Toyota inline-6. The 2JZ unit – based on the same engine family fitted in the Mk.IV Supra – is now at 3.4-litre capacity and boasts a modified Garrett turbo with Tial housing and a custom-made exhaust manifold.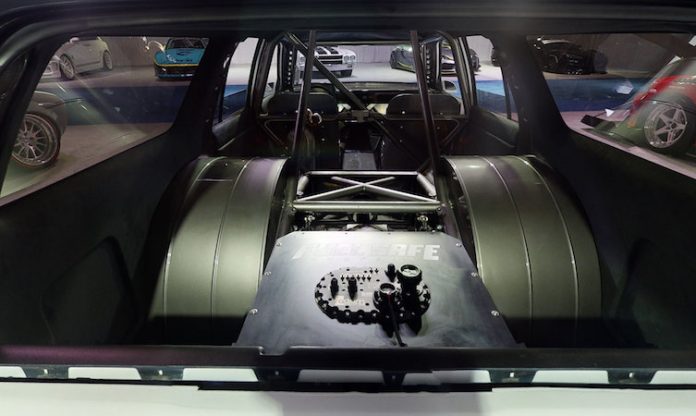 Meanwhile this unique 4Runner's custom interior has a double floor for style and aerodynamic advantages, cabin trim by Chuy and an old-school Alpine 7909 stereo. The re-barrelled Volk Racing Group C rims are shod with Toyo Proxes TQ tyres.
Words by Graham Heeps