Proving that a car doesn't have to be small to maximise the potential of Toyota's hybrid technology, the RAV4 Hybrid was singled out in the 2021 What Car? Awards for giving the best True MPG around town. RAV4 Hybrid fuel economy was put through the publication's tough trials and used even less fuel than the Yaris Hybrid on urban routes.
"The RAV4 debunks the myth that large SUVs are gas guzzlers because when we put it through our True MPG test, its urban fuel economy was 10mpg higher than the next best car (91.9mpg compared to Yaris in second place)," said What Car? editor Steve Huntingford.
Exclusively available as a hybrid in the UK, the RAV4's new 2.5-litre engine combines fuel and emissions efficiency and quiet operation with more power and greater responsiveness.
Need hints on how to drive a hybrid efficiently? Click here
The full system maximum output of 219bhp/163kW in the all-wheel drive model (215bhp/160 kW with front-wheel drive) compares to 195bhp/145kW for the fourth-generation model, signalling how Toyota's latest self-charging hybrid technology is not lacking in strength; acceleration from rest to 62mph takes just 8.1 seconds (FWD model).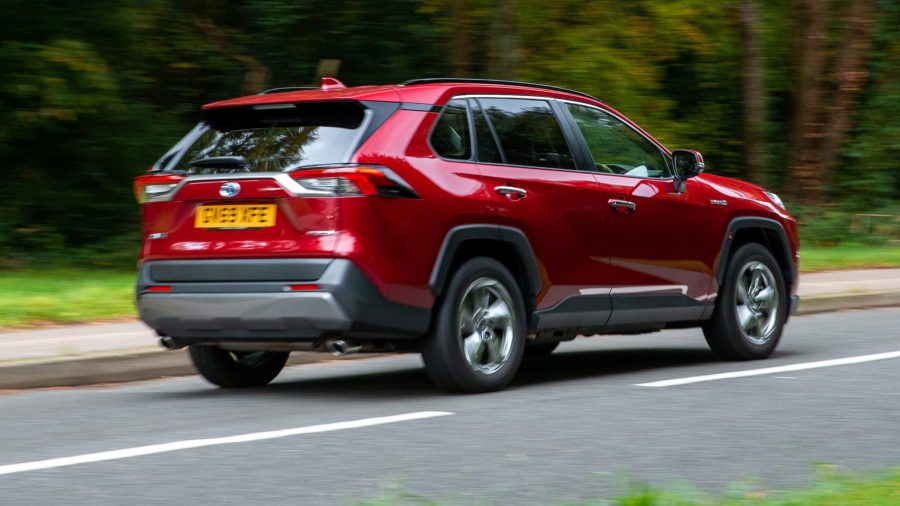 The 2.5-litre hybrid engine is a completely new unit that makes significant advances on its predecessor, delivering a better balance between fuel economy and power and achieving world-class thermal efficiency.
The engine adopts the Atkinson cycle and features a longer stroke than its predecessor – 87.5 x 103.4mm compared to 90.0 x 98.0mm. It also operates at a higher, 14.0:1 compression ratio (compared to 12.5:1 for the previous unit). It is equipped with D-4S direct and indirect fuel injection and intelligent variable valve-timing – electric VVT-iE for the intake and hydraulic VVT-i for the exhaust. The valve-timing range for both intake and exhaust has been increased.
Even greater efficiency is in store for the RAV4 range in 2021 with the introduction early this year of the new RAV4 Plug-in. The new flagship of Toyota's hybrid vehicle line-up and the most powerful RAV4 yet made, it will deliver rival-beating performance all-round with 302bhp, 282.5mpg, 22g/km CO2 emissions and 46 miles EV all-electric driving range (WLTP data).
All information is correct at the time of publishing.