One of the features of new Prius we are keen to put to the test is its choice of three driving modes. Rather than a one-size-fits-all approach to the car's transmission set-up, the driver can choose from three additional modes that tailor performance to suit the driving conditions, just by pressing the appropriate button by the gear shift lever.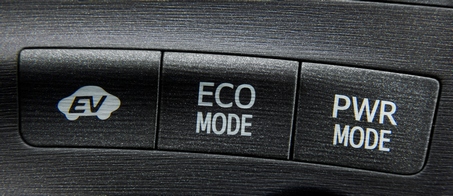 As a full hybrid, Prius can run on its electric motor alone and does so automatically from start-up at and at speeds less than 44mph (70km/h), with driving range determined by the level of battery charge. Below this speed, the petrol engine only cuts in under hard acceleration or to boost system power.
New Prius also gives the driver the option of switching to EV mode manually, allowing the car to be driven at speeds up to 31mph (50km/h) and for a distance of up to two kilometres. With near-silent running, zero carbon dioxide (CO2) and nitrous oxide (N2O) exhaust emissions and no petrol consumption, it 's ideal for around-town motoring.
ECO mode is designed to maximise fuel efficiency and reduces throttle response to heavy pressure on the accelerator. Using this mode, and keeping your driving within the optimum level shown on the Eco Drive Monitor read-out, can help reduce fuel consumption by 10-15%.
The third option is Power mode, which sharpens throttle response by up to 25%, improving acceleration for more spirited driving performance. As an example, under a 50% throttle, Power mode can knock 1.7 seconds off the acceleration time from 31 to 50mph (50 to 80km/h).
Simon got a quick taste of the different feel between EV and Power modes when he took our exclusive early test drive, but we're looking forward to finding out how all three modes feel on the roads.