It's 50 years since Toyota cars were first sold in the UK, so we're celebrating something of a golden anniversary in 2015.
We caught up with Paul Van der Burgh, the new President and Managing Director of Toyota GB, to look back at Toyota's first 50 years in the UK, discuss where Toyota's future lies, and find out how he's getting on with his new role.
Toyota Blog: Hi Paul. How is the new job going so far?
Paul Van der Burgh: Really enjoying it. The opportunity is a fantastic one. You've got a combination of a very varied market with great growth potential and a brilliant range of products. TGB (Toyota GB) is a really professional organisation with a great team and culture, so when you get a chance to get involved in running a company like this then it's a dream job. The office environment is also superb…
It's been a busy first couple of weeks, obviously, in terms of opportunities to meet a lot of retailers and the team at TGB, and move back to the UK, but I'm very much enjoying it.
TB: What are the immediate plans that you've put in place?
PVdB: I think when you start a role like this you must take time to assimilate what's already in place before making conclusions about future direction.
The first thing I've been trying to do is get to know people and understand what our current vision is. As it's very well-defined and aligned with Toyota's wider ambitions, and the approach I was working on in my Consumer One role and as such, I don't see a need to divert off the existing strategy. It's more about sustaining and facilitating progress with innovative approaches to doing business the way our customers want it.
TB: What do you think of the current Toyota line-up?
PVdB: It's a great range, with products for everyone – and I'd say over the last couple of years the new design direction has really made a big difference.
In terms of the improved visual appeal of our cars, you can see the bolder, more confident aims with Aygo. The new Auris and Avensis really deliver real improvements on sensory quality and design — they're true top-flight competitors, where maybe five to 10 years ago you might not have been able to make such a claim. Auris, being the fourth best-selling car of that size among private buyers, demonstrates we're capturing people's attention and getting them to consider us seriously.
Of course you've also got vehicles with a rich heritage like RAV4 and we have RAV4 Hybrid coming. That will be a fantastic vehicle, combining two brand differentiating Toyota features – the RAV4, which is the original compact SUV, and hybrid technology. I think hybrid plus RAV is a winning combination.
We've also got new products just around the corner, which are going to really surprise people. They will really stand out in design, sensory quality and driving enjoyment with a great combination of powertrains including hybrid – so I think we're in a very strong place, and I feel confident we'll be able to sustain sales growth and deliver exceptional consumer experiences as well.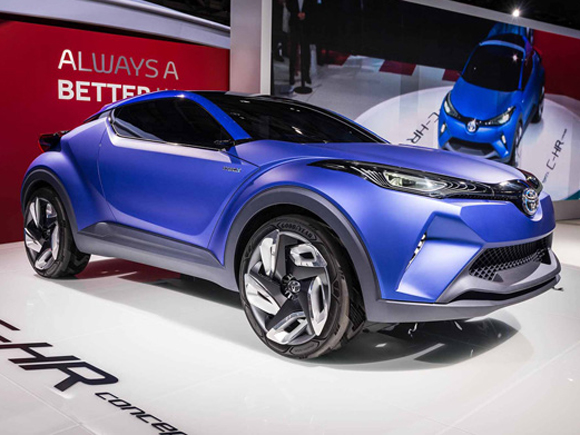 TB: There's a call from Akio Toyoda for more fun to drive cars – what can you tell us about that?
PVdB: I think you'll see what this means as soon as you get into vehicles built with the Toyota New Global Architecture (TNGA). The first car built using TNGA will be revealed before the end of the year.
We can make cars lower, with a wider, sportier stance, and we'll have more flexibility to do things like change wheel sizes, and even the driving feel of the car.
TNGA allows us to rationalise the components you don't see and invest in the parts you see and touch, parts that improve the handling. This 'fun to drive' idea and a more responsive driving experience is something we've been able to do with TNGA, and the initial feedback on advance product drives has been very positive. People have come out of those cars noticing a clear improvement, finding them noticeably more enjoyable to drive – which is exactly the aim!
TB: What have you done at Toyota previously?
PVdB: I've got about 30 years experience in the industry now. I started off with Ford in 1986, and did pretty much all the sales and marketing jobs, including assignments in the US, working on communications, strategy and brand management, before returning to the UK to become marketing and then sales director for Ford UK.
I was really taken with the hybrid technology of Toyota and the fact that Lexus was obviously going to pioneer and introduce hybrid technology to the luxury market, so I joined Lexus in 2005 as General Manager of marketing. I had the opportunity to launch the new IS, RX 400h, GS 400h, and then the LS hybrid. Between 2005 and 2007 we pretty much changed the whole Lexus range.
In my role as European marketing director for Toyota, we launched iQ and a whole series of new cars. I then I became Vice President/COO of Toyota Motor Poland for two years, gaining some central European experience. It was a small company, about a third of the size of TGB, but the team was highly motivated and professional and I really enjoyed the experience of working in a market that is probably closer to Russia than the UK, with a lot of SUVs and larger car sales, and a strong Toyota brand image.
After that I ran Lexus Europe for three years, and again the timing was great because we had new IS coming out, GS had just been revised and I got to attend the design reviews for new IS, NX, the new RX that comes out later this year, plus RC F and some new models yet to be launched. That was obviously a fantastic experience to help move the brand forward.
TB: What was your first Toyota?
PVdB: Well I actually had an IS 200 when I joined Lexus. But as a family, we had a white 1987 Toyota Camry with digital instruments.
Even after I joined Ford my parents still drove the Camry. In fact, even when I gave them a free car – literally all they had to do was put petrol in it – they still kept their Camry in the garage for three years, just in case. Someone actually drove from London up to Newcastle to buy it the day they put it up for sale! So that was the first Toyota I personally really remember.
My mum's now got a Lexus CT, she's had a Prius before that so she's firmly back in to the brand and she reminds me: "I told you Toyota was best!"
TB: As we're marking 50 years of Toyota in the UK, where do you see Toyota in 50 years?
PVdB: I think if Toyota can continue to innovate and create new mobility solutions, and really change the way vehicles work, then it will have continued to pioneer sustainable mobility.
Prius has put us on a path of reducing the environmental consequences of mobility, and if we can really make a success of fuel cell and technologies that are self-sustaining as it were, we will be in a good place.
Since 1965 Toyota has been about better cars and better service. We may not have used those words then, but the fact is we always try to offer the customer something better. That's still true in 2015 and will be for the decades to come.
TB: Thanks for your time, Paul.
PVdB: Thank you.