An elite athlete runs a marathon and produces nothing more harmful than between three or four litres of water. A Toyota Mirai drives the same distance and does exactly the same thing. For the runner, it's pure body sweat; for the Mirai, it's the one and only by-product from its engine.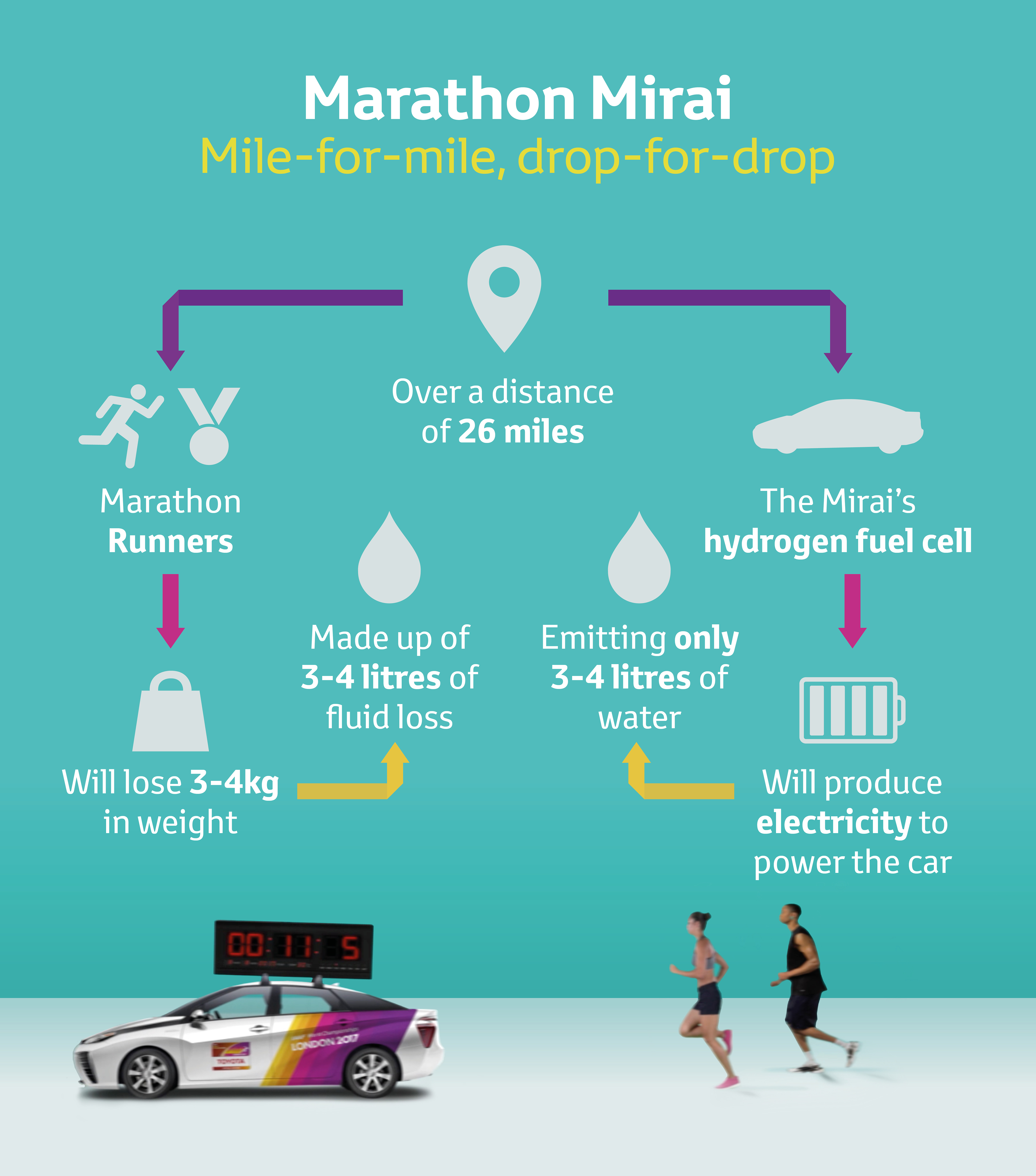 This performance match between man and machine will be demonstrated this Sunday when the world's top runners take to London's streets for the men's and women's marathons in the IAAF World Championships. A Toyota Mirai will lead them every step of the way as the official timing car.
The world's first hydrogen fuel cell saloon, Mirai produces no harmful exhaust emissions: hydrogen fuel is used to generate electricity in a chemical reaction with oxygen in the atmosphere, all within the car's on-board fuel cell system. The power produced is stored in a battery and used to drive the car's electric motor. As a result, nothing noxious comes out of the car's tailpipe, just H2O, pure and simple.
Read more: Mirai: The future has arrived
Studies* of marathon winners have found that they typically lose between 3 and 4kg in weight over the four hours and 26 miles of a race, body mass that is principally lost through sweat. Driving the same distance, Mirai's fuel cell will produce just more than 3kg of water.
What's more, in theory none of Mirai's water need go to waste. In fact it could be turned back into hydrogen to create new fuel, through simple electrolysis. And if the power for that process is generated by a natural source, such as wind or solar, you actually have a car that runs on water. Just as athletes rehydrate to restore their energy after a run, so could Mirai use water as the basic source for its fuel.
You can find out more about Toyota's groundbreaking Mirai fuel cell car here.
*Journal of the International Society of Sports Nutrition