Bramble Energy has made the appropriate choice of a hydrogen-powered Toyota Mirai to provide practical, emission-free transport in its business of developing low-cost hydrogen fuel cells for the printed circuit board industry.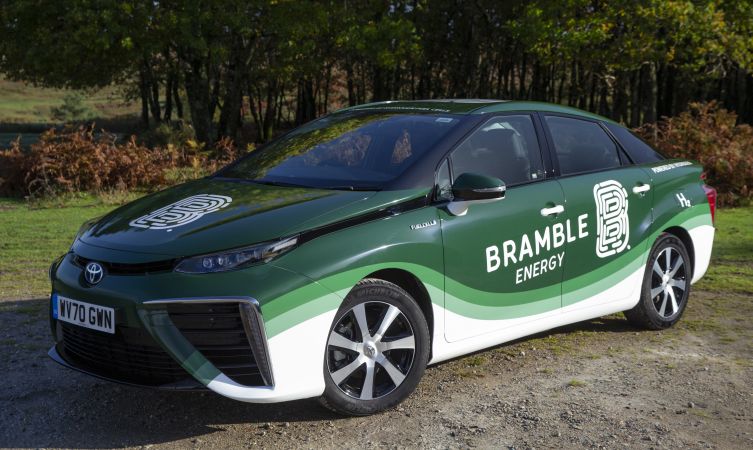 The company, based in Crawley, West Sussex, will refuel its new Mirai at the Shell and ITM Power hydrogen refuelling station at nearby Gatwick Airport. Since delivery in September, the distinctively liveried car has already covered more than 1,500 miles and there are plans for it to be driven to Scotland for a supplier visit, demonstrating the viability of fuel cell vehicles in providing zero-emission transport.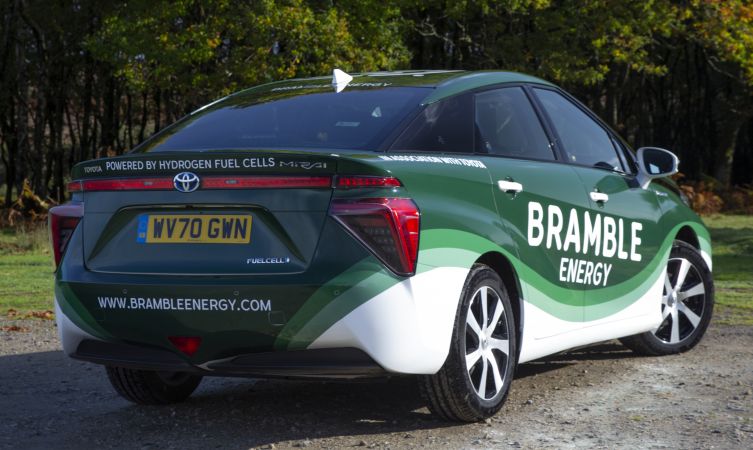 Bramble Energy manufactures electrochemical devices for the printed circuit board (PCB) industry, utilising its globally standardised materials, manufacturing techniques and well-established supply chains. In 2021 the company will launch a range of portable power fuel cell products in collaboration with BOC with output powers ranging between 20W and 1kW. These can be used in many sectors, including surveillance, electrification, lighting and construction. Over the next few months, Bramble Energy will also be demonstrating its higher power density liquid-cooled fuel cells for larger power installations, including diesel displacement and motive power.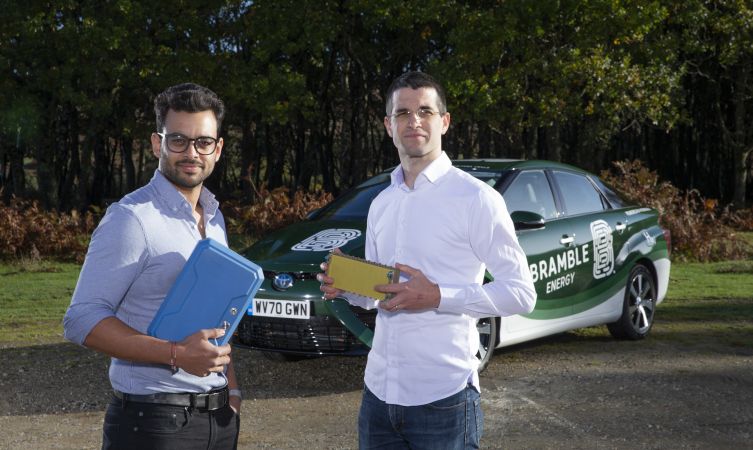 Bramble Energy's chief operating officer Vidal Bharath (above left) with CEO Tom Mason (above right) presenting their latest compact fuel cell system and stack.
Tom Mason, CEO of Bramble Energy, said: "By adopting the Mirai for our business we can help demonstrate how hydrogen fuel cells can be used effectively in real-life applications. The Toyota Mirai is a superb example of the fact that fuel cell systems are reliable and easy to use and it is a very comfortable way of travelling. We will use our Mirai to connect us to our suppliers and customers, all while emitting only water, improving local air quality and demonstrating the maturity of fuel cell technology. At Bramble Energy we are committed to our mission of Powering Net Zero with our innovative PCB fuel cell platform technology."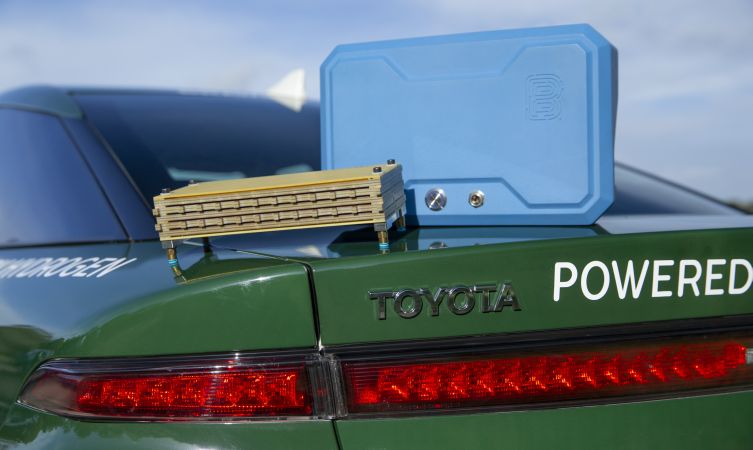 Bramble Energy's latest products include a modular PCB fuel cell stack (left) and the standalone H20 portable fuel cell power bank (right).
Bramble Energy joins the growing number of engineering, construction, aviation and private vehicle hire businesses that are choosing the Toyota Mirai for emission-free hydrogen powered transport