At Toyota, we're proud to build cars that owners love – so it's no surprise that many owners stick with us every time they buy a new car.
Even still, we suspect few Toyota owners could compete with Chris McElroy's record: because over the past 20 years, he has bought an astonishing 51 new Toyotas.
Since purchasing an N-registered Carina E in April 1996, Chris has on average picked up 2.5 new Toyotas every year – or one every 20 weeks.
Chris and his wife Anne have had 10 Avensis, four Prius, five Yaris, and four Corollas among a host of other models – in fact, there aren't many Toyotas they've never owned. Perhaps even more surprising than the quantity of cars is the fact that Chris has bought them all from one person: RRG Bolton transaction manager David Smallman.
We caught up with Chris as he was visiting the centre to collect his 51st Toyota – a new RAV4 Hybrid – to find out what it is that keeps him coming back for more.
Hi Chris – congratulations on your new RAV4 Hybrid. What do you think of it?
It looks lovely. I'm looking forward to taking it away and trying it out properly.
I've actually been looking forward to getting the RAV4 Hybrid for some time as I think it's exactly what I am looking for. I've liked the RAV4s I've owned in the past and I really like the Prius, so a mix of the two would be perfect.
So why have you bought so many Toyotas?
Cars are my little luxury I suppose – I just like having something new. I like to have the latest thing.
I like the cars – Toyota puts them together really well. I do like to change fairly often because I like keeping up with technology and all the gadgets and gizmos, but saying that, I have had a few cars for three years or so and I've really never had a problem. On the occasions where I have had little issues, RRG have always fixed them very quickly.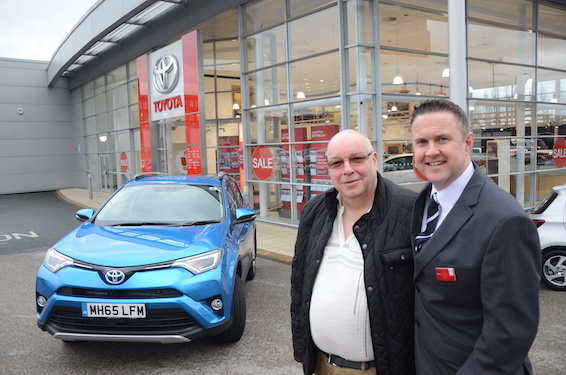 You've bought all of your Toyotas through David – you're certainly a loyal customer. Why is that?
When I first met David, he was working at a dealership for another manufacturer. I bought three cars from him and he moved to Toyota. He got my attention by offering me a good deal on a Carina E and I really liked it. He's looked after me well since then so I've never been tempted to change.
I know that when I come here I will get a fair deal and good service. The staff are polite and have good knowledge of the vehicles.
I've never been able to fault David and that wasn't the case with other dealers I bought cars from in the past, some of which are not around anymore. I suppose that tells its own story.
What's your thought process when you're looking for a new car?
For this one, I've always liked the RAV4 and liked the idea of having the economy of a hybrid version. I have a Prius+ right now and I'm getting 49 mpg, which I'm pretty pleased with.
Most of my driving now is around town, with the occasional trip down south for a weekend. With the driving I do, when there is a lot of starting and stopping in traffic, the hybrid is just right – I drive around using just the batteries quite a lot.
Which cars have been your favourites?
I think the Prius is my favourite. I've always liked the Avensis and had quite a few of them too. I like the look of the new one but something a bit taller probably suits me better now. I really liked my Prius+ as well.
What's the longest you've had one of your Toyotas?
I had a 53-plate Avensis for three and a half years.
What's the most miles you've ever put on a car?
I've averaged about 6,000 miles. The Prius+ I'm just changing out of has 5,500 miles after 11 months.
What's the shortest you've owned a car?
Ten weeks – it was a 1999 Celica. I had always wanted to try one but after a few weeks I knew it didn't really suit me as it was a bit tricky for me to get into and out of. I traded that in for an Avensis.
What do your friends and neighbours think of you driving a new car onto the drive so often?
Oh, they've given up with me! They ask: 'Oh the paint's dried now has it?'. I think they're used to it now. I just like to have something new, so if I can afford it, I'll buy it.