Jari-Matti Latvala is turning back the clock on his rally exploits, swapping his state-of-the-art Yaris WRC to put one of Toyota's greatest cars from another era through its paces. The Finn, winner of this year's Rally Sweden and a leading contender for the world drivers' championship, will be in action at Rallyday at the Castle Combe circuit in Wiltshire on 23 September.
He will be taking the wheel of one of Toyota's legendary World Rally Championship-winning cars from the early 1990s: the all-wheel drive ST185 Celica GT-Four. Latvala has an earlier ST165 Celica GT-Four in his personal collection, but Rallyday will give him his first chance to drive the car with which Toyota dominated the sport, claiming the 1992 drivers' title and both the drivers' and manufacturers' championships in 1993 and 1994.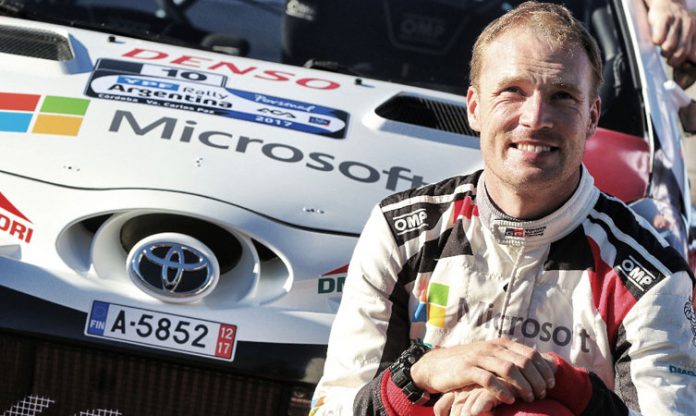 Latvala is looking forward to returning to the event for the first time since 2010. He said: "I am really happy to be coming back. I love coming to these events and seeing the historic cars. In the UK you have some many of these kinds of rally cars – we have some in Finland, too, but ours are mainly in museums."
Rallyday crowds will also be able to view the new Yaris GRMN, Toyota's new, precision-engineered hot hatchback. Inspired by Toyota's return to the top-line rallying with the Yaris WRC, the Yaris GRMN is a road-going thoroughbred, powered by a supercharged 1.8-litre engine that turns out 212hp and can move the car from rest to 62mph in around 6.3 seconds. The limited-edition model will be on static display, presented in its dedicated white, black and red colour scheme that echoes the Toyota Gazoo Racing livery.
Rallyday organiser Tom Davis is delighted one of the world's best rally drivers will be at the show. He said: "He's a dyed in the wool rally fan, he's one of us. The difference with Jari-Matti is that he has started 177 rounds of the World Rally Championship, finished on the podium 60 times and won 17 world rallies. He's absolutely one of the sport's biggest names and to have him with us at Rallyday is a massive coup. He's one of the most entertaining, engaging, committed and passionate drivers in the history of the sport."