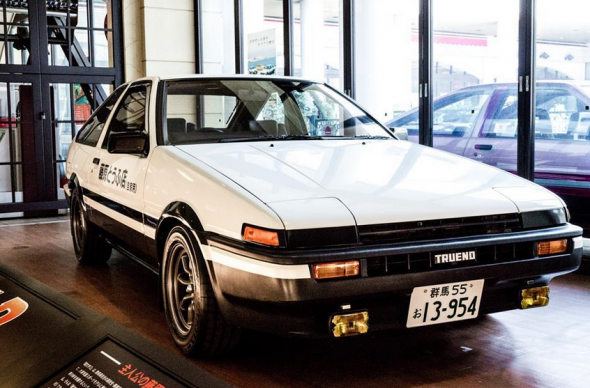 Launched in Japan in 1983, the Toyota Corolla GT Coupé needs no introduction. Oft-referred to as 'AE86' in reference to its chassis code; it's a drifting legend and a keen driver's delight. But there's one AE86 that's more famous than any other – the white-over-black model that appeared in classic Manga series 'Initial D' in 1995, and in the live-action remake of 2005.
Now, the car from film has gone on display at Mega Web – Toyota's vehicle showcase facility in Tokyo – to promote a new Initial D movie, which is due for release in Japan later this year.
Initial D was set in the mountainous Gunma Prefecture of central Japan and told the story of Takumi Fujiwara, a student working at a gas station during the summer holidays. Every morning, Fujiwara delivers tofu hops in his dad's Corolla to locals, but at night, something quite magical happens. When the sun goes down, the AE86 becomes the ultimate racing machine, and Fujiwara drifts the car on the spectacular mountain roads nearby – driving flat-out as he goes.
The Corolla GT Coupé made its UK debut in May 1985 and quickly won plaudits for its tuneful 1.6-litre 124bhp twin overhead cam engine and rear-wheel drive layout – 2,717 were sold here.
Where next?
GT86 vs. AE86
Toyota sports cars head for the Welsh hills
Toyota stories: Ewan Johnston's AE86
We meet Keiichi Tsuchiya, "Drift King"
Detailed history of the Toyota Corolla