What does a car photographer do during lockdown, when there is no live action to shoot and the motorsport season has been postponed? For Jayson Fong, it was an opportunity to break out his scale models and point his lens at them instead.
Jayson is also an accomplished motorsport artist, and the idea of recreating a live-action rally scene in a photorealistic style using a model appealed to him. Our challenge to him was to recreate this image of a Yaris WRC slewing sideways through the gravel during Wales Rally GB in 2017.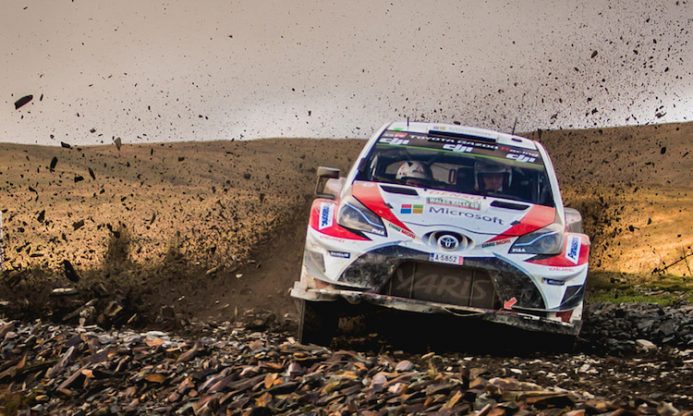 Jayson's resultant images are so lifelike that they could easily be mistaken for the actual image. Or can they? We'll leave that for you to decide, but for now let's go behind the scenes and see what really happened on the day.
Yaris WRC model shoot: choosing a location
During his daily walk, Jayson came across a cleared-out area earmarked for construction in a nearby field. The surface was just what he was looking for.
"It took a while to decide on a suitable location and, given the lockdown circumstances, we had to keep it as close to home as possible! We then set up and played around with composition before deciding on a background that was distant enough to create a realistic sense of scale compared to the 1:38 scale model. The project took half a day to shoot," says Jayson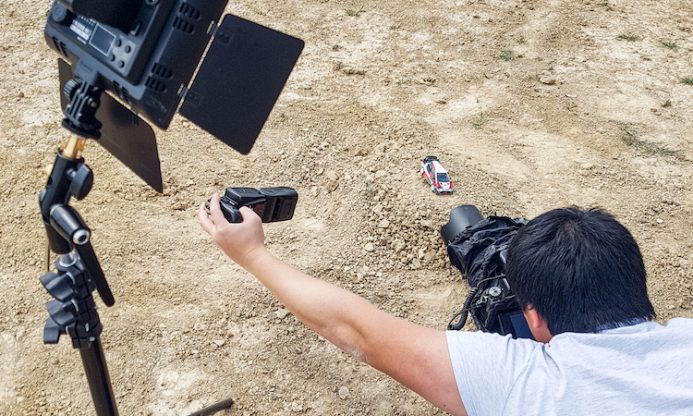 Yaris WRC model shoot: technique
"It was really fun to decide on how to shoot such a small object! However, I found that using techniques that I would also use to shoot a full-scale car worked the best and was very familiar," explains Jayson.
1) Positioning the car and camera
With the Yaris WRC, an aggressive angle is key to capturing speed and drama.
The first part was positioning the model car at a realistic angle to the lens to replicate reality. With a car like the Toyota Gazoo Racing Yaris WRC, an aggressive angle is key to capturing speed and drama, so building a mound of rubble for the model to sit on allowed Jayson to position the camera at a low angle.
"The height of my Nikon D750 and lens meant that the mound ended up needing to be quite tall,"he says. "I then went about tweaking the position of the car by adding small stones underneath to give a sense of body roll that is often seen when a WRC car is under full load in a corner."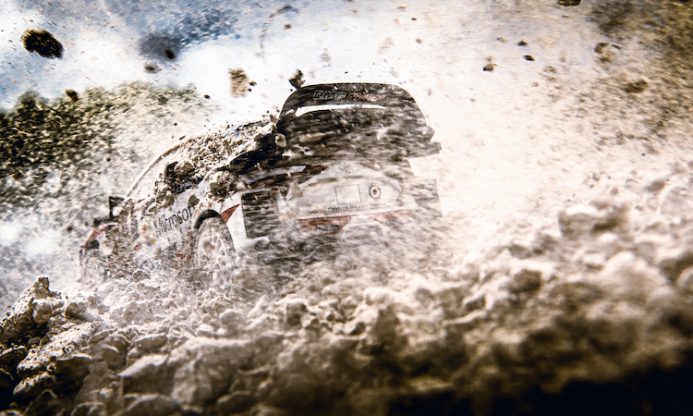 2) Experimenting
"I really wanted to capture an exaggerated sense of action"
"I love iconic images from WRC rounds in places like Greece and Argentina and a key to them is the amount of dirt that is thrown around. With help from my partner Zoe, we set about making as much action (on a much smaller scale) as possible.
"As I took the photos, Zoe kicked up dirt from behind the mound to replicate the physics of our make-believe drifting WRC car! This eventually transitioned to using my rocket air blaster (which I use to clean my lenses) to blast air and kick up dust. We took a range of shots but eventually got some movements that were really realistic!"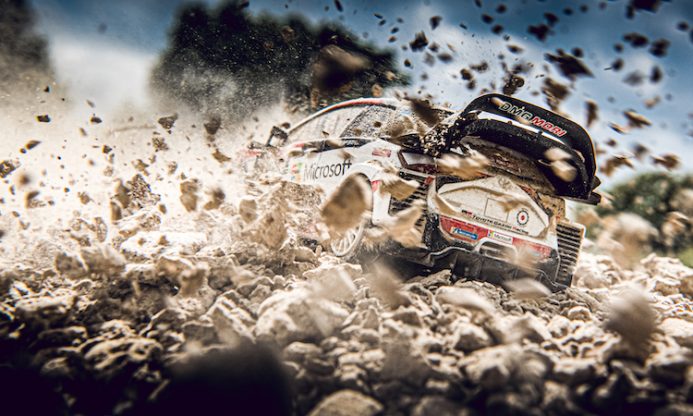 3) Camera Settings
"Now that we knew how to create our scene, I set up the camera to best capture it," he says. "This meant using a smaller lens aperture to create a larger depth of field. As the camera was so close to the model, this allowed me to capture as much of the detail as possible. I paired this with a shutter speed that would be able to capture the motion of the flying stones but not freeze them entirely."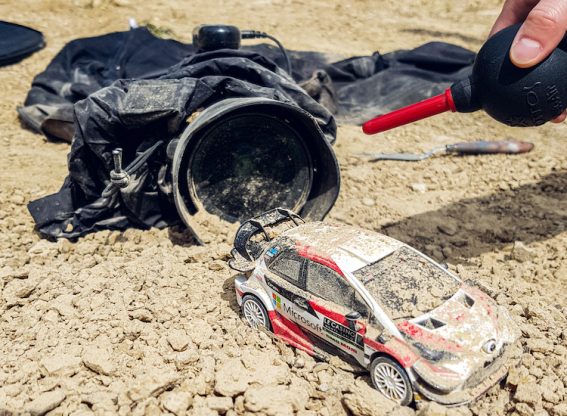 3) Lighting
"I ended up using my Nikon speedlight to help me light some of the scenes. Often a technique used by WRC photographers, it helps to light up the car in action (and dirt) in a very dramatic way. The result is the car as the point of focus while the background is quite dark," says Jayson.
Yaris WRC model shoot: challenges
Whether it was trying to get the perfect kick of rubble or the location, Jayson didn't let any of the challenges stop him from shooting.
"It was always going to be a fun challenge to make a scale model car look real – most of that came in the form of making the scene match the size of the model car. Finding a location was a unique challenge. Usually for a shoot it is challenging as it is, but for this project I really needed to take into consideration the scale of the foreground and backgrounds."
"Many of the rocks and bits of rubble were also far larger than they would be in reality! This is where the rocket blaster really came in handy. By kicking up small particles of dust, it really added a sense of true scale and detail that would otherwise be missing."
Read more: Pre-orders open for new GR Yaris; prices start at £29,995
Yaris WRC model shoot: a shoot to remember
"Thankfully I brought a rain cover for my camera and lens because, after the first kick of rubble, I knew it would be an absolute mess," he says. "Although it managed to save most of the camera, the front of the lens took a beating as lots of stones flew towards it! My lens ended up accumulating quite a few rocks in it."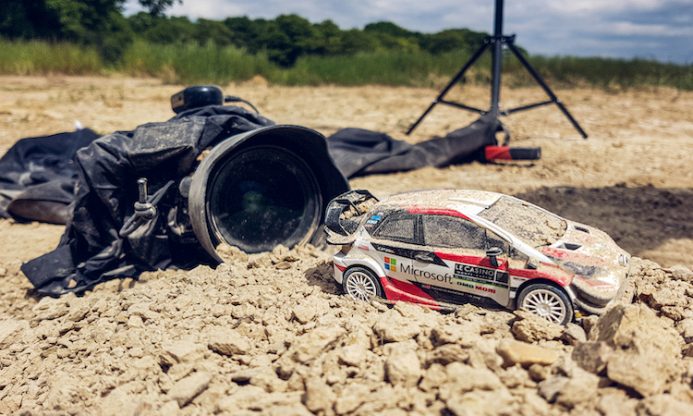 "After the shoot, my equipment received a thorough clean… In all honesty, I'm not sure it's ever been so close to the action! (literally a few inches) and that includes me being on a real rally stage."
"Cleaning the car in between shots was really entertaining, as it reminded me of the detail we go to on my usual shoots. Cleaning the model car with a paintbrush was far easier than cleaning a real car!"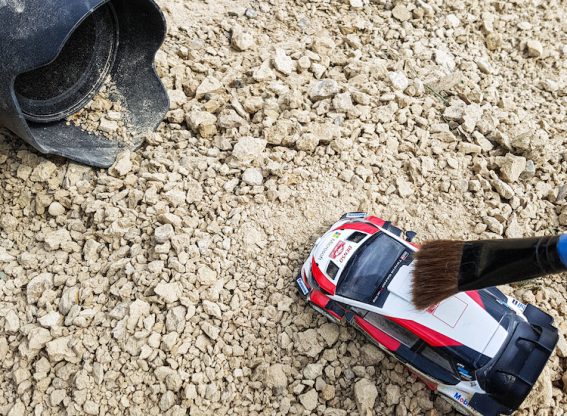 "After some post-production to make the images more vivid, I was really surprised to see how realistic some of them came out! It was definitely a shoot to remember and was a really fun way to shoot that was completely under my control," says Jayson.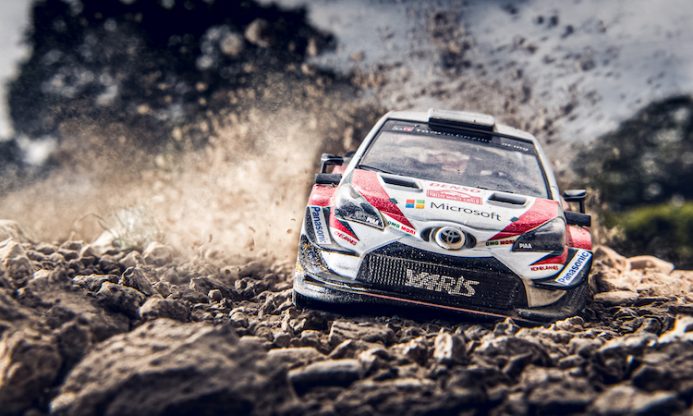 Read more: Make your own GR Yaris art and share your results with us